Blues Critic's
Top 20 Southern Soul, R&B Albums Of 2015
1.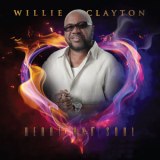 Willie Clayton "Heart & Soul" (EndZone)
By my count (some of Clayton's early releases are confusing. Here's his discography) this is Clayton's 27th new studio album. It's mostly original material but the lead cut is another take on Tony Troutman's "My Man is Home Home Tonight" (listed as just "Home Tonight" here). "Come On Rock Me", another cover song ("Rock Me Baby"), was issued as the first single. Both are pleasant, easy on the ear Clayton tracks but they take a backseat to the bumping "Old School Jam" and "Let's Have A Good Time", as well as the bass-heavy stepper "Let's Dance" and especially the gorgeous ballads, "Amazing Lady" and "Please Don't Leave Me". Like I said 27 albums under his belt and he still creates the same excitement each time a new WC drops. Nobody does it better.
2.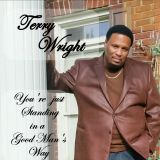 Terry Wright "You're Just Standing In A Good Man's Way" (Coday)
The title cut is a classic Soul-styled slowie with one of those big, sweeping refrains. The hit was the similarly downtempo, Bluesy "I Done Lost My Good Thang". Wright sings "I came home this morning from a long night in the streets/Everything in my home was gone/She had finally left me/I should've known this was coming." Of course this is the "party blues" market so we got the requisite booty wigglers "Make That Body Rock" and "She Whooped Me Good". What I especially like about this album is that instead of the trendy R&B-drenched Southern Soul that's popular now it is closer to the Down Home Blues & Deep Soul variety.
3.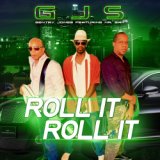 G.J.S. (Gentry-Jones featuring Mr. Sam) "Roll It Roll It" (Music Access)
Combination of the duo Gentry-Jones and Mr. Sam Fallie got a lot of mileage out of the delirious title cut. It contains quite the ear worm on that chorus ("Roll It Roll It"). Track two is a Funky stepper, "We Ride", and "At The Spot" is a creeping midtempo jam that is full of hooks from the keyboard licks, the background "ooh oo-aws" and of course the refrain "At The Spot". Only nine cuts plus a "Roll It" remix and the album loses steam during the second half of the album but the high points win the day. Gentry-Jones sans Mr. Sam released a follow up album in 2018 entitled "Juicy Fruit".
4.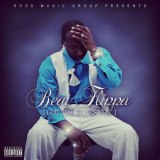 Various Artists "Beat Flippa I Got The Blues, Vol. 1" (RMG)
Hottest record producer in Southern Soul at the moment releases his first Quincy Jones-like album featuring a cavalcade of guests. Pokey & Cupid ("If It Ain't The Blues"), Big Cynthia ("I'm Here For You"), Tyree Neal ("I'll Be The Other Man"), Pokey, Vince Hutchinson & Adrian Bagher ("T.G.I.F.) and more from Ms. Portia, Mz. Pat, Rosalyn Candy, Veronica Ra'elle and more.
5.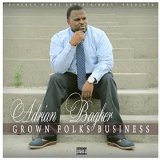 Adrian Bagher "Grown Folks Business" (Shoebox Money Ent.)

Formerly one third of The Louisiana Blues Brothas steps out on his own with this fully loaded set of catchy Southern Soul with a couple dollops of R&B flavoring. The track I keep coming back to is "Cleaning Up", which borrows heavily from "I'll Take You There". Bagher sings: "I'm taking out the trash/I'm cleaning up my home/Whatever's not good for me/It's gotta get gone/That no good woman/Them lazy grown kids/And if the dog's not barking right/He can pack his sh*t". C'mon, Adrian at least keep the poor dog. Other faves are "Dranks On Me", a Bluesy groover, and the swinging "Stand Strong".

6.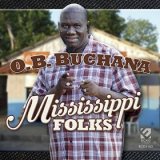 O.B. Buchana "Mississippi Folks" (Ecko)

This album earns one demerit right away for the complete "Mississippi Boy" rip off title track. One of many that keep popping up. C'mon people just do a cover of "Mississippi Boy" so it's genius writer Floyd Hamberlin Jr. can get paid. That gripe aside Buchana finds himself with a stronger than normal set of tracks. The "Uptown Funk"-inspired "Ghetto Funk" and Zydeco-like "Tip It Up" are a couple of his best dance tracks in quite some time. Even better though is the down home "Rooster Guinea Guinea", a midpaced cheating song about messing around with kinfolk like his woman's sister! Great singable chorus. "If We Steal Away", another cheating song, features Buchana's best vocal performance. Meanwhile "Tasty Girl" trespasses on Tucka's swing music style, successfully. Interestingly the "Tasty Girl" remix is entirely different, now transformed to a slow creeper.

7.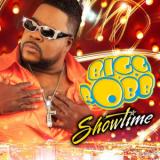 Bigg Robb "Showtime" (Over 25 Sound)

Best selling CD in our CD Store's history is another instant grown folks party soundtrack. First song out of the gate was his hit duet with Denise LaSalle for "Blues & BBQ". The follow up, the bouncin' "Gettin' It In", was even stronger with an irresistible hook. It is undoubtedly influenced by Clarence Carter's "Strokin'" musically. He even talks the verses like Carter. "Please Don't Judge Me" is a poignant, uplifting story song. I'd say it's a Gospel song. After a gig a woman asks Robb to pray with her as her life is in turmoil and she unwittingly started dating a married man. Then a homeless man tells Robb his hard luck story. Robb says to stay strong and tell 'em "Please don't judge me/If you're not walking in my shoes/Please don't judge me/God ain't finished with me yet". It's truly an inspired concept for a song. Not one you'd see coming a mile away. Elsewhere: The title cut is a slow, sexy bedroom jammy and the album is also filled out with several hot remixes including "Sugaa Shack (Extra Long Remix)".

8.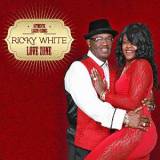 Ricky White "Love Zone" (CDS)

After a string of dance hits ("Shake", "Sexy", "Do The Ladies Run This Mutha?") White returns to romantic balladry ala his signature song, "I'll Still Love You". The hit was "Redbone" featuring T.K. Soul on vocoder background vocals. The song was co-written by Frank-O Johnson. The chivalrous White also recorded some woman-praising anthems, "Strong Woman" and "Superwoman" and some sexy come ons ("Taste Your Love", "Making Love").

9.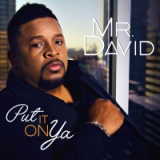 Mr. David
"Put It On Ya" (Waldoxy)
Not many know this but Mr. David has a Billboard Top 40 hit under his belt but not his name. No, not just R&B Top 40 but the main Hot 100 chart. "Splackavellie" climbed to #27 Pop and #14 R&B in 1998. David Jones aka Mr. David went by the moniker Pressha and his album "Don't Get It Twisted" was released by La Face (same label as Toni Braxton and Babyface). I reckon because there was no follow up hit David's or "Pressha's" career stalled soon after. Six years later he resurfaced as Mr. David with producer Tony Mercedes on Tony Mercedes Records, which was distributed by Malaco. Now with Waldoxy he recorded his fourth album as Mr. David, "Put It On Ya". Like all Mr. David albums it dabbles in Classic Soul and modern R&B. The lead off cut, "Soul Skool", has appropriate retro tunnel-vision, extolling a time in music without auto tune. Track two, "Make Love Last", is a stylistic leap into New Jack Swing (Bobby Brown), which I reckon can be considered "classic" in some sense, territory but then back to Soul again with "Mr. Right Now". Meanwhile, slowies like "Smash It" sound like the R&B material he recorded as Pressha
10.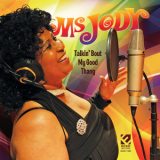 Ms. Jody "Talkin' About My Good Thang" (Ecko)
Ms. Jody is back and wants to be "Talkin' About My Good Thing" and she promises "I Ain't Gonna Like This Time". The latter a midtempo bumper and the former a slinky slowie. She follows up her 2013 hit "Let Me Ride" with the plaintively titled "Just Let Me Ride Again". At first I thought it was just going to be a retread but it actually incorporates a different, quicker rhythm and the refrain reminds me of "Let The Good Times Roll". Only here it's "Come On baby let me ride again". As a footnote: If you're not sure you can let Ms. Jody ride again she tells you to "take your little pill". A big bonus is there's more bona fide Blues than usual like the grinding "I'm Gonna Take It Lying Down" and "I'm Taking Out The Trash" and the downtempo "If He Knew What I Was Thinking". Ms. Jody's now the undisputed Queen of Southern Soul Blues and she wins this 2015 title bout.
11.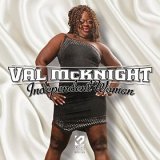 Val McKnight "Independent Woman" (Ecko)
John Ward's Ecko Records has gotten a ton of mileage out of bold, brash, bawdy, bodacious "independent women". On "Independent Woman" McKnight wrote nine of the thirteen cuts. It's your typical shuffle-bumping, down-home blues, mid-paced southern soul (think Clarence Carter "Slip Away") with themes like partying/dancing ("It's Party Time", "Juke Joint Party", "Move Your Body"), sex ("Make Me Shout Ooh Ooh Ooh", "You Put It Over The Fence", "I'm A Love Starved Woman"), relationships ("I'll Be Seeing You Around") and female empowerment ("Independent Woman", "Whoo Doo Woman"). A successful formula indeed and McKnight's attitude-filled voice and phrasing suits this material to perfectly.
12.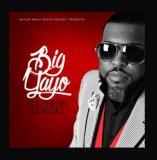 Big Yayo "Southern Classic" (Mabry Music)
If I popped this CD in and told you it was Bigg Robb I believe I could fool you on a few of the cuts. Chris Mabry aka "Big Yayo" is clearly influenced by the Bigg man, even utilizing the vocoder to sing some of his own vocals. "Come And Get It" is an excellent electro Funk jammy that features J-Wonn (who appears on a total of three tracks in all). Dave Mack joins Yayo on "Booty Talking" and "Lay Around". Napoleon Demps is on board to sing on "Just Like Heaven". Bottom line if you dig Bigg Robb (and, well, you damn well should) you'll dig "Southern Classic". I'm not saying Yayo is a clone for he has made a name for himself as a record producer par excellence I'm just saying this album will occasionally remind you of Bigg Robb and that's never a bad thing.
13.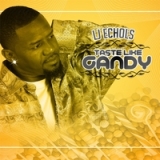 L.J. Echols "Taste Like Candy" (Neckbone)
I reckon it's hard to top let alone equal your biggest hit. Echols hit pay dirt with "From The Back" in 2009 and has been coasting with that hit for years. "Good Motor" from 2012 kept him on the radio and in the clubs and 2015's "Draggin' That Wagon" has performed even better. "Sunshine Lady" is the hands down winner, however, with a lovely melody and hummable chorus while "Sookie Sookie Now" bumps along fiercely.
14.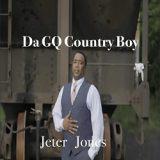 Jeter Jones "Da GQ Country Boy" (Jonez Boyz Ent.)
Zydeco music is no longer mostly concentrated in Louisiana and it's neighbors but it and "trail riding" has spread across the market as a whole. Jones' "Da GQ Country Boy" is not a Zydeco album but contains a measure of it. The big hit- Jones' breakout song-was the midpaced "Cold Pepsi" (it could be argued that "Da Boot Scoot", which appears here as a remix, was his breakout). He meets a woman at a club who says she needs "a cold Pepsi before we get it on" because "she wants a cold Pepsi and a hot man". When Jeter runs down to the corner store the shop keep grins 'cuz he knows why he wants a Pepsi. Guess this woman has a reputation. Jones deserves a check from the Pepsi company methinks. The Zydeco-flavored tracks are "Boot Up" and "Zydeco With Me
15.

Sir Jonathan Burton "New Swing Soul" (CDS)
Sir Jonathan Burton says he's no "one hit wonder/I'm a ball of thunder/Like lightnin' I strike more than twice/So all you haters keep hatin'/Instead of participating" according to the remix of "Can't Touch This". It's true. Burton has had a nice run of hits. Another track, "Southern Soul Showdown", became the theme song for a time for Jerry "Boogie" Mason's Internet radio show (Burton changed the words to "southern soul countdown"). Burton also tells us about a place that "Ain't that fancy/And there's no chandeliers/But it has a reputation for the coldest beers" and that place is "The Hole Inside The Hole In The Wall". Mel Waiters was right: "smaller the club/the bigger the party.
16.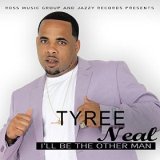 Tyree Neal "I'll Be The Other Man" (RMG/Jazzy)
Two Discs. 30 Tracks. That's a rarity for Southern Soul. It certainly is generous of Jackie Neal's young cousin even if some of the tracks are filler. The title track first appeared on Beat Flippa's album (see above). The lead off cut "It's The Weekend" sets the mood and he wants to know "Who With Me" like who's down for hitting the club: "It was Friday/I was heading to my favorite spot/I was clean as a whistle y'all...". That's the scene. This is "party Blues" even if it has very little in common with 12 bar shuffles, Blues guitar and harmonica. Still he's "Blues 4 Life". "Who's making love to my old lady/While I was making love to someone's baby", squeezing every last ounce out of Johnnie Taylor's classic, "Who's Making Love". Sure, the album is just heaving with clichés and derivative retreads but the fact Neal can create 30 tracks out of these themes of partying , drinking, cheating, relationships, mundane concerns like paying them bills, etc.. is a testament to his talent.
17.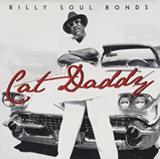 Billy "Soul" Bonds "Cat Daddy" (Waldoxy)
The seldom heard from but always interesting Billy "Soul" Bonds took what felt like an eternity to follow up "Scat Cat Here Kitty Kitty" (nine years!). Bonds always has a clever gimmick song up his sleeve. The re-write "Here Puppy Wuppy" is a swing and a miss but "Get Her With My Twitter" is cute. "He Went To Bed With A Woman (But Woke Up With A Man)" speaks for itself. How long ago was "Bill" and "The Crying Game"? Moving on...According to the urban dictionary a "cat daddy" is a "cool, old man who loves a lot of young women". Turns out Bonds thinks "old fool" should be his name instead because he "left a real good woman for this little young sexy thang". Bonds ain't done talking about felines. On "Everytime My Neighbor Walks His Dog" things sure are suspicious. "Everytime my neighbor walks his dog my wife have to walk her cat". The midetempo, electric piano driven "She's The Woman I Love (This Is It)" is a straight forward love song. There's no knockouts this time 'round but there's a few that'll have you on the ropes.
18.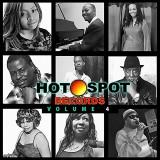 Various Artists "Hot Spot Records, Vol. 4" (Hot Spot)
Another in a series of successful compilations from Robert Henderson Jr's Hot Spot label. Eric P(erkins) is the producer of all the tracks. I hadn't heard about or from Sorrento Ussery since Senator Jones died, leaving all the Hep' Me Records artists on their own. Ussery gets two tracks here, two bumpers ("Let's Party Tonight", "Right Kind Of Woman"). There's also two from Angel Faye Russell and one each from Pat Brown, King Russell, DeCarlos Bonds, Willie B., Nitara, Melvin 'Smokehouse' Moore, Mitchell Miller, Rudolf Flye and Perkins himself.
19.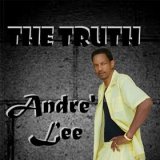 Andre Lee "The Truth" (Coday)
Smooth moves and grooves from Andre Lee and his comforting, laid back singing style. This is cozy, easy listening music. Pleasant, soft on the ears and did I mention smooth? Lee's not shouty like a Pokey but mellow like Will Downing. Lee produced, engineered,mastered the album himself and wrote or co-wrote all ten tracks. Interestingly that while the majority of the cuts are mid to slow rhythmically the two singles are the more energetic on display here ("You Went And Did It" and "Tell Me What I Gotta Do"). In truth Lee like Wendell B is barely a Southern Soul artist as he fits with the more mainstream Urban Adult Contemporary but the SS scene remains flexible enough to accommodate variety. As long as the network embraces it that makes it "Southern Soul" and/or "party Blues".
20.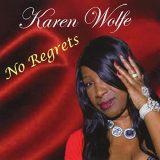 Karen Wolfe "No Regrets" (Coday)
Album number four from Coday Records artist Karen Wolfe. This time she was a "battery operated boyfriend" aka "B.O.B.", which is an answer song to fellow Coday recording artist Andre Lee's "Cheating With The Man In The Drawer". Karen ain't frontin'. She proudly admits she's cheating with "Bob" and the reason? Her man "is always tired when you come home...I'm tired of waiting on you...I've found something else to do". This topic was covered already by The Real Brown Sugar with her "Jimmy". Maybe Jimmy and Bob are related. Wolfe is a better singer than such a gimmicky track but a hit's a hit. A few more generic but necessary dance hits, "Southern Soul Party Mood", "Get Your Lie Straight" and "Ain't Nobody Got Time For That" ensure SS success that just about any female singer could handle but the more impressive numbers are the slower "Ain't No Right Way To Do Wrong" and especially the Bluesy "You Gonna Want Me Back". The quality of Wolfe's chops shine on these.
Blues Critic's
Top 10 Retro-Soul/Soul Blues Albums Of 2015
1.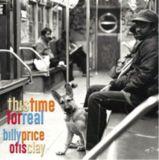 Billy Price Otis Clay "This Time For Real" (Bonedog/Vizztone)

"This Time For Real" is a worthy showcase for these two soulful gents consisting entirely of smart covers. I say "smart" because we aren't forced to hear the godzillianth version of "Mustang Sally" or "My Girl". In fact other than Sam & Dave's "You Got Me Hummin'", Clay's own "All Because Of Your Love (#44 R&B)" and The Spinners' "Love Don't Love Nobody" this 12 song set features deeper catalog songs I wager aren't terribly familiar. I myself assumed 4 or 5 were originals so whomever selected these numbers knows their music history better than I. I was unacquainted with but enchanted by Percy Wiggin's Country-fried "Book Of Memories" and the vulnerable "I'm Afraid Of Losing You" originally cut by Quiet Essence on Hi Records circa 1972. One of the most moving and faithfully arranged covers is Los Lobos' "Tears Of God". This deep lilting slowie is one case where the cover version completely eclipses the original. Price and Clay wrench your innards with dueling bittersweet, aching phrases on top of icy organ and under luxuriant horn fills. Gorgeous. And speaking of horns Mark Earley (saxes) and Doug Woolverton (trumpet) absolutely slay on the swinging "Somebody's Done Changed My Sweet Baby's Mind" and the Funky rhythm & blues stomper "Going To The Shack". In fact praise must be given to the rest of the personnel: Duke Robillard (guitar), Mark Texixiera (drums), Brad Hallen (bass) and Brice Bears (keyboards) gave Price and Clay the keys to one hot ride that cruised through Soul's expansive history to gather these twelve songs.
2.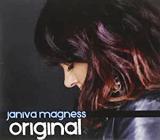 Janiva Magness "Original" (Fathead)
After three albums on the major label Alligator (perhaps the only Blues "major" label) Magness goes the independent route on her Fat Head Records label she started with nearly twenty years earlier. It would appear she has more control over the material since she co-wrote eight of the eleven tunes here from the Gospel-inflected "Mountain" to the struttin' n' stmpin' "I Need A Man" (which reminds me of an Eurythmics song of the same name). As a testament to her popularity "Original" managed to chart at #5 on Billboard's Blues Albums chart.
3.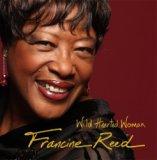 Francine Reed "Wild Hearted Woman" (Fervor)
This was a pleasant surprise. The first all new studio record from Francine Reed since 1999's "Shades Of Blue". The title track is like a mission statement for the album as a whole. She sings: "I'm wild hearted woman/I got classy style with primal loving/Ain't no cage gonna keep me shut in/No, you can't tame a wild hearted woman.". You've been warned. To those in the know this track should remind you of one of her staples from time passed ("Wild Women Don't Get The Blues"). Reed makes it clear she's not trifling with song titles like "It Won't Be Me" ("Someone may lay awake til daybreak because you said you'll come around/And buy your lame excuses when you let her down but it won't be me", "You've Got To Change" (and start treating her right or you're gone) and "Girl's Gotta Do" ("I do as I please and I choose that's my golden rule/Moma didn't raise no fool"). The aforementioned "It Won't Be Me" is a boiling, downtempo Blues and a master stroke. Welcome back Ms. Reed, ma'am. Respect.
4.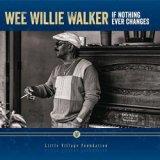 Wee Willie Walker "If Nothing Ever Changes" (Little Village Foundation)
After a series of well received and fantastic albums recorded with The Butanes Walker (now with "Wee" added) returns carrying the Memphis Soul baton he still controls. Curtis Salgado joins Walker on the re-imagined Beatles song "Help!" and it works brilliantly as did the Billy Price/Otis Clay duets mentioned above (Walker's gravelly sound mixed with cleaner, smoother croons of Salgado). It's really just "Help!'s" lyrics used for a smouldering Deep Soul ballad. I had no idea the similarity between Walker's and the late Eddie Hinton's voice until Walker covers Hinton's "Hymn To Lonely Hearts" and perfectly mimics his phrasing. Walker remains one of the truest, deepest Soul singers alive.
5.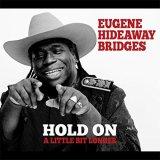 Eugene 'Hideaway' Bridges "Hold On A Little Bit Longer" (Armadillo)
Bridges is a man of many styles from Texas Blues shuffles, Jazzy/Big Band, Jump Blues, Country Soul, Soul Blues and my favorite- pure 60s Soul/Sam Cooke worship. For some reason he's a recent discovery of mine and it's caused me to have to go back and make changes to several annual Top 10s to include his album from that given year. "Hold On" has 15 tracks of dizzying variety but Bridges is a true renaissance man.
6.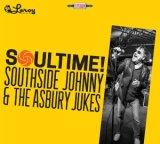 Southside Johnny & The Asbury Jukes "Soultime!" (Leroy)
Southside Johnny (Lyons) like Bruce Springsteen comes from the now famed Asbury Park of New Jersey. Johnny & the Jukes have always performed classic Rhythm & Blues, Soul and Rock. "Soultime!" as the title portends is a Soulful R&B collection with decidedly retro arrangements. Lots of glorious horns and Soul shouting by Johnny. The only thing that keeps this from being a masterpiece is Johnny's voice ain't what it was. But that's when compared to earlier days when he was perhaps the best soulful white singer alive. In fairness his ragged, weathered voice still fits the music even if it lacks in range. "Spinning" and "Klank" are Stax throwbacks. "All I Can Do" and "Looking For A Good Time" are more of the Uptown Motown variety. If you dig this and really want to be floored hunt down the first four LPs ("I Don't Want To Go Home", "This Time It's For Real", "Hearts Of Stone" & "The Jukes")
7.
Eddie Cotton "One At A Time" (DeChamp)
Cotton wastes no time succeeding last year's "Here I Come" with his second full length in as many years. He recently won the 2015 International Blues Challenge. Cotton's style brings to mind Little Milton, a little Bobby Rush Funk/Blues as if sung by David Brinston (or more accurately Al Green). The Soul-slanted numbers include "Ego At Your Door", "Dead End Street" and "Filling me With Pleasure"
8.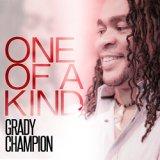 Grady Champion "One Of A Kind" (Waldoxy)
Down Home Blues lives. As if to leave no doubt Grady Campion is the new generation ZZ Hill his new set delivers a faithful cover off Hill's "Bump In Grind" (he even namechecks Hill with the line "Like ZZ used to"). The Southern Soul market embraced the horn-assisted "Heels And Hips" and "Move Something". God bless Malaco and Champion for keeping the traditional sounds alive. While the mostly real Blues "One Kind Favor" wasn't created for the Southern Soul market Malaco still keeps a foot in the door with their classic brand of Down Home Blues and Soul.
9.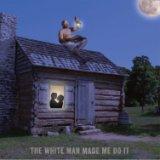 Swamp Dogg "The White Man Made Me Do It" (SDEG)
The title track is a straight up history and civics lesson set to a grinding, mildly Funky rhythm. If that title sounds controversial well read on. Yep his ancestors came over as slaves and were treated abysmally and as lesser beings but "My hat's off to the white man/Cuz the white man he made me do it". Wait, what?!? He basically explains that slavery and Jim Crow made black people the great, successful people they are today because they had to be better than other races- mostly white- to survive. Black America is unequivocally a success story. Who else but the iconic Swamp could write a song like this!? Don't pop the champagne cork just yet. See, we may have had a black president but truth is "Prejudice Is Alive And Well". This song succinctly bookends and completes the epic title cut. The typically varied album includes Blues ("Let Me Be Wrong", "If That Ain't The Blues Nothing Is", "What Lonesome Is) and throws in some covers for good measure (and some light in between dark truths) like Sam Cooke's "You Send Me".
10.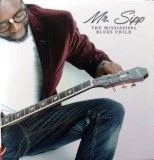 Mr. Sipp "The Mississippi Blues Child" (Malaco)
Mr. Sipp, "The Mississippi Blues Child," Castro Coleman won the International Blues Challenge in Memphis 2014 and make his debut on Malaco Records with "The Mississippi Blues Child" (his nickname). The front half is mostly traditional Blues shuffles and lump de lumps but this is on Malaco Records so we are treated to mid-speed Memphis-styled Soul movers ala "Hold It In The Road", "VIP" and Deep Soul ballads ("Too Much Water", "Tonight". "What Is Love")
---
20 Great Southern Soul, Rhythm & Blues Songs Of 2015
*** in no particular order...
| | | |
| --- | --- | --- |
| Song | Artist | Label |
| "Roll It Roll It" | G.J.S. | Music Access |
| "Hell Naw Ta Da Naw Naw" | Bishop Bullwinkle | self release |
| "If It Ain't The Blues" | Pokey & Cupid | RMG |
| "Heels And Hips" | Grady Champion | Waldoxy |
| "The White Man Made Me Do It" | Swamp Dogg | SDEG |
| "Ego At Your Door" | Eddie Cotton | DeChamp |
| "It Won't Be Me" | Francine Reed | Fervor |
| "The Hole Inside The Hole In The Wall" | Sir Jonathan Burton | CDS |
| "Rooster Guinea Guinea" | O.B. Buchana | Ecko |
| "Old School Jam" | Willie Clayton | EndZone |
| "Cold Pepsi" | Jeter Jones | Jonez Boyz Ent |
| "Step Out" | J-Red | Soul Mop |
| "The Guitar Song" | LaMorris Williams | Rocks Landon |
| "VIP" | Mr. Sipp | Malaco |
| "Mississippi Delta" | Theodis Ealey | IFGAM |
| "Plus Size Woman" | Booker Brown | Steel Groove |
| "Soul Singer" | Bobby Conerly | Aviara Music |
| "Tears Of God" | Billy Price Otis Clay | Bonedog |
| "Jigga Jigga" | Mel Waiters & J Wonn | RMG |
| "Gettin' It In" | Bigg Robb | Over 25 Sound |
| "Strong Woman" | Ricky White | CDS |