Blues Critic's
Top 20 Southern Soul, Rhythm & Blues Albums Of 2007
Southern Soul Deep Soul Soul Blues Retro-Soul Downhome Blues
To be eligible albums must have been released 12/2006 to 12/2007. OR albums released in 2006 that peaked in 2007.
1.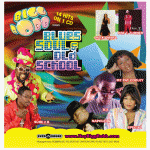 "Bigg Robb Presents Blues, Soul & Old School" (Over 25 Sound)
This is the third release this year. His "8 Tracks & 45s" then "Best Of Da Problem Solvas" are already out there and now this party in a box! Good news for those who want to get Pat Cooley's "Younger Man, Older Woman". It's in there. (like Ragu). Bigg Robb's new version of Carl Marshall "Good Lovin' Will Make You Cry" was a titanic hit.
2.

Simone De "A Definitive Collection" (Premier Music Ent.)
2007 is off to a great start with this strong collection by Simone De. ...real instruments rather than programming.... richly Old School Soul, which is always timeless to folks with good taste. Despite the title "A Definitive Collection" isn't a "hits" compilation (Though it sounds like it!). All new material....De wrote or co-wrote all ten 10 slices of modern Soul. An essential purchase.
3.

T.K. Soul "Undisputed" (Soulful)
...currently the "king of Southern Soul". The first single, "Party Like Back In The Day", is sitting in the Top 5 on Southern Soul charts..."Undisputed" (the album) is a crowd pandering/pleasing set capitalizing on the momentum T.K. has built up over the years. Very much a "Pop Southern Soul" album...the ladies sure do love the man! ... Another strong, slow creeper is "You're So Special" and the ode to moms, "Flowers", is truly gorgeous. Overall this has less for the clubs and more for the bedroom but it's easy on the ears for sure. Expect it to dominate Southern Soul for the rest of the year.
4.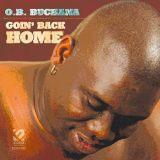 O.B. Buchana "Goin' Back Home" (Ecko)
...his best since his Ecko debut ("Shake What You Got!"). Why? A higher percentage of good hooks and better rhythm tracks...."Goin' Back Home" has the bass upfront like on the propulsive "Booty Mover" (2 versions), perhaps the label's best dancer since the irresistible "Booty Scoot"... and Big John Cumming's "I'm Goin' Back Home". How can you not agree with these lyrics?
5.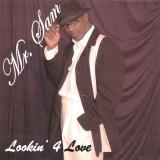 Mr. Sam "Lookin' 4 Love" (MiLaja)
The terrific title cut preceded the full length CD by several months and made it's mark on dozens of Southern Soul playlists... hook-filled set of modern Soul music, possessing a yearning tenor of his own and a sense of melody. "12 Steps 4 Cheaters" is a stone cold gem....silky "I'm Coming Home" and "Work Yo Body", an irresistible dancer...Sam Fallie is a triple threat: Artist/Producer/Writer.
6.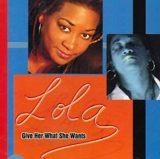 Lola "Give Her What She Wants" (Wilbe)
Ms. Lola Gulley is the newest find by the Stax Records legend William Bell....Daaaamn! But the girl ain't triflin', she found her way through the door to center stage...She has a mighty soulful voice that makes me think of Mavis Staples and Mr. Bell gives her a set of funky Rhythm & Blues and Southern Soul...The girl's good...he (Reginald Wizard Jones) and Bell continue to "Give Her What She Wants".
7.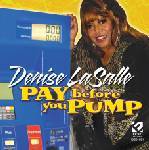 Denise LaSalle "Pay Before You Pump" (Ecko)
The first single, however, is a re-working of Floyd Hamberlin's "Mississippi Boy" (re-titled "Mississippi Woman"), which has already been a regional hit for Will T and Charles Wilson...The rhythmically similar "It's Goin' Down" was written by LaSalle. Here the "Queen" promises to put the smack down on a rival hen. ... LaSalle is one of those rare Blues singers that seems to appeal equally to female and male fans. The ladies cheer when she talk smack, putting men in their place but the menfolk simply eat it up too because she's got the chops. Both will "pump" this one to the top of the charts.
8.

Bigg Robb "8 Tracks & 45s" (Over 25 Sound)
Bigg Robb is in the hizzy and that can only mean one thing- party time for "grown folks"!...the madcap producer brings a cast of characters including Charlie Wilson, Blowfly, Henry "Big Woo" King (of Da Problem Solvas), Shirley Murdock, Karen Graves, Sure 2 B, Special & others to a straight up party record... on the pulse of the "grown and sexy" spirit in the Chitlin' Circuit... Pure booty candy.
9.

Wendell B "Time To Relax...Time, Love & Relationships" (Smoothway Ent.)
The hyperbolic intro and too many interludes may stymie some of the joy here but Wendell B is an incredible singer. Yes they call him the "new Luther Vandross" and so on but all hype aside truth is you can't help but be captured by the man's Soul. The drop dead fantastic first single "She Didn't Have Ta Hurt Ya Boy Like That" has been out for a few months making this an eagerly anticipated release. I really can't prattle on enough about how great this track is. Perhaps that's why he put it out way before the album was ready. It just couldn't wait? In fact his holiday outing "Save A Little Room For Me" dropped inbetween. Whatever it may be this track alone is worth full price.
10.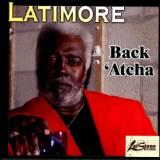 Latimore "Back 'Atcha" (LatStone)
After a recording drought of six years (and after a now obscure, one-off album with Mel Waiters' Brittney) Latimore returned on a new specialty label formed with Stone (unimaginatively called LatStone) and released this dynamo of an album. The fed up and fatigued "My Give A Damn Gave Out (A Long Time Ago)" was a great success for Latimore and the album spawned two further gems with "'Nanna Puddin'" and "Edna Mae".
11.

Simeo "Hottest In The Game" (Jomar)
"Get Low" shake it down to the floor! Get Low"! Ladies, please listen to the brutha! That's one hot dancefloor jammy...R & B-flava southern soul. Simeo used to play with Cameo ("Word Up"!) and sang lead for Larry Blackmon's pet project Cashflow...Every cut is hot. Big booty bottom bass on "Windows". He's singing "We roll roll southern soul soul". The walls are shaking, speakers rumble and the windows are rattling....Alright back to Simeo. "Hottest In The Game"? Maybe. Maybe! Peace.
12.

Lenny Williams "It Must Be Love" (Lentom)
As evidenced by his recent records Lenny Williams hasn't lost a step vocally. His "Can't Nobody Do Me Like You Do" spent an entire year on Southern Soul charts... "It Must Be Love" rewards the listener with that classic Lenny yearn and "I Be Missing You" features a modern Contemporary R & B arrangement with rat-a-tat verses and call-and-response backups... Still lovin' Lenny.
13.

Fred Bolton "I'm Gonna Get Mine" (Wilbe)
William Bell's Wilbe Records has given us another great sounding R&B/Soul record. Elastic-voiced tenor Fred Bolton makes his presence known... Radio friendly ear candy like "I Can't Lose (With The Stuff You Use)", "Must Be Jelly", "Baby It's You" should all be pulled as singles...Another winner from the Bell camp, which also boasts Jeff Floyd.
14.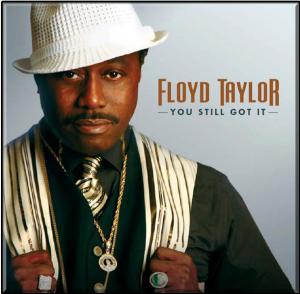 Floyd Taylor "You Still Got It" (Malaco)
In 2005 Floyd dominated Southern soul airwaves with Cason's "Baby I've Changed" to the point our readers voted it Southern Soul Song Of The Year (2005 Blues Critic Awards). It's late in 2007 and Cason, prior to his passing, has delivered an even better song called "You Still Got It". Perhaps the most truly romantic song of the decade. "Nineteen to twenty-two ain't got a damn on you. You still got it babe" Floyd croons to the wife of his youth who he's grown older with. An absolute genius track and yet a bittersweet swansong to Rich Cason's memorable career. (Cason was voted Record Producer Of The Year in 2005)
15.

Big G "Simply Me" (Stone River)
Big G stays true to form on "Simply Me", laidback, downhome Soul in the Roy C vain. Amazingly, considering he's better than his low profile, this is G's sixth LP (excluding two compilations) and again it features almost entirely real instruments (played by G himself). Heavy bass and drum bottom and lots of saxophone (by Lorenzo Brown) permeate these simple songs about love, bopping your booty and gettin' it on. The strongest melody belongs to "1 800" about a lonely guy who sees a commercial imploring him to cure his heartache by picking up the phone. (Good thing he didn't see any 1-900 ads!) The sweet backups by the Babylon Sisters (Tanya, Monica & Michelle) steal the show here. The trio add their talents to most of the cuts- (wish the credits listed their full names).
16.

Charles Wilson "The After Party" (CDS Records)
10 brand new southern soul songs (plus the 11th hidden bonus track "Mississippi Boy")...Every song could be a hit. "That Boom!"..."Plumber Man"....On the slow tip we have the super sweet "Broke Into My Heart" ..."Christmas In Memphis"....Charles' best record yet?
17.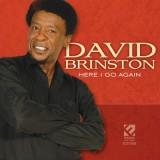 David Brinston "Here I Go Again" (Ecko)
Now on his fifth record label, Ecko, Brinston delivers the goods with simple melodic bumps, ballads and beach. Though it's heavily synthetic music a singer like Brinston can still make it sound soulful. The set opens with the title track, a sweet dancer nearly ruined by obnoxious background vocals (that goofy "here I go here I go" bit). It sounds like an outtake from the "Hit & Run" sessions! The likely radio cuts though are the bump "Baby Let Me Hit It One More Time" and midtempo "Too Many Women", both have the strongest refrains on the LP. The latter also features a bona fide B-3 Organ part by John Ward, who this time gives co-production credited to frequent collaborator Morris J Williams.
18.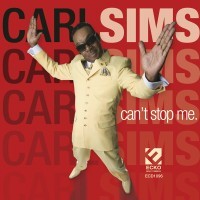 Carl Sims "Can't Stop Me" (Ecko)
Though it's only been a year and a half it seems longer since we've had new Carl Sims music. Most likely because his last LP, "I'm Ready", really didn't produce any enduring hits despite having one of the year's best cuts ("I'm A Hustler"). The lone charter, "I Needed A Woman", was an inferior retread of the "Seventeen Days Of Loving" track. "Can't Stop Me" should bring Carl back in the spotlight, however. The first single, "I Like This Place", is a solid "Hole-In-The-Wall"- themed bumper we expect from Ecko Records.
19.

Willie Hill "I'm A Man On A Mission" (Ifgam)
The phrase "long awaited new album" is an overused cliché that actually fits the new Willie Hill quite rightly. See, it was all the way back in 2005 when the first single off this LP was released. That track, "Man On A Mission", was a moderate Southern Soul hit that portended a good Theodis Ealey-like batch of tunes...the truly long-awaited new CD by Willie Hill has dropped...and it lives up to the promise. It leads off with the above-mentioned title track, includes the terrific "Friendly Reunion" and a slew of good 'uns. Mr Theodis Ealey has produced and presented an album on Hill not unlike his own output: Keyboard-driven, upbeat bumpers and Blues- not too polished but with a bouncy bottom.
20.

Vickie Baker "I Could Show You" (FaLife)
... she still has that sweet Southern Soul voice. "I Could Show You" mostly that trusty Chitlin' Circuit-style of "Soul/Blues" we all love ...witty cuts like the title cut...This fills in the void we've had since Peggy Scott-Adams is taking a break..."Get Me Weak" talks bullshhh or perhaps "the truth" on "Straight Talkin'", ala Millie Jackson, but then gets all soft on the gorgeous slowie "He Say She Say" where she vows "to stand by my man".
Blues Critic's
Top 10 Retro-Soul/Soul Blues Albums Of 2007
To be eligible albums must have been released in North America between 12/2006 to 12/2007. OR albums released in 2006 that peaked in 2007.
1.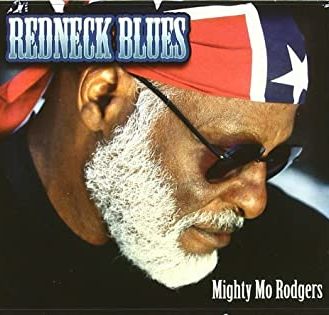 Mighty Mo Rodgers "Redneck Blues" (Dixiefrog)
Willie Dixon may have claimed it first but these days Mighty Mo Rodgers is the Blues. Perhaps nobody digs as deep into the art form to elucidate what it means for Black Americans and all humanity in general...Rodgers has wrapped his message within tightly packed arrangements full of that "holy howl" and sledgehammer Rhythm & Blues. Forget KRS-One this is truly "edutainment"...It's to Mo's credit that he doesn't sacrifice song structure for seriousness. The disc is as tuneful as any "party Blues" album. That muscular, rhythmic Soul Blues sound- almost hypnotically tribal- graces "Death Of The Middle Class" and "Gangs Guns And Testosterone". ...This is what "contemporary" Blues is suppose to be about. "Redneck Blues" is uncompromising, defiant, and Southern American to the core. Mo helps each and every one of us be 'afrocentric" if only for an hour. One could never "get" the Blues without such an experience. A triumph.
2.

Swamp Dogg "Resurrection" (SDEG)
"Resurrection" is his most provocative (and best) offering in decades ... winding, horn-heavy slice of energetic Soul- that Swamp Dogg sound.... the centerpiece of the record is the twelve minute titled track, an unflinching treatise on the history of Black folk in America.
3.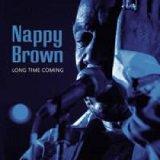 Nappy Brown "Long Time Coming" (Blind Pig)
At age 78 Mr. Napoleon Brown Goodson Culp aka "Nappy Brown" remains one of our best living Blues singers. That versatile voice has always jumped easily from croon, to shout, to wail and that ain't not changed no way. In fact, I think it's improved with age...This Blind Pig Records debut, his first LP since his obscure 1997 New Moon disc "Who's Been Foolin' You", is a sterling addition to his legacy, featuring some of the finest Blues musicians working today...Speaking of vocals you must experience the Deep Soul he exudes on the ballad "Give Me Your Love"...Brown's put out some strong modern day records, such as Black Top's "Something Gonna Jump Out The Bushes" (1987) and Ichiban's "Apples & Lemons" (1990) (both inexplicably out-of-print), but this new disc will have the longest run.
4.

Tad Robinson "New Point Of View" (Severn) Tad Robinson is simply one of the best singers in the business. An aching blue-eyed Soul tenor much too strong for generic 12-bar Blues fare (though he does such extremely well) and his latest...is yet another perfectly produced and arranged Soul/Blues disc from Severn Records...Robinson's last opus, "Did You Ever Wonder?", was our pick for Best Blues CD of 2004 and this new one is a delicious followup. With heavy support from Pride...the disc marinates in heavy bass, horns and B-3 glory... the sound of this record is so sublime...

5.

Bettye LaVette "Scene Of The Crime" (Anti)

Again, LaVette's latest is hard to categorize with Rock, Soul, Blues, Folk all coming from her unforgettable voice. This is the acclaimed CD that her overrated "I've Got My Own Hell To Raise" wanted to be.

6.

Thorbjorn Risager "From The Heart" (Gateway Music)

Sometimes a singer's voice just stands out and forces you to listen Take one part Ray Charles, one part Bob Seger and one part Joe Cocker and you may have the vocal instrument of Denmark's Thorbjorn Risager...as auspicious a debut as one could hope for. A crunchy guitar riff introduces "Love Turned Cold", a John Lennon-esque rocker, with Risager bellowing from the back of his throat... Ten tracks without a dud in the bunch, "From The Heart" is sizzling with Soul.

7.

Eugene Smiley Sr "Legends" (KCity)

...the kind of Soul/Blues record critics such as myself love to discover. All original songs and real instruments, which in itself is a selling point. Memphis movers like "I'm The Only Man", "You're Gonna Miss Me" & "Holdin On" plus Downhome Bluesers "Straighten Up, Woman" & "Voodoo Woman". Horns, Bluesy guitar and organ Soul music never gets old.

8.

Sterling Harrison "South Of The Snooty Fox" (Hacktone)

The late Sterling Harrison never got his due as the exceptional Soul singer he was during his life... Fortunately for us he left a potent collection of tracks aka "South Of The Snooty Fox", that shows Harrison was a cut above the average Soul/Blues journeyman. "Snooty Fox" is the definitive Sterling Harrison moment.

9.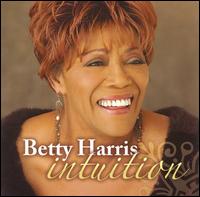 Betty Harris "
Intuition
" (Evidence)
Jagged, unpolished Soul, Blues & Rhythm & Blues for comeback gal Harris. Now three-plus decades since her official 1970 retirement she's returned with a 16-track set entrusted to the prodigious hands of producer Jon Tiven....Add a crack band that plays this kind of music all day and you got a keeper! Featuring a hook big enough for a whale, the opener "Is It Hot In Here?", is simply overpowering in it's sexiness and ripe for Triple A radio..."Intuition" ranks up there with his Pickett album ("It's Harder Now")....a vital new recording that's classic in arrangement but sonically NOW.
10.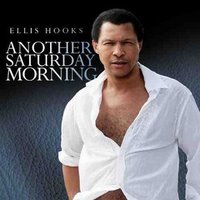 Ellis Hooks "Another Saturday Morning" (Evidence)
I'd give this record a rave just for the fact it's packed fair and square with 16 new tracks (!) all written by producer Jon Tiven, wife Sally Tiven and Ellis Hooks. A lotta bang for yo' buck. The Tivens have written and produced terrific discs by Hooks ("Godson Of Soul") Wilson Pickett, Sir Mack Rice & most recently the four-award winning (W.C. Handy's) "Think Of Me" by Little Milton. There's a winning formula. We got the same raspy Soul voice, punchy rhythm, real ingredients (organ, horns, guitar) that worked before and while the songs contain perhaps less immediately gratifying hooks (no pun intended) the results show there's plenty fuel left in the tank
---
30 Great Southern Soul, Rhythm & Blues Songs Of 2007
*** in no particular order...
| | | |
| --- | --- | --- |
| Song | Artist | Label |
| "Blues, Funk, Soul & A Little Rock & Roll" | Simone De | Premier Artists |
| "Crazy Sexy Smooth" | Walter Waiters | WW |
| "You Still Got It" | Floyd Taylor | Malaco |
| "A Bible & A Beer" | Betty Harris | Evidence |
| "They Crowned An Idiot King" | Swamp Dogg | SDEG |
| "I'm Goin' Back Home" | O.B. Buchana | Ecko |
| "My Give A Damn Gave Out (A Long Time Ago)" | Latimore | LatStone |
| "Get Low" | Simeo | Jomar |
| "Another Man's Meat On My Plate" | Sweet Angel | Mac |
| "1 800" | Big G | Stone River |
| "The Dream" | Eugene Smiley Sr | K-City |
| "I Thought She Was At Home With The Kids'" | Bigg Robb & Da Problem Solvas | Over 25 Sound |
| "That Boom!" | Charles Wilson | CDS |
| "12 Steps 4 Cheaters" | Mr. Sam | MiLaja |
| "Through A Woman's Eyes | Lady Bianca | Magic O |
| "It's Okay" | Steve Perry | Bluesland |
| "I Ain't Gonna Take It" | Karen Wolfe | B & J |
| "Good Woman (With Bad Habits)" | David Brinston | R & B |
| "I'm In Love With A Crackhead" | Da Twinky Man | 5th Ward City |
| "Pain In The Gas Lane" | Dicky Williams & The Ken Massey Group | CDS |
| "Dick For Dinner" | Travis "Moonchild" Haddix | Wann-Sonn |
| "All I Have" | Mem Shannon | Northern Blues |
| "He's Movin In (To Her Life)" | Tad Robinson | Severn |
| "Gotta Get The Feelin' Back Again" | Stacy Mitchhart | Dr Sam |
| "Burning Up" | Thorbjorn Risager | Gateway Music |
| "Jealousy" | Bettye LaVette | Anti |
| "Gasoline Drawers" | The Holmes Brothers | Alligator |
| "Mississippi Woman (Delta Blues Mix)" | Denise LaSalle | Ecko |
| "The Blues Will Take Care Of You" | Root Doctor | Big-O |
| "Dog Kinda Love" | Dicky Williams & The Ken Massey Group | CDS |
To be eligible albums must have been released 12/2006 to 12/2007. OR albums released in 2006 that peaked in 2007.