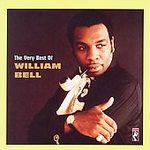 William Bell "The Very Best Of"
1. You Don't Miss Water
2. Any Other Way
3. Share What You Got (But Keep What You Need)
4. Never Like This Before
5. Everybody Loves a Winner
6. Eloise (Hang on in There)
7. Everyday Will Be Like a Holiday
8. Tribute to a King, A
9. Every Man Oughta Have a Woman
10. Private Number
11. I Forgot to Be Your Lover
12. My Baby Specializes
13. My Whole World Is Falling Down
14. Happy
15. Born Under a Bad Sign
16. All For the Love of a Woman
17. Save Us
18. Lovin' on Borrowed Time
19. I've Got to Go on Without You
20. Getting What You Want (Losin' What You Got)

William Bell "New Lease On Life"
1. New Lease on Life
2. Playaz Only Love You (When They're Playing)
3. Part Time Lover (Full Time Friend)
4. My Body Don't Know
5. Honey from the Bee
6. You Got a Hold on Me
7. Keep a Light in the Window
8. Got an Island Feelin'
9. Treat Her Right (Like a Lady)
10. Up Close and Personal
11. Save Us
12. Every Sunday Morning