Little Milton "The Very Best Of"
1. If That Ain't a Reason (For Your Woman to Leave You)
2. I'm Living Off the Love You Give
3. That's What Love Will Make You Do
4. Before the Honeymoon
5. Walking the Back Streets and Crying
6. Eight Men and Four Woman
7. I'm Gonna Cry a River
8. Let Me Down Easy
9. Rainy Day
10. Little Bluebird
11. What It Is
12. Tin Pan Alley
13. Behind Close Doors
14. Woman Across the River
15. Let Me Back In
16. If You Talk in Your Sleep
17. Packed up and Took My Mind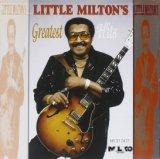 Little Milton "Greatest Hits"
1. The Blues Is Alright
2. Room 244
3. Annie Mae's Cafe
4. Nothin' to Write Home About
5. My Dog and Me
6. Strugglin' Lady
7. I Was Tryin' Not to Break Down
8. Little Bluebird
9. Walking the Back Streets and Crying
10. Catch You on Your Way Down
11. Possum in My Tree, A
12. Murder on Your Hands
13. Comeback Kind of Love
14. Going, Going, Gone