Chick Willis "Mr. Blues: The Best Of...So Far"
first ever "best of" collection on Blues legend Chick Willis. This 17-track set collects Chick's most popular songs, rarities and 5 unreleased tracks.
1 Stoop Down Baby Let Your Daddy See
2 Do The Hucklebuck (Remix)
3 Ribshack Blues Cafe
4 I Wonít Give Up
5 Mr. Blues
6 1,2,3,4,5 Shots Of Whiskey
7 Hattie
8 I Found The Kinda Love
9 I Want A Big Fat Woman (Live)
10 Iím The Son (I Like It Like That)
11 Jack You Up
12 Bootie Call
13 Old Man With Freaky Ideas
14 I Wanna Funk Wid You
15 Look On Yonderís Wall (Live)
16 Mother Fuyer (Live)
17 I Canít Stop Loving You (Live)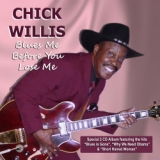 Chick Willis "Blues Me Before You Lose Me"
Disc 1
1. The Blues Is Gone
2, Mother Fuyer
3. Black Widow Spider
4. Keep Singing The Blues (Shag Mix)
5. Why We Need Obama
6. The Train Is Gone
7. The Gas Is Too High
8. Don't Deceive Me
9. In The Mood We're In
10.Four Wives Too Many
11. What I Say
Disc 2
1. Intro (Let Me Play My Blues)
2. Short-Haired Woman
3. Picture on the Wall
4. Just a Bad Dream
5. On Your Way Fishing
6. Crush on My Next Door Neighbor
7. My Fannie Mae
8. Don't Know What You Got
9. We're Going to Boogie
10. Worried About You
11. Money Is the Name of the Game
12. Since I Fell for You
13. Let Me Play My Blues