Buy CDs
Johnny Rawls
Born in 1951 in Purvis, Rawls began playing clarinet and saxophone in third grade but by the age of twelve he switched to guitar. Still a teen, he turned pro to back singers like Joe Tex, Little Johnny Taylor, Willie Hitower and Z.Z. Hill. Eventually he was playing behind one of his idols, O.V. Wright. Despite Wright's death the O.V. Wright Band stayed alive for over a decade with Rawls at the head.
Determined to work under his own name he cut a 45 for the tiny Rainbow label in 1985 . Working with guitarist L.C. Luckett, Rawls recorded several more singles for his own label, Touch Records, and a hard to find LP called "You're The One". But it would take another 9 years for the next LP to materialize. Blues harp legend Willie Cobbs hooked Rawls & Luckett up with Jim O'Neal of Rooster Blues, which lead to the acclaimed "Can't Sleep At Night" in 1994. Rawls also produced Cobbs' "Down To Earth" for the label.
Starting in 1996 Rawls entered a prodigious period with JSP Records. Serving as producer and A & R rep for the label he helmed albums for artists like Lonnie Shields, Phil Guy, Eddie Kirkland, Johnnie Marshall, Kenny Edwards, George Stancell and Percy Strother. During this time he dropped four records of his own, developing his own disparate sound- a Southern Soul melody template with a heavy rhythmic pulse. When that deal ended he was back on his own label, then named Deep South Sound. In no short order he produced records for old friends Blues Boy Willie & Chick Willis, as well as his own "Lucky Man" and a project on his daughter Destini.
Despite his impressive resume Rawls is just now hitting his peak. After one acclaimed disc for Topcat ("No Boundaries") Rawls' has re-titled his label Deep South Soul and released his best record to date, "Heart & Soul".
Album Discography
Rawls/Luckett "You're The One" (Touch 1985)
6 track album You're The One / Think About It / I Don't Know Why/ Still In Love / I Just Wanna Dance / I Don't Know Why (Re-Mix)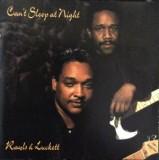 Rawls/Luckett "Can't Sleep At Night" (Rooster Blues 1994)
1. Can't Sleep at Night
2. I Don't Do Windows
3. Can We Talk It Over
4. What Makes a Good Man Go Bad
5. Have You Ever Played the Fool
6. Shake It, Shake It, Baby
7. Good Love (Takes More Than a Minute)
8. Soul to Soul
9. Playboy
10. Be Fair to People
11. If You're Not Home by Tomorrow
12. Who Made the Mountain
13. Don't Mess With My Wife
14. Medley: I'd Rather Be Blind, Crippled and Crazy/Ace of Spades: I'd Rather Be Blind Crippled And Crazy / Ace Of Spades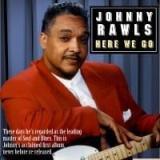 "Here We Go" (JSP 1996)
1. Here We Go
2. Old Flame
3. I Would Be Nothing
4. Don't Worry About It
5. Working My Way Back to You
6. Sweet Woman
7. What a Night
8. I Got a Problem
9. Gonna Put You Down
10. Candy Man
11. I Feel So Good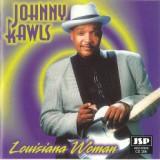 "Louisiana Woman" (JSP 1997)
1. I Don't Want No Woman Tyin' Me Down
2. Louisiana Woman
3. It's All in the Game
4. Watcha Gonna Do?
5. Can't Nobody
6. You Got Me Going Through Changes
7. It's a Shame
8. Blues (Good as Gold)
9. I Got Soul
10. Lover Man
11. How Much Longer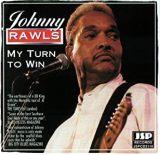 "My Turn To Win" (JSP 1999)
1. Bad Reputation
2. Back in Your Arms
3. Oh Please Come Back
4. I Been Lookin'
5. My Turn to Win
6. Lucy
7. Can't Stop Thinkin' 'Bout You
8. Nobody's Gonna Take Your Place
9. I Been Broken Hearted
10. That's Why I'm Goin' Away
11. I'll Be Alright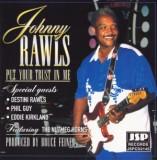 "Put Your Trust In Me" (JSP 2001)
1. Hit by a Truck
2. Should Be at Work
3. Sometimes
4. Talk Is Cheap
5. It Ain't Nothin' But the Truth
6. Gonna Keep On
7. Put Your Trust in Me
8. Don't Lose Your Good Thing
9. Don't Give Up on Your Dream
10. I Wanna Come Home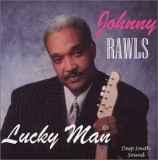 "Lucky Man" (Deep South Sound 2002)
1. You Got to Change
2. I Need Some Love
3. Lucky Man
4. Give It to Me
5. Got to Be Careful
6. Real Love
7. Still Together
8. Picture in a Frame
9. Call Me
10. Going Home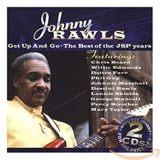 "Get Up And Go" The Best Of The JSP Years" (JSP 2002)

DISC 1:
1. Bad Reputation
2. You Got Me Going Thru Changes
3. Should Be at Work
4. I Don't Want No Woman
5. I Feel So Good
6. I Wanna Come Home
7. Here We Go
8. What a Night
9. Oh Please Come Back
10. How Much Longer

DISC 2:
1. It's Been a Long Time (Willie Edwards)
2. Stealing Your Love (Johnny Rawls)
3. Say What You Mean (Phil Guy)
4. Don't Let Your So Called Friends (Percy Strother)
5. Lonely Street (Destini Rawls)
6. Bluesman (George Stancell)
7. Man Is Under Pressure (Lonnie Shields)
8. Jodi Man (Johnnie Marshall)
9. Caught Up (Chris Beard)
10. Back to You (Mary Taylor)
"Live From Montana" (Deep South Sound 2004)
1.Feels So Good
2.Shake It
3.Can't Nobody
4.My Turn To Win
5.Lucy
6.All In The Game
7.It Ain't Nothin But The Truth
8.Don't Loose Your Good Thing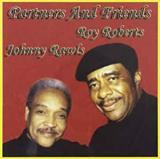 "Partners And Friends" (Rock House 2004)
1. Don't Let This Love Slip Away
2. How Long
3. You Are The One For Me
4. Country Boy
5. Reach Out
6. Can't You See
7. What's Been Going On
8. Shaggin Down In Carolina
9. Making A Fool Of Me
10. Let's Go To The Beach

"No Boundaries" (Topcat 2005)
1. Show Me the Way
2. Train Keep Rolling
3. Keep the Faith
4. I Won't Give Up
5. Never Found a Smoking Gun
6. Fallen Bird
7. Long Black Car
8. Nothing Lasts Forever
9. Even Though You're in Heaven
"Heart And Soul" (Deep South Soul 2006) LISTEN
1. Ain't That Love
2. Missing You
3. You're My Girl
4. Still a Woman
5. Make Up Your Mind
6. One Good Woman
7. Damn Cocaine
8. Your Love Is All I Need
9. Things Change
10. Good Lovin' Goin' On
"Rockin' In Rockland" CD+DVD (Deep South Soul 2007)
1. Interview (dvd only)
2. Watcha Wanna Do (dvd only)
3. You Got To Change
4. Feels So Good
5. Got To Be Careful
6. Shake It
7. Oh Please Come Back
8. My Turn To Win
9. How Much Longer
10. Lucky Man
11. Don t Lose Your Good Thing
12. Give It To Me
13. It s All In The Game (dvd only)
14. Lucy
"Red Cadillac" (Catfood 2008) LISTEN
1. Red Cadillac
2. Mississippi Barbeque
3. Can I Get It
4. American Blues
5. Hard Times
6. Falling for You
7. I Want to Thank You
8. Get It While You Can
9. Wash Your Hands
10. Sure Miss Your Love
11. Moment of Weakness
12. No One Gives a Damn
13. Cheatin Woman
14. Looking for Trouble
"Ace Of Spades" (Catfood 2009) LISTEN
1. Drive All Night
2. Ace Of Spades
3. Going Back Home
4. My Broken Heart
5. I'm A Bluesman
6. American Dream
7. Can't Win For Losing
8. Gasoline On The Fire
9. Live For Today
10. He's A Good Man
11. Keep On Running Away
12. Wish It Would Rain

"Memphis Still Got Soul" (Catfood 2011)
1. Memphis Still Got Soul
2. Blind, Crippled and Crazy
3. Give You What You Need
4. Take You For A Ride
5. Stop The Rain
6. Burning Bridges
7. My Guitar
8. Flying Blind
9. Blues Woman
10. Don't Act So Innocent
11. Love Stuff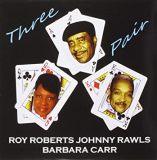 Roy Roberts Johnny Rawls Barbara Carr "Three Pair" (Ocean Beach 2012)
1 Don't Let Our Love Slip Away
2 How Long
3 Shaggin' Down In Carolina
4 It's Only You
5 Country Boy
6 Tonight Your Love Belongs To Me
7 Reach Out
8 Your Are The One For Me
9 Don't Let Our Love Slip Away, Part 2
10 Can't You See
11 Shaggin' Down In Carolina, Part 2
12 What's Been Going On
13 Let's Go To The Beach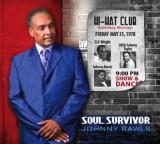 "Soul Survivor" (Catfood 2012)
1. Soul Survivor
2. Hand Me Downs
3. Eight Men, Four Women
4. King of Hearts
5. Lone Way From Home
6. Bad Little Girl
7. Drowning
8. Don't Need a Gun To Steal
9. J.R.'S Groove
10. Yes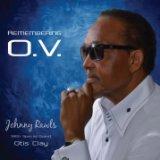 "Remembering O.V." (Catfood 2013)
1. Into Something (I Can't Shake Loose)
2. Precious Precious
3. Crippled and Crazy Blind
4. Nickel And A Nail
5. Poor Boy
6. Four Women Eight Men
7. Don't Let My Baby Ride
8. Ace of Spades
9. I've Been Searching
10. Blaze of Glory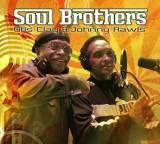 Otis Clay & Johnny Rawls "Soul Brothers" (Catfood 2014) LISTEN
1. Only You Know and I Know
2. Momma Didn't Raise No Fool
3. Voodoo Queen
4. What Becomes of the Brokenhearted
5. Living On Borrowed Time
6. Turn Back the Hands of Time
7. Road Dog
8. Poor Little Rich Girl
9. Hallelujah Lord
10. Waiting for Dreams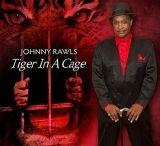 "Tiger In A Cage" (Catfood 2016)
1 Tiger in a Cage
2 Born to the Blues
3 Red Cadillac
4 Every Woman Needs a Working Man
5 Reckless Heart
6 Keep It Loose
7 Having a Party
8 Your Love Is Lifting Me (Higher and Higher)
9 Southern Honey
10 Lucy
11 Beast of Burden
12 I Would Be Nothing