1.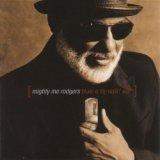 Mighty Mo Rodgers "Blues Is My Wailin' Wall" (Blue Thumb 1999)
Willie Dixon may have claimed it first but these days Mighty Mo Rodgers is the Blues. Perhaps nobody digs as deep into the art form to elucidate what it means for Black Americans and all humanity in general. Prior to this album Rodgers attended Cal State Northridge where he earned a degree in philosophy while simultaneously working as a staff songwriter for Chappell Publishing and Motown. He completed a Masters degree in Humanities with the thesis, "Blues as Metaphysical Music (Its Musicality and Ontological Underpinnings)". Mo Rodgers then made one of the most outstanding Blues albums since the pre-Disco years. That LP, "Blues Is My Wailin' Wall", was in many ways a soundtrack to an unmade documentary called "The History Of The Blues" or perhaps the movie version of his thesis. Case in point is the Spartan "Took Away The Drum" that explains how the Blues was born. Slave owners took away drums from slaves in the field who then began singing the Blues- the true meaning of feeling blues. And that's only the beginning. The poignant messaging doesn't detract from the fact it's a masterfully tuneful album with lean, mean midtempo Soul Blues ("Heaven's Got The Blues", "The Kennedy Song"), Deep Soul ("(Bring Back) Sweet Soul Music" and "Willie B. & Me") and much more. Masterpiece.
2.

Charles Walker "Number By Heart" (Zane 2003)
Producer Fred James had asked: "How do you feel about making a deep soul album Charles, you know, songs with passion and fire and with a feel of the classic era when the sounds of Memphis and Muscles Shoals ruled". Mr. Charles Walker agreed and that is exactly what they did! This is deep southern soul & Blues with organ, horns, gutsy singing- the works; transporting you back to the days of Otis Redding, Sam & Dave, Percy Sledge and even James Carr in their prime. No that's not hyperbole. What is most surprising about the sure quality and classic sound of the music is that the majority of the album is original- from the heartbreaking title track, to the chugging blues of "One's Man's Poison" to horn-fueled "Love & Tenderness". There are a few great covers (Elvis Costello's "Allison", Percy Sledge's "It Tears Me Up"), but it's all Charles Walker. Who says they don't make'em like they used to?
3.

Frank Mendenhall "Hard Times" (Wurst Act 2004)
Gone way too soon. Frank Mendenhall passed away in 2007 at age 59 but not before he released three albums including "Hard Times" - simply one of the greatest Southern Soul/Rhythm & Blues albums ever created. Mendenhall possessed a weary, doleful voice that oozed n' ached Soul. On his first two albums ("Time" & "Sweet Love") Mendenhall displayed his eclectic roots of Soul, Blues, Reggae, somewhat pedestrian adult contemporary balladry but outside of "Time" and first hit "Shont Dont Dont" he hadn't yet perfected his trademark sound. When "Hard Times" dropped six long years later it was clear Mendenhall has created a masterpiece. Gone was the faux-Reggae conceits and the wimpy beat ballads. In it's place was song after song of hard hitting Southern Soul, rhythm and a little Blues with a propulsive groove bumping on top of an organ/bass foundation. To my ears Clarence Carter's "Slip Away" is a template Mendenhall uses time and time again to great effect. Just about every song on "Hard Times" has at some point gotten it's share of airplay.
4.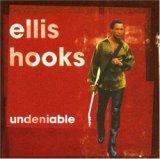 Ellis Hooks "Undeniable" (Zane 2002)
Ellis Hooks was in New York in 1995 when he met producer Jon Tiven. Hooks accompanied another singer to an audition at Tiven's studio. Tiven didn't care for that singer but coaxed Hooks himself to audition. The result? Well it took a minute (seven years) but yonder came a marvelous debut of caustic Soul Blues and Soul by an old school-style singer- with rasp and sheer power that frightens these catchy melodies into submission. Being familiar with Hooks' career since this LP it seems probable that these songs are the result of years worth of writing (in the same way Graham Parker & The Rumour's perfect first album, "Howlin' Wind" seemed like a instant "greatest hits" album) leading up to this moment just for the sheer quality of them and what a hard act to follow this album became for Hooks. Songs like "Burnt By The Flame Of Love", "Gypsy Head", "Something For Everyone" and "Blaze Up This Town" are sizzling- all 13 cuts are even to this day riveting, fresh and among his very best. I can't help but (try) sing-a-long when I listen to this one. CATCHY.
5.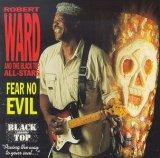 Robert Ward "See No Evil" (Black Top 1990)
Robert Ward was a co-founder of the Ohio Untouchables, the band that later would become the Ohio Players. As the Untouchables he cut several singles and he and the band also were sidemen on Wilson Pickett & The Falcons sides before a long hiatus from the spotlight. His debut for Black Top in 1990 drew rave reviews. Ward updates a few of his 60s nuggets like "Strictly Reserved For You" and "Your Love Is Amazing" and writes a new cache of tunes for his remarkable comeback.
6.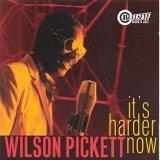 Wilson Pickett "It's Harder Now" (Bullseye Blues 1999)
Blessed with some of the most gritty, potent vocal talent known to man Pickett entered the studio for only the second time since 1981 (A tepid, pop-slanted "American Soul Man" was released in 1987) with Jon Tiven and they bashed out a Soul Blues/Retro-Soul masterpiece. I should also add "underrated" as some top publications give rather Earthbound reviews of an ethereal LP.
7.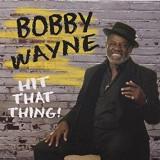 Bobby Wayne "Hit That Thing!" (Bonedog 2004)
Sublime. Magnificent. Dazzling. (add superlative here). A few words to describe Bobby Wayne's supremely soulful "Hit That Thing!". A friend of mine and fellow critic told me to get a copy of this disc all the while praising it with nearly blithe drool and I'm now quite grateful (we Deep Soul/Blues geeks are a verbose bunch when we find a diamond). 100% organic backing. Tasteful female backups, organ, majestic horns, flawless rhythm and gritty vocals on 13 great tunes equals buy-it-now-or-forfeit-your-soul.
8.

Bettye LaVette "I've Got My Own Hell To Raise" (Anti 2005)
With a raspy alto exploding with emotion Bettye LaVette must have "buzzard luck" for her not to be better known. Of course that could change with this potent stew of sandpaper R & B, folk, soul & gospelish blues. Be forewarned this isn't saccharine sweet soul music replete with horns and an unremitting groove. In fact at times it's jarring and cacophonous but never boring. The material is drawn from an eclectic assortment of female singers but Lavette turns each track into her own. A torchy acapella version of Sinead O'Connor's "I Do Not Want What I Haven't Got" kicks things off before giving way to a jagged rendition of Lucina Williams' "Joy". Producer Joe Henry was behind Solomon Burke's dramatic comeback album "Don't Give Up On Me". Spare, dusky and traveling on a gravel road Henry's production is sympathetic and unobtrusive. LaVette's the centerpiece rather than studio wizardry. She can migrate from a gritty, manic number like "Joy" onto a delicate piano ballad like "Down To Zero" (written by iconoclast Joan Armatrading) and "The High Road" with ease. Henry strips away the chamber-pop pretensions of the unctuous Fiona Apple's "Sleep To Dream" down to a bluesy root and brings out the R & B in Aimee Mann's literate pop/rock confection "How Am I Different?".
9.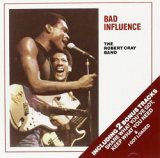 Robert Cray "Bad Influence" (Hightone 1983)
Cray reaches greatness already at album number two. A fabulous collection full of Grade A material like Cray's own "Phone Booth" (also done by Albert King), "Bad Influence" (also done by Eric Clapton), slow grinding "The Grinder" & "Waiting For The Tide To Turn" plus the light-hearted "So Many Women, So Little Time" and romping "I Got Loaded". Staxy-soul makes it's debut with Eddie Floyd's "Got To Make A Comeback". One of Cray's essential discs.
10.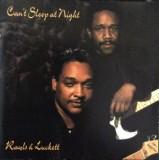 Rawls/Luckett "Can't Sleep At Night" (Rooster Blues 1994)
One of the best deep Soul/Blues albums of the 90s. Johnny Rawls & L.C. Luckett had been playing together for years backing artists like O.V. Wright, Z.Z. Hill, Little Johnny Taylor, Blues Boy Willie, Latimore & more before they finally recorded a proper album together in 1994. The result? A masterpiece of retro-soul. The title track is unforgettable with it's insistent hook and pleading vocals. The O.V. Wright classic "I Don't Do Windows" sounds like a lost Sam & Dave hit with Johnny & L.C. serving up some gutsy singing. The track that seems to get the most praise is the southern soul-styled "Can We Talk It Over". Another gem is "Be Fair With People" (and everything will go your way). Track after track the cd delivers soulful singing, rich horns with a touch of blues and that says a lot since there's 14 tracks. It hold up a to z. Check out the O.V. Wright tribute at track number 14: "I'd Rather Be Blind, Crippled & Crazy/Ace Of Spades" medley. Anyone that enjoys deep soul/blues NEEDS this CD.
11.

Denise Lasalle "Wanted" (Ecko 2004)
"Snap, Crackle & Pop" is a hilarious answer song to Theodis Ealey's mega-hit "Stand Up In It" & Dr. Feelgood Potts' response "Make It Talk" (& many others). Leave it to the queen to tell us "what a woman is really all about". It's another shuffle-bumpin southern soul jam with an irresistible hook that you can't help but tap your toes, dance or bob your head to. A smash. Period. The similar-sounding "Wanted Man" is sure to follow. Denise still has a strong, thick, authoritative voice and still has some quality songs in her. "Doormat Woman" is a soulful romp that continues the "equal opportunity" theme. "A Woman Needs Money" tells the players that a woman needs more than sex (similar to label mate Sheba Potts-Wrights successful "I Can Hear Your Macaroni"). Another highlight is the thumping blues of the Little Miltonesque "They Made A Blues Fan Out Of Me" where she cites her influences. "The Thrill Is On Again" is basically "Thrill Is Gone" part 2. As is common with new Ecko Records releases the artist remakes a couple tunes from past Ecko albums like Barbara Carr ("Bone It Like You Own It") and Bill Coday ("It Was A House Until You Made It A Home").
12.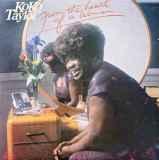 Koko Taylor "From The Heart Of A Woman" (Alligator 1981)
Though she's always soulful Koko Taylor is not normally categorized as Soul Blues since her milieu is usually classic Chicago-styled Blues shuffles, lumps and smoldering slow Blues but "From The Heart Of A Woman" has more to offer like her otherworldly great version of "I Wish I Were Blind". Best vocal she ever recorded. "If You Got A Heartache" is swinging 60s Soul ala Sam Cooke and she covers the stomping Little Milton hit "If Walls Could Talk".
13.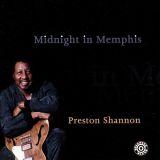 Preston Shannon "Midnight In Memphis" (Bullseye Blues 1996)
Produced by the legendary Willie Mitchell with keyboardist and label mogul Ron Levy, Shannon delivers a masterpiece of Memphis Soul & Blues. Featuring members of the legendary Hi Records house band and recorded at Mitchell's Memphis studio, the album kicks off with two stunning mid-tempo Memphis soul burners co-authored by Mitchell: ("'Round Midnight" & "Baby I Will"), followed by a gritty blues called "Size 12 Shoes" A superior take on Leon Haywood's "The Streets Will Love You To Death" & the slow, sexually-charged blues "The Clock", plus juke joint blues "Honky Tonk" push this gem into the stratosphere.
14.

Tad Robinson "Did You Ever Wonder?" (Severn 2004)
Severn Records has fit Robinson with a rich, soulful horn & blues guitar-fueled backdrop for his aching vocals. Backing Robinson is a tight band of Severn regulars, including guitarist Alex Schultz, keyboardists Benjie Porecki and Kevin McKendree, a rhythm section of drummer Marty Binder and bassist Harlan Terson. The horn section was arranged by the great Willie Henderson, who worked for Tyrone Davis (among others). The disc opens with a terrific version of Dan Penn's "They Say" that has a Al Green/Willie Mitchell feel to it. Robinson absolutely sizzles on the original "Did You Ever Wonder?," with mournful, passionate vocals, filled with emotion like only a great soul singer can muster. He can also tone it down for a coasting pop song like the Cornelius Brothers' "Too Late To Turn Back Now" and play some tasty harmonica on the Latin-tinged "The Bitter & The Sweet". Especially noteworthy is Tad's take on Robert Ward's "Your Love Is Amazing", the title track and the slow blues "Suffering With The Blues", which is one of many places guitarist Schultz shines. Further stamping this cd with legitimacy is the fact the legendary Otis Clay sings backup on two tracks ("Too Late To Turn Back Now" & "Welcome Home").
15.

Willie Walker & The Butanes "Memphisapolis" (Haute 2006)
For all the fans and critics bemoaning Soul music's reliance on machines these days I present you with a pacifier. 100% organic, natural Deep Soul music (and original songs to boot!). We're talking Hammond organ, a horn section, rhythm section with a pulse and an authentic O.V. Wright-styled Soul shouter. Actually, Soul aficionados already know about Willie Walker & The Butanes. Their 2004 LP "Right Where I Belong" made waves on both sides of the Atlantic. Blues Critic Online placed it in the Top 10 Soul Blues CDs of said year. Well, nothing's changed as Willie, songwriter Curtis Obeda and the Butanes (John Lindberg, Virgil Nelson, Robb Stupka) are back with an equally gritty slab of raw, sweaty aural pleasure.
It must be noted first that all 13 tunes are originals- so there's no godzillionth cover of "Respect Yourself" or "Mustang Sally" here- just some new relatives penned by Obeda.
16.

Solomon Burke "Don't Give Up On Me" (Fat Possom 2002)
Burke gets the Joe Henry vintage-Soul treatment here and the results win a Grammy Award. Henry's sparse Burke-centric production emphasizes the best of of Burke's voice who delivers a performance a stellar on each cut, from the deep soul of "Don't Give Up on Me" and the blues-based swagger of Bob Dylan's "Stepchild" to the dramatic "The Judgement" (written by Elvis Costello) His voice is in superb shape, too, sounding no less powerful at age 66 than he did in his glory days, only with even more nuance than ever. Other key songs include Nick Lowe's "The Other Side Of The Coin" and Van Morrison's "Fast Train".
17.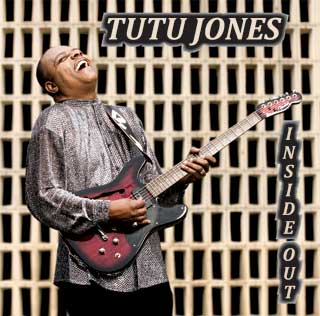 Tutu Jones "Inside Out" (Soultone 2009)
One of Ron Levy's gifts to this world came by means of his Bullseye Blues label. It was/is Tutu Jones, a quick-triggered guitar stringer and explosive Soul Blues singer. Well, actually, Jones' first album was with JSP ("I'm For Real") but Bullseye gave him his highest profile. He recorded two fabulous albums for them and then when it should have been time for Jones to rise to the next level the label folded and Jones was inexplicably not picked up by another label. It would take 11 years for another Tutu Jones album (a mediocre "Live" album appeared briefly in 2005) and it is a corker! Released on Jones' own label "Inside Out" features ripping, rhythmic Blues and sweet Soul rollers drenched in horns filled in by icy guitar licks. "I Can Write A Book About You" is gloriously epic.
18.

Albert King "I'm In A Phone Booth, Baby" (Fantasy/Stax 1984)
One of King's better studio efforts has strong material like Robert Cray's "Phone Booth", Elmore James' classics "Dust My Broom" and "The Sky Is Crying" and Sir Mack Rice's "Firing Line". King's band is tight and Albert is in top form on this outing ripping vintage guitar fills and showing off that soulful, husky blues voice. Some might find the production a tad antiseptic but King still sounds tough.
19.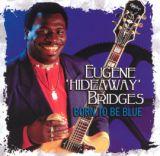 Eugene "Hideaway" Bridges "Born To Be Blue" (Blueside 1998)
Eugene "Hideaway" Bridges is a man of many styles from Texas Blues shuffles, Texas Big Band Blues, Jump Blues, Country/Gospel, Soul Blues and 60s Soul/Sam Cooke worship. After spending time as part of Big Joe Turner's Memphis Blues Caravan he eventually formed his own band, Eugene 'Hideaway' Bridges Band. The 12 tracks on "Born To Be Blue" reside on the soul side of blues, all Bridges originals, except for two Cooke songs. Following this Blueside release he began a fruitful tenure with Armadillo Records.
20.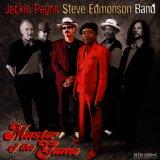 Jackie Payne Steve Edmonson Band "Master Of The Game" (Delta Groove Prod. 2006)
This new Delta Groove Productions release, "Master Of The Game", is the epitome of deep-in-yo-gut Southern Soul, Staxy Funk and raucous Blues. Oh, and pardon me for neglecting to mention the co-star, master chord cutter Steve Edmonson. This guitarist and his band (Bill Singletary, Nick Otis, Carl Green and John Middleton) are a perfect match for Payne. Edmonson first worked with Jackie as producer on "Soulful Blues", a collaboration with Bay area guitarist Kenny "Blue" Ray. This lead to the first Payne-Edmonson outing, the mighty fine "Partners In The Blues". This new one is even better with ten dynamite originals and three choice covers. Picking a single must be migraine-inducing for these folks since so many cuts stand out. My picks would be "Sweet Landlady" and "A Fool Named Me".
21.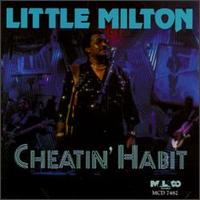 Little Milton "Cheatin' Habit" (Malaco 1996)
Little Milton is the king of the soul/blues genre. Z.Z. Hill may have lead the soul/blues revival but Little Milton took the baton and has run with it with solid album after solid album for Malaco Records. This CD is proof. Opening with the bouncy-blues swagger of "Cheatin' Habit", the disc never lets up in quality. Particularly noteworthy is Milton's definitive version of Z.Z. Hill's discofied-hit "This Time They Told The Truth". Here Little Milton Campbell restores it to a bluesy soul ballad and unleashes one of best, most impassioned vocals to date. This is as good as the genre gets. So, despite the superfluous "Cheating man/woman" theme, any fan of contemporary blues should add this to your collection now.
22.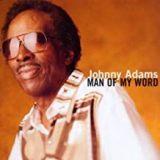 Johnny Adams "Man Of My Word" (Rounder 2004)
Many had been waiting for the Tan Canary to cut a full fledged soul and/or soul-blues album ever since his first Rounder record some 15 years ago and finally it's here. Sadly, it's also his last for the great one died in the same year of it's release. Adams was battling cancer to record this album but you'd never guess as Adams marvelous voice sounds just as achingly good as it always did. He demonstrates throughout the 13 tracks on this album why he was so well-respected among his peers and "students" - among whom we can count Aaron Neville, who guests on the closing gospel number, "Never Alone". The centerpiece of the album is the stunning "Even Now", a slow burning melancholy masterpiece with a tremendously soulful vocal that will tug every heartstring you have. When he switches to falsetto near the end of the song it literally gave me chills. Johnny, we're gonna miss you.
23.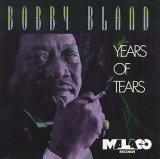 Bobby 'Blue' Bland "Years Of Tears" (Malaco 1993)
In retrospect it's just one of many fine Bobby Bland albums for Malaco but just a step above songwise. Stellar songs by master song scribes George Jackson ("Hole In The Wall"), Frederick Knight ("Somewhere Between Right And Wrong", "I Just Tripped On A Piece Of Your Broken Heart") and others. Nobody sings Blues ballads as well as Bland.
24.

W.C. Clark "Heart Of Gold" (Black Top 1994)
First Black Top record showed a wider audience what this talented soul/bluesman could do. Blessed with Al Green-like vocal chords and dexterous blues guitar finders, Clark and band tear through 12 cuts of smokin' Texas blues shuffles and sweaty soul. The disc begins with the coasting title track, a bouncy organ and horn-soaked hip-shaker and leads into the Memphis soul groover "I Want To Shout About It"- featuring a great sax solo from Mark Kasanoff. Clark shows off his pipes on the Isaac Hayes classic "Where There's Smoke There's Fire". But it's on track 4 when Clark brings the house down with the roadhouse blues shuffle "Cold Shot". This Clark co-write was one of fellow Texan Stevie Ray Vaughan's biggest hits. Clark reclaims the song with sharp guitar solos and throaty singing. The remainder of this terrific showcase features a blend of covers (Latimore's "Let's Straighten It Out", "Don't Make me Pay For His Mistakes") and Clark originals ("The Blues Is At Hand", "All I Can See is You"). A great listen.
25.

Z.Z. Hill "I'm A Blues Man" (Malaco 1983)
Third hit platter in a row by Hill and Malaco starts with another instant standard, "I'm A Blues Man". No objection. "I was raised up on Jimmy Reed/Corn bread, collard greens and black-eyed peas/Turn my first bath in Muddy Water/All you mothers you better lock up your daughters/I'm a blues man" he sings. The song is a first cousin to Willie Dixon's classic "I'm A Man (Mannish Boy)". Rich Cason and Jimmy Lewis wrote the next hit, "Three Into Two Won't Go". Lewis also provided the intriguing "Get A Little, Give A Little", which instructs menfolk to fork out some greenbacks 'cuz a lover can't live on lovin' alone. All 10 tracks here are first-rate. Other jukebox hits were "Shade Tree Mechanic" and Frank-O Johnson's "Please Don't Let Our Good Thing End"
26.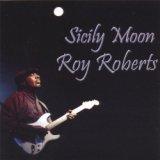 Roy Roberts "Sicily Moon" (Rock House 2006)
If Roy Roberts continues putting out music this good we're gonna have to crown him "King Of Soul/Blues". Horn-fueled, Hammond B-3, melodic Memphis soul heaven played by musicians not machines. I'm not sure who's the bigger star of this show- Roy with his simmering soul singing (especially on "I'm Gonna Love You") and songwriting or the "MoFo Horns" (Rusty Smith & Scott Adair). But wait, check out that bassline on "Turn That Thing Around" by Andrew "Feet" Taylor. Maybe it's the rhythm section who deserves the most props? Right now I'm like a kid in a whiskey store, um, candy store. Song after song "Sicily Moon" shines. Speaking of this lunar love, Mr. Roberts has legions of Italian fans and this gem is an homage to them. What's amazing to me is how Roy is still able to come with such strong new songs after releasing some 7 LPs and producing/composing a host of others for artists the likes of Eddie Floyd, Chick Willis, Lou Pride & Floyd Miles. For those in the know- remember how good Roy's song "Burnin' Love" is? Well, this is like having 9 more cuts of the same cloth.
27.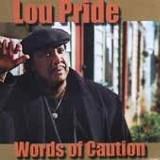 Lou Pride "Words Of Caution" (Severn 2002)
Right from the stunning opener "Words Of Caution", which sounds like a lost Hi Records hit that would have fit nicely on an O.V. Wright album, this excellent disc exudes class on every cut. No corners were cut. You got a 7-piece horn section arranged and conducted by Willie Henderson, whose credits include the Chi-Lites, Tyrone Davis & Jackie Wilson for Brunswick Records. A flawless rhythm section made up of Robb Stupka on drums, Jon Moeller on guitar, Steve Gomes on bass and Benjie Perecki's exemplary Hammond organ playing. Best of all are the A-list songs. "You Were Never Mine", & "You Are My Rainbow" are two beautiful soul ballads, benefited by Pride's smooth soul voice with a gentle vibrato that slides nicely into the blues, gospel or even a touch of jazz.. Two of the best old timey soul songs I've heard in years. There's not a bad song or performance to be found- quality retro-soul all the way. Pride has excellent taste too in covering two Roy (Hammond) classics: "Don't Blame The Man" and "After The Party" (adapted from "After The Disco Is Over"). The overall production by David Earl & Steve Gomes is superb. Few labels put out such rich sounding music these days. Bravo!
28.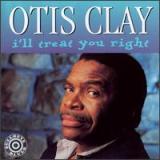 Otis Clay "I'll Treat You Right" (Bullseye Blues 1992)
Hi Records legend delves into contemporary ranks with a sterling Soul Blues album. While it does contain some chestnuts ("Don't Burn Down The Bridge", "Love Bone") the album features a majority of contemporary songs ("Hope You Love Me Like You Say You Do", "Gonna Take My Heart's Advice") sung by an expert who hasn't lost a step from his glorious past.
29.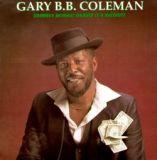 Gary 'BB' Coleman "Romance Without Finance Is A Nuisance" (Ichiban 1991)
Coleman's best album displays all his strengths. The disc opens with typical humor on "She Ain't Ugly (She Just Don't Look Like Nobody Else)" and it's nice to know she "ain't no monkey 'cuz she's got feets just like alligator shoes". Of course while at the market to buy some tuna she was "picked up by the zoo". Gary don't care what you think about her "'cuz the little girl got somethin' I sure can use". But then he can brood like Bobby "Blue" Bland on the somber, minor-keyed "Dealin' From The Bottom Of The Deck". Humor wins out again however on "Food Stamp Annie", aka, "Ms. Welfare Queen", about a gal who gets 3 or 4 checks under different names. On the Staxy soul blues of the title cut Coleman gets flack from his woman because he's "a little financially embarrassed". She tells him "You can't buy me a hotdog and you wanna take me out to dine?!?". All joking aside this is a solid modern blues record.
30.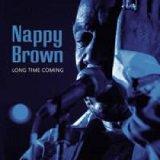 Nappy Brown "Long Time Coming" (Blind Pig 2007)
At age 78 Mr. Napoleon Brown releases his Blind Pig Records debut, his first LP since his obscure 1997 New Moon disc "Who's Been Foolin' You", and it's an essential addition to his legacy, featuring some of the finest Blues musicians working today. Some of the notable names include Junior Watson, Bob Margolin, Jim Pugh, Sean Costello and John Nemeth. The full dozen cuts smoke, even the superfluous remakes of Nappy's two biggest numbers "Right Time" and "Don't Be Angry". I call them such being it's the fourth time he's committed them to record. Still, good versions. Better though are the new tracks like "Keep On Pleasing You", a big-bottomed shuffle with swinging licks by the Mighty Lester Horns, Mookie Brill on bass and a cocksure vocal from the Napster. Speaking of vocals you must experience the Deep Soul he exudes on the ballad "Give Me Your Love" (first cut for his little known "I'm A Wild Man" album). Nobody does it like this anymore! I got chills about 1:42 in when that icy B-3 made an appearance. Sold takes on Willie Dixon's "Who", Big Joe Turner's "Cherry Red" and Brown's own "Bye Bye Baby" and the Gospel "Take Care Of Me" are all perfect.
31.

Syl Johnson "Back In The Game" (Delmark 1994)
The legendary Hi Rhythm Section of the '70s joins Johnson on his comeback album "Back In The Game". Joined by drummer Howard "Bulldog" Grimes and the Hodges brothers (guitarist Mabon, bassist Leroy, and organist/pianist Charles). Johnson delivers ace covers of his own classic material and new composition on one of the strongest albums of his career. "Dipped in the Water" features his daughter Syleena Thompson
32.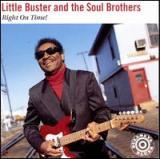 Little Buster & The Soul Brothers "Right On Time" (Bullseye Blues 1996)
He was born with sight but developed glaucoma at age of three. By the time his vision was completely gone, he was fluent on six instruments, including the guitar. Born in Hertford, North Carolina, he moved to Westbury, Long Island at age sixteen. In 1961, Buster composed his first original song "Looking For a Home" while living in Glen Cove. Al Kooper covered "Looking For A Home" on his 1970 album "Kooper Session", released on Columbia Records. In 1995, Buster recorded his Bullseye release, "Right On Time". This release brought him a W.C. Handy Award (now "Blues Music Awards") nomination, and a runner-up award for Living Blues magazine's Critics' Award. Buster's voice is a Soulful marvel on this LP.
33.
Eddie Hinton "Hard Luck Guy" (Capricorn 1999)
Fantastic posthumous disc combines material Hinton was working on prior to his death plus songs recorded during but never released around the time of the 1978 "Very Extremely Dangerous" sessions. Jerry Wexler calls Hinton "a white boy who truly sang and played in the spirit of the great black soul artists he venerated." If had any doubts they will be alleviated here. Why staggering soulful cuts like "Hard Luck Guy" never made the record is beguiling indeed. Studio legends Spooner Oldham, Donnie Fritt, Dan Penn & more helped to finish the tracks after Hinton passed but you'd never guess. While Hinton's voice was certainly weathered on the 1995 tracks like the Otis Redding cover "Sad Song" in comparison to the full throttle "Here I Am" from '78, the record feels like a whole rather than a mix and match. The humorous "300 Pounds Of Hongry" is great country-soul, "I Can't Be Me", vintage Muscle Shoals soul, "What Would I Do Without You", a classic 60s-style Atlantic slowie and "I Got My Thang Together", a Southern rocker.
34.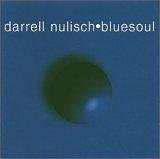 Darrell Nulisch "Bluesoul" (Higher Plane 1996)
The title, "bluesoul", is a synonym for "soul/blues" and that's exactly what we get on this mighty fine release. "Blue-eyed soul singer" (which is really a hackneyed way of saying "white guy sings like black guy") Nulisch leaves Texas and heads for Memphis on the wonderful back-to-back soul groovers, "Crime Of Passion" and "Love Song". Nulisch has that soulful ache to his voice, but he sings with smooth restraint on the memorable refrains. Fans of Texas blues shuffles have no reason to fret as "Worried" is dynamite as is the smoky slow blues "Going Back To Texas".
35.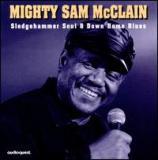 Mighty Sam McClain "Sledgehammer Soul & Downhome Blues" (Audioquest 1996)
Certainly no false advertising here as the contents fit the clever title of this third Audioquest release. This could be viewed as boastful- especially since he has a track called "They Call Me Mighty" with the line: "They call me mighty mighty/And that ain't even my name". But, Sam McClain is one of the mightiest soul/blues singers alive today and he equally excels on Bobby Bland-like blues ("Where You Been So Long", "When The Hurt Is Over") ,classic soul ,("Trying To Find Myself"), funky modern R & B ("Dancin' To The Music Of Love") and of course gospel ("Bridge Of Faith"). There's even the reggae-fied "Pray". The pinnacle here is the hard soul-blues of the title cut featuring a throaty McClain vocal and some ice cold guitar licks from either Peter Giftos or Kevin Barry (both are simply listed as "guitar"). Even though McClain would sound good with a drum machine and a toy Casio keyboard, acclaim must be given to the personnel involved in his air tight Audioquest albums. Joe Harley has produced all three and the band features (in addition to Barry, Giftos): Ted Bukowsky in bass, Zac Casher on drums, Bruce Katz on piano and organ, George PapaGeorge on Hammond organ, Walter Platt on trumpet and horn arrangements, Jeff Galindo on trombone and Ted Decalo on sax.
36.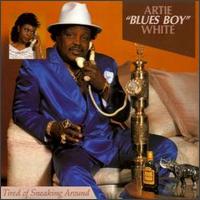 Artie "Blues Boy" White "Tired Of Sneaking Around" (Ichiban 1990)
His best album. Travis Haddix is the perfect writer for Artie White. This time there are five Haddix compositions on this inspired disc ("Jodie", "Thinking About Making A Change", "Peeping Tom", "Turn About Is Fair Play" & "Nose To The Grindstone"). Another highlight is "Don't Pet My Dog" by Bob Jones. One of the keys to Artie's success here and further discs is his tight rhythm section named the "Machine Company" (Larry Williams, Ronnie Hicks, Lester Holmes & Kenny Hampton) and lots of horns that give the album a big band feel. Because Artie is backed by real musicians and unadorned production values this disc sounds as contemporary today as it did in 1990. The album also charted #74 on Billboards Top 100 R & B Albums Chart.
37.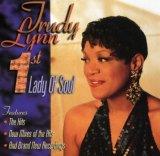 Trudy Lynn "1st Lady Of Soul" (Ichiban 1995)
She's overflowing with Soul and this album names her the "1st Lady Of Soul" but Ms. Trudy Lynn is one of the greatest female Blues singers the Earth has yet to produce. Powerful pipes and a confident swagger Lynn domineers every song she graces. This release is actually a "best of" compilation of sorts with a couple unreleased tracks like her explosive cover of Willie Dixon's "Wang Dang Doodle". The LP contains most of her best tracks cut for Ichiban like the slow Blues vocal showcase "Trudy Sings The Blues", the Deep Soul gem "Speak Now Baby" and rompin' stompin' live "Loose Lips". This is the ultimate Trudy Lynn.
38.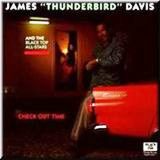 James "Thunderbird" Davis "Check Out Time" (Black Top 1989)
Davis recorded several singles for Duke Records in the early 1960s (including "Blue Monday", "Your Turn To Cry") but lack of hits caused him to drop out of the business for some two decades until his career was revived in 1989 with the release of his album "Check Out Time". Davis has a powerhouse voice that brings to mind Little Milton and James Peterson as do the arrangements. In 1988 Hammond Scott, a co-founder of Black Top Records, searched for and found Davis and promptly got him in the studio for this excellent album containing cover versions of songs originally recorded by Bobby Bland, James Carr, Little Milton, Earl King and others. There's also some of Davis's own compositions ("Your Turn To Cry", "What Else Is There To Do?", "Come By Here"). "The Black Top All-Stars" as it says on the record sleeve include guitarists Anson Funderburgh and Clarence Hollimon and the saxophonist Grady Gaines. In 1990, Davis was the guest vocalist on several tracks of the Hubert Sumlin album "Healing Feeling". Sadly, Davis died on stage in 1992, at the age of 53 just when he was enjoying his comeback.
39.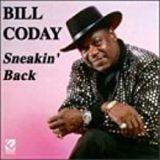 Bill Coday "Sneakin' Back" (Ecko 1995)
Debut CD for Ecko contains a smokin' update of his signature hit "Get Your Lies Straight" and contains equally good blues and/or Southern Soul cuts like "Doctor Thrill Good", "Maybe I'm In Love With You", "Young, Fine, Sweet And Tender" & funny "Her Love Is Good Enough To Put In Collard Greens". A stunning comeback for Coday. Incredibly this was his first full length of all new material despite 40 years of performing and recording.
40.

Johnny "Guitar" Watson "Bow Wow" (Bellmark 1994)
Former Stax co-owner Al Bell reached out for Watson when he started a new label, Bellmark, and launched Watson's short-lived comeback (Watson died in 1996). The title track is a pleasant shot of minimalistic Funk replete with Bluesy guitar licks. "Time Change" and "What's Up With You" are similar. "Never Too Late" and "It Takes 2" are more of his sweeping, Jazzy ballads. Watson doesn't get enough credit for his disparate vocal stylings and range. The album received a Grammy Award nomination and produced the minor hit singles "Hook Me Up" (#48 R&B) and "Bow Wow" (#89 R&B)
41.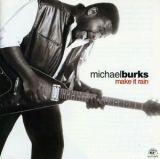 Michael Burks "Make It Rain" (Alligator 2001)
Albert King disciple Michael Burks' Alligator albums feature that Blues Rock sheen the label likes to employ but at it's heart "Make It Rain" is Soul Blues in the Albert fashion. The brooding, Soulful title cut, "What Can A Man Do?" and "Don't Let It Be A Dream" highlight Burks' husky voice. "Got A Way With Women" and especially "Everybody's Got Their Hand Out" especially recall Albert's Funky Stax Blues. This is not to say Burks isn't his own man- he certainly is.
42.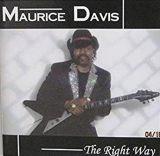 Maurice Davis "The Right Way" (Sims 2005)
Right from the gorgeous country soul opener "I Woke Up" you feel the authenticity. A genuine organ, guitar, bass, drums band with luscious horns this cut sets the tone for on soulful experience. This is a perfect soul song- one of the best of the decade. This mood continues over the next cuts, "Her Memory Keeps Knocking" and "Letting Go", on the parallel roads that Southern Soul and country music travel. While the first half consists of stately soul heaven (songs written by Tim Davis, Ricky Ryan, EW James & Billy Lawson), Maurice and band kick off their shoes for some sturdy blues shuffles (written mostly by Maurice) on the second half. "I've Been Had", "Trouble", I'm No Fool" all give Maurice a chance to do some cutting with his axe. There's even a darn good cover of the ubiquitous "I'm A Blues Man". I let out a sigh when I saw it listed...until I heard it and gladly make room for this version. The set then closes with two Davis originals- most notably the gritty slow blues "If I Had A Chance To Love You". Producer and label owner Russel Sims has a good thing going with Sims Records out of Franklin, TN.
43.
Vernon Garrett "Too Hip To Be Happy" (Ichiban 1994)
Some contemporary soul funk is added to the mix with Vernon tearing it up on the Jerry Ragovoy classics "You Don't Know Nothin' About Love" & "I'm A Burglar". It's the first two cuts that make me smile- upbeat toe-tappers "Are You The One" & "Just Call On Me". There's even a strong Garrett original here "Doors Of Your Heart". On "Lil Black Woman" all women get props but he's got special love for one kind in particular.
44.

Frankie Lee "The Ladies And The Babies" (HMG 1984)
First full-length album released on Lee is a minor classic. The title cut, which is about a man who gets a girl pregnant from a one night stand and is properly forced to pay support, is a vocal tour de force and great lyrical idea. "If you can't afford to help support the baby/You better think twice before you grab the lady". 1980s-style funk-lite is present via the groovin' "Lu Ann", "Nasty Stuff" and "Stoned, Cold & Blue". Lee does a ripping version of "The Woman Doesn't Live Here Anymore" and tears up the brooding blues, "Face It".
45.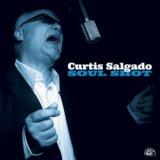 Curtis Salgado "Soul Shot" (Alligator 2012)
Being accepted as a Soul and/or Blues singer with Soul despite being white is quite an achievement. Deal with it. It's fact. I would reckon Salgado and any Caucasian singer that aspires to tread on this holy ground knows it. Salgado does have the chops and "Soul Shot" is the best I've heard from him. Seven, thankfully obscure, covers and four originals on this rollicking album with plentiful horns and organ- a match made in heaven. Bobby Womack's "What You Gonna Do?" and the soaring "Let Me Make Love To You" are stone cold knockouts.
46.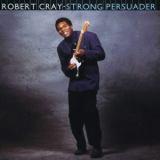 Robert Cray "Strong Persuader" (Mercury 1986)
The equivalent of a grand slam for Cray and modern blues as a genre. This crossover blues masterpiece stormed the pop charts and went on to sell in excess of two million copies- a rare feet in the 1980s. The top 40 smash "Smoking Gun" was just one of many unforgettable cuts. "Right Next Door (Because Of Me)" is a vivid blues about Cray overhearing his neighbors fight over who the woman was cheating with. Can you guess who?: "She was right next door and I'm such a strong persuader/She was just another notch on my guitar/She's gonna lose the man that really loves her/In the silence I can hear them breaking hearts." The Memphis Horns add sugar to the funky groover "Ain't Nothin' But A Woman", which contains another great lyric: "You can give me an hour alone in a bank/Tell me a boat of lawyers just sank/But it ain't nothin' but a woman" that keeps "young Bob" happy. "I Guessed I Showed Her" is another highlight in an album packed with them.
47.
Ernie Johnson "In The Mood" (Waldoxy 1995)
This essential disc has it all- rollicking juke joint blues ("I'm In The Mood For Love"), soulful, aching slowies ("Cold This Winter", "Share You With Someone Else"), midtempo southern soul ("Move Along", Robert Cray's "Bouncin Back"), even a finger-snappin' jazz soul song ("Love's On The Other Line"). Every song a gem- expertly produced by the Malaco staff. Props to the "Heavyweight Rhythm Section" featuring Clayton "Clyde" Ivery on piano and B-3, Big Mike Griffin and William Andrew Thomas on guitar, Lil David Hood on bass and Paul "Heavy" Lee on drums. The "Muscle Shoal Horns" are Charles Rose- trombone, arranger, Harvey Thompson- tenor sax, Doug Moffet- baritone & alto sax and Gary Armstrong trumpet.
48.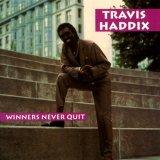 Travis "Moonchild" Haddix "Winners Never Quit" (Ichiban 1991)
Polished soul blues set once again shows off his great songwriting. The lovely "Winners Never Quit" needs to be covered by somebody. It's a hit song. Haddix' comical side comes to the fore on "Better Than Nothing" where he overhears his woman say he "ain't Billy Dee but he's better than nothing!" Hee hee. Ouch! The excellent, pure slow blues "Beggin' Business" has already been covered by Michael Burks and Artie "Blues Boy" White. Haddix' brand pop-funk-blues is here via "Something In The Milk Ain't Clean". The opener "Homeslice", which is hard to categorize, glides on a midtempo groove somewhere between funk & R & B.
49.

Gary 'U.S.' Bonds "Back In 20" (MC 2005)
The title refers to Bonds' recording history. He gets popular seemingly every 20 years. He scored his first hit in 1960 with "New Orleans" (#6 Pop) and managed several others over the next couple years before falling off the charts. Well 21 years later Bonds was back on the charts with "This Little Girl" (#11 POP) thanks to Bruce Springsteen. Despite a strong follow up album that produced the hit "Out Of Work" (#26 Pop) Bonds wasn't able to keep the momentum. Here we are 20 odd years later and Bonds releases this album in hopes of another comeback. His hilarious duet with Phoebe Snow, "Bitch/Dumb Ass", is worth the price of admission alone. Yep about a dog and a donkey. Springsteen and Southside Johnny assist Bonds on the rocking "Can't Teach An Old Dog (New Tricks)" and Bonds shows how Soulful his voice is on a terrific take of Otis Redding's "Dreams To Remember".
50.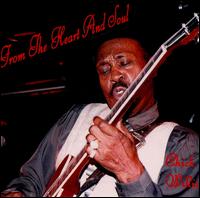 Chick Willis "From The Heart And Soul" (Rock House 2001)
Chick finally gets the respect he deserves and desired with this Roy Roberts-produced gem. Chick is serious about his blues on this outing providing 8 self-penned tunes out of the 10 like the great shuffle "Ribshack Blues Cafe" & soulful "Someday Baby". His cover of Robert's "Mr DJ" is a righteous plea for radio to start playing the blues again. The band is lean and loose and Chick delivers throaty vocals and some of his best guitar licks to date. The set also features some greasy organ by Skeeter Brandon.
----------------------------------------------------------------------------------------------------------------------------------------------------------------------------
***SEE ALBUMS 51-100 HERE
---
(C) Blues Critic LLC 2021. All written material found on this website is the property of Blues Critic and may only be used with permission and full accreditation (either "Blues Critic" or "Dylann DeAnna of Blues Critic") given plus a link to this website.