Sir Charles Jones
Born in Akron, Ohio but raised in Birmingham, Alabama Jones' has become one of the more famous faces on the "Southern Soul" scene. More of a bedroom crooner with a sexy image, slick contemporary R & B songs and smooth voice, Jones scored a Top 30 R & B album his second time out with "Love Machine". He followed this with the less stellar "Southern Soul" before releasing "Thank You For Holding On" in 2005 on his own label Senator Jones' Hep Me Records put out a "Sir Charles & Friends" collection featuring three Jones tracks. In 2007 he again signed with Mardi Gras for a "Best Of", a DVD and two more full-length albums. The most recent ("Tribute To The Legends") had Jones doing stylized versions of Soul classics like J. Blackfoot's "Taxi". It took another five years for "Portrait Of A Balladeer" to arrive in 2014.
This self taught writer, arranger, producer and engineer has won countless awards: American Blues Network's "International Entertainer of the year" for 4 straight years in a row 2001-2004; 2-time recipient for Album of the year (2002-2003) and 2-time recipient for the B.B King Achievement Award Recipient (2003-2004). He has also won several Blues Critic Awards for Southern Soul, including Artist Of The Year in 2008.
Album Discography

"Sir Charles Jones" (Hep' Me 2000)
1. Just Like Fire
2. Natural Woman, A (You Make Me Feel Like)
3. Better Call Jody
4. Hang On
5. Stop Fooling Around
6. Take Care of Momma
7. If He Don't Love You
8. I Wish He Didn't Trust Me So Much
9. Candy Girl
10. Blues Spell
*** First record by Sir Charles is a smooth as silk contemporary soul effort of midtempo headbobbers and slow jams revealing Jones to be a fine soul tenor in the Marvin Gaye fashion. Jones also co-wrote 9 of the ten tracks like the funky "Better Call Jody" and the encouraging "Hang On". The slow, sweet ode to his mother ("Take Care Of Momma") is a right-hearted effort. Jones also does a good cover of Bobby Womack's "I Wish He Didn't Trust Me So Much". The only complaint is the sameness of Jones' melodies throughout.

"Love Machine" (Mardi Gras 2001)
1. Love Machine
2. Is There Anybody Lonely?
3. Friday
4. Just Can't Let Go
5. Let Me See You Move It
6. Tell Me How You Want It
7. Let's Get It On
8. For Better or Worse
9. Stop Fooling Around
10. Just Like Fire
***** Huge hit album even climbed the mainstream R & B charts to number 26 on the strength of smash hits like the pleading "Is Anybody Lonely?". Although he says he's lonely methinks he wasn't after this song hit the air. The party-starting "Friday" is a splendid weekend dancer. Jones fashions himself as a loverboy on the opening track. Here he's the "Love Machine" and even says "some ladies think I'm a robot/Cuz I make 'em just start shakin' with that good love". The come-hithers continue with the slick "Let's Get It On" (not the Marvin Gaye song) and the similar "Tell Me How You Want It". But he ain't lookin' to merely sex you up as evidenced by the romantic "Better Or Worse", which also features his most effective vocal. If you like your soul slick, sex-charged backed with a midtempo flow Jones is your man. One of the best albums of the "Southern Soul-Blues genre)

"Southern Soul" (PMG 2002)
1. I'll Never Make a Promise
2. Gonna Love You Baby
3. When You Love Someone
4. Keep on Moving
5. I'm Gonna Miss You
6. Nothing Will Ever Take My Love Away
7. Sex Me
8. Dance 4 Me
9. Ain't Nothin But a Party
10. I Can't Believe I Fell in Love
**
1/2
Jones failed to keep the momentum he started on
"Love Machine"
with this similarly produced set. Truth is, Jones' music leans closer to mainstream "R & B" rather than Southern Soul. Though Jones sings great the songs just aren't there this time out. Still the album managed a #66 placing on Billboard's Top R & B Albums chart but hasn't aged well in the minds of fans. Things start off wrong with the boring "I Never Make A Promise" and by track 2 ("Gonna Love You Baby") you get the impression he simply re-tooled the grooves from his last album and slapped a rote chorus onto it. Interestingly one of the best tracks was one he didn't write: "When You Love Someone" is a convincing love song with impassioned singing and the Zapp & Roger inspired "Dance For Me" is tight despite the lame lyrics. Overall you just know he can do better.

"A Southern Soul Party" (Hep' Me 2004)
1. Same Thing It Took to Get Her (Sir Charles Jones)
2. The Letter (Guilty) (Sir Charles Jones)
3. You Got to Roll It Slow (The Love Doctor)
4. Somebody Lied on Me (Robert Hill)
5. Put That Thang in Motion (Sorrento Ussery)
6. Trials and Tribulations (Sir Charles Jones)
7. Come and Whip That Thang (The Love Doctor)
8. It's a Cruel World (Wilton Lombard)
9. Sophisticated Freak (Terry Wright)
10. Let Me Take You Out (Sorrento Ussery)
11. I Will Always Love You (Wilton Lombard)
12. Your Love (Terry Wright)
13. Sex Machine (Robert Hill)
14. B.Y.O.P. (Robert Hill)
15. There's No One Like Mama (The Love Doctor)
16. Take Care of Me (Joyful)
**1/2 Consider this a stopgap record for Jones and a commercial for other artists on Senator Jones' Hep' Me label. There's three new Jones songs- including the excellent (and derivative) hits "The Same Thing It Took To Get Her" and "The Letter (Guilty)". Elsewhere, The Love Doctor is represented by a track from his gospel album ("There's No One Like Mama") and two pedestrian dancers like the "Slow Roll It" retread "You Got To Roll It Slow". He fares better on "Come On Whip That Thang". Robert Hill makes an impressive showing with two Mark Safford's Southern Soul numbers: "Somebody Lied On Me" & "Sex Machine". The most surprising track is Wilton Lombard's piano ballad "I Will Also Love You". Lombard has a darn good voice but I could hear James Ingram singing this. There's also tracks by Sorrento Ussery, Terry Wright and Joyful. Overall this "party" is a lot more enjoyable than expected being Jones brought along uninvited guests. They give the disc the variety that other Jones records lack.

"Thank You For Holding On" (Jumpin' 2006)
1. Lords Prayer
2. Never Miss a Good Thing
3. Baby Love
4. Come to Me Baby
5. Dreamers (Interlude)
6. Running
7. What a Good Feeling
8. Don't Say No Tonight
9. Come Back Home
10. Interlude
11. Daddy's Little Girl
12. Thank You for Holding On
13. Drop That Thang
15. [Untitled Track]
*
**
"Southern Soul's" male sex symbol is finally back after several years of record company woes (he's now free from the contract and independent). He hasn't been completely MIA since his last bona fide LP ("Southern Soul") back in 2002. That record failed to live up to the promise of "Love Machine", a record that sold in excess of 300,000 copies and clocked in at #28 on the mainstream R & B charts! Over the last four years he appeared on Mr. David's hit "Shoo Do Wop" and his three songs were easily the highlight of his "Sir Charles Jones & Friends Southern Soul Party" collection released in 2004. Expectations have been extremely high from this artist who is a contender for the "Soul Blues" throne. Well, the first single "Drop That Thang" is a smash, a slinky midtempo dancer with a typically passionate vocal from Mr. Jones. But the man likes to sing for the ladies so "Thank You For Holding On" is mostly silky contemporary Soul slowies as if he was aiming to make THE "make out" disc of the decade. After a gorgeous intro ("The Lord's Prayer") Jones delivers one of those steamy make out jams he's perhaps the king of these days (at least since the death of Tyrone Davis). "Never Miss A Good Thing" is a mature-minded song of regret: "you never miss a good thing 'til it's gone/you'll find yourself so broken-hearted and all alone". Jones sings it like he's lived it- truly a great performance. He evokes images of Stevie Wonder on the gentle stepper "BABY Love". Though the song never "kicks it up a notch" like it needs to. I kept expecting a climactic bridge or ending but no dice. Sweet though. Even better is the melodically-strong "Don't Say No Tonight" that ranks as a career best. Another standout is the sensitive, easy flowing jam "Come To Me Baby", except that it sounds identical in it's backing to half the songs in his catalog. It's a formula that works- it is smooth, he sounds sexy, sincere and just an inch out of your reach (ladies). The song's an empathetic concept with Jones trying to coax a woman out of an abusive relationship- a keeper. But aurally pleasing but generic follow ups like "Running", "What A Good Feeling", "Come Back Home" are just too sleepy, weepy and similar to care about. A couple more upbeat dancers are sorely needed in place of these. The interlude featuring one of his daughters is very cute but you only need to hear it once. It serves as an intro to the beautiful dedication to his daughter(s) "Daddy's Little Girl". Only a cold-hearted cynic couldn't appreciate the sentimentality. But when it's one in a long series of slow jams it hasn't the effect it could have. The bottom line: Sir Charles Jones is one of the stars of the genre and "Thank You For Holding On" has some great moments but a lil' mo' funk would've made it a more balanced outing.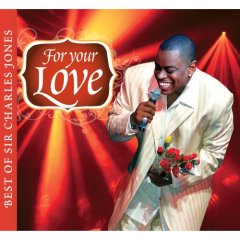 "For Your Love: The Best Of" (Mardi Gras 2007)
1. For Your Love
2. Never Let You Go
3. One More Time
4. Is There Anybody Lonely
5. Take Care of Momma
6. Just Can't Let Go
7. For Better or Worse
8. I Wish He Didn't Trust Me So Much
9. Just Another Love Song
10. Just Like Fire
11. Natural Woman
12. Blues Spell
13. Better Call Jody
14. Friday

"My Story" (Mardi Gras 2008)
1. Happy Anniversary
2. Pop That Coochie
3. You're My Latest, My Greatest
4. I Came To Party
5. My Story
6. I Wanna Make Love
7. You Mean the World To Me
8. I Tried - (featuring La'Keisha)
9. My Taboo
10. You Are the Sunshine

*** It came as a surprise to see Jones back on Mardi Gras Records, where he made his fame and fortune. As many of you know his "Love Machine" album broke the glass ceiling for the Southern Soul world, reportedly selling in the six digits. Oddly the set opens with a sweet, sentimental slowie, "Happy Anniversary", which is interchangeable with a dozen similar Jones joints. Another nice ballad but strange choice for a lead-off cut.

Track 2, "Pop That Coochie", though lyrical tired, has hit written all over it. One of those steady body wigglers that he's so good at. Frustratingly, the album shifts gears again into sleepy mode with the Gamble/Huff cover "You're My Latest, My Greatest". Who's responsible with the hamfisted track order? Okay, anyway, it's back on your feet for the first hit "I Came To Party". Hitsville. I especially dig his vocal phrasing on this one.

Up next is a fresh wildcard- the bluesy n' jazzy title cut that gives Jones a chance to break out of his usual mold. Nevertheless, that mold has worked well for him and later the sexy "I Wanna Make Love" and the Lakeisha duet " I Tried" deliver more of what his fans love him for. Sexy, silky soul. Perhaps though they would rather not indulge him letting his daughter sing on the closer ("You Are The Sunshine"). "My Story" won't sweat his brilliant, classic disc "Love Machine", but it's pleasant enough. In fairness when you've hit the highs Sir Charles Jones has- like the Michael Jackson of Southern Soul- we judge the work more harshly. This is a good CD. It's not another "Thriller", but maybe it's his "Dangerous".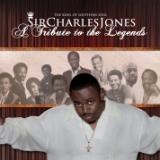 "A Tribute To The Legends" (Mardi Gras 2009)
1. Never Can Say Goodbye
2. Darling Baby
3. Lady My Whole World is You
4. Mom's Apple Pie
5. Rainy Night In Georgia
6. Do You Feel It
7. Taxi
8. Ain't No Sunshine
9. Bring It On Home To Me
10. You're My Latest, My Greatest
11. Me and Mrs Jones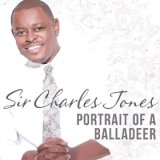 "Portrait Of A Balladeer" (Endzone Ent 2014)
1 Glow
2 Tear Our Love Down
3 Independent Ladies
4 Sweet Sweet
5 Nasty
6 So Beautiful
7 Do You Feel (feat. Willie Clayton)
8 Honor
9 I Can't Breathe
10 Sunshine
11 Expire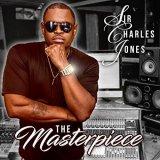 "The Masterpiece" (Southern King Ent 2018)
1 Introduction
2 My Everything
3 Squeeze Me
4 Call on Me (feat. Calvin Richardson & Omar Cunningham)
5 Wherever I Lay My Bone (feat. Pokey Bear)
6 This Is Your Night
7 Destiny
8 Step It Out
9 100 Years
10 Just Let Me Go
11 What Can I Say
12 Hello Mother
13 Fight the Pain
"Sir Charles & The Family, Vol. 1" (Music Access 2019)
1 Sir Charles Jones Feat. Jeter Jones "Trailride"
2 "To The Dancefloor" with Fat Daddy
3 Hummin Boy "The Weekend"
4 "Living Years" with Stevie J.
5 Mr. Smoke Feat. Sir Charles Jones "I've Got My Baby On My Mind"
6 Charlesia Jones Feat. Charles Jones The III "Rocking Chair"
7 Sir Charles Jones Feat. J.Rizo "Break Bread"
8 Sir Charles Jones "Dog"
9 Sir Charles Jones "Country Boy"
10 Sir Charles Jones "Dallas Dallas"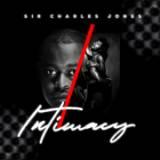 "Intimacy" (Music Access 2020)
1 Intimacy interlude
2 Be With You
3 Still In Love
4 Stay With Me
5 Smooth Operator
6 Intimacy
7 Paradise
8 Shining Star
9 Sailing
10 I Wish I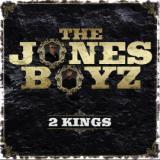 The Jones Boyz "2 Kings" (Music Access 2020)
1. 2 Kings
2. Candy
3. Zydeco With Me
4. Trail Ride Version 2.0
5. Party
6. I Donít Understand
7. Like Voodoo
8. Can I Get Some
9. Moonshine
10. Can't Do It No More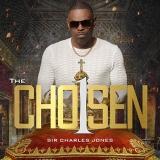 "The Chosen 1" (Music Access 2021)
1. The Chosen One
2. Eternity
3. Midwest Party
4. Cherish The Love
5. I'm All I Got, I'm All I Need
6. Heaven
7. Forever
8. Morning Rain
9. Wings
10.Somebody For Everybody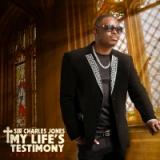 "My Life's Testimony" (Music Access 2022)