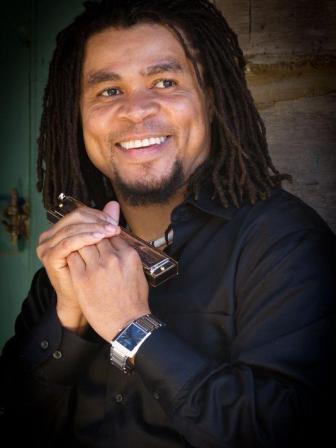 Grady Champion
Champion was born in Canton, Mississippi in 1999. He was raised on a farm in a religious household and joined his family's local church choir at the age of eight. At the age of 15 his family relocated to Miami, Florida, and Champion attended high school there for a year before the family moved back to Mississippi. After his graduation, Champion returned to Florida and worked as a boxer and radio DJ. Champion began his professional career in the early 1990s as a rapper named MC Gold. Incorporating hip hop into a blues setting, Champion learned to play the harmonica before self-releasing his debut album, "Goin' Back Home " in 1998.

He began playing clubs across Florida and was quickly signed to a recording contract by Shanachie Records who released "Payin' for My Sins" in 1999 and "2 Days Short of a Week" in 2001

There were asome wilderness years without a label with Champion honing his chops performing live. He won the 26th International Blues Challenge in 2010. Champion self released (Grady Shady Music) "Dreamin'" in 2011 featuring the huge regional hit "Make That Moneky Jump". The LP was nominated in the Blues Music Award ('Best Soul Blues Album' and 'Song of the Year' for "Thank You for Giving Me the Blues"). A follow up album "Tough Times Don't Last" was released in 2012 and seemed to slip through the cracks promotion-wise.

In 2014 Champion former DeChamp Records and signed 2015 International Blues Challenge winner Eddie Cotton Jr. and JJ Thames to his roster.
in 2014 Champion was also signed by Malaco (Waldoxy) who released "Bootleg Whiskey" in 2014 and "One Of A Kind" in 2015.
Album Discography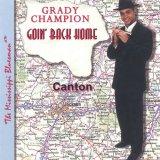 "Goin' Back Home" (Grady Shady Music 1998)
1. Scratch My Back
2. Born Blind
3. Brother, Brother
4. Love and Memories (My Mama's Song)
5. Goin' Back Home
6. Stay Away
7. Blues On Christmas
8. My Baby Still Loves Me
9. 1-800-blu-love
10. Voodoo Girl
11. Blues On Christmas (Traditional)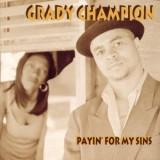 "Payin' For My Sins" (Shanachie 1999)
1 I'm Smilin' Again
2 You Got Some Explaining To Do
3 Good As New
4 She's Some Kind Of Wonderful
5 My Rooster Is King
6 Goin' Down Slow
7 Payin' For My Sins
8 Troubled Mind
9 Let Me Be
10 Roberta
11 Don't Start Me Talkin'
12 Ain't No Love In The Heart Of The City
13 Dreamin'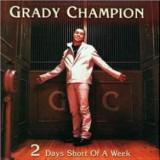 "2 Days Short Of A Week" (Shanachie 2001)
1 Wine And Women 4:27
2 Brother Brother 3:36
3 Lady Luck 5:26
4 Honeybee 3:27
5 Children Of The Corn 3:45
6 Policemen Blues 4:32
7 When A Women's Fed Up 4:42
8 Love Is My Middle Name 3:33
9 Nothing I Can Do 4:37
10 Stop Chasing Me 3:41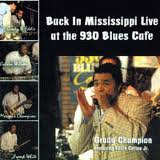 Grady Champion featuring Eddie Cotton Jr. "Back In Mississippi Live At The 930 Blues Cafe" (Grady Shady Music 2008)
1 Intro 0:31
2 I'm Ready 3:52
3 Baby What You Want Me To Do / Bright Lights 6:25
4 You Got Some Explaining To Do 4:19
5 1-800-Blu-Love 4:42
6 Policeman Blues 4:12
7 Spoonful 6:59
8 Lonesome Bedroom Blues 7:50
9 Love And Memories 5:59
10 Why I Sing The Blues 5:57
11 Wine And Women 5:47
12 Brother, Brother 4:53
13 I'm Yours 4:10
14 Blues On Christmas 5:37

"Dreamin'" (Grady Shady Music 2011)
1. My Rooster Is King
2. Dreamin'
3. Weight of the World
4. Guilty as Charged
5. Same Train
6. Make That Monkey Jump
7. Cross That Bridge
8. Thank You for Giving Me the Blues
9. Smile, Cry Sometimes Laugh
10. Walk with Me Baby
**** The Mississippi juke joint Blues of Champion slowly built his reputation leading to this breakout album. He won the 26th International Blues Challenge in 2010 and his profile had raised sufficiently for "Dreamin'" to get the attention it deserved. "Make That Monkey Jump" became a considerable chitlin' circuit hit- the Southern Soul market embraced heartily, likely boosted by Jackson, Mississippi's WMPR. Elsewhere he delivers "Thank You For Giving Me The Blues", which sounds like ZZ Hill doing an Albert King downtempo Blues. Showing versatility he also includes a AC/Pop ballad "Weight Of The World" and "Cross That Bridge" employs a Reggae rhythm.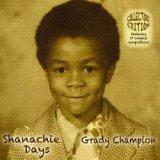 "The Shanachie Days" (Grady Shady Music 2012)
1: Brother, Brother
2: I'm Smilin' Again
3: Lady Luck
4: Policeman Blues
5: Dreamin'
6: Roberta
7: Love Is My Middle Name
8: Let Me Be
9: Honeybee
10: Payin' For My Sins
11: Stop Chasing
12: Nothing I Cann Do
13: Children Of The Corn
14: You Got Some Explaining To Do
15: Troubled Mind
16: Wine And Women
17: My Rooster Is A King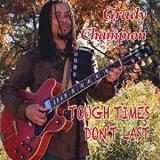 "Tough Times Don't Last" (Grady Shady Music 2012)
1 My Time Baby 3:29
2 Missing You 3:48
3 Mississippi Pride 3:20
4 Trust Yourself 4:34
5 Broken Down Cadillac 4:14
6 Glory Train 4:04
7 Thing's Aint What They Used To Be 4:33
8 Tough Times Don't Last 4:29
9 On The Road 3:56
10 Ghetto 4:21
11 Cookie Jar 4:18
12 What Would Christmas Be Without You? 4:28

"Bootleg Whiskey" (Waldoxy 2015)
1. Borrow, Steal Beg
2. Bootleg Whiskey
3. Don't Waste My Time
4. Home Alone
5. Ten Dollars
6. South Side
7. Who Dat
8. Here We Go Y'all
9. I Tripped and Fell In Love
10. Mr. Right
11. White Boy With the Blues
***1/2 Champion who vocally often reminds folks of ZZ Hill is on the very label that helped/aided Hill on his successful second act of "Down Home Blues" revival. The set opens with a fast shuffle "Beg, Borrow & Steal" featuring ZZ-like throaty lead with layered vocals on the refrain followed by a little honk or three on the "blues harp" (harmonica), followed by the swinging beachy "Bootleg Whiskey" and a simmering slow Blues. That horn-propelled Malaco sound is still alive and breathing on the hit "South Side" and "Mr. Right". There's an admirable amount of variety to this album. The album was ranked #3 in our "Best Of 2014" Retro-Soul/Soul Blues Albums list.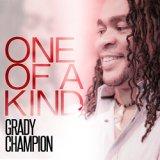 "One Of A Kind" (Waldoxy 2016)
1. Bump and Grind
2. Heels and Hips
3. House Party
4. Life Support
5. Leave Here Running
6. Move Something
7. One of a Kind
8. Stone in My Path
9. Thin Line
10. What a Woman
11. When I'm Gone
12. GC Boogie
**** Down Home Blues lives. As if to leave no doubt Grady Campion is the new generation ZZ Hill his new set delivers a faithful cover off Hill's "Bump In Grind" (he even namechecks Hill with the line "Like ZZ used to"). The Southern Soul market embraced the horn-assisted "Heels And Hips" and "Move Something". God bless Malaco and Champion for keeping the traditional sounds alive. While the mostly real Blues "One Kind Favor" wasn't created for the Southern Soul market Malaco still keeps a foot in the door with their classic brand of Down Home Blues and Soul.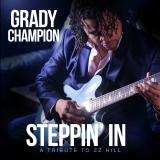 "Steppin' In" (Waldoxy 2020)