Chick Willis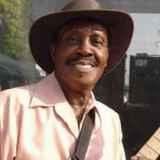 Born Robert Willis on September 24, 1934 in Cabiness, Georgia, "Chick" is the cousin of late blues legend Chuck Willis. He began his musical career in the 50's touring with his cousin Chuck Willis , a rollicking R&B showman who became known as the "King of the Stroll". Chick left the military in 1954 and worked as valet and chauffeur for Chuck, also playing in Chuck's band. When Chuck died of stomach problems in 1958, Chick worked with slide guitar great Elmore James. On his own Chick released a few obscure singles before hitting it big in 1972 with the infamous "Stoop Down Baby," which allegedly went on to sell 3 million copies! Since then, like Marvin Sease, he made a career out of similar risque material despite having genuine blues talent. Fortunately, he has proved himself as a blues singer and guitarist as much as an author of "blue" material.To date Chick has over a dozen recordings and has appeared in the movies "Petie Wheatstraw" and the Buddy Holly story. In addition to being a first rate guitarist and vocalist, Chick plays drums, keyboard, harmonica, and bass.
Despite it's success there was no followup LP to "Stoop Down Baby Let Your Daddy See". In the mid-80s he signed with Ichiban records and dropped a tribute album to his cousin ("Chick Does Chuck") in 1985. However, it was his second album and a return to the raunchy style that re-ignited his career. Beginning with the double-entendre filled LP "Now" Willis recorded another five albums for the label before becoming a journeyman for various labels (Paula, Ifgam, Rockhouse, Deep South, CML, Old School). A 2008 effort, "The Don Of The Blues", was released on the California-based CDS Records imprint. It featured the popular song "Obama". In 2009 he signed with Benevolent Blues and released the terrific "Hit & Run Blues".
Album Discography
"Stoop Down Baby...Let Your Daddy See" (La Val 1972)
1. Stoop Down Baby Let Your Daddy See
2. Things I Used to Do, The
3. My Story
4. Mother Fuyer
5. Something to Remember You By
6. Sometime Soon
7. This Is My Life
**** Includes the original 21-minute version of "Stoop Down Baby", B.B. King's "Mother Fuyer", plus some straight blues like Guitar Slim's "The Things I Used To Do".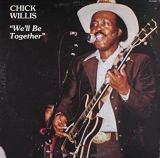 "We'll Be Together" (MT 1984)
1. Going Down Slow
2. Stoop Down Baby
3. Outside Woman
4. We'll Be Together
5. It's All Over
6. Sweet Home Chicago
7. Nobody Knows Where the Nose Goes
8. Going Home
9. Please Don't Go
"Chick Does Chuck" (Ichiban 1985)
1.C.C. Rider
2.Don't Decieve Me
3.Betty And Dupree
4.Charged With Cheating
5.C & B New Albany Jam
6.Whatcha Gonna Do When Your Baby Leaves You
7.My Story
8.The Train Is Gone
9.What Am I Living For
10.One More Chance
N/R LP of Chick Willis doing cousin Chuck Willis' songs.
"Now" (Ichiban 1988)
1. I Want a Big Fat Woman - 4:06
2. For Your Precious Love - 4:18
3. What Have You Got on Me - 3:30
4. Stoop Down '88 - 6:52
5. I Want to Play with Your Poodle - 3:51
6. It's All Over - 5:16
7. I Can't Stop Loving You - 3:30
8. Garbage Man - 6:06
** Chick returns to the nasty material he was most successful with. Here he reprises "Stoop Down Baby" as "Stoop Down '88", covers Chuck Berry's "My Ding-A-Ling" & the equally ribald "I Want To Play With Your Poodle". Compared to later 80s records this outing is too high in adolescent cheekiness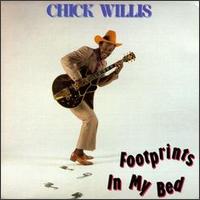 "Footprints In My Bed" (Ichiban 1990)
1. Love Crazy
2. Use What You Got
3. What's to Become of the World
4. Roll the Dice
5. Footprints on My Bed
6. Big Red Caboose
7. Hello Central
8. Jack You Up
9. Voodoo Woman
10. Nuts For Sale
***
1/2
Though it has it's share of blue material ("Nuts For Sale", "Jack You Up"), this disc is a solid soul/blues outing. Light-hearted funky blues originals like "Love Crazy" and "Use What You Got" are balanced by the serious-minded "What's Become Of The World". Chick leaves no doubt he is a fine singer and guitarist. Of course what brings him fame is his knack for double entendre. Can you blame him if it sells records?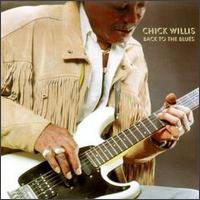 "Back To The Blues" (Ichiban 1991)
1. Don't Let Success
2. Goin' to the Dogs
3. Bow-Legged Woman
4. I Ain't Superstitious
5. Tell Papa
6. Story of My Life, The
7. My Adorable One
8. I Ain't Jivin' Baby
9. Strange Things Happening
*** Chick seems to want to be known as a legitimate blues artist rather than a novelty act. Only "Bow-Legged Woman" contains some of his typical risqué wordplay. It may comes as no surprise that this is the only track written by Willis! (he is also credited as co-author of "I Ain't Jivin' Baby"). Instead Chick does two upbeat soul numbers (Clarence Carter's "Tell Papa" & "Don't Let Success Turn Our Love Around"), solid blues shuffles ("I Ain't Jivin' Baby") and even an earnest slowie ("My Adorable One"). Also noteworthy is his disparate take of Willie Dixon's classic "I Ain't Superstitious".

"Holdin' Hands With The Blues" (Ichiban 1992)
1. Holdin' Hands With the Blues
2. You're Gonna Miss Me
3. That's How Much I Love You, Sweetheart
4. Millie (The Fine Filly)
5. Finders Keepers
6. Going Back to Rock & Roll
7. Selfish Lover
8. Heavens to Betsy
9. One Slick Woman
10. I'm Only Guilty of Loving You
*** More dirty-minded shuffles and boogies from the "Stoop Down Man". The king of mucky double entendre is in prime form here. On "That's How Much I Love You, Sweetheart" he would let his "sweetheart" "nibble on my bone"...if they were dogs that is. Other notables are the Denise LaSalle-penned title cut, funky "Heavens To Betsy" and horn-fueled "Finders Keepers". When Chick sarcastically sings "I'm Going Back To Rock N' Roll" you don't know whether to believe him or not.I 'm glad he stuck with the blues.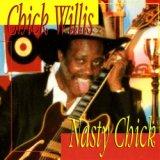 "Nasty Chick" (Ichiban 1992)
1. I Want to Play With Your Poodle
2. Her Ding-a-Ling
3. Use What You Got
4. One Slick Woman
5. Jack U Up
6. Stoop Down '88
7. Big Red Caboose
8. That's How Much I Love You, Sweetheart
9. I'm the Son
** Compilation featuring his most sexually-suggestive tracks from his first three Ichiban releases. Unfortunately a collection like this stereotypes Chick as nothing more than a blue comic rather than the sturdy blues musician he is.
"I Got A Big Fat Woman" (Ichiban 1994)
1. I Got a Big Fat Woman
2. I Can't Work and Watch You
3. Cumming Prison Farm
4. Today I Started Loving You Again
5. She Likes to Live High on the Hog
6. I'm Your Hoochie Coochie Man
7. You Lost What You Had
8. Rock Me Baby
9. Look on Yonder Wall
10. Tin Pan Alley
**

1/2
Final record for Ichiban feels like contractual filler. A few robust Chick originals ("She Likes To Live High On The Hog", title track), atop some routine blues covers like "Rock Me Baby" & "Look Over Yonders Wall".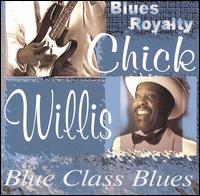 "Blue Class Blues" (Paula 1998)
1. I Wanna Funk Wid You
2. Trouble
3. If I Didn't Have the Blues
4. 900 Telephone Line
5. I'm a Dreamer
6. 5 O'Clock in the Morning
7. Savannah Lee
8. I Ain't Looking For Much Crowd
9. Mr. Blues
10. Get Off My Case
*** Relying more on synthesizers and drum machines Chick releases a moderate soul blues record featuring 10 songs written by himself. "I Wanna Funk Wid You" has become one of his more popular songs. The best cut here is "Mr. Blues", a love song towards, well, "blues" music. It's also an apologetic for an art form that Chick says black Americans have abandoned ( the blues reminds them of slavery and other social evils that inspired "singing the blues"). William Bell is credited as producer in accords with Chick but Reginald "Wizard" Jones is responsible for sequencing the rhythm tracks.

"Y2K Recorded Live" (Ifgam 2000)
1. Funk With You
2. Big Fat Woman
3. Hello Central
4. Don't Deceive Me
5. What Have You Got on Me
6. Mr. Blues
7. Stoop Down
8. It's All Over
9. Everyday/Finale
*** Lively live disc recorded in 1999 and released on Theodis Ealey's Ifgam imprint. Fun versions of some of Chick's best are here, like "Stoop Down Baby", "I Wanna Funk Wid You" & "Mr. Blues".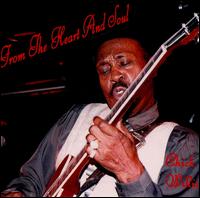 "From The Heart And Soul" (Rock House 2001)
1. Ribshack Blues Café
2. Someday Baby
3. One Eyed Woman
4. I Found the Kinda Love
5. What Goes Up
6. I Know a Hoochie Mama
7. Come Back Home
8. Black Widow Spider
9. Betty Boo
10. MR. D.J.
****
1/2
Chick finally gets the respect he deserves and desired with this Roy Roberts-produced gem. Chick is serious about his blues on this outing providing 8 self-penned tunes out of the 10 like the great shuffle "Ribshack Blues Cafe" & soulful "Someday Baby". His cover of Robert's "Mr DJ" is a righteous plea for radio to start playing the blues again. The band is lean and loose and Chick delivers throaty vocals and some of his best guitar licks to date. The set also features some greasy organ by Skeeter Brandon.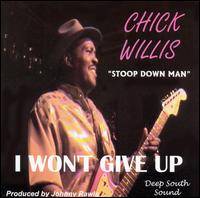 "I Won't Give Up" (Deep South Sounds 2002)
1. Spring Time
2. Keep Singing the Blues
3. Hattie
4. Sweet Woman / Sweet Man - (featuring Destini Rawls)
5. Hurt Me So
6. Cheating Game
7. In the Mood We're In
8. Doggin Me Around
9. Won't Give Up
10. Got to Find a Cure
*** Producer Johnny Rawls backs Chick with that distinctive rhythmic pulse and horn foundation he's known for- heavy on the bass- aiming to shake the hips. Rawls also provides 6 of the ten cuts here like the driving "Won't Give Up" & southern soul roll of "Got To Find A Cure". But Chick himself provides the album's centerpiece with the lovely "Hattie", which has a heart-tugging surprise ending.

"American Roots: Blues" (Ichiban 2002)
1. Love Crazy
2. Use What You Got
3. Footprints in My Bed
4. Big Red Caboose
5. Voodoo Woman
6. Bow-Legged Woman
7. I Ain't Jivin' Baby
8. Millie (The Fine Filly)
9. Finders Keepers
10. Heavens to Betsy
11. One Slick Woman
12. I Got a Big Fat Woman
13. She Like to Live High on the Hog
14. You Lost What You Had
**** Good compilation of his Ichiban years. Includes Chick nuggets like "Footprints In My Bed", "I Ain't Jivin' Baby", "I Got A Big Fat Woman". Too bad it contains nothing from his first two Ichiban releases ("Chick Does Chuck" & "Now"). This means "Stoop Down '88" is not included, which is inexplicable.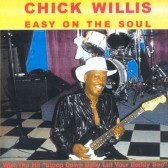 "Easy On The Soul" (Stoop Down 2003)
1. Bin Laden
2. Ease The Pain
3. Juanita
4. Turn Back The Hands
5. Nothing Takes The Place Of You
6. Old Man With Young Ideas
7. Unchain My Heart
8. You Don't Know What You Got Until You Lose It
9. What I Say
10. Stoop Down
11. I Play My Guitar
12. It's Too Late
**
Mixed bag containing the contemporary blues "Bin Laden" and yet another version of "Stoop Down Baby". Chick also covers two Ray Charles hits ("Unchain My Heart" & "What'd I Say") and does a stiff version of Tyrone Davis ' "Turn Back The Hands Of Time".

"I Did It All" (CML/Lewmar 2005)
1. I Did It All - (radio edit)
2. Easy Blues
3. Married to Four Women
4. I Like It Like That
5. You Are Not the Woman
6. She Got It
7. I Love You Sweetheart
8. I'm Coming to See You Baby
9. Let Me Jack You Baby
10. Little Old Blues Man
11. You Can't Run
12. I Did It All - (Adult version)
*** Just as southern soul has been heating up as of late with a barrage of sex-related hits (Theodis Ealey's "Stand Up In It", Shirley Brown's "Poon Tang Man", Dr. Feelgood Pott's "Make It Talk", Denise LaSalle's "Snap Crackle & Pop", Marvin Sease's "Sit Down On It" and Chuck Strong's "Rock That Man In The Boat") one of the original blues singers of ribald and risque material returns with his strongest (and nastiest) record since 1990's "Footprints In The Bed". Things kick off with Chick giving a resume of his bedroom theatrics, thus one-upping all the competitors because he "did it all". The song is represented here with a "radio version" and an "adult version" (which is really superfluous in my opinion). Chick shows off his blues guitar chops on "Little Old Blues Man" & "Married To Four Women" (his wife and the "three in her mind"). This is vintage Chick- funky R & B blues with cheeky lyrics and a bit of soul. The record has a tight, clear production value- notable considering it's a self-release. Also included is a cd-rom video of "Stoop Down Baby" recorded live. If you've lost touch with the "Stoop Down Man" this is the disc to get you back.
""Cookin The Blues: Tribute To Albert King" (Old School Prod 2006)
1. Can't You See What You're Doin to Me
2. I Wouldn't Treat a Dog Way You Treated Me
3. Be Right Back
4. I'll Play the Blues For You
5. Smooth Blues
6. Angel of Mercy
7. Laundromat Blues
8. The Hucklebuck
9. What the Blues Is All About
10. Blues # 9
***

1/2 Because Chick Willis is known as the "Stoop Down Man" (due to his hit "Stoop Down Baby") it's hard for many to take him serious as a Bluesman. He's made a career of similar ribald Blues ditties so a straight Blues record still takes some by surprise. But he's actually released several "serious" records and to critical acclaim for that matter (his "From The Heart And Soul" was picked as Blues record of the year). "Cookin' The Blues" is a collaboration with Jacques "Saxman" Johnson & Dr. Bill Clark who along with the DC Horns have produced a very Staxy Soul/Blues record with a dollop of Jazz. Willis runs through Albert King classics like "I'll Play The Blues", "Angel Of Mercy", "What The Blues Is All About" & "Laundromat Blues" like he's performed them hundreds of times. Nothing revelatory but solid. Although not a King song he also takes on "I Wouldn't Treat A Dog The Way You Treated Me". Johnson and Hammond B-3 man Clark actually provide the highlights with three swingin' instrumentals ("Be Right Back", "Smooth Blues" & "The Hucklebuck"), which give the disc the right variety.
1. Bootie Call
2. Don't Start Me to Talking
3. Last Time
4. Your Cat Is Killing My Dog
5. I Had the Blues Two Times
6. Trouble Tree
7. Obama
8. Juke Joint
9. Undercover Hootchie
10. Big Leg Woman
11. It'a All Over
12. Undercover Hootchie Pt. 2

*** The cover depicts a "Godfather"-like scene of a man beseeching the seated Blues Don by first kissing his ring. This tongue-in-cheek image serves to remind us that Chick was one of the first to score big with a double-entendre filled hit called "Stoop Down Baby" and the many that followed owe proper respect to the Blues Don. After signing with Ichiban Records in the 80s Chick went on to record many more cheeky Blues ditties of the ribald nature but at the same time carving out the respect of the "straight" blues market by virtue of his musical talents (especially with the terrific CD "From The Heart & Soul" on Roy Roberts' Rock House label).

See, Chick really doesn't need "nasty Chick" to make his mark though it served him well. His debut for CDS Records is his most serviceable batch of tunes in quite some time. Nearly all originals it contains "serious" mainstream Blues cuts ("Trouble Tree", "Last Time", "I had The Blues Two Times", "Don't Start Me To Talking"), "party" blues cuts ("Juke Joint", "Big Leg Woman") and a few clever Chitlin' Circuit numbers for good measure. The first single "Bootie Call" is classic Chick, funky Blues with funny lyrics but just too good and tuneful to be a joke. He betters this track with the horn-layered dancer "Undercover Hootchie" that I'm sure Bobby Rush will soon copy (ever the ingenious cherrypicker that he is). "Hootchie" has a 1960s Ray Charles Big Band coating over a electro-funk center, well produced by Marlon Hunter. Could this be a long deserved hit for the Don? Perhaps. "Your Cat Is Killing My Dog" is a humorous wordplay using our favorite pets as a metaphor. Sadly, the production is subpar here and a few other places on the disc. A shame because the songs are some of Chick's best.

Right now the topical Barack Obama tribute song "Obama" is becoming all the rage. I don't care what political affiliation you may have this effortless dose of Urban Blues is pure gold (especially for that cool keyboard-induced chord change near the end). Perhaps intentional but the song initially keeps you guessing whether he's for or against the presidential hopeful when he sings "Tell me why you like Obama? When he ain't no kin". Well it may or not be time for Obama but it sure feels like time to finally elect Chick Willis into the blues elite.