W.C. Clark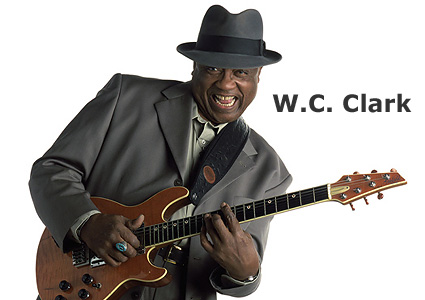 Known as the "Godfather of Austin Blues", Wesley Curley Clark was born Nov. 16, 1939 and raised in Austin, Texas. By the time he was 16, he played his first show at Victory Grill and began playing bass with T.D. Bell's band, The Cadillacs. He spent years gigging at Charlie's Playhouse with Blues Boy Hubbard & The Jets then ended up joining Joe Tex's band. In the early 1970s, Clark teamed up with guitarist and piano player Danny Freeman and vocalist Angelia Strehli to form a group called Southern Feeling. No record deal was forthcoming so Clark was working a day job when a young Stevie Ray Vaughan courted him to join his band. With Lou Ann Barton as singer, the group called themselves the Triple Threat Revue with Clark on bass. In the late 70s Clark formed his own group The W.C. Clark Blues Review and soon came the independently-released "Something For Everybody" (1986). In 1989, the critically acclaimed PBS television show Austin City Limits brought Clark together in front of a live audience, with his disciples Stevie Ray Vaughan, Jimmie Vaughan, Kim Wilson, Lou Ann Barton, Angela Strehli and Will Sexton all taking part. The broadcast, one of the series' most popular, brought Clark to the attention of a national audience for the first time. This lead to a record deal with Hammond Scott's Black Top Records. "Heart Of Gold" appeared in 1994, followed by the W.C. Handy Award-winning "Texas Soul" in 1996. In the spring of 1997 both Clark's fiancée and his drummer were killed when their tour van crashed outside of Dallas. One more Black Top Record was released, "Lover's Plea" before Black Top folded. He has since signed with Alligator Records and continues to release soul-drenched Texas blues like nobody else can.

Album Discography

"Something For Everybody" (Drippin' 1986)
1. Can't You Hear Me Calling You
2. My Song
3. Crossroads
4. Certain Girl
5. Summer Days
6. So Hard To Bear
7. Rushin'
8. Lover's Plea
9. My My Mys
10. Rough Edges
11. Pretty Little Mama
12. Bottemless Pit

"Heart Of Gold" (Black Top 1994)
1. Heart of Gold
2. I Want to Shout About It
3. Where There's Smoke There's Fire
4. Cold Shot
5. Come Back
6. Let's Straighten It Out
7. Don't Make Me Pay for His Mistakes
8. You've Got to Love Me
9. Make My Guitar Talk, Talk, Talk, to You
10. I Want to Get Married
11. All I Can See Is You
12. Blues Is at Hand
**** First Black Top record showed a wider audience what this talented soul/bluesman could do. Blessed with Al Green-like vocal chords and dexterous blues guitar finders, Clark and band tear through 12 cuts of smokin' Texas blues shuffles and sweaty soul. The disc begins with the coasting title track, a bouncy organ and horn-soaked hip-shaker and leads into the Memphis soul groover "I Want To Shout About It"- featuring a great sax solo from Mark Kasanoff. Clark shows off his pipes on the Isaac Hayes classic "Where There's Smoke There's Fire". But it's on track 4 when Clark brings the house down with the roadhouse blues shuffle "Cold Shot". This Clark co-write was one of fellow Texan Stevie Ray Vaughan's biggest hits. Clark reclaims the song with sharp guitar solos and throaty singing. The remainder of this terrific showcase features a blend of covers (Latimore's "Let's Straighten It Out", "Don't Make me Pay For His Mistakes") and Clark originals ("The Blues Is At Hand", "All I Can See is You"). A great listen.
"Texas Soul" (Black Top 1995)
1. I Only Have Love For You
2. Just the One I'm Looking For
3. Reminiscing
4. Why Do Things Happen to Me?
5. Rough Edges
6. Leave My Heart Alone
7. That's Where It's At
8. Funny How Time Slips Away
9. You'll Need Another Favor
10. I Want to Keep You
11. Ain't No Fun to Me
12. Baby, What About Me?
*** Clark is a soul singer as much as a bluesman. On "Texas Soul" he leans heavily into R & B/Soul like the one-two punch of Memphis goodness that begins the record: "I Only Have Eyes For You" and "Just The One I've Been Looking For". He also covers the chestnuts "Funny How Time Slips Away" & "That's Where It's At" but Clark doesn't completely abandon blues as shown on the brassy blues shuffle "Rough Edges", a Clark original that recalls Little Milton's 1960s Chess work. The disc captured the W.C. Handy Blues Award for "Soul Blues Album Of The Year", which is the blues world's equivalent of a Grammy.
"Lover's Plea" (Black Top 1998)
1. Changing My Life With Your Love
2. Lover's Plea
3. Lonely No More
4. Someday
5. Pretty Little Mama
6. Are You Here, Are You There?
7. Everywhere I Go
8. Sunshine Lady
9. I'm Hooked on You
10. Why I Got the Blues
11. Do You Mean It?
12. That's a Good Idea
**** The Texas Soul/Blues king is back with another stew filled with Memphis soul fire and a side of blues. "Changing My Life With Your Love" is a knockout soul song written by John Ward, which was also covered by Johnnie Taylor. It's all hooks in the same way Eugene Williams' "Trying To Live My Life Without You" was. Being that his fiancé was killed the previous spring, one of the songs alludes to that horrible tragedy. Most notably is the riveting "Are You Here, Are You There?" where Clark struggles with how surreal her death seems. But this is no sentimental weeper- in fact the album is as joyous and fun as always. "Are You Here" is actually a horn-backed soul groover with some of Clark's most intense guitar licks on record. Clark does another perfect reading of an Al Green tune, "I'm Hooked On You", and kicks off his shoes for the roadhouse shuffle "Lonely No More"- that hopefully was Clark's mood when the record was cut. Another highlight is the cute "Pretty Little Mama" with Clark hitting the top of his vocal register on the chorus. Slow blues is represented by the terrific "Someday"- more great soulful singing from Clark and "That's A Good Idea" is a sax-lead 1950s rock and roll number that closes the album on it's feet.

"From Austin With Soul" (Alligator 2002)
1. Snatching It Back
2. Midnight Hour Blues
3. I've Been Searching
4. Don't Mess up a Good Thing
5. How Long Is a Heartache Supposed to Last?
6. Bitchy Men
7. Let It Rain
8. Got Me Where You Want Me
9. Got to Find a Lover
10. Get out of My Life, Woman
11. I'm Gonna Disappear
12. Real Live Livin' Hurtin' Man
13. I Keep Hanging On
***
1/2
Another high caliber mix of Memphis soul, gospel-fervor and blues. Unfortunately, the disc opens with a mundane cover of "Snatching It Back" but track two is a rollicking B.B. King-like blues with Clark ripping some icy guitar licks. Another superfluous cover breaks the momentum ("I've Been Searching"), followed by a good cover of Oliver Sain's ubiquitous "Don't Mess Up A Good Thing" (a duet with Marcia Ball), before we get to the album's highlight, "How Long is A Heartache Supposed To Last?". This stunning soul song- written by Jimmy Lewis- features a jaw-dropping vocal from Clark delivered with full sincerity. After all the man had lost his fiancé in an accident a few years back Perhaps from that pain he musters up some serious grit. Clark's funny "Bitchy Men" is next. Here he wants a woman back who he always complained about when he was with her. "Bitchy men they cry sometimes just like me and you/When their woman's not around that don't know what to do." The Handy-nominated "Let It Rain", is a great soul-blues original that just oozes with class. Had Clark trimmed some of the fat ("Snatching It Back", "I've Been Searching" and "Get Out My Life Woman") on
"From Austin With Soul"
this would be unstoppable. Although great songs they've been overdone and Clark doesn't add anything to them.

"Deep In The Heart" (Alligator 2004)
1. Stronger Than You Need to Be
2. Cold Blooded Lover
3. You Left the Water Running
4. I Want to Do Everything for You
5. Twist of the Knife
6. Tip of My Tongue
7. Jaded Lady
8. Ain't Lost Nothin'
9. Soul Kind of Loving
10. My Texas Home
11. I Didn't Know the Meaning of Pain
12. If You Think About It
13. Promises
14. Okie Dokie Stomp
*** Produced by longtime associate Mark "Kaz" Kazanoff, this album has all the ingredients of a knockout contemporary soul/blues record. Horn arrangements, soulful songs, emotion-drenched singing and rhythm like greasy gravy. Like all Clark albums the set opens with a romping soul number. "Stronger Than You Need To Be" sounds like a classic Memphis soul gem you've never heard. Somebody with exquisite taste recognized John Hiatt's "Tip Of My Tongue" to be a great country soul song and Clark's take is perfectly restrained. Clark's "My Texas Home" is a knockout slow blues. "Twist Of The Knife" and "Jaded Lady" are heavier on rock than most of Clark's material and give extra flavor to a diversified album. As always there's some classic covers. This time he does fine versions of Joe Tex's "I Want To Do Everything For You", Otis Redding's "You Left The Water Running" and Otis Clay's "I Didn't Know The Meaning Of Pain". Clark is one classy soul/blues cat.

"Were You There?" (WC Clark 2011)
1. Having A Party
2. Nightshift
3. Hey Pocky Way
4. Georgia On My Mind
5. You Don't Have To Go
6. Big Boss Man
7. Ain't No Sunshine
8. Bright Side Of The Road
9. Down On Bended Knee
10. Stand By Me
11. What'd I Say

"W.C. Clark" (WC Clark 2018)
1. Everyday Will Be Like a Holiday
2. Go with the Flow
3. Baby Let's Do It
4. To Make You Feel My Love
5. Summer Days
6. So Much Soul Inside
7. It's a Sacrifice
8. Standing Here at the Crossroads
9. My Eyes Couldn't See
10. No More
11. The Part of Me
12. Way Back Home
13. Certain Girl
14. How About Me