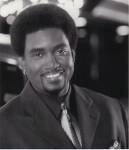 Vick Allen began singing and playing piano from the age of 5 years old in church where he grew up in Jackson, Mississippi, a city known as a breeding ground for some of the hottest Blues and Gospel talents in the history of music. After graduating from high school, Vick started singing professionally with the Gospel group The Canton Spirituals. Vick later ventured out on his own sharing the stage with such artists as Bobby "Blue" Bland, The O'Jays, Buddy Miles, and Willie Clayton.

Vick Allen has produced records for Grammy-nominated artists such as Blues legend Bobby Rush, and Gospel Greats, The Canton Spirituals, Vick has also produced records for other well known Blues artists: Peggy Scott-Adams, Toni Green, Willie Clayton, Omar Cunningham, Tyrone Davis, Mel Waiters and many others.
Album Discography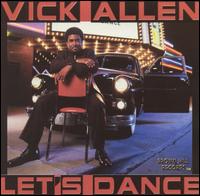 "Let's Dance" (Brown Hill 2002)
1. Let's Dance
2. I'll Be Your Witness
3. I'm So Sorry
4. I Better Let Her Go
5. You Shouldn't Have to Change
6. Worlds Apart
7. What's Really Going On?
8. Put Something Down on It
9. I'll Dry Your Tears
10. Unconditional Love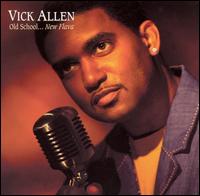 "Old School, New Flava" (Waldoxy 2003)

1. Hold On
2. Wrong Place Wrong Time
3. I Better Walk Away
4. I'm Going Home
5. Clean House
6. Marry Me
7. Mr. Telephone Man
8. Giving Up
9. So Sweet So Fine
10. World Where No One Cries, A
11. Let's Dance

"Simply Soul" (Waldocy 2005)
1. Creepin' Ain't Easy
2. I'm So Sorry - (featuring Willie Clayton/Omar Cunningham)
3. I'm Giving It Up
4. She's Good to Me
5. Who You Been Giving It To
6. Lady of Magic
7. Something Freaky to You (A.K.A. I Wanna Do Something Freaky to You)
8. Why Don't You
9. Funky Line
10. Lord You've Been Good to Me
**** Defining "soul" music is not "simple" these days. You got the mainstream "R & B", the Retro-Soul, the Deep Soul, the Soul/Blues, Memphis Soul, Country Soul, Uptown Soul, Philly Soul, Neo-Soul, Northern Soul, Southern Soul and on and on. Yes, some of these styles are different- and some are the same with different names but only a pedantic critic forced to write a review need worry about it! D'oh! So in what category can we put this new Vick Allen effort? Actually, all of the above to play it safe or..."Simply Soul" (now I get it). Blessed with an exceptional voice somewhere between Al Green and Robert Tillman, Allen's star has been on the rise following 2003's successful "Old School...New Flava" which spawned the Chitlin' hits "Clean House" & "I Better Walk Away". This is now his third album and he commands the mic like a trusty veteran, serenading your ears with smooth bedroom balladry like "I Wanna Do Something Freaky To You" (Leon Haywood) & "Lady Of Magic". The latter features some great harmonies mostly by Allen himself. While heavy on slow jams and midtempo creepers ("Why Don't You", "Creepin' Ain't Easy"), it offers "I'm Giving It Up", a fine Southern Soul bobber with a creamy refrain and sugary synths. Hitsville. For good measure he also throws down a convincing cover of ZZ Hill's bluesy "Who You Been Giving It To". Hit maker Rich Cason is behind the sole dancer "Funky Line" which will ignite dance floors everywhere. And if that isn't enough to reel you in Mr. Willie Clayton and Omar Cunningham join Allen for "I'm So Sorry". Now, that's some seriously sweet soul singing (and a hit n' a half for sure). Allen produced this record (sans the Rich Cason tracks) and even penned three tunes, including the inspirational encore "Lord, You've Been Good To Me", and it's simply terrific.
"Baby Please Come Back Home" (Waldoxy 2007)
1. Baby Come Back Home
2. When You Pack Your Bags
3. Since You Been Gone
4. Breakin Me Down
5. New Way to Cheat
6. Good Love
7. Somethang

"Truth Be Told" (Soul 1st 2009)
1. I'm Hooked
2. If They Can Beat Me Rockin'
3. I'm Thankful (For My Woman on the Side)
4. I Need Some Attention
5. Forbidden Love Affair (The Preacher Song)
6. You Stay on My Mind
7. As Long as I Got My Baby
8. I Know You Got a Man
9. Trying to Break Up My Home
10. Brand New Woman
11. That's Heaven to Me

"Soul Music" (Soul 1st 2012)
1. Have a Good Time
2. I'm Tired of Being Grown
3. My Baby's Phone
4. Soul Music
5. True to Me
6. I Gotta Have It (feat. Tre Williams & the Revelations)
7. Party All Our Blues Away
8. Woman On the Side
9. Crazy for You
10. 99.999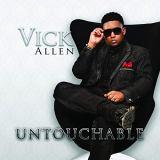 "Untouchable" (Soul 1st 2019)
1 Get It Poppin
2 I Wanna Do You
3 No One
4 Superstar
5 I Luv U So
6 I Want You
7 Not Like I Can
8 Let Me Be That Man
9 I Luv U so Ft. Dear Silas
10 Time to Let Go
11 Heavenly Choir