Tutu Jones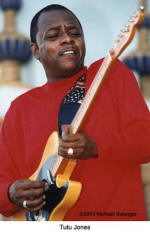 Born Johnny Jones, Jr. Sept. 9, 1966 in Dallas, Texas, Tutu was the son of a local R & B-guitarist named John Jones. He started off as a drummer in bands his uncles played in. In 1979 he began playing with Little Joe Blue and R.L. Griffin. In the early 80s Tutu switched to guitar and by the end of the decade had his own band, Tutu And The Right Time Showband. He and band began opening for acts like Denise LaSalle and Clarence Carter before finally being recorded by JSP in 1994. His first release "I'm For Real" garnered instant acclaim and signaled that a new "young blues gun slinger' had arrived. Jones next signed with Ron Levy's Bullseye Blues imprint, resulting in a terrific pair of releases, "Blue Texas Soul" and "Staying Power". In 2005 a live disc appeared on Jones for a small label before he started his own company entitled Soultone Records where he released his first all new studio set since 1998.
Album Discography

"I'm For Real" (JSP 1994)
1. Sweet Woman
2. I'm for Real
3. My Own Fault
4. Excited
5. (Do You Love) Steppin' on Me
6. She's My Woman
7. I Still Love You
8. Too Blues to Be True
9. Stubborn Woman
10. I'm Not Your Fool
11. Outstanding

"Blue Texas Soul" (Bullseye Blues 1996)
1. Sky Is Crying, The
2. Chronic Late Arriver
3. Check Out Yourself
4. Have You Ever Loved a Woman
5. It's Been a Mistake
6. You Never Had Love
7. Things Are Looking Up
8. I've Been Loving You
9. I'll Play the Blues For You
10. I'm Not Ashamed to Play the Blues

"Staying Power" (Bullseye Blues & Jazz 1998)
1. Daylight Caught Us Red Handed
2. Milkman Game, The
3. Can't Leave You Alone
4. After Midnight
5. Good Juice
6. Be Good to Your Lady
7. She So Fine
8. You Shatter My Heart
9. Romance Avenue
10. After Loving You

"Live" (Doc Blues 2005)
1. Sunday Morning Love
2. Goin' Down
3. Have You Ever Loved a Woman
4. Sweet Woman
5. Milkman Game, The
6. My Girl
7. Shake What Your Mama Gave You
8. Little Blue Bird
9. Teenie Weenie
10. Sky Is Crying
**1/2 First outing from Tutu since 1998's excellent "Staying Power" is unfortunately a live disc. That's not to say the material on this release is poor by any means. Recorded in front of a small crowd Tutu pleases them well with a mix of the new and the old. Three of the tunes appeared on previous Jones albums ("The Milkman Game", "Sweet Woman" & Freddie King's "Have You Ever Loved A Woman") while some are new to his canon. The opening "Sunday Morning Love" (previously done by Bobby "Blue" Bland) is a new one with Tutu unfurling some feathery sharp blues licks. Freddie King's piledriving "Going Down" is given a throaty shout by Jones. Two routine shuffles are found in the instrumental "Shake What Your Mama Dave You" and the overdone "Just A Little Bit" (renamed "Teenie Weenie" here). He does an admirable cover of the Temptations' "My Girl" in which he delivers an extended vamp. Elmore James' "The Sky is Crying" is the "bonus" track here and is hampered by bootleg quality sound- likely an audience recording. Overall the cd's a solid live date that feels like a show at your local blues club. Hopefully this is only a stopgap record until Tutu can get back in the studio and give us the kind of album he is capable of.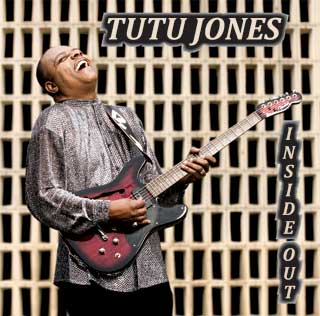 "Inside Out" (Soultone 2009)
1. Starting All Over
2. I Can Write A Book About You
3. Weekend Driver
4. Diggin' On You
5. I'm So Proud
6. Six Pack
7. Gain Your Love
8. I Feel Good This Morning
9. Let Me Do
***** One of Ron Levy's gifts to this world came by means of his Bullseye Blues label. It was/is Tutu Jones, a quick-triggered guitar stringer and explosive Soul Blues singer. Well, actually, Jones' first album was with JSP ("I'm For Real") but Bullseye gave him his highest profile. He recorded two fabulous albums for them and then when it should have been time for Jones to rise to the next level the label folded and Jones was inexplicably not picked up by another label. It would take 11 years for another Tutu Jones album (a mediocre "Live" album appeared briefly in 2005) and it is a corker! Released on Jones' own label "Inside Out" features ripping, rhythmic Blues and sweet Soul rollers drenched in horns filled in by icy guitar licks. "I Can Write A Book About You" is gloriously epic.