The Love Doctor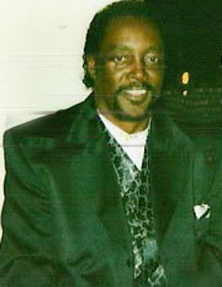 "The Love Doctor" is former radio personality Lewis Clark moved to Illinois and became involved in the music industry through radio as a disc jockey in Illinois. With his DJ name being the Blues Doctor for some two decades, Lewis would often perform at various gospel events, playing tunes but also occasionally performing them as well. In 1997, the Blues Doctor before he changed his name to the Love Doctor released his first album "Operating On The Blues" but scored his first hit on the Mardis Gras label with "Slow Roll It" from the "Doctor Of Love" album. He's followed that up with more hits like "You Said, No I Didn't Lies)" and "Let's Have Some Fun".
Album Discography
The Blues Doctor "Operating On The Blues" (Jomar 1997)
*** Before becoming the "Love Doctor" Lewis Clark went by the "Blues Doctor" and layed down this fairly sturdy set of Urban Blues. Songs like "If You Don't Want Me Baby" and "Ain't No Time For Fussin'" are derivative and contain synths and drum machines but wouldn't annoy fans of ZZ Hill's "Down Home Blues" period.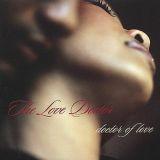 "Doctor Of Love" (Mardis Gras 2001)
1. Soaking Wet Pillow
2. Doctor of Love
3. Somebody's Child
4. Run Away
5. Slow Roll It
6. My Forever Love
7. Everyday Woman
8. Don't Quit
9. Love Me with a Feeling
10. Don't Let It Stop Your Party
** Surprising hit album reached #47 on Billboard's R & B Albums chart on the strength of his runaway smash "Slow Roll It", which immortalized another way to do the horizontal bop. The song was later covered by Sheba Potts-Wright and even the great Roy C, who incidentally "re-wrote" it to his taste. The good Doctor was 50-something at the time "Slow Roll It" hit so he had a lesson for all those who think he's too old to get his freak on. Unfortunately other than that, the catchy "Don't Let It Stop Your Party" and the rolling title cut, the album is subpar. The grooves are tepid and the programming redundant. Songs like "Soaking Wet Pillow" and "My Forever Love" are generic clichés and "Somebody's Child" feels too pedantic. Note: There are a couple different versions of this disc- make sure you get the 10-track version as the other doesn't include the Carl Marshall-produced "Don't Let It Stop Your Party".

"Moaning & Groaning" (Mardis Gras 2002)
1. Moaning and Groaning
2. I Can Only Get Freaky With You
3. Let's Go All the Way
4. Baby Don't Stop
5. Private Girl
6. You Won't Miss the Love
7. Hit and Run
8. Open Leg Dance
9. Where Are You Lady
10. I Found a Love
11. Slow Down
12. Strength of a Woman, The
13. They Want My Woman
14. Give a Little Love
15. Open Leg Dance - (Club Mix)
** Album number two contains nearly identical programming as the previous one and this time the Doctor's got sex on the mind (even more). The title cut needs no explanation, but at least he tells his woman "I Can Only Get Freaky With You" on the disc's best cut. This is followed by "Let's Go All The Way" just in case you didn't know what the "doctor of love" wanted. The crude "Open Leg Dance" is just plain silly and "Slow Down" is a half-hearted nod to "Slow Roll It". By the end of "Moaning & Groaning" you'll find it hard to remember which track was which because it all sounds the same.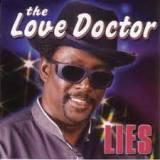 "Lies" (Mardis Gras 2004)
1. Short Skirts, Tight Jeans
2. I'm in Love
3. Good, The Bad, And the Ugly, The
4. Don't Give Up on Love
5. Part Time Love
6. You Said It, No I Didn't (Lies)
7. First Class Love
8. Wife, Woman, Lover, Friend
9. Caught Up
10. Big Blue Diamonds
***
An
improvement over his first two Mardis Gras albums. First and foremost is the hilarious hit single "You Said It, No I Didn't (Lies)". A back and forth between the Dr. and his woman with clever lyrics like: She says "You said you graduated- graduated from Penn State" and he responds" There you go again. I told you I got my diploma when I was in State Pen.!". Another hit is the Southern Soul popper "Short Skirt, Tight Jeans" and "I'm In Love" could follow. What really impressed me about "Lies" was the Doctor's meaty vocals. He really found his voice delivering a fat, pinched rasp with power on slowies like "Wife, Woman & Lover" and "The Good, The Bad & The Ugly". The former is a romantic praise of his woman who "may not have a shapely body" but she's "perfect" for him anyway. The Doctor (Lewis Clark) wrote 5 cuts, while Nathaniel Kimble contributed two. There's also two Clay Hammond covers by the former "Blues Doctor" here ("Part Time Love" & "First Class Love").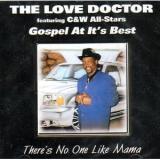 "There's No One Like Mama" (Hep Me 2004)
1. There's No One Like Mama
2. Some Day
3. Tighten Up
4. Old Time Religion
5. Peace in the Valley
6. Living for Jesus
7. On My Way Home
8. Faith in God
9. Doin for the Lord
10. You've Been Good to Me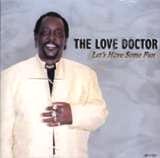 "Let's Have Some Fun" (Hep Me 2005)
1. Let's Have Some Fun
2. Stroke on Me
3. Two Places
4. Why You Lied
5. Spend the Weekend
6. I'm Through With You
7. He Don't Love You
8. Full Time Lover
9. Let's Have Some Fun - (Club mix)
*** Second disc for Senator Jones' Hep' Me Records is a fair collection of party soul. Mark Safford wrote all the tracks like the hit stepper "Let's Have Some Fun", which also appears as a remix. The Southern Soul bounce of "Stroke On Me" contains a phat hook and sweet guitar fills. The song was previously recorded by Willie Tolver on the Hot Spot label. "Two Places" and "Spend The Weekend" are two more upbeat party soul jams that could garner airplay. The best cut is the bottom-heavy soul blues "I'm Through With You" with it's creepin' groove and propulsive bass. The Love Doctor has steadily improved since his first album and I'm looking forward to his next treatment. I only wish there were more than 8 prescriptions here (Sorry, I couldn't resist) and a little more blues.

"Stupid" (Hep Me 2007)
1. Stupid - (Radio Mix)
2. Stupid - (Club Mix)
3. When the N.O.L.A. Saints Go Marching In
4. When the N.O.L.A. Saints Go Marching In
5. Just Another Soul Song
6. My Way, Or, No Way
7. Lies, You Said It, I Didn't
8. There's No One Like Mama
9. You Got to Know How to Love Your Woman
10. I'll Be Good to You
11. Love Me Now
12. What Your Love Means to Me
*
1
/2
When I got the new CD by The Love Doctor I thought it was a promo copy (or worse, a bootleg). No artwork, minimal credits and even the inlays were made of obviously cheap paper. That first issue was actually the first pressing of the album and it was titled "When The N.O.L.A Saints Go Marching In". The main cut, in two parts, is nothing more than the classic "When the Saints Go Marching" with the words "New Orleans" tacked in front of "Saints" in half-baked tribute to the NFL playoff contenders. The album was then repackaged with two versions of a new song ("Stupid") tacked on. Oddly, it's one of the least effective tracks. Not that there's much competition. "You Got To Know How To Love Your Woman" is another blanch copy of "Slow Roll It". The prophetically-titled "It's Another Southern Soul Song" has a sweet refrain but the verses are embarrassingly weak. Etcetera. Etcetera. The bumper "My Way Or No Way" had my toes tapping I'll admit. Being that he was the key ingredient on the Love Doctor's best records ("Let's Have Some Fun") I'm not surprised Mark Safford's sultry slow jam "Why You Lied To Me" is the best thing here. "Love Me Now" is a bona fide good song (credited to "unknown". They shoulda hired this mysterious writer for the rest of the album) but the Doctor's over-the-top warble just kills it. Adding insult to injury the disc is filled out with repeats from past Hep Me releases ("You Said It, No I Didn't (Lies)" & "There's No One Like Mama").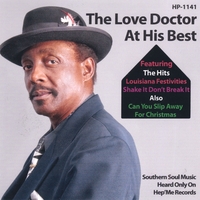 "At His Best" (Hep Me 2008)
1. Louisiana Festivities
2. You Got Me Yearning for Your Love
3. Roll It Slow
4. Shake It Don't Break It
5. Make It Do What It Do
6. Rump Roast
7. Sweety Pie
8. Can You Slip Away for Christmas
9. Let's Stay Together
10. Three People
*** Dr. Slow Roll It rebounds from "Stupid", his awful previous record, with ten better (all new, despite the title) tracks. Don't fret. The disc may kick off with the Zydeco dancer "Louisiana Festivities", but the remainder are the kind of material his fans dig him for. Bumps like "You Got Me Yearning For Your Love" and "Can You Slip Away From Christmas" hit their mark. In fact, the latter might have been his long overdue next hit had it not been a Christmas tune. You know the man needs a hit when he records a song called "Roll It Slow", that's similar to his signature song (yup, "Slow Roll It") in more than just name. My pick is the midtempo roller "Make It Do What It Do" with it's catchy refrain and familiar groove. Two tributes to the booty, "Rump Roast" & "Shake It Don't Break It", are humorous. On "Rump" he sings "Girl I know your rump roast is marinated to the bone/Spiced with Worchester sauce and cayenne pepper too". That's a sure way to get a rash! The Love Doctor's chocked warble of a voice is an acquired taste and slowies like "Sweety Pie" and "Let's Stay Together" reveal it's warts...but also it's charm. It's hard not to crack a smile when you put on a Love Doctor album.
"A New Beginning" (Labro 2010)
1. Work That Body
2. Baby Please Come Home
3. Can The Love Doctor Rock You
4. Long Distance Lovers
5. Pay For It
6. Phat Like That
7. Outside Thing
8. You've Been Good To Me
9. Bye Bye Baby
10. Outside Thing instrumental