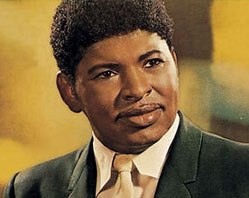 Ted Taylor

Theodore Taylor (February 16, 1934 – October 23, 1987) was born in Okmulgee, Oklahoma, and moved to California in 1952. He became a member of the Mighty Clouds of Joy gospel group, before joining the Santa Monica Soul Seekers as a tenor singer. In 1955, the Soul Seekers approached Maxwell Davis at Modern Records for a recording deal, and he persuaded them to concentrate on secular R&B music. The same group recorded as both The Cadets on Modern and The Jacks on the subsidiary RPM label. Taylor sang lead vocals on The Cadets' "Do You Wanna Rock (Hey Little Girl)" and "I Cry" and also on The Jacks' "Away" and "My Darling."

Taylor left the group, and recorded two singles on Melatone Records in 1957 with the Bob Reed orchestra on which he was credited for contractual reasons as "Ivory Lucky". Over the next seven years, he recorded singles for a succession of labels including Ebb, Duke, Top Rank International, Laurie (where several of his records were credited to Austin Taylor), Warwick and more.
At Duke, he made the first recording of the ballad "Be Ever Wonderful" in 1959.His first LP "Ted Taylor Sings" was issued on Warwick in 1963 in 1965 his single on the Okeh label "Stay Away From My Baby" reached number 14 on the Billboard R&B chart.
After further singles Taylor signed with Ronn in 1969. He released three albums ("Shades Of Blue", "You Can Dig It" and "Taylor Made") and a fourth with label mate Little Johnny Taylor entitled "The Super Taylors" in 1973. He charted with "Steal Away" (#64 R&B) and issued a fukk, self-titled album in 1976 with Alarm Records. Three more LPs appear in the 80s including a one-ff with MCA in 1981 ("Keepin' My Head Above Water") and two for his own Solpugits label. Taylor died in an automobile accident in 1987 at age 53.
Album Discography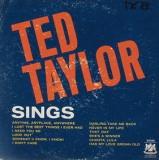 "Ted Taylor Sings" (Warwick 1961)
A1 Anytime, Anyplace, Anywhere 2:31
A2 I Lost The Best Things I Ever Had 2:48
A3 I Need You So 2:16
A4 Look Out 1:56
A5 Someday (I Know, I Know) 2:10
A6 I Don't Care 2:10
B1 Darling Take Me Back 2:22
B2 Never In My Life 2:17
B3 That Day 2:00
B4 She's A Winner 2:55
B5 Chanta Lula 2:38
B6 Has My Love Grown Cold 2:00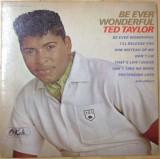 "Be Ever Wonderful" (Okeh 1963)
A1 Be Ever Wonderful
A2 Can't Take No More
A3 Close Your Eyes
A4 That's Life I Guess
A5 I'll Release You
A6 Pretending Love
B1 You Give Me Nothing To Go On
B2 Him Instead Of Me
B3 Don't Lie
B4 St. James Infirmary
B5 You Must Have Been Meant For Me
B6 This Love Of Mine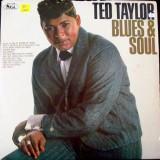 "Blues & Soul" (Okeh 1965)
A1 Don't Deceive Me (Please Don't Go)
A2 Fannie Mae
A3 Stay Away From My Baby
A4 Find Me A New Love
A5 I'm So Satisfied
A6 Get Away
B1 (Love Is Like a) Ramblin' Rose
B2 Big Wheel
B3 Did She Mention My Name?
B4 Why Do Fools Fall In Love?
B5 No One But You
B6 The Seventh Son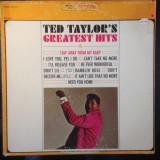 "Greatest Hits" (Okeh 1966)
Stay Away From My Baby 2:45
I Love You, Yes I Do 2:27
Can't Take No More 2:36
I'll Release You 3:23
Don't Lie 2:08
Be Ever Wonderful 2:45
(Love Is Like A) Ramblin' Rose 2:15
Don't Deceive Me (Please Don't Go) 2:51
It Ain't Like That No More 1:50
Need You Home 2:28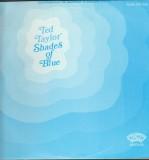 "Shades Of Blue" (Ronn 1969)
You've Been Crying 2:41
The Girl Of My Dreams 2:15
I've Got The Chills 2:09
This Love Of Mine 2:32
Keep Walking On 1:55
If I Don't See You Again 2:00
Very Truly Yours 1:56
Every Where I Go 2:59
Days Are Dark 2:24
Wrapped In A Dream 2:07
Only Your Love 2:15
Close Your Eyes 2:56
"You Can Dig It" (Ronn 1970)
It's Too Late 2:55
Cover Me 2:47
If I Thought You Needed Me 2:48
The Road Of Love 2:50
Ollie Mae 2:11
You Got To Feel It 2:38
Funky Thing 2:36
I'm Lonely Tonight 2:44
Without A Woman 2:58
Long Ago 3:05
Strangest Feeling 2:50
I Need Your Love So Bad 2:42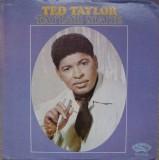 "Taylor Made" (Ronn 1972)
It's A Funky Situation 3:10
Something Strange Is Going On In My House 2:50
Houston Town 3:38
Who's Doing It To Who 2:50
Call The House Doctor 3:41
(This Is A) Trouble World 2:40
Papa's Gonna Make Love 3:15
How's Your Love Life Baby 3:10
Only The Lonely Knows 2:48
Sweet Lovin' Pair 2:50
Can't Take No More 2:55
I Feel A Chill 3:50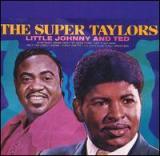 Little Johnny And Ted Taylor "The Super Taylors" (Ronn 1973)
1. Funky Ghetto
2. Make Love to Me Baby
3. Only the Lonely Knows
4. Walking the Floor
5. (I'm Just a Crumb in Your) Bread Box
6. When Are You Coming Home
7. Cry It Out Baby
8. Honey Lou
9. Everybody Knows About My Good Thing
10. Pretending Love
11. I Can't See Myself as a One Woman Man
12. Gonna Find Me a New Love

"Ted Taylor 1976" (Alarm 1976)
Reissued as "Somebody's Gettin' It" in 2001 by Basix
Somebody's Gettin' It
Steal Away
Stick By Me
Standing In The Wings Of A Heartache
Wrapped Up In A Good Woman's Love
I'm Gonna Hate Myself In The Morning
It Takes A Fool (To Be A Fool Again)
You Make Loving You So Easy
High Heel Sneakers
Everybody's Stealing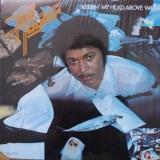 "Keepin' My Head Above Water" (MCA 1981)
Keepin' My Head Above Water 3:59
Love In An Open Hand 3:58
Chase The Would Away 4:20
Double My Money Bag 3:20
Just Two People (Sharing The Same Address) 4:17
It's In My Blood 3:27
Be Ever Wonderful 4:17
Born On The Wrong Side Of Temptation 4:17
Flashbacks 4:02
I Can't Fake It Anymore 3:40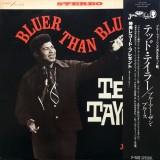 "Bluer Than Blue" (P Vine 1981)
A1 How's Your Love Life Baby
A2 Strangest Feeling
A3 Something Strange Is Going On In My House
A4 Cummins Prison Farm
A5 I Need Your Love So Bad
A6 Call The House Doctor
B1 Days Are Dark
B2 Keep Walking On
B3 You've Been Crying
B4 I've Got The Chills
B5 Strangest Things Happening
B6 If I Don't See You Again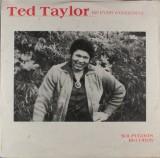 "Be Ever Wonderful" (Solpugits 1984)
Be Ever Wonderful
Pleadin' For Love
It Hurts To Be In Love
Some Day
Little Red Rooster
How Could You Do That
You're Tippin', She's Rippin'
Stay Away From My Baby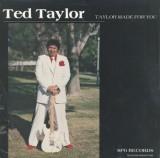 "Taylor Made For You" (Solpugits 1987)
My Key Jumpback In My Hand
Home At Last
The Wolf
Feed The Flame
I Can't Take No More
Crumb In Your Bread Box Of Love
Steal Away
Get Your Own Woman
Only The Lonely Knows
Torch Of Love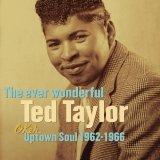 "The Ever Wonderful Ted Taylor: Okeh Uptown Soul 1962-1966" (Legacy 2010)
1. Don't Lie
2. Pretending Love
3. Time Has A Way
4. You Must Have Been Meant For Me
5. I'll Release You
6. Can't Take No More
7. Be Ever Wonderful
8. That's Life I Guess
9. You Give Me Nothing To Go On
10. Him Instead Of Me
11. I'll Make It Up To You
12. It Ain't Like That No More
13. So Hard
14. Need You Home
15. Somebody's Always Trying
16. Top Of The World
17. If It Wasn't For You
18. Don't Deceive Me
19. I Love You Yes I Do
20. I'm So Satisfied
21. Love Is Like A Rambling Rose
22. Stay Away From My Baby
23. Walking Out Of Your Life
24. Daddy's Baby
25. Mercy Have Pity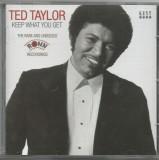 "Keep What You Get : The Rare And Unissued RONN Recordings" (Kent 2011)
same track list as below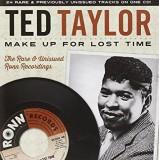 "Making Up For Lost Time : The Rare And Unissued Recordings" (Fuel 2013)
1 Farewell
2 Call The House Doctor
3 Who's Doing It To Who
4 Sweet Loving Pair
5 Don't Be Slappin My Hand
6 Papa's Gonna Make Love
7 I'll Be Here
8 Keep What You Get And Like It
9 Anytime Anyplace Anywhere
10 Fair Warning
11 A Lick And A Promise
12 She's Got A Munchy Tunchy
13 Got To Have A Woman
14 Let Me Fix Up Your Feelings
15 Why Do I Have To Suffer
16 (Long As I Got You) I Got Love
17 Cry Out Baby
18 Funky Ghetto
19 Pretending Love
20 Walking The Floor
21 What A Fool
22 Make Up For Lost Time
23 How's Your Love Life Baby
24 Cummins Prison Farm