Steve Perry

Grew up in Pratville, Alabama did Southern Soul's Steve Perry (not the Journey rock singer). Performed with his brother and sister for a time before christening himself as Too Smooth and recording the 45 "Share". He followed this up with "Satisfied". "I learned a lot after releasing that first song. I didn't know what I was doing to get it out there but "Satisfied" got some attention", Perry says.
Returning to his birth name Steve Perry released his first LP in 1998, "Who's Stealin My Love" released on his own label, Bluesland Records. After one more set ("She Caught Me") Perry was briefly signed to Frederick Knight's imprint, Juana (distributed by Malaco Records) for the release of "I Need You" after it was initially released on Bluesland. "When "Let It Go" was becoming a hit Frederick signed me for about 9 months to get the record out."
By this point Perry was gaining a loyal and especially female following that culminated in his biggest hit in 2005 called "U Can't Raise Her" from the album "Come Back Love". He returned in 2007 with his follow up, "It's Okay". Perry has also recorded under the name "Prince Mekel" but no albums have appeared under that moniker.



"Who's Stealin' My Love" (Bluesland 2001)
*** Modern machine-produced Soul/Blues by another Tyrone Davis-inspired singer. Bumpers and ballads- of the toe-tapping, headbobbing variety not dissimilar to the the Chicago Soul made popular by Davis during his Dakar days. All originals. Although mostly keyboard-cheesed dance music his slowie "Share Your Life" reveals a real knack for that good ole Soul feeling.

"She Caught Me" (Bluesland 2002)
**1/2 Southern Soul/Pop from a smooth singer. Nothing breaks new ground for Soul music in general but "Party All Night Long" is a listenable shuffle bumper and on "Sexy Lady" Perry shows some grit to his singing. He's really blossoming as a balladeer. "Adore You" & "I Found My Angel" are his best yet. Bigger bottom would really help the dance tracks.

"I Need U" (Bluesland/Juana 2003)
**1/2 Signing with Frederick Knight's Juana label, Perry's profile rose on album three. Though the same mid-quality backing sounds and generic dance songs ("Roll It", "Shake What Your Mama Gave Ya") pervade here his slowies are getting better- after all it's his smooth ballads that his (largely female) fans want. "Let Her Go", "Treat Her Right", "All Women" & the title track deliver. "Let Her Go" became his biggest radio hit to date.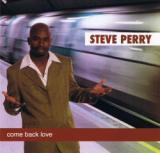 "Come Back Love" (Bluesland 2005)
***1/2 Another set of independent programmed Southern Soul that is chock full of potential hits. Although it doesn't enjoy a bigger production value ala Malaco Records the sound is big enough. In the South the "answer" song has made a comeback and Perry answers Shirley Brown's "I I Got To Sleep With One Eye Open" on the opening jam, "You're A Freak". Over a catchy shuffle bump rhythm he sings: "Shirley I don't believe that/Saying you gotta sleep with one eye open...it was you, Shirley, who was a sex machine/If you're gonna tell them/Tell the truth/That you want it as much as I do/You're a freak, tell it Shirley!". Funny stuff. The first certified hit from the 9-song disc is "U Can't Raise Me" (aka "U Can't Raise Her") where Perry distances himself from those control freak men who want to "teach" a woman how to look, think and act. "She's got a boss at work/She don't need one at home/You can't raise her 'cuz she's already been raised". There's no doubt Perry likes to sing for the ladies. "Still My Boo" and "Let's Get Married" are terrific slow jams. He's most impressive on the title cut that'll sho' nuff make 'em swoon. Moving from the heart to the booty my pick hit is "Donkey Donk" with it's pumpin' rhythmic pulse and hook: "Whoomp! There it goes/Shakin' that donkey donk!". "Slide" is another infectious dance floor boogie. Can you really ever have enough songs to do the "Electric Slide"? Perry produced, wrote, arranged and engineered the material here and it's aimed directly at the Southern market, which we all know extends far beyond the chittlin' circuit these days.