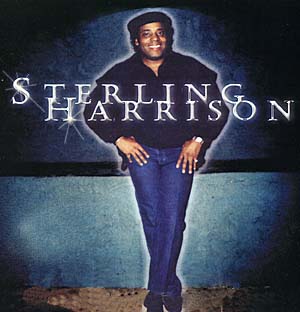 Sterling Harrison
Born in Richmond, Virginia, Sterling's early career was on the club circuit, which eventually took him to Los Angeles in 1977. He performed in the L.A. area throughout the 1980's and 1990's and recorded sides for various labels, including Vim, Smash, 4V, Astroscope, and Motown.

His first LP, a self titled album cut for the Atlantic subsidiary, Real World Records, and was released in 1980. "'One More Time For Love" became popular amongst R&B fans both sides of the Atlantic, and, as with some songs on the album, was paenned by the Holland / Dozier/ Holland team.
The following year, Sterling released an album entitled "One Size Fits All". Few copies were pressed, and he album soon became highly sought after, especially for the Soul stepper 'You Got That Thing' (a song which was later to appear on a compilation album entitled "Blessed Blackness" in them late Nineties).
In 1999, he released the album "Two Way Love Affair", which was followed in 2004 by "I'm Just Getting Started".

Tragically, after completing the album "South Of The Snooty Fox", Sterling was diagnosed with cancer, and passed away on the 21st of August 2005. The album was posthumously released in 2007.
Album Discography

"Sterling Harrison" (Real World 1980)
1.Back Trackin'
2.Because You Are Love (of Thee I Sing)
3.Hard Times
4.Got To Get Back On Your Mind
5.Love I'm Coming Home Again
6.Love's Fever
7.One More Time For Love
8.Showing Off
9.Welcome Back Rock And Roll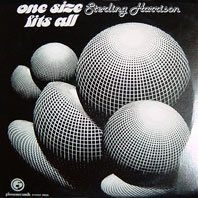 "One Size Fits All" (Phonorecords 1981)
1.One Size Fits All
2.Abba-Dabba-Do
3.Jamaica
4.Star Chaser
5.Take It All The Way
6.Youve Got That Thing
7.Jump In The Middle Of llove
8.I Feel The Love
9.Shes So Sensitive

"Two Way Love Affair" (Konkord 1999)
1. Two way Love Affair
2. Talk To Me
3. Last Two Dollars
4. I've Been Living You To Long To Stop Now
5. Members Only
6. There's that Girl Again
7. Viagra Blues
8. Turn Back The Hand Of Time
9. Tom Cat Blues
10. Someone Else Is Steppin' In
11. Heavy Betty
12. Your Grace and Mercy

"I'm Just Getting Started" (Sounds Of Soul 2004)
1. If
2. My Wife
3. If I Was A Poet
4. Sweet Angel
5. Baby You Blew My Mind
6. Stranger
7. I Aint With It
8. Children Of God
9. Write Me A Letter
10. That's What I Need

"South Of The Snooty Fox" (Hacktone 2007)
1. Ain't Nobody Home
2. You Left the Water Running
3. Surprise, Surprise
4. There's a Rat Loose in My House
5. Seven Days
6. House Where Nobody Lives, The
7. Nickel and a Nail, A
8. Don't Mess With My Money
9. I'll Take Care of You
10. I Believe in You (You Believe in Me)
11. Funny Life
**** The late Sterling Harrison never got his due as the exceptional Soul singer he was during his life. Other than the obscure 1980 self-titled LP you'll only find two discs out there on the man. KonKord's "Two Way Love Affair" and 2002's Sounds Of Soul release "I'm Just Getting Started". Both are decent LPs but neither live up to his acclaimed live show. Fortunately for us he left a potent collection of tracks aka "South Of The Snooty Fox", that shows Harrison was a cut above the average Soul/Blues journeyman.
The material was recorded beginning in 2001 and completed through the four years prior to his 2005 death thanks to Larry Gorodetsky, writer for the TV series "Dharma and Greg" and it's actor Thomas Gibson. Both gents saw Harrison performing at an L.A. nightclub and were allegedly blown away. A second night Gorodetsky brought along Steve Berlin, sax player for Los Angeles legends Los Lobos to see Harrison throw down on stage. This lead to the sessions here. Gorodetsky had Harrison fitted with songs he'd perfected live ("I Believe In You", "I'll Take care Of You", etc) and other compositions music nerds like me want great singers like Harrison to resurrect. Among these being the obscure Bobby Womack recording "Surprise Surprise".
The set opens with a quick run through of the Howard Tate (and B.B. King) hit "Ain't Nobody Home" before a transcendent mid-paced take on O.V. Wright's "A Nickel & A Nail". Al White's icy organ and Larry Johnson's rhythm guitar create a burning backdrop for Harrison to show soulful restraint. I got a kick out of the arrangement in comparing it to the recent sped-up version cut by the Jackie Payne-Steve Edmonson Band. Both sizzle in different ways. As I've often stated, cover songs can be quite the superfluous nuisance unless special in some way. For example, I have many versions of Johnnie Taylor's great "I Believe In You (You Believe In Me)" and didn't think I needed another but the version here is just so undeniably Soulful I just gotta keep it for my collection. That sums up this record. Lots of familiar territory ("You Left The Water Running", "There's A Rat Loose In My House", "The House Nobody Lived In") but special. Bobby Bland's "I'll Take Care Of You" is stretched out to a loungey story song replete with a seemingly improvised dialogue and a long adlibbed fade. Like a live recording it's just one of those moments "in the zone" as we like to describe when we are in the groove, on point, in pitch, synchronized, etc..."Snooty Fox" is the definitive Sterling Harrison moment.