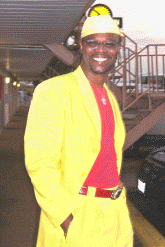 Stan Mosley
Mosley began singing in 1969 and joined the Sharpees in 1974. The band ended up backing the diva Shirley Brown and Stan sometimes sang backup. From there he began gigging around Chicago off and on for years but had yet to be signed let alone release a record. "At some point in time," Mosley recalls, "I have either opened for or performed in the same venue as just about every major soul or blues act in the business." His acclaim grew and, for two years running, he captured the important Chicago Music Award (in 1982 and 1983) for Best Male R & B Vocalist.

By 1986 Mosley was fed up with the music business and joined a music ministry known as 'The Company' in Chicago. But he came back in 1992 and returned to East St. Louis to team up with Gus Thornton to write several songs, which were released on his own Stand Up label as the LP "Standing Tall". "They're very good songs, but unfortunately I had no distribution," he said. Butler Records re-released his album in 1995. He was also touring as the opening act for Cicero Blake, while also serving as Blake's driver and valet. In 1997, he found Malaco Records. Composer William Payton, who had co-penned Tyrone Davis' 1997 hit single "Freak" on Malaco, introduced him to Tommy Couch Sr. for a fifteen minute meeting. Tommy agreed to hear Stan's demo tape "and fifteen minutes ended up being hours-and Mr. Couch signed me to his label!". Ace producers like Charles "Rich" Cason, Couch, Floyd Hamberlin & Wolf Stephenson helped craft three strong albums for the label that should've catapulted Stan to Soul Brother #1 in the Southern Soul/Soul Blues world. The records did well but Mosley left the label disenchanted.
Mosley headed to Mardis Gras Records for a one-off project before finding himself on the independent level. In late 2005 he sent out promos for his "upcoming" CD "Steppin' Out" and response was enthusiastic. "Steppin' Out" was a bigger hit in Japan than any other part of the world. In late 2007 he next signed with the fledgling label CDS Records, which resulted in the CD "Man Up" and the brand new "I'm Comin' Back". The latter was produced with a deliberate nod to classic Soul in the Bobby Womack/Teddy Pendergrass style.
Album Discography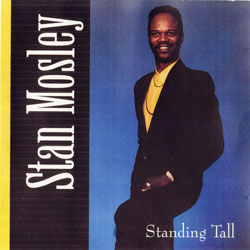 "Standing Tall" (Stand Up Records 1995)
Stan's first record is a short one with only four songs, all (sans the instrumental) of which ended up on "Steppin' Out".
1.Together Forever
2.Give Me A Chance
3.Thank You
4.Thank You (Instrumental)
"The Soul Singer" (Malaco 1998)
1. Don't Make Me Creep
2. Why Can't You Love Me
3. Don't Knock My Love
4. I Can't Wait to Get You Alone
5. Makes You Wanna Cry
6. Hit It or Quit It
7. Rock Me
8. This Time I'm Gonna Be Sweeter
9. I Got Your Back
10. Little Bit of Something
***1/2
Auspicious debut by sandpaper-voiced soulman. Southern Soul/Modern Soul/Soul/Blues/Retro-Soul or whatever you want to call it these days. Hitmen Rich Cason, Floyd Hamberlin, Sam Mosley (no relation) and Bob Johnson contribute the best songs on this terrific long player. Vocally Mosley reminds me of Wilson Pickett and his take on "Don't Knock My Love" is, well, a knockout! The soulful headbobber "Rock Me" was his first hit and the heart-tugging "Why Can't You Love Me" is simply gorgeous. It's simply one of the best slow soul songs of the decade thus far. There's also some pumpin' dancers like "Don't Make Me Creep" and "Hit It & Quit It". Stan Mosley is a contender for the throne vacated by Johnnie Taylor at his death.

"Souled Out" (Malaco 2000)
1. He's a Soulman (Intro)
2. We Be Keepin' It Real
3. Anybody Seen My Boo
4. Payback Is a Mutha (Guest vocalist: Tonya Youngblood)
5. I'm Not the Man I Used To Be
6. Ain't No Woman
7. I Just Wanna Thank You
8. Don't Walk Out
9. Tasty Love
10. Wiggle It (Guest vocals [rap: Melissa Mayberry)
11. Who Is He
12. U Can't Keep Throwing Our Love Away
13. I Got a Good Woman Now
**** Second Malaco outing by Mosley is even funkier. Once again he is served with strong material written by Rich Cason, Floyd Hamberlin and Frederick Knight. (Yes the same Frederick Knight who hit with "I've Been Lonely So Long" in 1975). Mr. Knight contributed "Anybody Seen My Boo?" in which Stan says he's gotta find her "before Jody do!". Knight also provided the excellent ballad "I'm Not The Man I Used To Be" and "I Just Want To Thank You", another mover. Tonya Younblood joins Mosley for the regret-filled funker "Payback Is A Mutha" (written by Cason). Meanwhile, Hamberlin has a knack for producing simple, yet highly addictive rhythm tracks that force you to move somethin'. The delicious "Ain't No Woman" (also done by Lee "Shot" Williams), "Tasty Love" and thumping "Wiggle It" are his contributions. He also co-wrote two cuts with Mosley: "U Can't Keep Throwing Our Love Away" and "Don't Walk Out". With "Souled Out" you get 13 songs of sweaty modern soul n' funk that's a cut above the competition.

"Do Right" (Malaco 2002)
1. No Mistake
2. Kiss and Tell
3. Perfect Timing
4. Do Right Woman, Do Right Man
5. Jealous
6. I Can't Stop Lovin' You
7. Pretty Lady Do You Wanna Dance
8. Can I Get Freaky With You
9. Middle Man
10. Your Wife Is My Woman
11. You Bring Out the Dog in Me
12. How Would You Like It Tonight
***1/2 After two fantastic albums Mosley has positioned himself as a top contender for "King of Modern Soul" (artistically). Unfortunately his commercial profile isn't as high as it should be. Perhaps because Mosley's throaty vocals are closer to the deep-in-the-gut soul that flourished in the 60s and 70s. Wilson Pickett, Otis Redding, James Brown. Gritty singers and Stan is in this elite group. Today a smooth tenor like Sir Charles Jones seems to get more attention. Hey, nothing against Sir Charles but Stan's bringing the real deal to the table. As it is, Mosley is once again set up with terrific material and crisp, full production. It's a combination of organic (live musicians) and synthetic (programming) that has become the standard for Malaco's Southern Soul/funk stars. This time Larry Addison is responsible for the very best cuts- the soulful, horn-soaked "No Mistake" and the hit single "Kiss And Tell". The prolific Rich Cason comes up with the goods again on the Southern Soul "Your Wife Is My Woman" (which is lyrically objectionable I must mention) and the dancer "You Bring Out The Dog In Me". This track is so dang funky my nose crinkled up for days! It should've been "Hole In The Wall" big! I was surprised to hear Mosley do a cover like Aretha Franklin's "Do Right Woman, Do Right Man". Although nobody can touch the Queen, this performance is a winner. One final accolade must be given to genius songwriter of Memphis soul, George Jackson, who's "Perfect Timing" is another feather in his cap.

"Good Stuff" (Mardi Gras 2003)
1. Good Stuff
2. Juke Joint
3. If I Were Your Man
4. Beat Down
5. 'Til the Cops Come Knockin'
6. Ladies Night
7. Rockin' Slide
8. Let's Get It On
9. Do Me
10. Sprung
** Mardi Gras Records out of New Orleans is a hit machine and despite the monotonous programming have scored another hit or three with this new Stan Mosley project. That ubiquitous midtempo rhythm track with candied keyboards benefits from Mosley's grit on charmers like "Til The Cops Come Knockin'", "Juke Joint" and the title cut. One of the best songs, however, is the knight in shining armor sentiments of "Beat Down" where Stan vows to protect a battered woman by becoming her man. All tracks were written by Floyd Hamberlin and produced by Senator Jones, whose unimaginative production lessens the impact. A singer of Mosley's talent deserves better than this half-baked effort.

"Steppin' Out" (Double Duo 2006)
1. Let's Fall in Love
2. Dance Floor
3. Together Forever
4. I Want You
5. This Love Has Power
6. Can We Work It Out?
7. Give Me a Chance
8. You Gonna Make Me Cheat
9. Thank You
10. God Is Alive
**** I've said repeatedly that Stan Mosley is one of the artists to watch in the new era of Southern Soul & Blues. Now that legends like Tyrone Davis, Johnnie Taylor & Little Milton have left us the genre needs some artists to grab the baton and run. Since Bobby Womack seems content to make sporadic appearances and collect fat checks, I'm starting to believe we may not need him. Why? Because we got Stan Mosley. Blessed with a gritty soul voice reminiscent of Wilson Pickett and Mr. Womack himself, Mosley has already released some of the finest soul sides of the last decade with Malaco Records ("Why Can't You Love Me", "Anybody Seen My Boo", "Kiss And Tell"), but various circumstances not to be discussed here have stunted the growth of his career. Well, phase two has begun and Mosley is poised to lead the pack. The 10-track opus "Steppin' Out" is a befitting showcase for his skills. Earl Powell (Public Announcement) is on board to produce 7 tracks like the sublime "Let's Fall In Love", featuring a laidback flow as smooth as fifty year-old scotch. To Stan's credit, he doesn't overpower the melody despite his potent tone. Instead he shows tasteful restraint that guarantees radio play in various formats. Meanwhile, the brooding " I Want You" is gracing radio with it's insidious creepin' groove and Stan's rasping roar. Powell's arrangement is immaculate. Piano, organ, percussion and sharp backing vocals (Theresa Davis & Diane Madison). A masterpiece. Powell is also responsible for the sexy "This Love Has Power" (definitely make-out music), the lovely "Can We Work It Out", plus two dancers, "Dance Floor" and Floyd Hamberlin's "You Gonna Make Me Cheat". The latter features Hamberlin's unmistakable programming. Mosley, who co-wrote 7 cuts on "Steppin' Out", is also credited with turning the knobs on three tracks. Most notable is the contemporary R & B "Together 4 Ever" featuring a terrific sax solo by Jerry Winston. This track, along with "Give me A Chance" and "Thank U" date back to Mosley's first album, the obscure "Standing Tall". After 9 tracks of silky soul serenades I'm already satisfied. But then comes the stunning gospel-inflected "God Is Alive". Stan is a Soul Man, folks.

"Man Up" (CDS 2008)
1. I Came to Party
2. Man Up
3. Mr DJ
4. Backbone
5. Startin' 2 Stop
6. You & Me
7. Crazy 4 U
8. Bitter with the Sweet
9. Barstool Woman
10. Something U Got
11. Backbone - (Extended mix, Bonus Track)
12. I Came to Party - (live, Bonus Track)
***
They do make them like they used to when we're talking "true Soul voices". Stan Mosley, he sings not Pretty, but Gritty. Actually he can sing quite lovely too like on the slow numbers "Mr. DJ" and "Bitter With The Sweet". Hitmaker Floyd Hamberlin Jr. produced and wrote the 10 songs (plus two alternate versions) and his string of hits should continue (think Tyrone Davis' "Sugar Daddy" & "Bangin' The Headboard", Denise LaSalle's "Mississippi Woman" for example).
The appropriately titled "Man Up" is one hundred percent keyboard-produced "Southern Soul" or "Party Blues". A large percentage of potential hits here. Along with the already mentioned "Mr. DJ" I found my head bobbing to the midtempo "Backbone" which may just be the closing chapter of that long running Clarence Carter Strokin'/Theodis Ealey "Stand Up In It" string thread. Mosley breaks it down simple. He ain't no Theodis. No Marvin Sease. No Love Doctor but says "I'm gonna just do my same own move...I'm just gonna do what I do...put my backbone in it!". Stan is manning up indeed. For the club I can hear the exciting "I Came To Party", thumping "Man Up" and "Barstool Woman" but to me the tops goes to "Startin' 2 Stop". Just a terrific shuffle bumper with a sugary guitar lead line and some great harmony vocals. Oh and Stan's singing is fine too!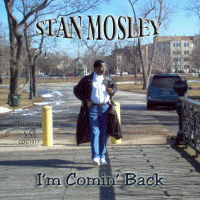 "I'm Comin' Back" (CDS 2009)
1. Change (Family Reunion)
2. I'm Comin' Back
3. Why You Won't Leave? (aka "Misery & Pain")
4. Shake It Off
5. I Can't Live Without 'Cha
6. So In Love
7. Love Touch-Up
8. Lockdown
9. I Need You To Fight You For Me
10. So-Called Friends
11. Don't Give More Than You Feel
12. I Don't Know How You're Gonna Move, But You Will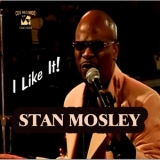 "I Like It!" (CDS 2010)
1. I Like It
2. Never Gonna Give You Up
3. Reach Out - (featuring Jamonte Black/Rue Davis/Little Buck/Carl Marshall)
4. Barstool Woman [2010 Remix] - (remix)
5. Can This Be Real - (featuring Heaven & Earth)
6. She's Not Yours No More - (featuring Carl Marshall)
7. Man Up [2010 Remix] - (remix)
8. Somethin' U Got [2010 Remix] - (remix)
9. Misery & Pain
10. I Came To Party [2010 Remix] - (remix)
11. Who Knows You
12. Change (Family Reunion) [Extended Stepper's Version]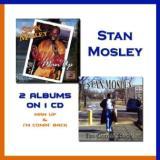 "2 On 1: Man Up & I'm Comin' Back" (CDS 2014)
1. I Came To Party
2. Man Up
3. Mr DJ
4. Backbone
5. Startin' 2 Stop
6. You & Me
7. Crazy 4 U
8. Bitter With the Sweet
9. Bartstool Woman
10. Something U Got
11. Family Reunion (Change)
12. I'm Comin' Back
13. Shake It Off
14. I Can't Live Without 'Cha
15. So In Love
16. Love Touchup
17. Lockdown
18. I Need You To Fight You For Me
19. So-Called Friends
20. I Don't Know How You're Gonna Move, But You Will
"The Best Of" (2017)
Rock Me
Donít Make Me Creep
Anybody Seen My Boo
Dance Floor
Iím Not The Man I Used To Be
Lockdown
This Time Iím Gonna Be Sweeter
Tasty Love
Your Wife Is My Woman
(3 Bonus Tracks From New CD)
My Problem
You Oughta Be
Aint No Stoppin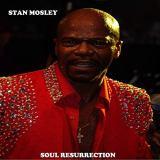 "Soul Resurrection" (2019)
1 Ain't No Stoppin Us Soul City
2 You Oughta Be Here With Me
3 My Problem
4 Sentimental Journey
5 Get It and Hit It
6 We're Gonna Have a Good Time
7 If I Didn't Have You
8 People We Gotta Do Better
9 Tell Him the Way You Like Your Love
10 Let's Fall in Love
11 Steppers Holiday
12 Ain't No Stoppin Us (Extended Remix)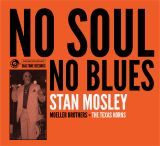 "No Soul No Blues" (Dialtone 2023)
1 I'M BACK TO COLLECT
2 BLUES MAN (NO SOUL. NO BLUES)
3 LOSING HAND
4 WHAT YOU NEED
5 STOMP
6 I CAN'T GET NEXT TO YOU
7 RIGHT NEXT DOOR
8 I SMELL A RAT
9 CHANGE OF HEART
10 A WOMAN NEEDS TO BE LOVED
11 UNDISPUTED LOVE