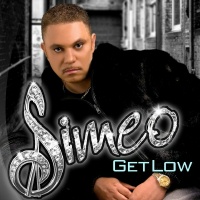 Simeo
Flushing, Michigan's Simuel Overall was a member of the 80s R & B group Ca$hflow and played keyboards with Cameo. Since then he has produced tracks for Jada Kiss, E-40, MC Breed and Floyd Taylor. He released his first solo album, "Hottest In The Game" in 2007
Album Discography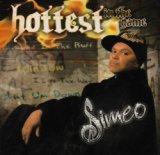 "Hottest In The Game" (Jomar 2007)
1. Hottest (In the Game)
2. I Like the Way
3. Shut Um Down
4. Get Low, Pt. 1
5. Diamond (In the Ruff)
6. Diary (Of a Man Dlues Woman)
7. Cut to the Chase
8. Get It Tonight
9. Cookies
10. Keep Interrupting Me
11. Window
12. Get Low, Pt. 2
"Southern Soul Pimpin'" (Simeo Ent. 2009)
1. Running to the Dance Floor
2. Step Up
3. Thats My Cousin
4. Potential
5. Ive Got It
6. She Wants to Be My Girl
7. How Can I
8. Southern Soul Pimpin
9. Play N Roll
10. Gas
11. Love Shake
12. I Need a Break
13. All My Djs
14. Christmas Time

**** Okay let me get to the point right quick. Simuel Overall aka "Simeo' has eroded my dislike of what I can only call "Neo-Southern Soul". That is Southern Soul with a chocolate coating of mainstream contemporary R & B/Hip Hop. I admit, I have a tendency to be somewhat prejudiced against anyone that tinkers with the Deep Soul/Downhome Soul-Blues formula of shuffle-bumps and Memphis ballads. Am I old and cranky? Maybe I'm having a "mid-life crisis" of sorts and appreciating that youthful spirit!

Of course Simeo is an "O.G.", having already crashed the Billboard charts back in the day with Ca$hflow and latter day Cameo. So it wasn't hubris that he named his first solo CD, "Hottest In The Game", and as tight as it was, "Southern Soul Pimpin'" is, well, hotter. Had a well-known Southern Soul" artist made that first album it would have been a blockbuster. However, Simeo is a "new" artist to the Soul/Blues world so it's harder to break through (also, the record label that put the disc out folded, thereby killing promotion of the project). "Southern Soul Pimpin'" is a bridge between our unfairly maligned Southern Soul market and greener (yeah, "green" as in "money") pastures of Urban radio. Omar Cunningham, TK Soul, Kenne' Wayne, Sir Charles Jones, Willie Clayton, have all gone there- created "southern" R & B that can appeal to the masses. Mr. "Cupid Shuffle" (Cupid) himself grew out of our world.

The title cut, with it's kinetic chorus and Hip-Hop-flavored phrasing, was released last year and should have stormed straight to the top. It's a jam. But it's Pop, not down Home. Same goes for the latest single, "Running To The Dance Floor", supported by that sick (only slang will do) little keyboard hook. Again, though, perhaps a bit Hip Hoppy for the Blues crowd. But "Step Up" is just an undeniable slowie that can fit any format. He tells the girl she needs a man that will "step up", like "man up".

One of my favorite cuts is "That's My Cousin", a funky bouncer with a burbling bassline and hand claps, where a name-dropping wanna-be gets checked. "That's my cousin/In the NBA who scored 65 you know his name is James/that's my cousin/The new president. You know Barrack and me, is tight as 50 Cent/that's my cousin'...". Meanwhile, "Play And Roll" is the kinda song R. Kelly needs really bad right now. Great phrasing and arrangement. Simeo is a triple threat- singer, songwriter and a wildly talented producer, who may be just a bit ahead of the Blues game, but it's time our ears and hips catch up to the "new" sounds.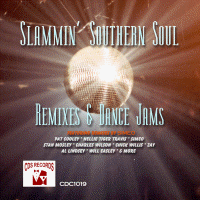 Various Artists "Slammin' Southern Soul: Remixes & Dance Jams" (CDS 2009)
songs & remixes by Simeo
1. Boy Toy (Remix) Pat Cooley
2. Like Me Simeo
3. Slap Yo' Weave Off (Remix) Nellie "Tiger" Travis
4. You Gonna Make Me Cheat Stan Mosley
5. Sorry I Didn't Simeo
6. Dog Kinda Love (Remix) Dicky Williams
7. Get Low (Remix) Simeo
8. Don't Ya Like It (Mellow Mix) Will Easley
9. Up in This Club Zay
10. That Boom! (Remix) Charles Wilson
11. I'm a Woman (Remix) Nellie "Tiger" Travis
12. Obama (Remix) Chick Willis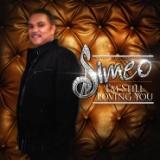 "I'm Still Loving You" (Simeo Ent./CDS 2011)
1. I'm Still Loving You
2. One Thing About
3. I'm Bout It Bout It (Remix) (feat. Floyd Taylor)
4. Can I Touch
5. Grinding
6. Ka Dunk Ka Dunk (feat. Carl Marshall)
7. Here's What They Play
8. In Front of You
9. Then I Found You
10. This Time