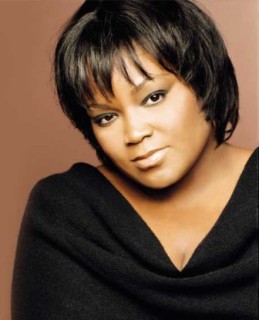 Shemekia Copeland
Charon Shemekia Copeland was born in Harlem, New York City, United States. She is the daughter of Texas blues guitarist and singer Johnny "Clyde" Copeland. She began to pursue a singing career in earnest at age 16. When her father's health began to decline, he took Shemekia on tour as his opening act, which helped establish her name on the blues circuit. Copeland graduated in 1997 from Teaneck High School in Teaneck, New Jersey.

She landed a recording contract with Alligator Records, which issued her debut album, "Turn the Heat Up!" in 1998, following it up with a tour of the blues festival circuit in America and Europe. Her second album, "Wicked", was released in 2000 and featured a duet with one of her heroes, Ruth Brown. It earned her three Blues Music Awards.

The follow-up record, "Talking to Strangers", was produced by Dr. John, and in 2005 she released "The Soul Truth", produced by Steve Cropper.
In 2009, Copeland signed with Telarc and released "Never Going Back: followed by "33 1/3" in 2012 before returning to Alligator Records for with "Outskirts of Love" in 2015, peaked at number 6 in the Billboard Top Blues Albums chart. She released her eight all new studio album, "America's Child", in August 2018.
Album Discography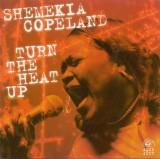 "Turn The Heat Up" (Alligator 1998)
Turn The Heat Up 5:20
I Always Get My Man 3:49
Salt In My Wounds 4:13
Cold Feet 4:11
Suspicion 3:55
My Turn Baby 4:08
Ghetto Child 4:06
Your Mama's Talking 4:21
Has Anybody Seen My Man? 3:36
Married To The Blues 7:12
Big Lovin' Woman 3:43
My Kind Of Guy 3:50
Have Mercy 3:23
It Don't Hurt No More 7:05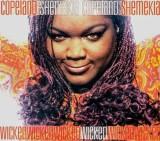 "Wicked" (Alligator 2000)
It's 2 a.m. 4:29
Not Tonight 3:15
Love Scene 4:11
The Other Woman 5:18
Whole Lotta Water 4:01
Beat Up Guitar 4:27
Miss Hy Ciditty 4:23
Up On 1-2-5 5:06
Wild, Wild Woman 3:20
The Fool You're Looking For 5:08
If He Moves His Lips 3:37
Steamy Windows 5:04
It's My Own Tears 6:06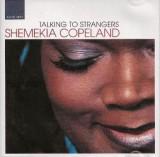 "Talking To Strangers" (Alligator 2002)
1 Livin' On Love
2 Two's A Croud
3 When A Woman's Had Enough
4 Sholanda's
5 Don't Whisper
6 Should Have Come Home
7 Talking To Strangers
8 Too Much Traffic
9 Too Close
10 Walk On
11 Ka-Ching
12 The Push I Need
13 Happy Valentine's Day
14 When The Battle Is Over
15 Pie In The Sky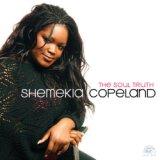 "The Soul Truth" (Alligator 2005)
Breakin' Out 3:32
Who Stole My Radio? 3:57
Poor, Poor Excuse 3:01
All About You 4:14
Better Not Touch 3:24
Strong Enough 5:57
You Can't Have That 3:49
Uptown Line 5:53
Givin' Up You 3:25
Used 3:54
Honey Do That Voo-doo 3:11
Something Heavy 3:16
*** When I saw the title and producer Steve Cropper's name in the credits I was expecting a dynamite Staxy soul album...well, it's a Staxy record for sure, which may initially irk her blues-rock fans (those of you fitting this description quickly skip to track 12 and enjoy the bluesy acoustic take on Eddie Hinton's "Something Heavy"). The performances raise plenty sand and Copeland sings 'em with the fire of a Tina Turner even if the band can't completely compensate for the the mostly mediocre original material written by Cropper, John Hawn and others. The hard-hitting opener "Breakin' Out" proves she can belt out a tune and that makes rather rote songs like "All About You", "You Can't Have That", "Better Not Touch" & "Who Stole My Radio?" sound better than they are. Bob Britt shreds some good solos on this latter track and Jim Horn's sax is a highlight on "You Can't Have That". I wish his lead at the fade would've lasted another minute or two. Copeland's not as stellar on slower tracks as she oversells the classic Memphis-styled ballad "Poor, Poor Excuse". She could use a little restraint and finesse here. She fares better on the similar "Strong Enough". Dobie Gray duets with her on "Used", which was a hit for country belle Lorrie Morgan. It's one of the choicest cuts on a fatty slab. Reality is "The Soul Truth" has all the makings for greatness (big studio sound, first-rate musicians, a diva) except the songs. Did I mention Copeland can sing? Isn't that what folks pay to hear anyway. In summary, the album's closer to a firecracker than a stick of dynamite...but it still delivers a bang.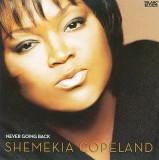 "Never Going Back" (Telarc 2009)
1 Sounds Like The Devil 3:33
2 Dirty Water 4:41
3 Broken World 3:40
4 Never Going Back To Memphis 6:10
5 The Truth Is The Light 3:29
6 Black Crow 4:10
7 Born A Penny 3:28
8 Limousine 4:00
9 River's Invitation 3:40
10 Rise Up 3:23
11 Big Brand New Religion 3:55
12 Circumstances 3:34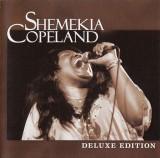 "Deluxe Edition" (Alligator 2011)
Turn The Heat Up 5:04
Livin' On Love 4:02
Ghetto Child 4:06
When A Woman's Had Enough 3:55
It's 2 A.M. 4:29
Better Not Touch 3:24
Don't Whisper 4:46
Sholanda's 3:41
Wild, Wild Woman 3:20
Beat Up Guitar 4:27
Love Scene 4:11
Who Stole My Radio? 3:58
Stay A Little Longer, Santa 4:23
All About You 4:14
Salt In My Wounds 4:13
Your Mama's Talking 4:21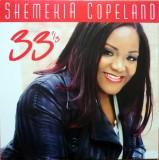 "33 1/3" (Telarc 2012)
Lemon Pie 3:23
Can't Let Go 3:39
Ain't Gonna Be Your Tattoo 5:28
Somebody Else's Jesus 3:51
A Woman 3:25
Ain't That Good News 3:11
I Sing The Blues 4:59
Mississippi Mud 4:41
One More Time 3:48
Hangin' Up 4:03
I'll Be Your Baby Tonight 4:21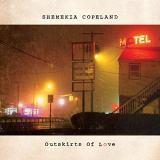 "Outskirts Of Love" (Alligator 2015)
1 Outskirts Of Love
2 Crossbone Beach
3 Devil's Hand
4 The Battle Is Over (But The War Goes On)
5 Cardboard Box
6 Drivin' Out Of Nashville
7 I Feel A Sin Coming On
8 Isn't That So
9 Jesus Just Left Chicago
10 Long As I Can See The Light
11 Wrapped Up In Love Again
12 Lord, Help The Poor And Needy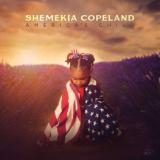 "America's Child" (Alligator 2018)
1 Ain't Got Time For Hate
2 Americans
3 Would You Take My Blood?
4 Great Rain
5 Smoked Ham And Peaches
6 The Wrong Idea
7 Promised Myself
8 In The Blood Of The Blues
9 Such A Pretty Flame
10 One I Love
11I'm Not Like Everybody Else
12 Go To Sleepy Little Baby