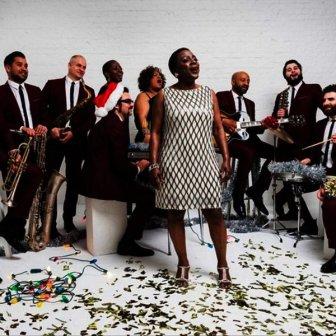 Sharon Jones & The Dap Kings

Sharon Lafaye Jones (May 4, 1956 Ė November 18, 2016) was born in Augusta, Georgia, the youngest of six children. In 1975, she graduated from Thomas Jefferson High School in Brooklyn and attended Brooklyn College.

A regular gospel singer in church, during the early 1970s Jones often entered talent shows backed by local funk bands. Session work then continued with backing vocals, often credited to Lafaye Jones, but in the absence of any recording contract as a solo singer, she spent many years working as a corrections officer at Rikers Island and as an armored car guard for Wells Fargo, until receiving a mid-life career break in 1996 after she appeared on a session backing the soul and deep funk legend Lee Fields.

The session was organized by Gabriel Roth and Philippe Lehman, then the owner of the now-defunct French record label Pure Records. Jones was the only one of three singers called to the session to show up. Having completed all the backing parts herself, Roth and Lehman were suitably impressed with her performance and recorded "Switchblade", a solo track with Jones. This track was included on the Soul Providers' album "Soul Tequila" (re-released as "Gimmie The Paw" in 1997 on Desco). The Soul Providersówith members of the Brooklyn bands Antibalas and the Mighty Imperialsólater formed the Dap-Kings, who became Jones's regular backing band.

Lehman and Roth started a new label based in Brooklyn, Desco Records, now also defunct. Jones recorded and released three 45-rpm singles for Desco: "Damn It's Hot" part 1 backed by part 2, "Bump N Touch" part 1 backed by "Hook and Sling Meets the Funky Superfly", and "You Better Think Twice" backed by "I Got the Feeling". Desco folded when Lehman and Roth parted ways in 2000. Lehman started another independent label, Soul Fire Records, now also defunct. Roth went on to start Daptone Records with the saxophonist Neal Sugarman of Sugarman 3.

Daptone Records' first release was a full-length album by Sharon Jones. A new band, the Dap-Kings, was formed from the former members of the Soul Providers and the Mighty Imperials. Some of the musicians went on to record for Lehman's Soul Fire label, while some formed the Budos Band, an Afro-beat band. From the original Soul Providers, Roth (also known as Bosco Mann) on bass, guitarist and emcee Binky Griptite, percussionist Fernando Velez, trumpet player Anda Szilagyi and organist Earl Maxton were joined by original Mighty Imperials saxophonist Leon Michels and drummer Homer Steinweiss, plus Neal Sugarman from Sugarman 3, to form The Dap-Kings.

In 2002, under the name Sharon Jones & The Dap-Kings, the group released the album "Dap Dippin' with Sharon Jones and the Dap-Kings", for which they received immediate attention and acclaim. "Naturally" followed in 2005, "100 Days, 100 Nights" in 2007, "I Learned the Hard Way" dropped in 2010. "Hard Way" became their highest chart position on Billboard's Top 200 Albums Chart at an impressive #15. The previous album, "100 Days", had crept in at #194. Their 2014 album, "Give The People What They Want", hit #22 on the same chart and was nominated for a Grammy Award.

The group released "It's A Holiday Soul Party" in 2015 (#185 Billboard). Jones died in November of 2016. One final album, "Soul Of A Woman", consisting mainly of unreleased material from her final sessions was released in 2017 and charted at #106.
Album Discography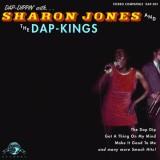 "Dap Dippin' With" (Daptone 2002)
(Introduction) 1:30
Got A Thing On My Mind 2:58
What Have You Done For Me Lately? 3:16
The Dap Dip 4:01
Give Me A Chance 3:10
Cut The Line 3:28
Got To Be The Way It Is 3:25
Make It Good To Me 4:25
Ain't It Hard 4:30
Pick It Up, Lay It In The Cut 4:07
Casella Walk 10:02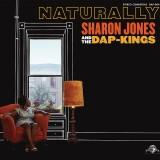 "Naturally" (Daptone 2005)
How Do I Let A Good Man Down? 3:03
Natural Born Lover 3:05
Stranded In Your Love 5:47
My Man Is A Mean Man 3:16
You're Gonna Get It 5:00
How Long Do I Have To Wait For You? 4:04
This Land Is Your Land 4:31
Your Thing Is A Drag 3:33
Fish In The Dish 3:18
All Over Again 4:44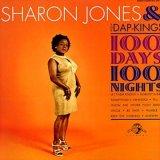 "100 Days 100 Nights" (Daptone 2007)
100 Days, 100 Nights 3:45
Nobody's Baby 2:27
Tell Me 2:46
Be Easy 3:03
When The Other Foot Drops, Uncle 3:15
Let Them Knock 4:29
Something's Changed 2:56
Humble Me 4:05
Keep On Looking 2:49
Answer Me 4:08

"I Learned The Hard Way" (Daptone 2010)
The Game Gets Old 3:55
I Learned The Hard Way 3:47
Better Things 3:40
Give It Back 3:22
Money 3:22
The Reason 2:20
Window Shopping 4:35
She Ain't A Child No More 2:35
I'll Still Be True 3:48
Without A Heart 2:45
If You Call 3:00
Mama Don't Like My Man 2:31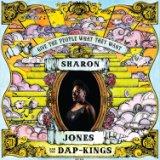 "Give The People What They Want" (Daptone 2014)
Retreat!
Stranger To My Happiness
We Get Along
You'll Be Lonely
Now I See
Making Up And Breaking Up (And Making Up And Breaking Up Over Again)
Get Up And Get Out
Long Time, Wrong Time
People Don't Get What They Deserve
Slow Down, Love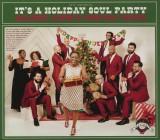 "It's A Holiday Soul Party" (Daptone 2015)
8 Days (Of Hannukah) 3:42
Ain't No Chimneys In The Projects 2:22
White Christmas 2:17
Just Another Christmas Song 3:08
Silent Night 4:16
Big Bulbs 2:56
Please Come Home For Christmas 2:58
Funky Little Drummer Boy 3:18
Silver Bells 3:19
World Of Love 3:19
God Rest Ye Merry Gents 2:17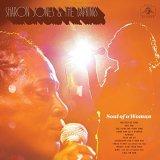 "Soul Of A Woman" (Daptone 2017)
Matter Of Time
Sail On!
Just Give Me Your Time
Come And Be A Winner
Rumors
Pass Me By
Searching For A New Day
These Tears (No Longer For You)
When I Saw Your Face
Girl! (You Got To Forgive Him)
Call On God
**** This proved to be the last album from Sharon Jones who found fame in the twilight of her career. She remained a true Soul woman to the end. This album feeds the desire for powerful ballads and R&B dancers with much material lovingly mixed from her final sessions. "Matter Of Time" "justice will come" comes the first track and it instantly made me think of a report of how she suffered a stroke watching the 2016 Presidential Election results and later joked it was because of who won. The song doesn't actually reference that election whatsoever I think I better stress! It's just a great "I Have A Dream" sentiment ala MLK Jr. "Sail On" is a Rumba/Soul mix and "Rumours" is definitely Motown-inspired. The album closes with a track that is not actually from her final sessions. "Call On God" was recorded with the Dap Kings in 2007. Shocking they left this little gem in the can. It wasn't even finished until The Gospel Wonders added their background vocals after her funeral. It is fitting here and it brought a tear to my eye knowing Jones had passed and we lost such a vital, inspiring artist/singer.