SANG'N CLARENCE
Born Clarence Ray Brown in Fort Worth, Texas, he learned to harmonize by singing in quartets and gospel groups. Vocally he can be compared to Bill Coday, who himself can be compared to Johnnie Taylor.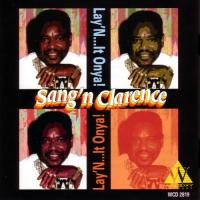 "Lay'N It Onya" (Waldoxy 1997)
1. Ol Dirty Rat
2. Have Your Cake And Eat It To
3. Older Man, Younger Woman
4. Whatever
5. Mama Meant 'Dat
6. Runnin' In And Outta' My Life
7. I Just Wanna Lay With You
8. Till You Come Back
9. Nut Don't Fit A Screw
10. Don't Walk Away
11. Wake Up
** Considering his later work this Malaco release this uneven album is a disappointment. Clarence comes across more as a tongue-in-cheek Poonanny than Johnnie Taylor. The rhythm tracks are flabby and the songs bereft of any trulu memorable hooks.

"It Ain't Mine" (Da Blu 2000)
1. It Ain't Mine
2. I Run This House
3. Got Me Burning
4. Yes I'm Ready
5. Lump in My Throat
6. Mama Told Me Not
7. For the Love of U
8. Hole in the Wall
9. Next Door Neighbor
10. Losers Weepers
11. Skin Tight
**1/2
A slight improvement over his first effort with heavy emphasis on Funky Johnnie Taylor grooves. "Got Me Burning", "Lump In My Throat" and "Mama Told Me Not" stand out. In addition "Next Door Neighbor" oddly swipes the melody of the chorus of "Just My Imagination" for the wacky refrain "It was just my next door neighbor doing me a favor". Here he comes home and found his next door neighbor has done yardwork for him and that his wife "already paid" him. Of course Clarence is being sarcastic about hit being a "favor". Needless to say the song just don't work.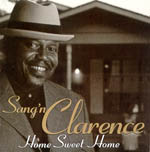 "Home Sweet Home" (Pelican 2000)
1.Home Sweet Home (featuring Roger Troutman )
2.If I'm Not Askin 2 Much
3.Swang Thang
4.I'm Not the One
5.Angel
6.Pull Out
7.Second Time Around
8.Second Time Around ( Instrumental
9.Rocket in My Pocket
10.So Fine
11.Go Johnnie Go
12.Heaven

"Greatest Hits" (Remnant Seed 2006)
1. Thank God Its Friday
2. Change Gonna Come
3. I Come To Party
4. Let Me Lick
5. Rocket In My Pocket
6. Ole' Dirty Rat
7. "Escalade"
8. Swingers Only
9. I Wanna Lay
10. 2ND Time Around
11. Cheatin' In The Same Room
12. Meals on Hills
13. Johnny Taylor Slide
14. Heaven
***
Just because you won't find any of "Sang'n Clarence" Brown's songs in one of Joel Whitburn's "Billboard Top 40 Hits" books doesn't mean he didn't have some popular tracks. What is a "hit"? Is it only what charts in Billboard? Well, now is not the forum for that discussion. But suffice it to say in the Southern Soul/Soul Blues world a cut that gets plenty airplay on radio and clubs in the South is a hit whether it charts or not. "Greatest Hits" has hits...and misses but serves as a proper introduction to this Downhome singer who sounds strikingly like Bill Coday (therefore like Johnnie Taylor for that matter).
Soul, Blues, R & B, etc..fill out the 14 tracks here. Funky R & B dancers like the electro-funk gem "Let Me Lick" (way nasty on the lyrics!), "Swingers Only", "Thank God's It's Friday" & "Johnny Taylor Slide" all should satisfy on the dancefloor while "Change Gonna Come" (unique version of the Sam Cooke song!) and "Heaven" are dynamite slowies. Clarence can sang. Perhaps the best cuts are the slow Blues "Rocket In My Pocket" (wish there was more Blues!) and the Reggae-flavored "Meals On Heels". The latter has some real sexy lyrics but may be dang catchy enough for radio anyway. Some of the recordings on "Greatest Hits" suffer from clickity-clack machine production ("I Come To Party", "Escalade") but it's still cleaner than much of the independent Southern Soul/Blues on the market. Note: This compilation doesn't include anything from his 2000 disc "It Ain't Mine" nor his Waldoxy debut from 1997.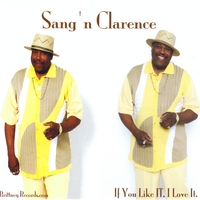 "If You Like It I Love It" (Brittney 2008)
1. Anticipating
2. If You Like It
3. Soul Swang
4. Rock Me
5. Fryin' Pan
6. Whatever You Want
7. I Might As Well Party
8. Family Get Together
9. Be Nice
**** Writer/Producer/Superstar Mel Waiters has started up his relatively obscure Brittney Records imprint with this impressive 9 song disc on Sang'N Clarence. Just like Mel's own discs the production is clearer and crisper than most of what you'll hear from the chitlin' circuit and he wasn't stingy about giving out very strong songs either. Bumps like "Frying Pan", "Anticipating" and the title track could just easily be on a Mel Waiters disc as could the knockout slowie "Rock Me". Despite the overused title this is one of the best cuts of the year with a vocal that befits Mr Clarence Brown going by the moniker "Sang'n Clarence". This track is a smash hit if it ever get out there. Although many of the tracks have a "sameness" about them here there isn't a dud in the bunch.