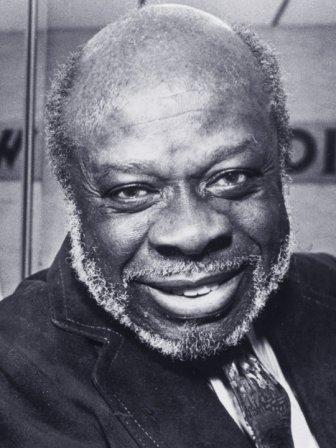 Rufus Thomas
Rufus C. Thomas, Jr. (March 26, 1917 – December 15, 2001) was born in Cayce, Mississippi, the son of a sharecropper. He moved with his family to Memphis, Tennessee, around 1920. He recorded for several labels, including Chess Records and Sun Records in the 1950s, before becoming established in the 1960s and 1970s at Stax Records. He is best known for his novelty dance records, including "Walking the Dog" (1963), "Do the Funky Chicken" (1969) and "(Do the) Push and Pull" (1970). He began his career as a tap dancer, vaudeville performer, and master of ceremonies in the 1930s. He later worked as a disc jockey on radio station WDIA in Memphis, both before and after his recordings became successful. He remained active into the 1990s and as a performer and recording artist was often billed as "The World's Oldest Teenager". He was the father of the singers Carla Thomas (with whom he recorded duets) and Vaneese Thomas and the keyboard player Marvell Thomas.

In 1960 he made his first recordings with his 17-year-old daughter Carla, for the Satellite label in Memphis, which changed its name to Stax the following year. The song, "Cause I Love You", featuring a rhythm borrowed from Jesse Hill's "Ooh Poo Pa Doo", was a regional hit; the musicians included Thomas' son Marvell on keyboards, Steinberg, and the 16-year-old Booker T. Jones.

Rufus Thomas continued to record for the label after Carla's record "Gee Whiz" reached the national R&B chart in 1961. He had his own hit with "The Dog", a song he had originally improvised in performance based on a Willie Mitchell bass line, complete with imitations of a barking dog. The 1963 follow-up, "Walking the Dog", reached #10 on the Billboard pop chart.
He recorded a series of novelty dance tracks, including "Can Your Monkey Do the Dog'" and '"Somebody Stole My Dog" for Stax, where he was often backed by Booker T. & the MGs or the Bar-Kays.
After "Jump Back" in 1964, the hits dried up for several years, as Stax gave more attention to younger artists and musicians. However, in 1970 he had another big hit with "Do the Funky Chicken", which reached #5 on the R&B chart, #28 on the pop chart, and #18 in the UK where it was his only chart hit. In 1970 he had his only number 1 R&B hit, and his highest pop charting record, with another dance song, "Do the Push and Pull". A further dance-oriented release in 1971, "The Breakdown", climbed to number 2 R&B and number 31 Pop. In 1972, he featured in the Wattstax concert, and he had several further, less successful, hits before Stax collapsed in 1976.

He continued as a DJ at WDIA until 1974, and worked for a period at WLOK before returning to WDIA in the mid 1980s to co-host a blues show. He appeared regularly on television and recorded albums for various labels. Thomas performed regularly at the Porretta Soul Festival in Italy; the outdoor amphitheater in which he performed was later renamed Rufus Thomas Park.

He played an important part in the Stax reunion of 1988, and appeared in Jim Jarmusch's 1989 film "Mystery Train", Robert Altman's 1999 film "Cookie's Fortune", and D. A. Pennebaker's documentary "Only the Strong Survive" Thomas released an album of straight-ahead blues in 1988, "That Woman is Poison!" with Alligator Records in 1990 and sporadically recorded Blues-based material for the remainder of his career including the 1996 LP, "Blues Thang".
He died of heart failure in 2001, at the age of 84, at St. Francis Hospital in Memphis.
Album Discography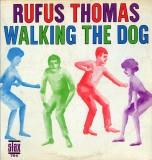 "Walking The Dog" (Stax 1963)
The Dog 2:33
Mashed Potatoes 2:16
Ooh-Poo-Pah-Doo 2:30
You Said 2:30
Boom Boom 2:42
It's Aw'Rite 2:45
Walking The Dog 2:30
Ya Ya 2:10
Land Of A 1,000 Dances 2:32
Can Your Monkey Do The Dog 1:53
Cause I Love You 2:45
I Want To Be Loved 2:32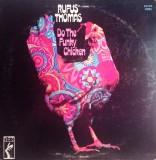 "Funky Chicken" (Stax 1970)
Funky Chicken 3:15
Let The Good Times Roll 3:35
Sixty Minute Man 7:17
Lookin' For A Love 3:43
Bearcat 2:52
Old McDonald Had A Farm (Part I) 3:40
Old McDonald Had A Farm (Part II) 2:45
Rufus Rastus Johnson Brown 2:40
Soul Food 4:27
Turn Your Damper Down 2:49
The Preacher And The Bear 3:51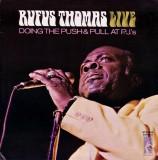 "Live Doing The Push & Pull At P.J.'s" (Stax 1971)
Monologue 12:00
Ooh Poo Pah Doo 6:54
Old McDonald Had A Farm 6:28
Walking The Dog 4:27
The Preacher And The Bear 7:06
The Night Time Is The Right Time 6:54
(Do The) Push And Pull 5:30
Do The Funky Chicken 8:30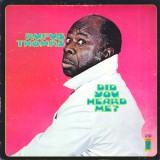 "Did You Heard Me?" (Stax 1972)
(Do The) Push And Pull, Parts 1 & 2
The World Is Round
(I Love You) For Sentimental Reasons
The Breakdown Part 1
The Breakdown Part 2
Love Trap
Do The Funky Penguin, Parts 1 & 2
Ditch Digging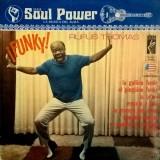 "Funky" (Stax 1972)
A1 La Gallina Funky = Do The Funky Chicken
A2 La Crisis (Partes 1 Y 2) = The Breakdown
A3 Empuja Y Jala (Partes 1 Y 2) = Do The Push And Pull
A4 6-3-8
B1 El Pingüino Funky (Partes 1 Y 2) = Do The Funky Penguin
B2 la Trampa de Amor = Love Trap
B3 El Mundo Es Redondo = The World Is Round
B4 Cavando Zanjas = Ditch Digging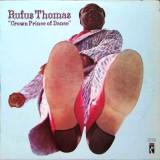 "Crown Prince Of Dance" (Stax 1973)
Git On Up And Do It 2:45
I Know You Don't Want Me No More 3:01
Funkiest Man Alive 7:43
Tutti Frutti 2:52
Funky Robot 4:21
I Wanna Sang 5:10
Baby It's Real 4:40
Steal A Little 3:33
I'm Still In Love With You 2:58
The Funky Bird 3:24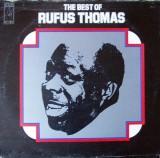 "The Best Of" (Stax 1976)
A1 Funky Chicken
A2 Do The Double Bump
A3 Walking The Dog
A4 The Funky Penguin
A5 The Breakdown
A6 The Funkiest Man Alive
B1 (Do The) Push And Pull
B2 The Funky Bird
B3 Ooh Poo Pah Doo
B4 The Preacher And The Bear
B5 Old McDonald Had A Farm
B6 The Night Time Is The Right Time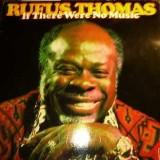 "If There Were No Music" (Avi 1977)
Who's Makin' Love To Your Old Lady
If There Were No Music
Don't Let Hate Tear The Whole World Down
Hot Grits
I Got To Be Myself
Today I Started Loving You Again
Blues In The Basement
You Send Me
Little Joint Around The Corner
"I Ain't Gettin' Older, I'm Gettin' Better" (Avi 1978)
A1 I Ain't Gettin' Older, I'm Gettin' Better 13:20
A2 I Got To Be Myself 4:02
B1 Give Me The Green Light 7:17
B2 Winning Streak 6:32
B3 He'll Never Love You The Way 3:30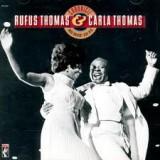 Rufus Thomas & Carla Thomas "Their Greatest Hits" (Stax 1979)
Rufus Thomas Do The Funky Chicken 3:15
Rufus Thomas Sixty Minute Man 4:28
Rufus Thomas The Preacher And The Bear 3:51
Rufus Thomas (Do The) Push And Pull, Part I 2:17
Rufus Thomas The World Is Round 3:55
Rufus Thomas The Breakdown 3:18
Rufus Thomas Do The Funky Penguin 3:09
Carla Thomas Where Do I Go 2:21
Carla Thomas I've Fallen In Love 2:41
Carla Thomas I Like What You're Doing (To Me) 2:53
Carla Thomas Guide Me Well 4:13
Carla Thomas You've Got A Cushion To Fall On 3:07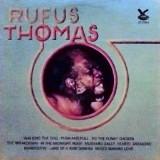 "Rufus Thomas" (Gusto 1980)
(Do The) Push And Pull - Part 1 3:21
Do The Funky Chicken 3:28
Barefootin' 2:18
Land Of 1000 Dances 2:15
In The Midnight Hour 2:16
Walking The Dog 2:34
The Breakdown - Part 1 3:11
Hi-Heel Sneakers 2:43
Mustang Sally 3:05
Who's Making Love 2:36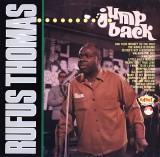 "Jump Back" (Edsel 1984)
Jump Back
All Night Worker
Little Sally Walker
Chicken Scratch
The World Is Round
Sister's Got A Boyfriend
Talkin' Bout True Love
Sophisticated Sissy
Memphis Train
Greasy Spoon
The Dog
Walking The Dog
Can Your Monkey Do The Dog?
I Want To Be Loved
I Want To Get Married
Fine And Mellow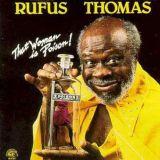 "That Woman Is Poison" (Alligator 1988)
That Woman Is Poison! 5:11
I Just Got To Know 3:20
Big Fine Hunk Of Woman 5:47
Blues In The Basement 4:14
Somebody's Got To Go 6:01
Breaking My Back 6:02
The Walk 2:57
All Night Worker 3:25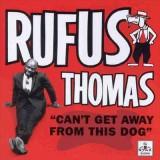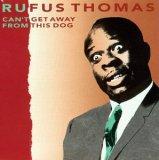 "Can't Get Away From The Dog" (Stax 1991)
Walking The Dog (Promo For Rufus Thomas) 0:39
Can't Get Away From This Dog 2:28
44 Long 2:46
Strolling Beale No.1 2:21
Cherry Red Blues 2:23
Walking The Dog 2:24
Carry Me Back To Old Virginny 2:30
Barefootin' 3:05
A Story That's Never Been Told 2:33
Last Clean Shirt 2:42
Show Me The Way To Go Home 2:43
Jump Back 2:24
My Girl 3:26
We're Gonna Make It (With Carla Thomas) 2:41
Don't Mess Up A Good Thing (With Carla Thomas) 3:05
I Want To Hold You 2:05
Can Your Monkey Do The Dog 2:02
Stop Kicking My Dog Around 2:44
Wang Dang Doodle 3:10
Reconsider Baby (With Carla Thomas) 2:38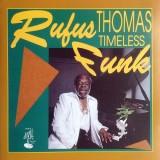 "Timeless Funk" (Prestige 1992)
If There Were No Music
Walking The Dog
Jump Back Baby
Funky Robot
Funky Chicken
Push And Pull
Breakdown
Get Up Offa That Funk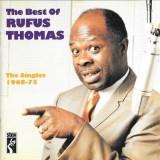 "The Best Of: 1968-1975" (Stax 1993)
Funky Mississippi
So Hard To Get Along With
Funky Way
I Want To Hold You
Do The Funky Chicken
The Preacher And The Bear
Sixty Minute Man Part II
Do The Push And Pull Part I
Do The Push And Pull Part II
The World Is Round
The Breakdown Part I
The Breakdown Part II
Do The Funky Penguin Part I
Do The Funky Penguin Part II
6-3-8 (That's The Number To Play)
Itch And Scratch Part I
Funky Robot Part I
I Know (I Love You So)
I'll Be Your Santa Baby
The Funky Bird
Boogie Ain't Nuttin' (But Getting' Down) Part I
Do The Double Bump Part I
Jump Back '75 Part I
Lookin' For A Love Part I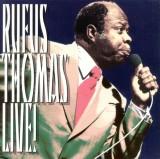 "Live" (Stax 1994)
Monologue
Ooh Poo Pah Doo
Old MacDonald Had A Farm
Walking The Dog
The Preacher And The Bear
Night Time Is The Right Time
(Do The) Push And Pull
Do The Funky Chicken
The Breakdown
Do The Funky Chicken
Do The Funky Penguin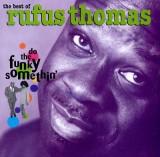 "Do The Funky Somethin': The Best Of" (Rhino 1996)
1 Bear Cat (The Answer To Hound Dog)
2 'Cause I Love You - Carla & Rufus
3 I Didn't Believe - Rufus & Friend
4 The Dog
5 Walking The Dog
6 Can Your Monkey Do The Dog
7 Somebody Stole My Dog
8 That's Really Some Good - Rufus & Carla
9 Jump Back
10 Little Sally Walker
11 The World Is Round
12 Sister's Got A Boyfriend
13 Sophisticated Sissy
14 The Memphis Train
15 Do The Funky Chicken
16 (Do The) Push And Pull, Part 1
17 The Breakdown (Part 1)
18 Do The Funky Penguin (Part 1)
19 Do The Funky Somethin' - Godchildren Of Soul Featuring Rufus Thomas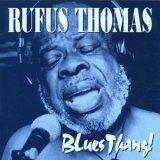 "Blues Thang" (Sequel 1996)
01 Think Twice Before You Speak
02 What Do You Want Me To Do
03 I Came Home This Morning
04 Mom's Apple Pie
05 Oh Baby! You Don't Have To Go
06 Don't Put No Headstone On My Grave
07 Last Clean Shirt
08 You're A Fool
09 The World Is Round
10 Miss Bunny
11 I Can Do Bad By Myself
12 Strolling Beale No. 2
13 Walking In The Rain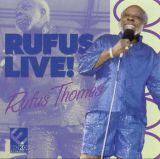 "Live" (Ecko 1997)
1 Walking The Dog 6:20
2 Big Fine Hunk Of Woman 6:16
3 Today I Started Loving You Again 18:40
4 Somebody's Got To You 10:12
5 Do The Funky Chicken 7:00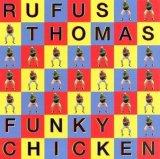 "Funky Chicken" (Stax 1997)
1. Do The Funky Chicken
2. Let The Good Times Roll
3. Sixty Minute Man
4. Lookin' For A Love
5. Bear Cat (Aka Hound Dog)
6. Old McDonald Had A Farm (Part 1)
7. Old McDonald Had A Farm (Part 2)
8. Rufus Rastus Johnson Brown
9. Soul Food
10. Turn Your Damper Down
11. The Preacher And The Bear
12. Funky Mississippi
13. So Hard To Get Along With
14. Funky Way
15. I Want To Hold You
16. Itch And Scratch (Part 1)
17. Itch And Scratch (Part 2)
18. Boogie Ain't Nuttin' (But Gettin' Down) (Part 1)
19. Boogie Ain't Nuttin' (But Gettin' Down) (Part 2)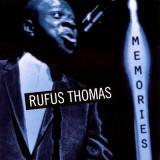 "Memories" (RCA 1998)
1 Who's Makin' Love
2 I Got To Be Myself
3 I Ain't Gettin' Older, I'm Gettin' Better
4 Hot Grits
5 He'll Never Love You
6 Give Me The Green Light
7 Don't Let Hate Tear The Whole World Down
8 Blues In The Basement
9 Little Joint Around The Corner
10 If There Were No Music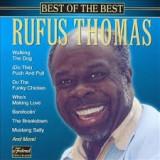 "The Best Of The Best" (Federal 1999)
1 Walking The Dog
2 (Do The) Push And Pull
3 Do The Funky Chicken
4 Who's Making Love
5 Land Of 1000 Dances
6 The Breakdown
7 Barefootin'
8 Hi-Heel Sneakers
9 In The Midnight Hour
10 Mustang Sally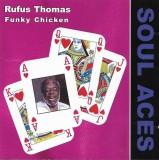 "Funky Chicken (Soul Aces)" (Metrodome 1999)
Remix Album
1 If There Were No Music
2 Walking The Dog
3 Jump Back Baby
4 Funky Robot
5 Funky Chicken
6 Push And Pull
7 Breakdown
8 Get Up Offa That Funk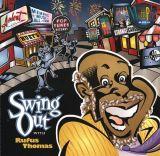 "Swing Out With Rufus Thomas" (High Stacks 1999)
1 Rocket '88
2 Fool For You Mama
3 Do Me Again
4 Keep That Music Simple
5 Just Because I Leave, That Don't Mean I'm Gone
6 I Like To Boogie
7 New Kinda Love
8 No More Doggin
9 Put My Money Down
10 Age Ain't Nothin But A Number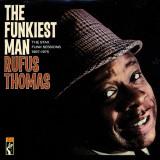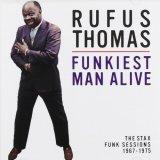 "The Funkiest Man (The Stax Funk Sessions 1967 - 1975)" (Stax 2002)
Funkiest Man Alive 7:46
Give Me The Green Light 6:31
Itch And Scratch Pt. 1 3:11
Turn Your Damper Down 2:49
Funky Hot Grits 5:26
I'm Getting Better 6:05
Sophisticated Sissy 2:42
Funky Mississippi 2:58
Git On Up And Do It 2:47
The Breakdown (Pt. 1) 3:18
(Do The) Push And Pull 3:17
Do The Funky Penguin 3:07
Do The Double Bump 3:05
Funky Robot (Pt. 1) 2:40
Memphis Train '75 4:54
Let The Good Times Roll 3:36
Funky Bird 3:25
Rock Me Back aka Rock Back 5:26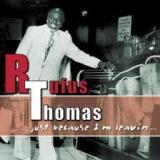 "Just Because I'm Leavin'" (Segue 2005)
01 Old Dog, New Tricks
02 Did You Ever Love A Woman
03 I'll Be a Good Boy
04 Juanita
05 Can't Even Let You Go
06 Trouble in Mind
07 Miss Jane
08 Walkin' in the Rain
09 If There Were No Music
10 Today I Started Loving You Again
11 God Bless America Rufus Thomas feat. Carla Thomas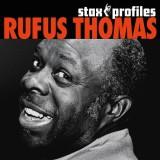 "Profiles" (Stax 2006)
Walking The Dog
Ride Your Pony
Jump Back
Stolling Beale No. 1
Do The Funky Chicken
Funky Hot Grits
Memphis Train '75
Bear Cat (Aka Hound Dog)
Funky Robot
Sixty Minute Man
Do The Double Bump
The Breakdown (Live)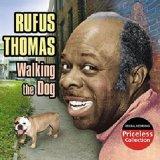 "Walkin' The Dog" (Collectibles 2006)
1 Do The Push And Pull
2 Do The Push And Pull (Instrumental)
3 Do The Funky Chicken
4 Do The Funky Chicken (Instrumental)
5 Breakdown
6 Breakdown Pt. 2
7 Walking The Dog
8 Walking The Dog Pt. 2
9 The Dog
10 Funky Penguin



"The Very Best Of" (Stax 2007)
1. The Dog
2. Walking the Dog
3. Can Your Monkey Do the Dog
4. Somebody Stole My Dog
5. Jump Back
6. Little Sally Walker
7. Sister's Got a Boyfriend
8. Sophisticated Sissy
9. Memphis Train
10. Funky Mississippi
11. Do the Funky Chicken
12. Sixty Minute Man - (Pt. 2)
13. The Preacher and the Bear
14. (Do the) Push and Pull - (Pt.1)
15. The World Is Round
16. The - (Pt.1) Breakdown
17. Do the Funky Penguin - (Pt.1)
18. 6-3-8
19. Boogie Ain't Nuttin' (But Gettin' Down) - (Pt.1)
20. Do the Double Bump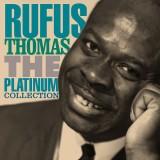 "Platinum Collection" (Warner Platinum 2007)
1 Walking The Dog 2:36
2 Little Sally Walker 2:29
3 Can Your Money Do The Dog 2:28
4 Jump Back 2:22
5 Down Ta My House 2:24
6 Willy Nilly 2:35
7 I Think I Made A Boo Boo 2:16
8 The Memphis Train 2:35
9 The Dog 2:36
10 That's Really Some Good 1:57
11 Somebody Stole My Dog 2:40
12 The World Is Round 2:29
13 Sister's Got A Boyfriend 2:45
14 Sophisticated Sissy 2:45
15 I Didn't Believe 2:12
16 Can't Ever Let You Go 2:33
17 Birds And Bees 2:23
18 Night Time Is The Right 2:35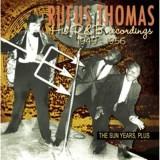 "His R&B Recordings 1949-1956 - The Sun Years, Plus" (Bear Family 2008)
1 –Rufus Thomas I'll Be A Good Boy 2:53
2 –Rufus Thomas I'm So Worried 2:56
3 –Rufus Thomas Who's That Chick 2:36
4 –Rufus Thomas Double Trouble 2:36
5 –Rufus Thomas Beer Bottle Boogie 2:58
6 –Rufus Thomas Gonna Bring My Baby Back 2:24
7 –Rufus Thomas Night Workin' Blues 2:41
8 –Rufus Thomas Why Did You Deegee? 2:28
9 –Rufus Thomas Crazy About You Baby 2:37
10 –Rufus Thomas No More Dogging Around 2:36
11 –Rosco Gordon Decorate The Counter 2:59
12 –Rufus Thomas Decorate The Counter 2:22
13 –Rufus Thomas Juanita 3:27
14 –Rufus Thomas Married Woman -1 2:37
15 –Rufus Thomas Married Woman -2 2:40
16 –Rufus Thomas I'm Off That Stuff 2:55
17 –Big Mama Thornton Hound Dog 2:52
18 –Rufus Thomas Bear Cat (The Answer To Hound Dog) 2:59
19 –Rufus Thomas Walkin' In The Rain 2:25
20 –Joe Hill Louis Tiger Man (King Of The Jungle) 3:11
21 –Rufus Thomas Tiger Man (King Of The Jungle) 2:48
22 –Rufus Thomas Save The Money 2:45
23 –Rufus Thomas Intro patter to Sepia Swing Club 0:32
24 –Rufus Thomas Pink Pussycat Wine 1:10
25 –Moohah All Shook Out 2:48
26 –Moohah Candy 2:31
27 –Rufus Thomas The Easy Livin' Plan 2:51
28 –Rufus Thomas I'm Steady Holdin' On 3:24
29 –Rufus Thomas Rufus Thomas on Daddy Cool show 10:05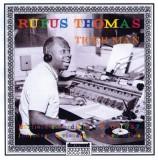 "Tiger Man: Earliest Recordings 1950-1957" (Document 2008)
1 –Rufus Thomas I'll Be A Good Boy - 1
2 –Rufus Thomas I'm So Worried
3 –Rufus Thomas Who's That Chick
4 –Rufus Thomas Double Trouble
5 –Mr. Swing with Bobby Plater's Orchestra Beer Bottle Boogie - 1
6 –Mr. Swing with Bobby Plater's Orchestra Gonna Bring My Baby Back
7 –Rufus Thomas Jr.* Night Workin' Blues
8 –Rufus Thomas Jr.* Why Did You See Gee?
9 –Rufus Thomas & His Orchestra Crazy About You Baby - 1
10 –Rufus Thomas Jr.* No More Doggin' Around (Ain't Gonna Be Your Dog)
11 –Rufus Thomas Jr.* Junita
12 –Rufus Thomas Jr.* Decorate The Counter
13 –Rufus Thomas Jr.* Married Woman
14 –Rufus Thomas Jr.* I'm Off That Stuff
15 –Rufus Hound Dog Thomas Jr.* Bear Cat (The Answer To Hound Dog) - 2
16 –Rufus Thomas Jr.* Walkin' In The Rain - 1
17 –Rufus Thomas Jr.* Tiger Man (King Of The Jungle)
18 –Rufus Thomas Jr.* Save That Money - 1
19 –Rufus "Bear Cat" Thomas* with The Bearcats (3) The Easy Livin' Plan
20 –Rufus "Bear Cat" Thomas* with The Bearcats (3) I'm Steady Holdin' On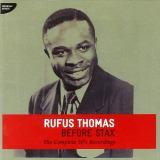 "Before Stax: The Complete 50s Recordings" (Interesting Artists 2008)

1. I'll Be Good Boy
2. I'm So Worried
3. Who's That Chick?
4. Double Trouble
5. Beer Bottle Boogie
6. Gonna Bring My Baby Back
7. Night Workin' Blues
8. Why Did You Deegee?
9. Crazy About You Baby
10. No More Dogging Around
11. Juanita
12. Decorate The Counter
13. Married Woman
14. I'm Off That Stuff
15. Bear Cat
16. Walking In The Rain
17. Save That Money
18. The Easy Livin' Plan
19. I'm Steady
20. Holdin' On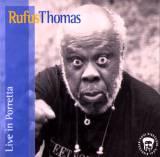 "Live In Porretta" (103 Edizioni Musicali Milano 2008)
Digital only release
1 Walking The Dog 8:00
2 If There Were No Music 9:08
3 Do The Funky Chicken 12:45
4 Today I Started Loving You Again 14:34
5 New Kinda Love 7:29
6 The Memphis Train 4:12
7 Trouble In Mind 6:46
8 Big Fine Hunk Of Woman 5:36
9 The World Is Round 6:14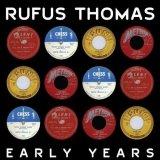 "The Early Years" (Floating World 2010)
1 Bear Cat
2 Crazy About You Baby
3 Tiger Man
4 Married Woman
5 Decorate The Counter
6 Walking In The Rain
7 The Easy Livin' Plan
8 Who's That Chick?
9 I'm Off That Stuff
10 Gonna Bring My Baby Back
11 Night Workin' Blues
12 I'm Steady Holdin' On
13 I'm So Worried
14 Juanita
15 Save That Money
16 I'll Be A Good Boy
17 Why Did You Deegee?
18 Double Trouble
19 No More Dogging Around
20 Beer Bottle Boogie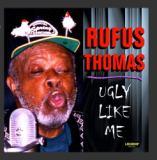 "Ugly Like Me" (LocoBop 2010)
UGLY LIKE ME
MAMA'S UGLY BABY
THE THINGS THAT FOLLOW ME HOME
DROP YOUR LAUNDRY
SIZE OF THE WAVE
OLD DOG, NEW TRICKS
TROUBLE IN MIND
WALKING IN THE RAIN
THAT'S NO GOOD with Carla Thomas
JUANITA
I'LL BE A GOOD BOY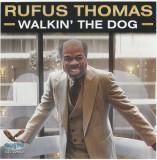 "Walkin' The Dog" (Gusto 2012)
1 Walkin' The Dog
2 Do The Push And Pull
3 Do The Funky Chicken
4 Breakdown
5 Barefootin'
6 High Heel Sneakers
7 In The Midnight Hour
8 Land Of A Thousand Dances
9 Mustang Sally
10 Who's Making Love