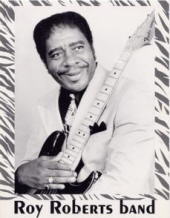 Roy Roberts
Remember that funny bit of hyperbole that goes: "It's so good if you look in the dictionary under so-and-so and you'll find a picture of so-and-so" . Well, if you look in the dictionary under "Soul Blues" you'll find a picture of "Roy Roberts" (at least in a perfect world). Roberts exemplifies this music form, a healthy amalgam of Memphis Soul & Modern Electric Blues replete with real horns and stinging guitar licks. He's released 9 terrific records thus far, including one live and one "Best Of" but his new CD "Sicily Moon" is simply his best. A true Soul album. A contender for Album Of The Year for sure. Equally praiseworthy is his work as producer for records by Chick Willis, Lou Pride, Eddie Floyd, Floyd Miles, Priscilla Price and Tommy Thomas (see reviews at bottom of page).
Blues singer, guitarist, song writer, producer and label mogul Roy Roberts was born Oct. 22, 1942 in Livingston, TN. He first learned piano and gospel music with his mother but eventually he bought his first guitar, a "Sears Silver Tone", and began playing R & B with a Greensboro Ponderosa club house band. There he had the opportunity to play in the same venue as legends like Clarence Carter, Joe Tex, Eddie Floyd, Dee Clark, Solomon Burke, and Otis Redding. He even was for a time part of Solomon Burke's orchestra and later in Eddie Floyd's group (Some 30 years later Roy produced Eddie's comeback CD "To The Bone", released on Roy's Rock House Records imprint). Perhaps his greatest learning experience came in 1965 when he played guitar for the "Big O" Otis Redding! In honor of the departed legend Roy cut his very first single "The Legend Of Otis Redding" following Redding's tragic death. For a time he was on the road with his band as the Roy Roberts Experience throughout the late 60s and 70s until Disco reared it's ugly head and stalled the careers of many Soul, R & B & blues singers. But that didn't stop this musician because Roy Roberts went Country! (Take that Bee Gees!) He teamed up with C & W artist and friend O.B. McClinton and hit the road. Roy even threatens to cut a Country record soon. After McClinton's death in 1989, Roy concentrated on gospel music . But one day while in the studio he heard a song on the radio that sounded a lot like himself..it was Robert Cray's "Phone Booth" and suffice it to say Roy was soon back to the blues...

Album Discography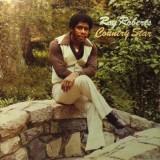 "Country Star" (House Of Roton 197?)
1 Don't Come Running Back
2 Second Helpings
3 You Keep Old Joe
4 Goodbye Walls
5 May I Have This Dance
6 Country Star
7 I Will Always Love You
8 Thinking About You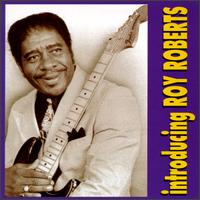 "Introducing Roy Roberts" (New Moon 1994)
1. Me & My Baby
2. What Should I Do?
3. Comin' Thru the Back Door
4. Lovin' You Is Easy
5. Why You Didn't Come Home Last Night
6. Nobody But You
7. Baby, What You Want Me to Do
8. She's So Fine
9. Jammin' With My Friends

"A Woman Needs Love" (New Moon 1995)
1. My Baby Left Me
2. A Woman Needs Love
3. Out Having a Good Time
4. Sweet As A Honey Bee
5. It's All Over
6. So Much In Love
7. I Pity the Fool
8. Everyone Knows About My Good Thing
9. I Don't Want You Anymore
10. Lonely Feelings
***
Roberts style is heavy on rhythm (especially bass) and his blues soulful and laced with horns; weaving tight, tasty guitar licks. His production style is bottom heavy, rhythmic and breathy. Some of the standouts here are the pounding "Comin' Thru The Back Door" (also done by Lou Pride) and "A Woman Needs Love".


"Live" (New Moon 1995)
1 Jammin' With My Friends
2 Me And My Baby
3 Thrill Is Gone
4 Why You Didn't Come Home Last Night
5 Comin' Through The Back Door
6 What Should I Do
7 Medley
8 Ain't No Sunshine
9 My Baby Left Me
10 A Woman Needs Love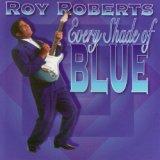 "Every Shade Of Blue" (King Snake 1997)
1. I'll Understand
2. I Got a Gypsy Woman
3. Hard to Find a Woman
4. What Should I Do?
5. Comin' Through the Back Door
6. Why You Didn't Come Home
7. Have You Seen My Baby?
8. My Baby Left Me
9. Sweet as a Honey Bee
10. Woman Needs Love, A
11. Let's Wrap Up
12. You and Me Together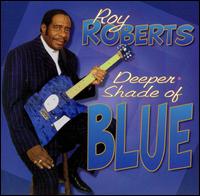 "Deeper Shade Of Blue" (King Snake 1999)
1. Let Me Help You Tonight
2. Blues Get Off of My Shoulder
3. Tonight Your Love Belongs to Me
4. Mr. D.J.
5. I Tried
6. I Can't Go On
7. I'll Chase Your Blues Away
8. Learning to Love You Again
9. My Shade of Blue
10. I've Been Makin' Love
11. Let Our Love Last Forever
12. We Always Work It on Out
***1/2
More Memphis-style R & B and soul/blues from Roberts. "Mr. DJ" (also done by Chick Willis) exhorts jocks to "let my record play" 'cause all he ever hears on the radio is "BB (King), Buddy (Guy) & Robert (Cray) everyday". The slinky soul blues "Blues Get Off My Shoulder" features some great guitar leads by Roy. Other goodies include "I'll Chase Your Blues Away," "Let Our Love Last Forever," and duets with Little Royal on "I've Been Makin' Love" and Priscilla Price on "We're Gonna Work It Out."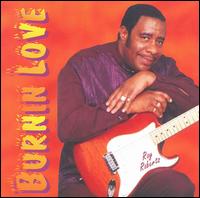 "Burnin Love" (Rock House 2001)
1. Burnin Love
2. Couldn't See the Tears for the Rain
3. Next Time, The
4. Leave My Woman Alone
5. Dirty Old Man
6. Can't Have It Your Way
7. I've Got Troubles
8. Let's Straighten It Out
9. I'm in Love
10. That's Alright
****
Roberts is truly at the peak of his powers now. The smoldering soul of title track ("Burnin' Love") alone would make this worth the purchase. "Can't Have It Your Way" is a fast blues with humorous line "this ain't Burger King and you can't have it your way". Roy delivers a very convincing vocal on Bobby Womack's classic "I'm In Love" but it's on his originals where he really shines. Call it Memphis soul/blues.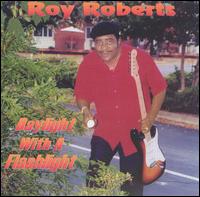 "Daylight With A Flashlight" (Rock House 2003)
1. Touched by an Angel
2. Just One More Blues Song
3. I Want to Love You
4. Daylight With a Flashlight
5. Sometimes You Love Me
6. Everytime I Turn Around
7. Your Troubling Mind
8. I Slipped
9. No More Tears
10. Anniebell
11. Raise a Little Hell
****1/2
Roy Roberts has earned much acclaim in blues and deep soul circles mainly from his production work on albums by Chick Willis, Lou Pride, Priscilla Price, Sonny Rhodes, etc.., but he should get his due respect for his own recordings like this new masterpiece "Daylight With A Flashlight". With a songwriting and guitar sound like Robert Cray, Roy produces another flawless disc. Every cut is a winner from the party blues "Raise A Little Hell", Memphis soul of "Touched By An Angel" & "I Slipped" to the soulful blues " I Want To Love You". Roberts doesn't have a dynamic voice, say like Otis Clay, but it's deep breathy charm fits the bass n' horns backdrop with tasty guitar licks-heavy perfectly. Buy this one first.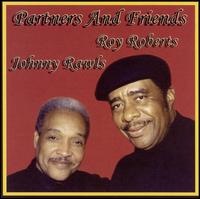 "Partners And Friends" (Rock House 2004)
1. Don't Let This Love Slip Away
2. How Long
3. You Are the One for Me
4. Country Boy
5. Reach Out
6. Can't You See
7. What's Been Going On
8. Shaggin Down in Carolina
9. Making a Fool of Me
10.Let's Go to the Beach
***1/2
Both Roy Roberts & Johnny Rawls are well-respected artists/producers/songwriters/guitarists/label owners- and obviously they are friends who wanted to record a project together. Both are masters of retro-soul blues, country soul, authentic R & B and deep southern soul. (go find Rawl's CD with LC Luckett called "Can't Sleep At Night" for a lost classic). The new disc "Partners And Friends" serves up 10 earnest, goodtime songs that will delight fans of either. Roberts had just released within the last year his best solo disc ("Daylight With A Flashlight") while Rawl's last project was a live CD that can only be found via the 'Net). All cuts on "Partners And Friends" are co-writes between Rawls & Roberts except for track 10 which is Roberts alone. The main highlights: "Don't Let This Love Slip Away", "Reach Out" & "Can't You See" are midtempo horn-fueled soul heaven. "You're The One For Me" another classic deep south slow burner with one of Roberts' best vocals ever. The blues shuffle "How Long" has Roberts & Rawls trading verses brilliantly. The Carolina "beach music" scene gets two new prospects with "Shaggin' Down In Carolina" & "Let's Go To The Beach". This is a no-brainer purchase for fans of this genre!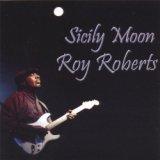 "Sicily Moon" (Rock House 2006)
1. Sicily Moon
2. If You Can't Put It Out
3. Turn That Thang Around
4. Tonight Your Love Belongs to Me
5. I'm Gonna Love You
6. You Better Pack Up
7. Soul On Fire
8. Let Our Love Last Forever
9. Baby
10. Show Me What You Got
****
1
/2
If Roy Roberts continues putting out music this good we're gonna have to crown him "King Of Soul/Blues". Horn-fueled, Hammond B-3, melodic Memphis soul heaven played by musicians not machines. I'm not sure who's the bigger star of this show- Roy with his simmering soul singing (especially on "I'm Gonna Love You") and songwriting or the "MoFo Horns" (Rusty Smith & Scott Adair). But wait, check out that bassline on "Turn That Thing Around" by Andrew "Feet" Taylor. Maybe it's the rhythm section who deserves the most props? Right now I'm like a kid in a whiskey store, um, candy store. Song after song "Sicily Moon" shines. Speaking of this lunar love, Mr. Roberts has legions of Italian fans and this gem is an homage to them. What's amazing to me is how Roy is still able to come with such strong new songs after releasing some 7 LPs and producing/composing a host of others for artists the likes of Eddie Floyd, Chick Willis, Lou Pride & Floyd Miles. For those in the know- remember how good Roy's song "Burnin' Love" is? Well, this is like having 9 more cuts of the same cloth! All hyperbole aside I'm unable to pick the best cuts here. They're all superb and this is the best Roy has ever sounded on the microphone! For the first time there's no straight blues cuts but instead there's a couple surprises. First, Roy transforms into Barry White on the sultry "Baby", dropping down an octave at times and then seducing you with breathy boudoir balladry. Roy must be in love. Once again the MoFo Horns carry this track into the stratosphere. Look out "Memphis Horns" these folks may be stealing some of yo' gigs. Make sure you listen to this record with headphones to hear all the nuances. Now track 10 is a definite wildcard, almost surreal. This is a cheeky (pun intended) little rap record called "Show Me What You Got"! Yes, Roy Roberts, the Soul/Blues master is rappin' over a James Brown-blessed groove with Brooklyn rapper Dana Dane! Yeah, "Double R & Double D" doing it street style, boyeeeee! What a hoot to hear a Roy song quote Whodini ("The Freaks Come Out At Night"). Now I'm no Hip Hop fan but this is cute, light-hearted fun but I don't want to give it too much credit less I encourage Roy to become a full-fledged rap artist! The liner notes explain that "Roy came up with the idea when he was playing a club and the young audience wasn't grooving to his sound. He got them up dancing". Hey, it works like dessert to one hearty Soul Food meal.

"By Request: The Best Of" (Rock House 2006)
1. I'll Understand
2. I Got a Gypsy Woman
3. Tonight Your Love Belongs to Me
4. My Shade of Blue - Roy Roberts, Greenlee, Bob
5. Burnin Love
6. Dirty Old Man
7. Coming Through the Back Door
8. The Next Time
9. Woman Needs Love
10. Mr. D.J.
11. My Baby Left Me
12. She's So Fine
13. What Should I Do
14. Let Me Help You Tonight
15. Why You Didn't Come Home
16. Blues Get off My Shoulder
17. Let Our Love Last Forever
18. I Slipped

"Man With A Message" (RockHouse 2007)
1 Jesus is Knocking
2 Working for Jesus
3 He Lifts Me Up
4 God is Never Late
5 I'll Let Nothing Seperate Me
6 I Don't Know Where Death Is
7 Glory Glory
8 Everyone Will Live Forever
9 Jesus is the Best Thing
10 Amazing Grace Medley
***
Roy Roberts has produced some of the best Soul Blues music the past decade (with real horns, guitar,B-3) but unfortunately he's been too soulful for the younger white audience and too bluesy for the younger black folk. Now that's a generalization but for the most part Blues/Rock with heavy guitar dominates the mainstream Blues market while "Party Blues" or "Southern Soul" mostly played on keyboards rules the Deep South. Well, here Roberts could care less as he'd created a Gospel album just like you'd expect (and hope) he would. Other than the "Amazing Grace/Pass Me Not/Take My Hand Precious Lord" medley the rest of the numbers are original. If you dig Roberts you'll dig this. It's mostly the same melodic, rhythmic Soul Blues only with call-and-response vocals and Biblical lyrics. Perhaps the opposite of what Ray Charles did in 1952 when he took church music and replaced the "oh Lord" with "oh baby". Here Roy's taking it back.
What makes this record especially successful? He will please Gospel traditionalists as well. You have authentic arrangements like that found on "I'll Let Nothing Separate Me", "Glory Glory" & "Working For Jesus". Conversely, Deep Soul fans should thrill on "Everyone Will Live Forever" & "He Lifts Me Up" and Blues fans might prefer the thumping roller "God Is Never Late". The wildcards though are the leadoff number, the retro-70s slightly Discofied "Jesus is Knocking", and the Country ballad (replete with steel guitar!) "Jesus Is the Best Thing". Hey Roy, after hearing this I'm actually looking forward to that Country album you've been threatening to drop.
Roy Roberts & Friends "Blues & Soul Review" (Rock House 2008)
1 If You Can't Put it Out-Roy Roberts
2 Three Old Blues Men-Floyd Miles, Chick Willis, Roy Roberts
3 Gonna Put My Foot Down-Priscilla Price
4 Country Boy-Johnny Rawls & Roy Roberts
5 I Want to Love You-Roy Roberts
6 It's Good to Go-Skeeter Brandon
7 Don't Let this Love Slip Away-Johnny Rawls & Roy Roberts
8 I Know a Hoochie Mama-Chick Willis
9 Give Me A Chance-Priscilla Price
10 You Put that Dog Ahead Of Me-Tommy Thomas
11 Daylight With a Flashlight-Roy Roberts
12 You Let the Fire Go Out-Maria Rolls
13 Mr D.J-Chick Willis
14 I Truly Love You-Skeeter Brandon
15 Dutch Boy Playing the Blue-Mark Van Mourik
16 Let's Go to the Beach-Johnny Rawls & Roy Roberts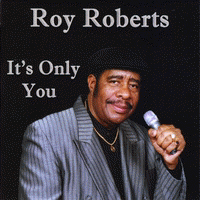 "It's Only You" (Rock House 2008)
1 Got To Watch My Step
2 Going Out Tonight
3 It's Only You
4 Looking Bad Situation
5 Singing Another Blues Song
6 Cheerwine
7 The Rain Was Falling
8 Step Out Of My Dreams
9 Picture Of Beauty
10 Motherless Child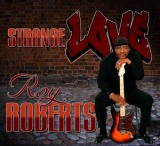 "Strange Love" (Ocean Beach 2011)
1. My Love Bone
2. I Truly Love You
3. Hey Baby
4. Strange Love
5. I'm Never Gonna Stop
6. Wait for Me
7. A Woman Needs Love
8. We Still Together
9. The Next Time
10. I Can't Wait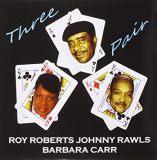 Roy Roberts Johnny Rawls Barbara Carr "Three Pair" (Ocean Beach 2012)
1 Don't Let Our Love Slip Away
2 How Long
3 Shaggin' Down In Carolina
4 It's Only You
5 Country Boy
6 Tonight Your Love Belongs To Me
7 Reach Out
8 Your Are The One For Me
9 Don't Let Our Love Slip Away, Part 2
10 Can't You See
11 Shaggin' Down In Carolina, Part 2
12 What's Been Going On
13 Let's Go To The Beach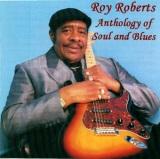 "Anthology Of Soul & Blues" (Rockhouse)
1. We Still Together
2. I Truly Love You
3. Strange Love
4. Wait For Me
5. My Love Bone
6. Hey Baby
7. Got to Watch My Step
8. Looking Bad Situation
9. I'm Going Out Tonight
10. It's Only You
11. Singing Another Blues Song
12. Picture of Beauty
13. Sicily Moon
14. If You Can't Put it out
15. Turn that Thang Around
16. Baby
17. Soul On Fire
18. I Want to Love You
19. Daylight with a Flashlight
20 The Rain Was Falling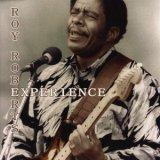 "Roy Roberts Experience" (Perfect Toy 2017)
I'm Number One (I Want Your Crown Mr. Brown)
Got To Have All Your Love
So Much In Love
I Know What To Do To Satisfy You (Vocal)
I Know What To Do To Satisfy You (Instrumental)
You Move Me (Part 1)
You Move Me (Part 2)
Returning From Cloud 9
You Ain't Miss It
Stop (Watch What You Doing To Me) (Vocal)
Stop (Watch What You Doing To Me) (Instrumental)
Bee Hive Pt.1
Bee Hive Pt.2
Let's Wrap Up Tonight Baby
Thinking About You
You An Me Together (Part 1)
You An Me Together (Part 2)

"Back In Love" (Rockhouse 2018)
1 Back In Love
2 Rock and A Hard Place
3 You're My Lady
4 I'll Be Your Plumber Man
5 Should Have Been Over
6 Let It Be Me
7 I've Got The Blues
8 She Didn't Know
9 I'm A Real Blues Man
10 We Still Together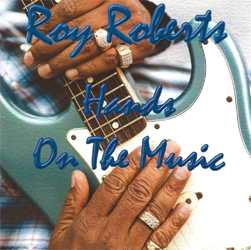 "Hands On The Music" (Rockhouse 2018)
1 Angels Touched Me - Tony Drake
2 Let It Be Me - Roy Roberts, Sherry Norris
3 Country Boy - Johnny Rawls, Roy Roberts
4 Ms Katy Fine - Tony Drake
5 It's Only You - Roy Roberts, Barbara Carr
6 Rabbet's Got The Gun - A.J. Diggs
7 We Still Together - Roy Roberts, Sherry Norris
8 Your Troublin' Mind - Prince Ronnie Love
9 Toniight Your Love Belongs to Me
10 I've got the Blues - Roy Roberts