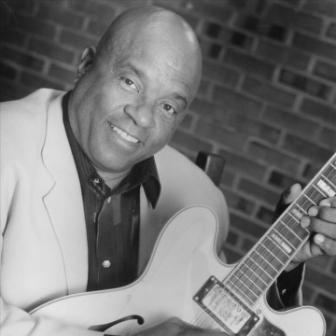 Roy Gaines
Roy Gaines was born August 12, 1937 in Waskom, Texas. His family moved to Houston when he was six. He is the brother of sax player Grady Gaines At an early age Roy Gaines first began playing piano in the style of Nat King Cole. He became friendly with other local musicians such as Clarence Hollimon and Johnny Copeland. In his teens he switched to the guitar and began playing clubs throughout the Houston area. He met his hero T-Bone Walker in 1951, and even backed T-Bone on stage when he was fourteen. He then moved to Los Angeles and joined Roy Milton's band. But by the time he was sixteen he moved to Houston and made his solo debut with an obscure release on Chart Records out of Miami. But when he came to the attention of Bill Harvey, leader of Duke and Peacock Record's house band things started to happen. With that band Gaines was featured on various releases by Big Mama Thorton, Jr. Parker ("Driving Me Mad") and Bobby "Blue" Bland ("It's My Life Baby" & "Woke Up Screaming") in 1955.
Following this gig Roy began working with Chuck Willis in New York City and recorded with Willis for Atlantic Records. During this time he signed, under his own name, with RCA Victor's Groove subsidiary label. Gaines released two albums in 1956. In 1957 it was Deluxe Records. Back to RCA in 1958. And the sixties saw only two releases on the small Del-Fi and Uni labels. Chuck Willis died in 1958 and Roy continued his session work. Other early sessions included "Essential Jimmy Rushing" in 1954. And 1957's "Blues Wail: Coleman Hawkins Plays the Blues". He also worked with the Jazz Crusaders (later known simply as the Crusaders) appearing on two LPs in 1961. In 1966 Gaines returned to Los Angeles and joined the Ray Charles big band. While with the band he wrote "No Use Cryin'" for Ray's hit album "Crying Time".
By the seventies Gaines was again in demand, making many public appearances either solo or with the Crusaders (1978). He continued as session musician working with artists like Aretha Franklin, Della Reese, the Supremes. He was featured on Stevie Wonder's landmark album album "My Cherie Amour", Milt Buckner's "Green Onions" (1975) and Albert King's "Albert" (1976). He also continued to work with T-Bone Walker until Walker's death in 1975. Roy was part of Harry Belafonte's Las Vegas show in 1976. He toured Central and South America with the Supremes in 1976, and the U.S. with Diana Ross in 1977. When Gaines returned to L.A. he was once more in constant demand. This included movie and television work with Quincy Jones. In 1982 he released the classic "Gainelining". Roy wrote "Don't Make Me No Never Mind" for the movie "The Color Purple" (1985), played on the session, and had a cameo role in the film itself but it wasn't until 1996 that he released another solo album, which was the independent "Lucile Works For Me". He followed this with a disc on JSP, a T-Bone Walker tribute album for Groove Note, one for Severn.
Album Discography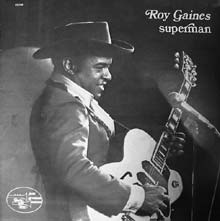 "Superman" (Black & Blue 1975)
1. Got The Boogie
2. Happy Birthday Blues (Take 1)
3. Stormy Monday Blues
4. Superman (Take 2)
5. Once I Was A Gambler
6. Goin' To Chicago/Route 66
7. Happy Birthday Blues (Take 2)
8. Superman (Take 1)
9. Bumpin'At The Sunset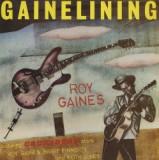 "Gainelining" (Red Lightnin' 1982)
1. First Rule Of Cheating
2. Lowdown & Funky
3. Baby What You Want Me To
4. It's Too Late Brother
5. It Came On Time
6. Hell Of A Night Tonight
7. Houston Texas
8. Short Haired Woman
9. Roy's New 6 A.M. 3 O'Cloc
10. Okie Dokie Stomp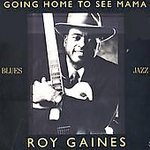 "Going Home To See Mama" (Roy Gaines 1988)
1. Rainbow Seeker
2. Nap Town
3. It's Too Late/What New
4. Wholly Cats
5. Just Friends
6. Goin Home to Mama
7. Sweet and Gentle Love
8. Smooth One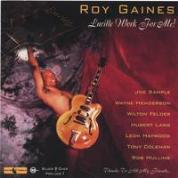 "Lucille Work For Me" (Black Gold 1996)
1. Lucille Work For Me
2. Big Fine Woman
3. See & Don't See
4. Pushin' Out & Pushin' In
5. Hold On To What You Got (Medley)
6. Satisfaction
7. Goin' To New York
8. She Came On Time
9. Come Home
10. Low Down & Funky
11. Southern Woman
12. Rain Five Days
13. Make Our Dreams Come True
14. I'm Just Another Blues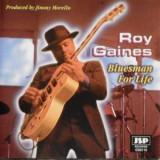 "Bluesman For Life" (JSP 1998)
1. Bluesman for Life
2. It's Midnight Baby
3. Roy Jumps the Gator
4. You Went Back on Your Word
5. Lulu Mae
6. Sweet Pig Porker
7. Jump in My Cadillac
8. Cat Came Back
9. BWR
10. You're Gonna Wish I Had Stayed
11. Fly Away to Glory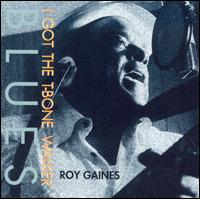 "I Got The T-Bone Walker Blues" (Groove Note 1999)
1. Stormy Monday
2. T-Bone Shuffle
3. Dream Girl
4. I Got a Break Baby
5. That Old Feeling Is Gone
6. I'm in an Awful Mood
7. Hustle Is Gone, The
8. T-Bone Blues
9. Honkey Tonk Blues
10. West Side Baby
11. Stormy Monday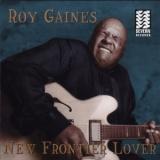 "New Frontier Lover" (Severn 2000)
1. New Frontier Lover
2. The Worlds Biggest Fool
3. What's The Reason
4. You Can't Make Nobody Love You
5. Catch That Midnight Train
6. W.C. Handy Sang The Blues
7. Texas Millionaire
8. Double Dealin' Woman
9. Roy's Theme
10. My Woman, My Blacksnake And Me
11. Hind Ends & Elbows
12. Roll Your Own Biscuit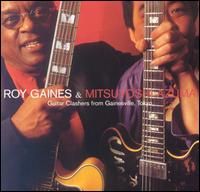 Roy Gaines & Mitsuyoshi Azuma "Guitar Clashers From Tokyo" (P-Vine 2000)
1. Okie Dokie Stomp
2. You Don't Understand
3. Drinkin' Fool
4. Take the "A" Train
5. I'm Your Thing Shaker
6. Gainesville
7. Tokyo Woman
8. I Want a Little Girl
9. Sno-Cone (Tribute to Albert Collins)
10. Cream and Sugar
11. Moonlight in Vermont (Guitar Duet)
12. Take the "A" Train
13. Tokyo Woman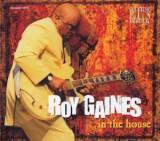 "In The House: Live At Lucerne Vo. 4" (Crosscut 2002)
1. Introduction
2. Standing Up for Women's Rights
3. Wolfman
4. Hind Ends and Elbows
5. I Got My Thang on You
6. Lucille Works for Me
7. Too Many Men
8. Rag Blues
9. Petrol for Your Tank
10. W.C. Handy Sang the Blues
11. Southern Woman
12. New Orleans
"The First TB Album" (Black Gold 2003)
1. Chicken Shack Boogie
2. Every Saturday Night
3. You-Re Still My Baby
4. C C Rider
5. Baby, Please Don't Go
6. Dangerous
7. Switcheroo
8. Lizzie
9. Boom Boom
10. Open House at My House
11. Running Around Balling
12. Big Legs, Tight Skirt
"Rock-A-Billy Boogie Woogie Blues Man" (Roy Gaines 2005)
1. Skippy Is a Sissy
2. Isabella
3. You're Right, I'm Left
4. Gainesville
5. Oh Annabelle
6. Loud Mouth Lucy
7. Dee Dat Dee Dum Dum
8. Right Now Baby
9. All of My Life
10. I'm Going to Set You Free
11. Worried 'Bout You Baby
12. Stolen Moments
13. Night Beat
14. Black Gal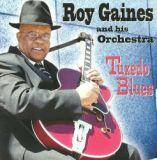 "Tuxedo Blues" (Black Gold 2010)
1. Send For Me
2. Blues From Hell
3. Good Old Days
4. Rats in My Kitchen
5. Thangshaker
6. Inflation Blues
7. Miss Celie's Blues
8. Come Home
9. Reggae Woman (Calypso Blues)
10. Rock With You
11. Route 66
12. Outside Looking In