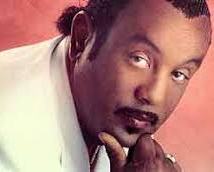 Ronnie Lovejoy
Truly a legend of soul/blues in the modern era, Lovejoy wrote some of the best soul blues cuts of the last quarter century. Classics and great artists who covered them include "Sho' Wasn't Me" (Tyrone Davis, Otis Clay & Chuck Roberson), "Given' My Love To The Other Man" ( Little Milton, Vernon Garrett, Kip Anderson), "In Need Of A Good Woman" (Willie Clayton), "Live In Woman" (Pat Brown) & many many more. People began calling him "the new Z.Z. Hill" because he was more than just a songwriter/producer but also a gifted singer/recording artist- blessed with a deep, rich baritone that packed an emotional wallop! His first record came out on Evejim in 1992, followed by two for Ace, 2 for Avanti and one final outing for Goodtime Records before his premature death at age 51. He is a deeply revered and missed legend of the music world.
Album Discography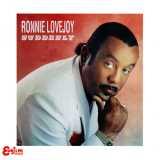 "Suddenly" (Evejim 1992)
1. Suddenly
2. I Still Love You
3. I Miss Her
4. Giving My Love To The Other Man
5. Miss Rudolph
6. I'm Leaving
7. This Is The Last Time
8. Going Back To My Wife
****
Terrific modern soul blues outing reveals Lovejoy's excellent songwriting and smooth vocals on the burning ache of "I Miss Her". But the gorgeous horn-fueled "Givin' My Love To The Other Man" is the standout for me (covered by Little Milton, Vernon Garrett, Cicero Blake & more). He's giving his woman the best of everything but she's giving his love to some other Jody. "I Still Love You" is a funky blues. The smooth opener "Suddenly" should've been covered by Luther Vandross.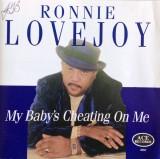 "My Baby's Cheating On Me" (Ace 1995)
1. Cheating on Me
2. Party All Night Long
3. Rock My Cradle
4. You Got to Know
5. Can't Leave Love Alone
6. You Can't Run Away from Love
7. Set the World on Fire
8. In Need of a Good Woman
9. It's Alright
10. Until You Get Enough of Me
11. Starting All Over
12. Evil Eye of Love
****
The great, bluesy title track is a clever boomerang where Ronnie catches his woman with another man but she says "oh that's just it's the insurance man" then next time "oh, that's just the cable TV man" but Ronnie ain't having it. His woman comes home one day to find Ronnie with the "avon lady". Ronnie has a facility for romantic, pleading numbers as evidence on the lovely "Until You Get Enough Of Me". Perhaps the standout is "In Need Of A Good Woman", which underlines his gift for melody and drama. The shuffle bumping "It's Alright" shows his knack for catchy hooks. Fellow Ace artist Willie Clayton borrowed a couple tracks ("My Baby's Cheating" & "In Need Of A Good Woman") for his best disc, "Ace In The Hole".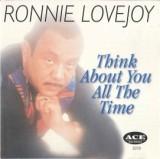 "Think About You All The Time" (Ace 1996)
1. Think About You All the Time
2. Sleeping in Someone Else's Bed
3. Baby Take Me
4. Take It Personal
5. Tell the Truth
6. Never Feel Like This Before
7. Send You Back to Mother
8. Thank You
9. Dumb Rat
10. Head Down Blues
11. Dirty Dance
12. Shout It Out
13. Nothing Takes the Place of You
****
1
/2
What separates a generic soul singer from a great soul singer is their ability to squeeze every bit of emotion you can from words. There's technique- singing from the gut (diaphragm), deep in the throat but there's also feeling that seems to pinch the vocal chords just a little tighter. Ronne Lovejoy could sell a song. He's a story teller and everything he sings sounds for real. The gorgeous title cut is a heart-tugging lament concerning an old time used to be. Anybody with a broken heart can relate. He sees her at the grocery store and she walks toward him and asks him, "Do I ever cross your mind?" Ronnie says: "Ah, not much just Monday through Sunday. I think about you all the time." Even more dramatic is the heartbreaking "Never Felt Like This Before", which lyrically reminds me of Percy Sledge's great "Take Time To Know Here". And if you can believe it- it's the same league! On the pleading "Take It Personal" he realizes what he had now that she's gone. This track features one of his best vocals and is a duet with Carol Bell who explains why she left him. But Ronnie still loves her...and turns out she still loves him too. Lovejoy wrote all 13 tracks on this wonderful album. Essential.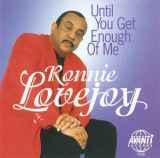 "Until You Get Enough Of Me" (Avanti 1998)
1. Until You Get Enough of Me
2. I Need Somebody
3. Lying Loving or Leaving
4. What's Done in the Dark
5. Keep on Singing the Blues
6. Doesn't Get Any Better
7. Not Like It Used To
8. Please Come Home
9. Bring It On
10. Missing You
11. God Will
12. Falling in Love Again
13. What Does It Take
14. Rock and a Hard Place
***
Ronnie is one prolific writer- 14 tracks this time out with 13 written by himself. Sure, the title track appeared before on his "My Baby's Cheating On Me" but the remainder are new. Some of the keepers are the lonely "I Need Somebody", the simmering "What's Done In The Dark" and Bobby Bland-inspired "Keep On Singing The Blues". On this tribute to the genre ere he intersplices B.B. King's "Rock Me Baby", Johnnie Taylor's "Sending You A Kiss" and Bland's "Take Off Your Shoes" into a basic soul blues groove. It's a nice change of pace on an album dominated by contemporary soul and slick R & B.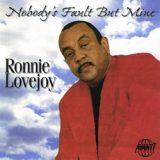 "Nobody's Fault But Mine" (Avanti 1999)
1. Nobody's Fault but Mine
2. A.P.B. Out on Me
3. Love Doctor
4. Steet Thang
5. Both to Blame
6. Sho Wasn't Me
7. Ain't Gonna Get my Love
8. Midnight Flight
9. Live In Man
10. A Good Time
11. Tears
12. Give My Life
***
Twelve more soulful R & B numbers featuring the stone classic "Sho' Wasn't Me". See, you may think you saw Ronnie coming out a Holiday Inn with another woman but you must need glasses 'cuz unless you reach out and touch him it sho' wasn't him! "Live In Woman" became a hit for Pat Brown as "Live In Man". Elsewhere he says his jealous woman put an "A.P.B. Out On Me" but he's man enough to take the blame on "Nobody's Fault But Mine". But, wait, really they're "Both To Blame" he sings later- sounding remarkably like Isaac Hayes. Another notable is the smooth "A Good Time" featuring a propulsive bassline and a Johnny "Guitar" Watson-style guitar solo.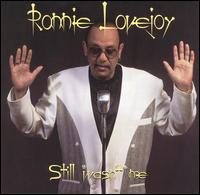 "Still Wasn't Me" (Goodtime 2000)
1. Still Wasn't Me
2. Spend The Rest Of My Life
3. Evidence
4. This Bed Ain't Big Enough
5. All About The Money
6. Nothin' Bother Me
7. Duck
8. Can You Feel Me
9. What The Blues Is All About
10. My Time
*** Final album from modern soul blues king begins with a sequel to his biggest hit re-titled "Still Wasn't Me". Essentially it's the same song with altered lyrics. Perhaps the true sequel is the clever R & B stroller "Evidence" where the shoe is on the other foot. Not only did he see his woman cheating at a Motel 6 (instead of a Holiday Inn- good one!) BUT Ronnie's got the goods on her. Ronnie reached up and touches her at the motel door. In fact he's got her panties too! Busted! The song even features a fine blues guitar solo by Don Evans. Another gem is the upbuilding "Nothin' Bother Me". Although he's been abused, locked down and sick he's gonna keep on keeping on. But 3 tracks later we discover it's not before he found out "What The Blues Is All About". Romantic Ronnie is represented by "Spend The Rest Of My Life", "This Bed Ain't Big Enough" and "My Time". On the latter he tells a man to leave the girl alone- he had his chance but now it's Ronnie's time to show her love. Once again- all songs written and co-produced by Lovejoy. Sadly this proved to be the last hurrah for Ronnie as he died soon after... but not before leaving us with more "evidence" of authentic Rhythm & Blues.