Robert "Duke" Tillman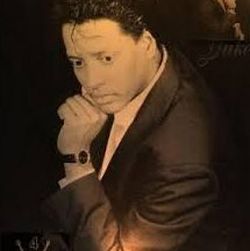 Blessed with a mellifluous croon that recalls Smokey Robinson and Al Green, Robert "Duke" Tillman started singing with a band called Wisdom and worked with the late McKinley Mitchell. Tillman became a lead vocalist with the energetic Freedom Band and later as lead singer for the "Drells" which was formerly known as "Archie Bell &The Drells". With this association, Robert Tillman performed in concert halls with the Temptations, Harold Melvin & The Blue Notes and many more well known vocal groups. After signing with Ace Records, Robert Tillman released his debut album, "Thinking Of You". Robert's Tillman's Ace Records release, "Hurt By Love Before" is a classic. Robert's third was recorded with Johnny Vincent's other label, Avanti Records,"Give Me Just One Chance". The underrated "Coochie Whipped" CD showcases Robert's many talents as vocalist, songwriter and producer. Finally, Robert Tillman's latest CD entitled "Still Thinking" was released on Waldoxy Records.
Album Discography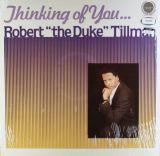 "Thinking Of You" (Ace 1992)
1. Save You, Save Me
2. Still in Love With You
3. I'm Not Strong Enough
4. L.O.V.E.
5. Thinking of You (Nothing Takes the Place of You)
6. Don't Ever Take Your Love Away
7. I Forgot to Be Your Lover
8. My Day Is Coming
9. One on One
10. Thank God (She Can't Read My Mind)
11. Count on Me
12. God Bless Our Love
13. You Got the Hold on Me
14. I Wanna Go Home
15. Even Fools Have Feelings
16. Tear This House Down
*** The musicians on Tillman's debut are an all star list of New Orleans music. On piano: James Booker, Charles Brown, Huey "Piano" Smith, Dr. John; on saxophone: Lee Allen, Alvin "Red "Tyler; on trumpet: Harrison Calloway, more. The man got the red carpet treatment on this 16 track (!) disc and he comes through. It's retro-soul music highlighting "the Duke's" sugary tenor and falsetto. Frank-O Johnson is credited with writing no less than five cuts including the smooth urban contemporary soul "Still In Love With You". Tillman himself co-wrote four tracks- two with Vasti Jackson. The best being the Sam Cooke-inspired "Save You Save Me".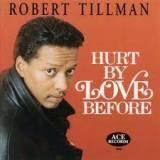 "Hurt By Love Before" (Ace 1994)
1. I've Been Hurt by Love Before
2. I'm Not Tired
3. I Wanna Come Home to Stay
4. Mama's Baby, Daddy's Maybe
5. I Need Someone
6. One Step
7. Weak Fa Ya
8. Only the Lonely Knows
9. Don't Lie to Me
10. I'm Looking for a Lover
11. Pledging My Love
12. I Know
***** Tillman scored a regional hit with "I've Been Hurt By Love Before", (covered by Willie Clayton a year later but not before "the Duke" covered Clayton's booty-shakin' "Weak Fa Ya" here.) Tillman either wrote or co-wrote 8 of the 12 tracks. Not just the great title cut, he also wrote "Only The Lonely Knows", a fantastic Memphis mover with lush horns and a creamy refrain that would be a hit it in the right era. Often Tillman's style is similar to that of Chuck Strong- sweetly sung, easy-going, mid-paced soul songs. But Tillman is another league vocally and captures the spirit of classic soul like few others can. Sam Cooke's swinging beach rhythms are often the template as evidenced with "Mama's Baby, Daddy's Maybe" and "I'm Not Tired". He equally excels on ballads like the lovely "I Need Someone" and is a good interpreter of classics such as Don Robey's "Pledging My Love". One of the best retro-soul albums of the decade.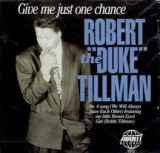 "Give Me Just One Chance" (Avanti 1998)
1. Give Me Just One Chance
2. Lucky Guy
3. You're the One
4. We Will Always Have Each Other
5. He Didn't Love You (But I Do)
6. Back up Train
7. Going on With My Baby
8. Your Love Divine
9. This Old Love
10. Understanding
11. You Been So Good to Me
12. Thinking of You (Nothing Takes the Place of You)
13. She's Good to You, Be Good to Her
14. This Is the Time
*** Is that Al Green? No, but Tillman's darn close on the Hi Records clone "Give Me Just One Chance" written by another under-appreciated soulman Rue Davis. Davis, who is known for his uncanny impressions of Green, Johnnie Taylor and ZZ Hill, wrote 9 songs here. Interestingly, Tillman also tackles Green's first hit "Back Up Train" and does notimpersonate Green but makes the cut his own. As with the majority of music released on Johnny Vincent's labels (Ace, Avanti) the production wears thin through 14 tracks.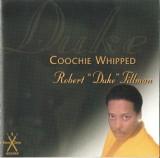 "Coochie Whipped" (4 Eversduke 2001)
1. Duke (Intro)/Duke Is in the House
2. Drop
3. I Found Love
4. Love Ya Tonight
5. Coochie Whipped
6. Doggone Right
7. Baby Come See Me
8. It's a Good Thang
9. Change Gone Come
10. Drop [Instrumental]
**** change of pace for "the Duke" on this independently-released gem. The production is tight, bottom-heavy and Funky. After a slightly too long "Duke is in the house" intro track two comes kickin'. It's the knockout dancer "Drop" with a phat bassline, tight percussion and a nearly hypnotic chorus. He sings "Drop that thing like it's hot" repeatedly with breathy heat. It's followed by the silky Al Green-kissed "I Found Love" and swinging "Love Ya Tonight" with a sweet n' sexy vocal. This is three should-be hits in a row. The superfunky title track comes next with libidinous lyrics and just when this album is on a roll comes the ace- a slow, sparsely arranged finger snapper "Doggone Right". It's the best Smokey Robinson song Smokey never wrote. In the same league as "One Heartbeat" and Tillman delivers perhaps the best vocal of his career. I'd like him to cover a Smokey song or two. He impresses again on his laidback take of Sam Cooke's "Change Is Gonna Come" before that kickin' bassline from "Drop" returns on the instrumental that closes the disc. There's only 8 songs on this 10 track album but had there been one or two tracks added it would rank as a masterpiece.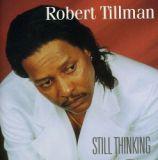 "Still Thinking" (Waldoxy 2003)
1. Can't Do Without You
2. Been Loving You To Long
3. Let's Get It On
4. Woman, Lover, Friend
5. Show Me Some Love
6. Still Thinking
7. Pump It Up
8. Right Love
9. W B G I O
10. Ain't That Loving You
11. It's All Good
12. You Babe

** Malaco's Waldoxy Records has had great artists come and go from it's roster over the years- Artie "Bluesboy" White, Poonanny, Ernie Johnson, Bobby Rush, Carl Sims to name a few. As soon as one leaves they seem to find a suitable replacement and Robert Tillman fits the bill. His first release for the label is a contemporary soul collection of ten self-penned cuts and two covers. The best is the upbeat toe-tapper "Still Thinking", which is an allusion to his first hit, "Thinking Of You". Another highlight is the slinky "Ain't That Lovin' You" with some great backup vocals and his take on Al Green's "You Babe" got some radio play. Overall, Tillman's songwriting is below par compared to his previous releases. Several of the songs are awkward with jerky start-and-stop rhythms ("Been Loving You Too Long") that never seem to take off and that clickity clacking drum program grates on the nerves.