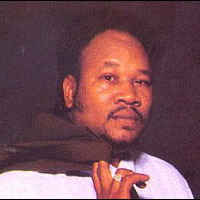 Quinn Golden
With a voice as precious as his name Quinn Golden was born on October 25, 1954 and grew up in the right place for soul- Memphis, Tennessee. Blessed with a smoky, earthy and sexy (to the ladies) voice he began performing in his teens when he joined the vocal group Elements Of Soul, then Canteca, which had the privilege of opening up for various Stax Records acts like the Bar Kays and Rufus Thomas. Golden also played bass and sang backing for Al Green for seven years and recorded an LP with a group called White Heat (now Switch). It wasn't until 1990 he got the chance to go solo and record and album under his own name. The album, "I Am Serious About Your Love" was released on Jim Bennett's Traction Records. But his career really took off when he signed with Ecko Records in 1997 and released his first disc "Cover You With A Kiss", which included a new version of his signature song "If You Don't Love Me". He went on to record several more albums and was growing in popularity when he died suddenly and unexpectedly from a heart attack on July 28, 2003. He was only 48 years old.
Album Discography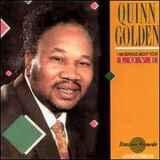 "I Am Serious About Your Love" (Traction 1990)
1. We Gonna Make It
2. Sweet Denise
3. For the Rest of My Life
4. I Am Serious About Your Love
5. I Can't Stop Seeing You
6. More Than You Can Imagine
7. Everything's Gonna Be Alright
8. Dancing
9. I Can't Live With You (Can't Live Without You)
10. If You Don't Love Me
*** Label owner James Bennett produced and wrote the songs for this solid modern R & B/soul record (except perhaps the biggest hit, "If You Don't Love Me", which is credited to Golden on later albums). It's got traces of New Jack Swing ("I Am Serious About Your Love") and Luther Vandross-like pop/soul ("Sweet Denise") but mostly it's just smooth, radio-friendly soul/dance music by a fantastic singer who should've been a star.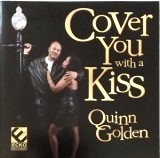 "Cover You With A Kiss" (Ecko 1998)
1. Habit Breaker
2. Cover You With a Kiss
3. I Just Wanna Do It
4. If You Don't Love Me
5. My Lady Is My Baby
6. Tryin' to Win Your Love
7. Too Late to Turn Back Now
8. Show Me
9. Love of a Good Woman, The
10. Money Can't Last
**1/2 First for Ecko shows Quinn's "golden" pipes have gotten even better despite the hit and miss material here. He reprises his Traction hit "If You Don't Love Me", sweet talks you up with the upbeat "Habit Breaker" and throws done some smooth Contemporary Soul ("My Lady Is My Baby", "Too Late To Turn Back Now"). Better things were to come, however.
"What's The Name Of That Thang?" (Ecko 1999)
1. Peepin' in the Window
2. Way You Layed It on Me, The
3. Threesome
4. Won't You Make up Your Mind
5. What's the Name of That Thang
6. Woman
7. Damned If I Do, Damned If I Don't
8. Woman's Gotta Have It
9. Call Me
10. Pick Up the Pieces
*** Second Ecko platter features 7 tracks either written or co-written by Golden like the popping "Peepin' In The Window" featuring an aggressive J. Blackfoot-like vocal. "What's The Name Of That Thang?" is is a giddy, swinging dancer that you would be hard-pressed to remain still if you heard it. Quinn also wrote two fine slow jams, "Won't You Make Up Your Mind" and "The Way You Lay It On Me". The songwriting duo of Raymond Moore and John Ward contribute the questionable "Threesome" (somebody call Jerry Springer) and snappy "Call Me". Other keepers is the Tyrone Davis-like "Damned If I Do, Damned If I Don't" and Quinn's impressive take on Bobby Womack's "A Woman Gotta Have It". You know you're a good singer when you got nerve to cover Bobby Womack!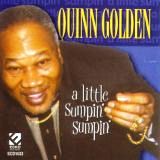 "A Little Sumpin Sumpin" (Ecko 2001)
1. I Was Cheatin' on You
2. Dance Party
3. Little Sumpin' Sumpin', A
4. You're Every Woman
5. I'm Gonna Be a Man About It
6. Big Rumps With a Lot of Bump
7. Two Good Women
8. Baby Whip
9. Let Me Kiss It
10. Sexy Lady
**** This is terrific Contemporary Southern Soul music with a big sound, countless hooks and soulful singing. It's called "southern" because it's root is Memphis where some of the most brilliant soul music was created. The appeal of this "Southern Soul" is universal, however. "Sumpin' Sumpin'" is a prime example of what that sound has become. Though the subject matter can be iffy there's no denying this is pure ear candy. At least there's the sweet n' faithful "You're Every Woman" to balance the infidelity theme. The title cut is simply one of Quinn's very best and "I'm Gonna Be A Man About" is an answer song to Ronnie Lovejoy's classic "Sho Wasn't Me". Quinn got nabbed cheating and he ain't going to say "Sho' wasn't me". Why? Because she has the "goods" on him and he's "gonna be a man about it" and admit to it. Perhaps the opener "I Was Cheating On You" could serve as that confession. Once again John Ward wrote or co-wrote, produced and sequenced the cuts here.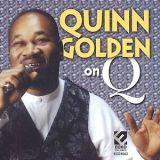 "On Q" (Ecko 2002)
1. Do You Wanna Freak?
2. Party Woman
3. Ketchup on My Pants
4. My Loss Is His Gain
5. Junk in Yo Trunk
6. Wake up Call
7. Dance Pary 2002
8. I Can't Give It Up
9. You're My Angel
10. You Don't Miss Your Water
***1/2 There's no dip in quality on this follow up to the excellent "A Little Sumpin' Sumpin'". Golden co-wrote 4 of the tracks, including the booty shakin' "Do You Wanna Freak?" that opens the album. Although this is mostly programmed and sequenced rhythm tracks by producer John Ward it's good ole' Southern Soul at it's heart. As a bonus this release has live horns: Jim Spake on tenor sax and Allen Averyheart on alto sax. Some irresistible dancers are "Junk In Your Trunk" (ahem, not about a car) and "I Can't Give It Up". There's also one of those delicious uptempo soul songs, "Wake Up Call", that Ecko excels at. Nevertheless, the hands down winner here is the funny duet with Sheba Potts-Wright called "Ketchup On My Pants". Sheba says it's lipstick but Quinn pleads it's only ketchup! He was eating a hamburger and it dripped but Sheba may have trumped Quinn when she asks: "Tell me then, how did ketchup fall on your pants in the shape of some lips?!?" Uh-Oh!

"Bottoms Up!" (Ecko 2003)
1. It Started at the Party
2. Can You Pop That Trunk?
3. It's Saturday
4. Party For Two
5. Hell at the House
6. I'm Just a Lucky Guy
7. Bottoms up!
8. Chill Out
9. Crazy
10. Party on the Weekend
***
Another fine Ecko release aimed directly for the Juke Joint dance circuit featuring 8 dancers and two slower jams. It's a party, folks. In fact the word "party" pops on three song titles ("Party On The Weekend", "Party For Two" & "It Started At The Party"). Also, "It's Saturday" is about, well, partying as well: "The party ain't over just because Friday is gone/I'm gonna get my clothes out the cleaners and wash my car/gonna get my groove on". I presume the song is a sort of sequel to Sir Charles Jones' hit "Friday". While he's at the party and since his girl has "junk in her trunk" he asks her "Can You Pop That Trunk" Why? "Let me see that junk". The biggest hits, however, were "Bottoms Up" & "Hell At The House".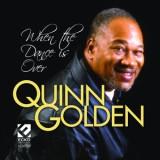 "When The Dance Is Over" (Ecko 2004)
1. I've Got a Schudule to Keep
2. Hole in the Wall
3. Let Me Fill You Up
4. If You Don't Love Me
5. I Was Cheatin' on You
6. Peepin' in the Window
7. I'm Just a Lucky Guy
8. I'm Gonna Be a Man About It
9. Baby Whip
10. When This Dance Is Over
11. [Untitled Hidden Track]
12. [Untitled Hidden Track]
** Posthumous release gathers material Quinn was working on prior to his fatal heart attack, plus a smattering of past Ecko tracks. The set opens with a new uptempo Southern Soul cut called "I've Got A Schedule To Keep" where this "love doctor" has only so much time to make house calls or else a "lot of needy women will be hurting & crying". Up next is his take on Mel Waiters' classic "Hole In The Wall" extracted from the Ecko compilation "Soul Blues Hits Vol. 1". It's similarity to the original makes it somewhat redundant. Golden co-wrote the dancer "Let Me Fill You Up", but the highlight is, of course, the title cut (previously done by Bill Coday); a breezy dance track featuring Quinn's silken vocals and lush harmony backups. The song also appears in two remixes at the end of the album. The irony of the title is not lost on me. His biggest hit "If You Don't Love me" appears again, this time a duet with Sheba Potts-Wright. The remainder of the album is repeats like "I'm Gonna Be A Man About It", 'Peepin' In The Window" & Baby Whip". All the material is sho 'nuff good and you're gonna want the new cuts but it's only an EP's worth. A proper "Best Of" with the new tracks added would have been a better package.
"The Best Of" (Ecko 2006)
1. I'm Gonna Be a Man About It
2. It's Saturday
3. Bottom's Up!
4. I Was Cheatin' on You
5. What's the Name of That Thang?
6. Party on the Weekend
7. You're Every Woman
8. Little Sumpin' Sumpin', A
9. Dance Party
10. Wake Up Call
11. It Started at the Party
12. Call Me
13. Can You Pop That Trunk?
14. Party for Two