Preston Shannon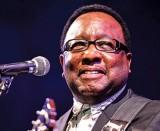 In 1999 Memphis Bluesman Preston Shannon was in the running for three Grammy nominations stemming from his third record "All In Time", which was produced by Willie Mitchell. Quite a feat for an authentic Soul Blues singer these days. It looked like Shannon could possibly crossover into the coveted B.B. King-Thrill-Is-Gone/Robert Cray-Smoking-Gun mainstream success echelon. Then something remarkable happened...nothing. There was no follow up record to keep momentum. The iron grew cold. Shannon kept playing, ever solidifying his musical prowess on the Memphis concert scene (named "Entertainer of the Year" countless times by the Beale Street Merchants Association) but no further recordings until now.
Blessed with a raspy Bobby Womack-like voice and able guitar fingers, Preston was originally born in Olive Branch, Mississippi. Shannon's family moved to Memphis when he was eight. Shannon cut his teeth with a local bar band called Amnesty, followed by other Memphis-area bands while working days at a hardware company. But he became a full time musician when he scored a spot in Soul great Shirley Brown's band. It wasn't until 1991 that he put together his own band and began playing the clubs on Beale Street and other hot spots. In the early 1990s, he was discovered playing a blues club by producer Ron Levy who brought Shannon to Rounder Records. "Break The Ice" came in 1994 featuring the Memphis Horns and it made certain the live magic of Shannon's show carried over to the studio. Next Shannon was fitted with legendary Hi Records producer Willie Mitchell (Al Green, Otis Clay) and delivered one of the best Soul Blues records of the past 25 years. The record was nominated for a Grammy Award. In 1999 came "All In Time", again with Mitchell, and further accolades were heaped upon this new artist- the next big thing? Fast forward through an inexplicable 7 years to his brand new CD "Be With Me Tonight", which picks up right where he left off. Preston died in January of 2018.

Album Discography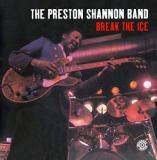 "Break The Ice" (Bullseye Blues 1994)
1. Trouble
2. Break the Ice
3. You're the One
4. Have Your Woman Ever Loved You So Good
5. I Got Everything I Need
6. Beale Street Boogaloo
7. Put a Dollar in Your Pocket
8. Forty Days and Forty Nights
9. Looking for a Love
10. I Got Somebody
11. Crosscut Saw
12. You're Gonna Miss Me When I'm Gone
***
1/2
Southern-fried soul blues debut from this Memphis guitar slinger showcases his throaty vocals and crisp guitar playing. Plenty of covers first time out- doing Albert King's "Cross Cut Saw", a vocally-riveting take on Sam & Dave's "I Got Everything I Need", Jimmy McCraklin's "You're The One" & "I Got Somebody", plus a song made famous by his vocal mentor Bobby Womack ("Looking For Love"). The bluesiest of his catalog and a very promising debut!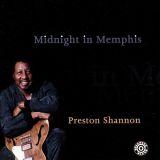 "Midnight In Memphis" (Bullseye Blues 1996)
1. 'Round Midnight
2. Baby I Will
3. Size 12 Shoes
4. Nobody's Fools
5. Feeling Is Gone, The
6. Clock, The
7. Streets Will Love You to Death, The
8. Honky Tonk
9. Take Your Time
10. Can't Lose What You Never Had
11. Handee Man
12. Midnight in Memphis
***** Quite simply one of the best soul blues discs of the 90s! Produced by the legendary Willie Mitchell with keyboardist Ron Levy, Shannon delivers a masterpiece of Memphis Soul & Blues. Featuring members of the legendary Hi Records house band and recorded at Mitchell's Memphis studio, the album kicks off with two stunning mid-tempo Memphis soul burners co-authored by Mitchell: ("'Round Midnight" & "Baby I Will"), followed by a gritty blues called "Size 12 Shoes" with the lyrical refrain "My dinner was half ate up/The shower was cold enough for a duck/The bed wasn't cold it was hot/but what I saw next made me wish I had buck-shot!/Size twelve shoes under my bed/Baby I wear size ten!". A superior take on Leon Haywood's "The Streets Will Love You To Death" & the slow, sexually-charged blues "The Clock", plus juke joint blues "Honky Tonk" push this gem into the stratosphere. PERFECT!

"All In Time" (Bullseye Blues 1999)
1. Just Between Me and My Woman
2. Tired of the Ghetto Bringing Me Down
3. Are You in the Mood?
4. Jail of Love
5. That's the Way I Feel About 'Cha
6. Wrapped Up Tied Up
7. Welfare Woman
8. Your Good Thang Just Broke Bad
9. Be with Me Tonight
10. Purple Rain
11. Cold Beer Good Time
***
1/2
Once again recorded in Memphis and produced by Willie Mitchell, Shannon lays down another marvelous disc of Beale Street blues and soul. As on the previous outing he is backed by Memphis all-stars like Leroy Hodges, Thomas Bingham & Lester Snell and Shannon himself rises to the occasion. The smooth straight soul opener "Just Between Me And My Woman", a Mitchell co-write, shoulda been a radio hit. Meanwhile illustrious songwriter Bingham contributes the instant classic "Tired Of The Ghetto Bringing Me Down", which was even a minor radio hit. Bingham also penned the great soul blues knockouts "Jail Of Love", "Welfare Woman", "Your Good Thing Just broke Bad" and the joyous blues instrumental "Cold Beer Good Time". Shannon himself gets a couple co-writes here- one with Bingham ("Be With me Tonight"). As he should, Shannon tackles the Bobby Womack classic "That's The Way I Feel About 'Cha". A curious bonus is Shannon's understated reading of Prince's "Purple Rain". Overall another modern day classic of vintage soul blues by a ridiculously underrated singer. This time the Grammy Awards nominating process awarded his new album "All In Time" with three Grammy Nominations. Shannon received "Best Contemporary Blues Artist", "Album of the Year", and "Best New Artist" nominations. Shannon was previously nominated for a Grammy for his last album "Midnight in Memphis" produced by Mitchell.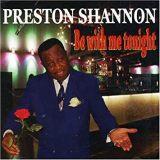 "Be With Me Tonight" (Title Tunes 2006)
1. I Might Be Your Husband
2. Fools Way Out, The
3. Be with Me Tonight
4. Way That I Love You, The
5. Not Tonight, Cause Honey I Got the Blues
6. G-Man
7. Luck Ain't No Lady
8. If Ten Is Gonna Kill Me
9. Loves Gonna Get You
10. It's My Life
11. Goin' Back to Memphis
12. No More War
**** Memphis' own Preston Shannon made three of the best Soul/Blues albums of the 90s for Ron Levy's Bullseye Blues label. In fact his 1999 disc "All In Time" help him scoop up three Grammy nominations: "Best Contemporary Blues Artist", "Blues Album Of The Year", and "Best New Artist". Quite a feat for a man doing authentic Memphis Soul Blues. Then something amazing happened. Nothing. That's right despite the accolades there was no follow up to that record. Well, it's 2006 and he's back with another burnin' set of Beale Street Blues n' Soul. This is "organic" music folks. No machines. No fake horns. The real deal. Interestingly it was Country music producer Clayton McGonigle (with Denny Knight) who had the vision of recording this gritty R & B artist for his label Title tunes. McGonigle and former Marshall Tucker band keyboardist Ronnie Godfrey and wife Kim Morrison-Godfrey set Shannon up with a set of original Soul Blues songs. 10 of the 12 were co-written by atleast one of the three. Being that Country music and Deep Soul have a common ancestor it's no surprise they come up with the goods. But first we are hit off with a fabulous R & B pounder written by Stacy Mitchhart. "I Might Be Your Husband" is one of those low down, heavy Soul Blues rollers with horn blasts and Bluesy guitar that this critic absolutely adores. But what really nails it is that gritty Bobby Womack-like voice of Shannon's, deep in the throat, just a a hair from a growl! McGonigle/Godfrey/Morrison provide mo' of the same with the groovin' "G Man", "It's My Life" and "Love's Gonna Get You". The latter is a smart choice for a single with it's addictive refrain, tasty female vamps and muscular bottom. (But that odd bridge needs to be excised! Sounds like something you'd hear in Michael Jackson's "Thriller" video!). The lone cover tune here is actually a Shannon originally pulled from his previous album. "Be With Me Tonight" is redone in grand style, doing away with the formerely sterile arrangement and letting it air out to become the superb song it is. This record also has Shannon adding to his repertoire with the excellent piano boogie "If Ten's Gonna Kill Me (You Can Give Me Nine)" and Jazzily-flavored crooning "Luck Ain't No Lady" & "Not Tonight, I've Got The Blues". Then there's the anti-war sentiment "No More War". Sample lyric: "Modern day barbarian/Dressed in the pin-striped suits/While the soldiers do the dying/Those politicians pocket all the loot/You know they're killing for black gold/The devil's own brew/They take and take and take all the money/And put the burden on me and you". The song/album ends with a bang (literally) and as far as Blues music goes these days Preston Shannon once again gives you more bang for your buck on "Be With Me Tonight".

"Goin' Back To Memphis" (Continental Blue Heaven 2010)
reissue of "Be With Me Tonight" above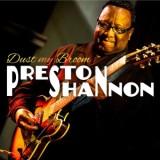 "Dust My Broom" (Continental Record Services 2014)
1. Done Somebody Wrong -
2. It Hurts Me Too -
3. Look On Yonder Wall -
4. Rolling And Tumbling -
5. The Sky Is Crying -
6. You Gotta Move -
7. Dust My Broom -
8. Honky Tonk -
9. The Feeling Is Gone -
10. The Streets Will Love You To Death -
11. The Way I Love You -
12. Purple Rain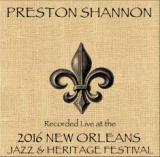 "Live At Jazzfest 2016" (Munck Music 2016)
Let The Good Times Roll 6:35
Roll And Tumble 5:37
You Got To Move 5:09
Dust My Broom 5:27
Stage Banter 1 2:02
Purple Rain 10:54
Stage Banter 2 1:23
The Sky Is Crying 11:41