Poonanny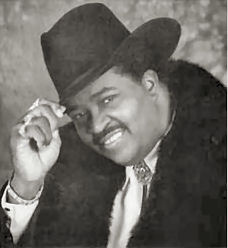 Self described "Blues Comedian" Joe Poonanny was at first a drummer and club manager before getting on stage and doing his act comprised of humorous songs and monologue. Born in Birmingham, Alabama, Poonanny didn't release any music until signing with Malaco subsidiary Waldoxy Records in 1993. His first LP, "Poonanny Be Still" featured mostly song parodies of chitlin' circuit favorites like Bobby Rush's "Be Still", Tyrone Davis' "Mom's Apple Pie" (re-titled "Mamma Tell A Lie"). The formula worked and four more LPs on Poonanny were released by waldoxy before Poonanny went independent with his own venture in 2007.
Album Discography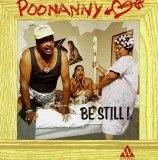 "Poonanny Be Still" (Waldoxy 1993)
1. Clean Out Your Dresser
2. Poonanny Be Still
3. Steppin' Out
4. I Can Do Bad by Myself
5. Strokin'
6. Let's Straighten It Out
7. Mamma Tell a Lie (A.K.A. Mom's Apple Pie)
8. Poonanny Be Still - (radio version)
*** It sounds dated know but this collection of covers, actually "send-ups" of songs by Tyrone Davis, Denise LaSalle, Bobby Rush, Clarence Carter, Latimore and Jessie James went over well at the time.

"The Grindin' Man" (Waldoxy 1994)
1. Meatman
2. 3 People Sleepin' in My Bed
3. Out Grindin' the Grindin' Man
4. Beat Your Meat
5. Eatin' Me Out of House and Home
6. Get It Up
7. I Ain't Beggin', I'm Buyin'
8. Trashy Women
9. Poonanny (A.K.A. I'm a Blues Man)
10. Rump Ringer
*** Poonanny ups the raunch factor with songs like "Meatman", "Beat Your Meat", "Rump Ringer", etc. As far as these things go Poonanny is a hoot, which has just as much to do with his country/jive delivery. Mostly originals this time save for "Three People Sleepin' In My Bed".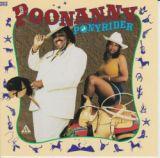 "Ponyrider" (Waldoxy 1996)
1. Pony Rider
2. Too Late, I'm Gone - (featuring Bobby Rush)
3. Gatherin' Nuts
4. Bill Stopper
5. Swim Ned Swim
6. Turn Loose My Ears
7. Married Men
8. Packin' Heavy
9. Cheatin' in the Next Room
10. He Stopped Loving Her Today
** It was inevitable that a novelty act like Poonanny would suffer a stale patch as he did with this set. He says they call him "Long Dong Silver" on the mediocre title cut for example. Musically, too, the Funky backdrops are nothing special like on "Gathering Nuts". Still, he scores with numbers like "Married Men" where he says "If you treated your wife like you treat your woman, your homework wouldn't be undone".

"Brand New Cadillac" (Waldoxy 1998)
1. Puddin' N' Tang
2. Brand New Cadillac
3. Let It Roll
4. Last Three Dollars
5. My Ding-A-Ling
6. Shake Your Fanny
7. Dirty Rat
8. This Is Not the Blues
9. That Girl Is Bad
*** Another dose from party blues from the Blues comedian opens with "Puddin' N' Tang", which nicks the groove to the Joe Cocker song "Woman To Woman" as did Tupac Shakur and Dr Dre for "California Love". He plays it relatively straight on the downhome bluesers "Let It Roll" and the title track , but the bawdy is back on Chuck Berry's "My Ding-A-Ling".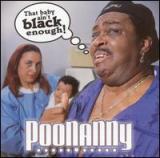 "That Baby Ain't Black Enough" (Waldoxy 2001)
1. Hole in Your Drawers
2. Hair on Her Legs (That Long)
3. That Baby Ain't Black Enough
4. My Baby's Gone
5. Drowning Man
6. Big Head Money
7. Don't Pour Me Another Cup
8. Diet Soda Blues
9. Don't Make Love to Him
***1/2 One of Poon's best sets features the hilarious Jimmy Lewis-penned title track, "Hair On Her Legs (That Long)" and some decent parodies of Mel Waiters' "Hole In The Wall" ("Hole In Your Drawers"), Johnnie Taylor's "Big Head Hundreds" ("Big Head Money")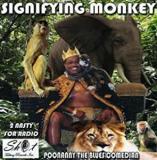 "Signifying Monkey" (Sh*t Talking 2007)
1. Intro
2. Mississippi Shuffle
3. Lap Dance
4. To Understand a Woman
5. Cable Man
6. Skin a Cat
7. King Size Bed
8. Signifying Monkey
9. Grand Son
10. Some Jaws
11. She's Too Young for You
12. Mountain Climber, The
13. Smart Doctor, The
14. Is It Like I Left It
15. Nymphomaniac
16. Lightning Bugs
17. Cheap Wine
18. Reverend from Up North
19. Peepin in the Window
*** Joe Poonanny "the Blues Comedian" is called the "lyingist man in show business! Talking s**t and swallowing spit" by the announcer and this 19 track collection of funky R & B songs and jokes is his title defense. The ribald "Signifying Monkey" is one of those rare projects that can get away with dialogue inbetween the songs 'cuz Poonanny is 100% character. He had a successful six album run for Malaco's Waldoxy label but now he's on his own and more unbounded than ever. First you get the safe two-stepper "Mississippi Shuffle" before he let's the smack fly. The funky "Lap Dance" is next before a couple of jokes including "To Understanding A Woman" that'll ring true for all y'all. He then answers Theodis on "Skin A Cat" offering his take on the "how to please a woman" dilemma- one that Marvin Sease would endorse. Even nastier is "She's Too Young For You" and "Nymphomaniac" and on and on. Only Poonanny could make an album like this but be warned: You may have to listen to it with headphones just like you did with your Richard Pryor albums back in the day
BUY CDS? EMAIL US AT BLUESCRITIC@YAHOO.COM