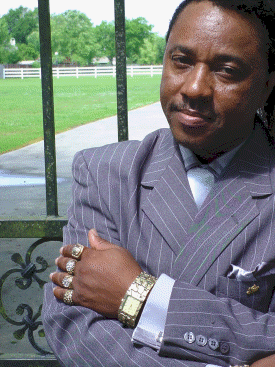 PATRICK HENRY
Patrick Henry began performing at the age of seven when he sang his favorite hymn "One More River to Cross" in a little church in the town of Sunset, Louisiana. From these early beginnings Mr. Henry remained in the town of Sunset where he joined the Liberation Band in 1978 which was the start of his professional career. Patrickor Henry & The Liberation Band is credited to three albums for Lanor Records and had released albums sporadically under his own name leading up to the 2014 release "Bad Man".

Album Discography
Patrick Henry & The Liberation Band

"Deep Rhythm & Soul" (Lanor)

1.No Good
2.Dirty Woman
3.How Lucky Can I Get
4.L.B. Blues
5.Mama Said (You Gotta Have a Little Rain)
6.Good Loving
7.There'll Be a Day
8.Squeeze 2 Gether
9.Where U Were Last Night
10.What Does it Take
11.Don't Put Me Out
12.So Called Friends
13.People Let's Come Together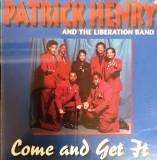 "Come And Get It" (Lanor 1995)
1.WHY YOU WANNA GET FUNKY
2.MY LOVE
3.U CHEATING
4,YOU LIED ON THE DOGS
5.I'M LEAVING U
6.LOVE ATTACK
7.COME AND GET IT
8.SHOW ME THE WAY
9.LOVING U
10.NICE AND SLOW
11.SO IN LOVE
12.U GIVE ME GOOD LOVING

"The Train" (Lanor)

Patrick Henry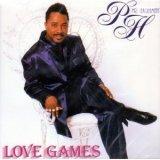 "Love Games" (Hot Box 2000)
1. Such a Sexy Lady
2. Special
3. Who's Cheating
4. Why Must I Cry
5. Hey Mister
6. Love Me One More Time
7. Girl Do Me Right
8. Breaking Up
9. Pumping on Me
10. I've Been Lifted by Your Love
11. I Don't Want to Lose Your Love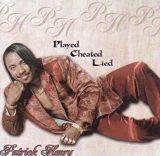 "Played, Cheated & Lied" (M2K Ent. 2002)
1. Twisted Love Affair
2. Your Mine
3. One More Chance
4. Done It Again
5. Holding On
6. Played Cheated Lied
7. If I Hit
8. Shoop Do
9. Love Me Easy
10.Please Baby Please
11.Let Him Go

"Mr Excitement 2004" (Lock Down 2004)
1 - Losing You
2 - I Whipped It Good
3 - Running Around
4 - If It Wasn't For The Man
5 - You Got That Fire
6 - Put Your Woman First
7 - Done It Again
8 - Holding On
9 - Love Me Easy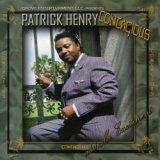 "Contagious" (Drove Ent. 2007)
1. Intro
2. Mr. Excitement (I'm Real)
3. More Than a Woman
4. Let Me Love You
5. Groove On
6. Tears of Yester Years
7. I'm Hooked
8. Bye Bye Baby
9. She Whispers
10. Contagious
11. Groove On [Remix]
***
Henry has a strong, elastic tenor voice like Chuck Roberson that's just as clean as it was back when he was fronting the Louisiana-based R & B group Patrick Henry & The Liberation Band. Since then he's been one of those talented vocalists that falls beneath the radar anywhere outside the chitlin' circuit but has enough interested listeners to always make a little noise in the South. "Contagious" comes out swinging with a silly, boastful intro (by Vinnie V) before pushing you to the dancefloor with the infectious (or should I say "contagious") mover "Mr Excitement (I'm Real)". It contains a simply hypnotic refrain of "Shake that thang like a salt shaker!" and an intermittent rap by Big B. Nice, slick production by the song's author, Brian Broussard. The first single likely is the bumper "I'm Hooked" with those tasty synth horns and Tyrone Davis-inspired vocals. I'm telling you this sound will never get old.
"Groove On" (in two versions) aptly sums up the vibe of the "party Blues" circuit with lyrics: "Patron and Hennessey/You're looking good to me/let me invite you to my world/Grey Goose and Alazine (?!?)/Let's dance the night away/Tonight I'm calling you my girl". Meanwhile "Let Me Love You" and the title cut are seductive slowies with molasses dripping vocals. "Bye Bye Baby" and "Tears Of Yesteryears" are a couple effective heart tuggers easy as cream on the ears. That pretty much goes for the record as a whole.

"One Stop Shop" (M2K 2010)
1. Mr Excitement
2. One Stop Shop
3. Gotta Get That Girl
4. Carless With Our Love
5. Grown And Sexy
6. Shake It
7. Separation Not An Option
8. Til The Sun Rise
9. Didn't We Make It
10.One Stop Shop (Rollback Remix)
The Mudcats, Burton Garr & Patrick Henry "Louisiana Rhythm & Blues" (Mardi Gras 2014)
1 A Man with Two Women
by Burton Gaar, The Mudcats & Patrick Henry
2 Down on My Luck
by Burton Gaar, The Mudcats & Patrick Henry
3 Hard Money
by Burton Gaar, The Mudcats & Patrick Henry
4 Home of the Blues
by Burton Gaar & The Mudcats
5 Midnight's Coming
by Burton Gaar & The Mudcats
6 Mo Money Honey
by Burton Gaar & The Mudcats
7 Still Singing the Blues
by Burton Gaar & The Mudcats
8 Stone Cold Blues
by Burton Gaar & The Mudcats
9 Walking on the Truth
by Burton Gaar & The Mudcats
10 Don't Put Me Out
by Patrick Henry
11 Good Love
by Patrick Henry
12 How Lucky Can I Get
by Patrick Henry
13 L B Blues
by Patrick Henry
14 Mama Says
by Patrick Henry
15 No Good Dirty Woman
by Patrick Henry
16 People Let's Come Together
by Patrick Henry
17 So Called Friend
by Patrick Henry
18 There'll Be a Day
by Patrick Henry
19 What Does It Take
by Patrick Henry
20 Where U Were Last Night
by Patrick Henry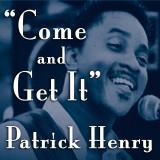 "Come And Get It" (Mardi Gras 2014)
1 A Woman Was Made to Be Loved
2 Come And Get It
3 Do You Love Me
4 Do You Need A Little Excitement
5 I Could Make It Better
6 Iím Leaving You
7 Love Attack
8 Loving You
9 Memory Blues
10 My Love
11 She Put a Whammy on Me
12 Show Me the Way
13 So in Love
14 Something About You
15 Sweet Thing
16 The Train
17 U Cheating
18 Why You Wanna Get Funky
19 You Got Me Hot
20 You Lied on the Dogs

"Bad Man" (Lockdowne 2014)
1. How Can I Give it?
2. Take It Back
3. Get Our Groove Back
4. 3:15 In The Morning
5. She Make It Sexy-Zydeco
6. Bad Man
7. Holding On
8 Making Love With Your Eyes
9. Here We Go Again
10. Crazy Love