Pat Brown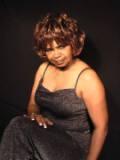 The former Pat Rush was born in Meridian, Mississippi. She attended Harris Jr. College, also in Meridian, where she joined a group called The Dynamics which later became The Commodores. As a child, her Idols and babysitters were Al Wilson (Show & Tell), David Ruffin and Jimmy Ruffin "who all pushed or inspired me to continue to sing and work hard" says Brown. After college she moved to Jackson, Mississippi where she began her recording career. She struck gold on her first album with the great "Equal Opportunity" which has become a southern soul anthem and her signature song.
Album Discography

"Equal Opportunity" (Ace 1996)
1. Tear Your Playhouse Down
2. Equal Opportunity ( Featuring Willie Clayton)
3. Thinking Of You
4. Mind Body & Soul
5. Love In
6. I Can Do Bad By Myself
7. Back Streets
8. There Comes A Time
9. Don't Get Off On Me
10. Love On Loan
*** First Ace album for Brown contains the classic "Equal Opportunity", a duet with Willie Clayton. The song struck a chord with the ladies- if the men can go off and cheat than what's fair is fair- so can the women. How's that for "equal rights"?! The song was co-written by master songwriter Bob Jones. Both he and Clayton contribute two more numbers (the slow blues "Love In" and the breezy "Don't Get Off On Me") as well. Brown is an Aretha Franklin/Ann Peebles disciple vocally and her take on "I'm Gonna Tear Your Playhouse Down" (mis-credited to Clayton) proves it. She has that vulnerable- yet tough- tone to her voice like all good female blues and soul singers. Rounding out the album are covers of Robert Tillman's "Thinking Of You" & Frank-O Johnson's "Back Streets".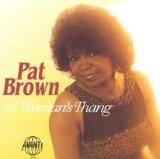 "Woman's Thang" (Avanti 1998)
1. Brand New Man, A
2. Have I Told You Lately
3. This Girl Needs a Tune Up
4. Woman's Thang, A
5. Wives Night Out
6. It Ain't the Real Thang
7. Maybe I'm in Love With You
8. Until I Get Enough of You
9. My Song
10. Tell the Truth
11. Your Sweet Love
12. Don't Gimme No Lip
***Another sturdy modern soul blues album mixing originals and covers. "Wives Night Out" takes the next logical step to "Equal Opportunity"- the gals are out doing their thang. Cicero Blake also cut the song from the man's perspective. The uptempo toe-tapper "Maybe I'm In Love With You" is one of the best cuts (later done by Bill Coday). Brown covers Van Morrison's "Have I Told You Lately" and two excellent songs by Ronnie Lovejoy ("Until You Get Enough Of Me", "Tell The Truth"). Brown herself co-wrote the title cut and "A Brand New Man" with Rubin Davis.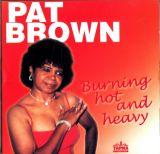 "Burning Hot And Heavy" (Tapna 2000)
1. Little Taste of Love, A
2. Put Yourself in My Place
3. If It's Good for You
4. As Long as He Takes Care of Home
5. Do You Still Feel the Same Way?
6. Angel in Your Arms
7. I Ain't Healed
8. Keep on Searching
9. Beware of the Dog
10. Don't Let Nobody Make a Fool Out of You
*** New label for Brown and a little funky flavor added to her sound like the bass-propelled "A Little Taste Of Love". Phillip Mitchell's "As Long As He Takes Care Of Home" is a smooth bottom-heavy groove with chicken scratch guitar fills. But mostly, the album consists of slow soul showcases for Brown's retro-voice. For example there's two strong Aretha Franklin-inspired ballads ("Put Yourself In My Place" & "Do You Still Feel The Same Way") and the classic "Angel In Your Arms" (as in- "gonna be the devil tonight")

"New Tricks" (Tapna 2002)
1. New Tricks
2. My Old Man And Mrs. Jones
3. You Got To Know
4. Honey Cost Money
5. 99.9 Precent Chance
6. I'm In Love With Your Man
7. Two Week Notice
8. U-Me And She
9. A White Dress, A Blue Me
10. Love On Loan
11. There'll Come A Time
***
1/2
Brown's best album to date features the smash "Two Week Notice", a slow soul diamond with great lyrics. "A relationship is just like a job/the more time you put in/the more time goes on your card........"I'm giving you your two week- two week notice- oh I bet that you notice me now!". The Brown co-write "My Old Man And Mrs Jones" is a clever allusion to Billy Paul's classic "Me And Mrs. Jones" now from the wife's point of view. But then on "U-Me And She" Pat is Mrs. Jones. Although
"New Tricks"
is mostly sweet Southern Soul there's still one blues. "I'm In Love With Your Man" is a lowdown blues by Brown (co-written with Rue Davis). The song is a cousin to Peggy Scott-Adam's recent hit "I Intend To Take Your Place". Showing her versatility she also goes from the funky dancer "99.9 Percent Chance", which has an addictive refrain, to a powerful and emotional reading of Quinton & Steve Claunch's pop standard "A White Dress, A Blues Lady" (previously done by Toni Green).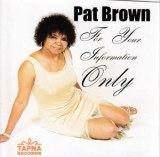 "For Your Information Only" (Tapna 2004)
1. I'm Just Your Fool
2. Open Your Heart
3. Take Your Time
4. Live-In Woman
5. Can I Touch You
6. If It's Good for You
7. Rock Your Body
8. Mr. Good Stuff
9. Brand New Man
10. As Long as He Takes Care of Home
11. Rock Your Body [Instrumental]
12. Take Your Time [Instrumental]
**1/2 Pat Brown has a great voice and has proven she can sing blues, Memphis soul, R & B dance music, pop standards and smooth contemporary soul. The latter dominates this third Tapna release, a follow up to her solid "New Tricks". Although "FYIO" may have crossover appeal it isn't what we've come to expect. It's just too smooth. Where's the blues? Where's the attitude? The best moments are Ronnie Lovejoy's hit "Live In Woman" and the slow rolling "If It's Good For You". Fans of mainstream pop R & B will also enjoy "Take Your Time".