Omar Cunningham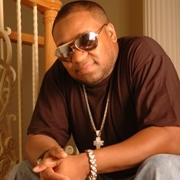 Born in Gadsden, Alabama Omar Cunningham has quickly positioned himself as one of the stars of the Modern Southern Soul/R & B world. His first experience singing professionally came as he backed a local R & B outfit dubbed Daybreak. After touring for some time he logged some studio hours by collaborating (according Omar's official bio) on records by Cameo ("In The Face Of Funk") and rapper Duice ("Dazzey Dukes") . Following this he, as part of the Small Town Boys, began opening shows for Cameo. He even played trumpet as part of the group's horn section. Soon he was flying solo and opening for late 90s R & B/Pop groups like Silk but it wasn't until 2003 that a record under his own name dropped. "Hell At The House" included the single "Check To Check", which became an irresistible smash in the South instantly raising his stature from obscurity to artist to watch. The following year he returned with an equally appealing hit, "I Get By" for Willie Clayton's End Zone Entertainment label. He returned with the label in 2006 with "Worth The Wait", then departed for Soul1st Records for "Time Served" and "Growing Pains".
Album Discography

"Hell At The House" (On Top 2003)
1. Hell at the house
2. Baby Don't Leave Me
3. Check to Check
4. Wastin' My Time
5. 231
6. Older Love
7. Interlude
8. Used and Abused
9. Interlude
10. Half
11. Interlude
12. Hell at the House (Down Home Mix)
13. Interlude
14. What Makes a Man
***1/2 An impressive debut by Cunningham features a cache of Contemporary R & B and a little Southern Soul. The first singe, "Check To Check", is an absolute gem. A shoulder rollin', booty wiggler about living paycheck to paycheck. "Sometimes my pockets be empty/And I just don't know where I'm gonna turn/Lights, water and gas are necessities but I'm bustin' my butt trying to get groceries/Soon as I get money it leaves my hands/Tired of wrapping up pennies and picking up cans." Few can't relate to this reality. While this track is heads and tails above everything else on the record, the title cut is another strong original that became a hit for Quinn Golden, "231" brings the Funk while Sir Charles Jones duets with Cunningham on the slinky "Half".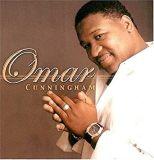 "Omar Cunningham" (Endzone 2004)
1. Interlude
2. I Get By
3. Sweet, Sweet
4. She's Makin' Eyes
5. Interlude
6. Sorry Man
7. My Baby
8. Interlude
9. Momma
10. Why You Wanna
11. Interlude
12. Shysters and Wannabes
13. Over and Over
14. Thank You Jesus
*** Cunningham wastes no time riding the buzz he created with his first disc by dropping another instant classic with "I Get By", which is identical thematically to his "Check To Check". The vocal arrangement on the refrain is extreme honey. But like his previous album the leadoff singles are somewhat deceptive of what's actually on the album. "Omar Cunningham" is predominately creamy smooth R & B ballads like "Sweet Sweet", "She's Making Eyes", "Sorry Man" (with Jerry "Boogie" McCain), "Momma" and "Shysters And Wannabes". The latter, a moody creeper, is a duet with Willie Clayton where the legend hips the young gun Cunningham to the pitfalls of the game. This and all tracks are exquisitely sung and the production is clean and slick. The only other upbeat jam is "My Baby" and that's perhaps the only fault you could find with this set of original songs.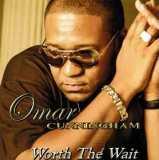 "Worth The Wait" (EndZone 2006)
1. Party Have a Good Time
2. Something's Gotta Give
3. Made My Move
4. The Only One
5. I'm Sorry
6. Give Me a Chance
7. I'm in Love with a Married Woman
8. Better Days
9. Shysters and Wannabes
10. Over Yonder
11. Have Faith
*** On each of Cunningham's previous discs he's released a knockout single that ranked as one of the best of that year. From "Hell At The House" he dropped "Check To Check" and from "Omar Cunningham" he had a smash with "I'll Get By". The new "Worth The Wait" may not have a single as undeniable as those gems but is still packed with delicious material. Opening with a great summer track, the steppin' "Party, Have A Good Time", Omar once again impresses with his emotional, elastic voice. He's simple one of the best new "young guns" of "Southern Soul". Truthfully, like Willie Clayton, his sound could easily fit on mainstream "R & B" radio. Cunningham also has a knack of casting himself as Everyman which strikes a never with his audience. He was living "check to check" but despite the troubles he said "I'll get by" but this time he casts himself as a street dealing trying to make a living filled with regret wishing for those "Better Days". There's a also a lyrically vivid relationship song, "Something's Gotta Give", that captures the mood of a dying love affair. Despite his gift for subject matter he's treading tired ground on the first single "I'm In Love With A Married Woman", a slick as oil headbobber with immaculate backing. (a couple more uptempo cuts would've been cool) Willie Clayton lends his capable chops (and advice) on the creepin' duet "Shysters And Wannabes". The mentor warns of the backstabbers and scammers that are part of the business. Sample lyric: "(Omar) I've been going through changes/About to lose my mind/I done found that good help is hard to find/When you think you got someone there for you Willie I need your help/That's why I'm calling you/(Willie) Now listen little brother, I wouldn't steer you wrong/That 'Hell At The House' was a badass song...you know I've been around so listen I'll telling you what I'm talking about..." Still the disc ends on an uplifting note with the positive "Have Faith", a quiet storm slowie with tasteful piano and acoustic guitar. This is the true sequel to "Check To Check" and "I'll Get By".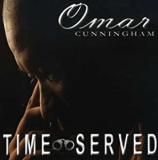 "Time Served" (Soul1st 2008)
1. Intro
2. Thats My Jam
3. My Life
4. By My Side
5. This Old Music
6. Skit
7. Ain't Nothing Changed
8. The Saga Continues
9. The Right Woman
10. The Same Soap
11. Check to Check 2008
12. If You Want Me
13. Could You Be
14. The Beauty Shop
15. Where Would I Be
*****
He's done it again. Actually better than before. A perfect Southern Soul single with "My Life". Like "Check To Check" and "I'll Get By" Cunningham has painted another aural picture sympathetic of the Everyman's life. It's tough out here. At the same time it's sentimental in it's earnest ruminations about his dear late Grandmother who "was the truth" and a "little nappy-headed boy" who "made it" despite humble beginnings. That little boy was Omar. And what an emotive, Gospel-inflected vocal! This midtempo swayer is simply inspiring and all hooks. Brilliant! It will be hard to find a better song in 2008. "A lot of things I had to go without/I still find it hard to talk about". That line gives me chills every time.
Like his previous LP's "Served" straddles the line between mainstream R & B and "Party Blues". The don't-get-caught-cheating song "The Same Soap" would easily pass for an R. Kelly song. It's a lift-up-your cup rhythm slyly reminiscent of Kelly's smash "Ignition (remix)". It's also a highly specific cheating tale. TMI? He says he's gotta "smell the same when I get home" so he needs the "same soap" he showered with at the crib. In one sense he complains about how suspicious and investigative his woman is but looks like she's justified. Better is the faithful-minded "The Right Woman", a bumper featuring fellow Soul1st Records artists Daybreakk! who send the refrain through the stratosphere with their harmonies. The party dancers continue with "This Old Music", "Check To Check 2008" and the steppin' "That's My Jam", which could hit the mainstream charts if the "Blues" label doesn't hold Omar back.
On the slow tip Omar only has only a couple peers (Willie Clayton and Steve Perry) and this time he serves up the piano ballad "Could You Be", the autobiographical "Ain't Nothing Changed" and the clever "The Beauty Shop". Here he gets busted when his girl hears gossip about Omar when she's getting her hair done. She said "The beauty shop is putting our business in the street". Forget about the soap Omar you can't wash away the 411. Anyway the skinny on Omar and this album is you'd be a sho' nuff fool not to buy it!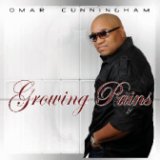 "Growing Pains" (Soul1st 2011)
1. Let Me See You Shake Your Jelly
2. Find A Good Woman
3. Here I Am
4. If We Can't Get Along
5. I'm Your Maintenance Man
6. That's a Lie
7. What You Want With My Moma
8. Do Right
9. Mr. Lowdown
10. Gotta Keep (Do You Know Him?)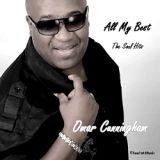 Omar Cunningham "All My Best The Soul Hits" (Soul 1st)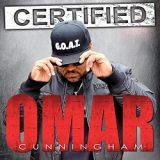 "Certified" (Soul1st 2020)
1 Call Me Daddy
2 Good Ol Country Girl
3 On My Way to Memphis
4 Let Me Be the One
5 This Smoke (Interlude)
6 Do Me
7 Inside Man/Outside Help
8 I Feel Like Making
9 Straighten It Out
10 You Can't Do