Nellie "Tiger" Travis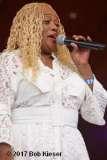 The girl's got Soul. I'm not talking about shallow vocal tricks but deep Gladys Knight/Tina Turner Soul from the gut...
Like many Soul singers Nellie Travis's love affair with music began at church in her hometown Mound Bayou, Mississippi. During mid 1980's she san lead for the Mississippi based group "SSIPP", opening for acts from Dee Dee Warwick to Ray Charles. During this period she also recorded extensively in Memphis under the direction of Ed Townsend.

Since relocating to Chicago in 1992, Nellie has been singing throughout the Chicago, Texas, Ohio, Kentucky, California, Mississippi, New York, Indiana, Tennessee, Virginia, Michigan and Wisconsin.

Having blossomed as a blues force to be reckon with, Nellie now performs with her own band, The Men in Black. Not only is she a staple in the "Home Of The Blues" (Chicago) but she also has standing engagements overseas, performing in Greece, Germany, Brazil, Italy and Japan.

Ms. Travis released her debut CD in September 2000 titled "I Got It Like That". It was a critically-acclaimed set of mostly original Blues. In the same year she appeared on a Japanese- backed CD featuring Shun Kikuta entitled "Heart & Soul" for Yoshinaga Ichinose M & I Co. Nellie is also featured artist on Biscuit Miller's debut release, lending her vocal talents in a duet called "Let's Go Fishing".
In 2005 her CD, "Wanna Be With You", became an underground smash on the "Southern Soul" circuit. Songs like "You Gone Make Me Cheat" & "If I Back It Up" can still be heard frequently on radio and in clubs.
This success continued in 2007 when she signed with CDS Records and released "I'm A Woman"
Album Discography
"I Got It Like That" (Tiger Belle 2000)
1. Oil & Water
2. I've Got Amnesia
3. One Man's Woman
4. I Got It Like That
5. Hooked On You
6. Dime & A Quarter
7. It's Over
8. Something Special
9. Get Your Groove On
10. Thank You
11. Thinking Of You
Shun Kiluta & Nellie Tiger Travis "Heart And Soul" (Blues Sox 2000)
1. Dirty Old Woman
2. Thrill Is Gone
3. Higher Ground
4. I'd Rather Go Blind
5. Let's Do It Again
6. Muddy's home
7. Got My Mojo Working
8. Chicago midnight
9. Give me one reason
10. Dreamer
11. I've got amnesia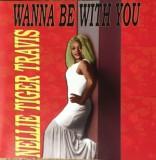 "Wanna Be With You" (Da' Man 2005)
1. Baby Mama Drama
2. Super Woman
3. You Gone Make Me Cheat
4. Sex Machine
5. Teary Eyed
6. Good Lovin Daddy
7. One of These Days
8. Baby Baby Baby
9. I Wanna Be With You
10. If I Back It Up
11. Who's Foolin Who ?
12. What You Won't Do
*** The first thing I noticed about this disc (other than the lovely woman on the cover) was that it was produced by Floyd Hamberlin Jr., whose production I've enjoyed on music by Tyrone Davis, Stan Mosley & Charles Wilson to name a few. And fortunately his signature programming is here on Nellie Tiger Travis' new LP. Mississippi native Travis first released a fine record called "I Got It Like That", which featured straight ahead blues, soul & jazzy aplomb but "Wanna Be With You" is a Southern Soul record. She has a supple voice that can alternate between smooth jazzy flavorings and sweaty blues with ease but now she's mastering this new genre. The songs are mostly midtempo, head-bobbin' jams like "Who's Foolin Who?", "If I Back It Up", "Good Lovin Daddy", "Baby Baby Baby" and the lead cut "Baby Mama Drama". Rick Lawson approached this "baby mama drama" topic from a man's POV earlier this year but Nellie takes the role of the girlfriend who's fed up with her man's "baby mama drama" with his ex. A very modern reality indeed. On the slow tip, "Teary Eyed" is a perfect vehicle for Travis to display her soulful voice. It's full of heartbreak and emotion like the way Ms. Gladys Knight would deliver it! Ms. Travis can also slowrollit with the best of 'em on "Sex Machine". She's the kind of singer who seems to get better with each listen. She doesn't do vocal back flips like a Mariah or pant n' coo like a Britney she just reaches you by singing from her soul. Bottom line: If you love Southern Soul the way I do youre gonna "Wanna Be With" Nellie 'cuz this disc's as sweet as ice cream on a muggy day.
Nellie "Tiger" Travis "I'm A Woman" (CDS 2008)
1. Don't Know Where You're Going (Intro)
2. I'm a Woman
3. Slap Yo' Weave Off
4. Don't Talk to Me
5. M.O.D.
6. Rock With You
7. I Saw It On Oprah
8. Who Knows You (Feat. Stan Mosley)
9. Candy Girl
10. Mama Didn't Raise No Punks
11. Running On Empty
***1/2 Ms. Travis is one of the hottest Divas in the Soul Blues about now. She's done it with attitude and a truly soulful voice. She's the Gladys Knight of Southern Soul. Of course in her hometown of Chicago she's mostly known as a 12-bar Blues belter who plays sings several days a week. But in the chittlin' circuit she's becoming a huge favorite.
Like her last CD, "Wanna Be With You", this new one is mostly produced by Floyd Hamberlin Jr. and that has it's plusses and minuses. He has a tendency to program/write his share of monotonous cuts like "Mama Didn't Raise No Punks" and the pedestrian "I Saw It On Oprah" but more often he comes up with some of the catchiest programming around like the hilarious ditty "Slap Yo' Weave Off" and the booming, anthem "I'm A Woman" which is the best song about female empowerment I've heard in years. Hamberlin also serves up two knockout ballads. "Don't Talk To Me" is a n emotional tornado sung by a scorned woman and "Running On Empty" a devastating number about a dying marriage. Travis is a powerhouse on the microphone.
Also included is a terrific duet ballad with soulman Stan Mosley ("Who Knows You") and Travis' signature song "Amnesia". This is a very good CD, as good as anything on the circuit, but I have a feeling Nellie hasn't even hit her peak yet.