Mr. David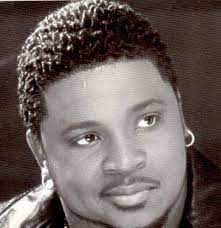 David Jones was first signed to LaFace Records and scored a Billboard charting single ("Splackavellie", #27 Pop, #14 R & B) under the name "Pressha", which first appeared on the Soundtrack to the movie "Player's Club". A full Pressha album, "Don't Get It Twisted", followed but didn't produce a followup hit.
Jones changed his moniker to 'Mr. David" and dropped his next LP independently. "Jody Is Back" was successful in the so-called Chitlin' Circuit, scoring regional airplay with "Shoo Do Wop" and "Slide On". That album's producer, Tony Mercedes, started up his own Tony Merceds Records to release Mr. David's followup "Southern Soul Singer", which was distributed by Malaco Records' subsidiary Waldoxy Records.
Mr. David then signed with Waldoxy for a 2008 release entitled "Me Loving You".
Album Discography
Pressha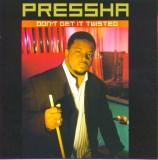 "Don't Get It Twisted" (LaFace 1998)
1. Intro
2. Don't Get It Twisted
3. Down Under
4. Make You Dance
5. My Angel
6. Splackavellie
7. Do Boy (Interlude)
8. Shake It Down
9. I Love You
10. Shawty
11. Let Me Go
12. Do Boy
13. No Way To Win
14. Splackavellie (Red Zone Remix)
**
1/2
Typical Mainstream R & B record for the time, haeavily influenced by the likes of R Kelly. Contains the hit single "Splackavellie", which first appeared on the "Player's Club"movie soundtrack.
Mr. David

"Jody Is Back" (TMR/SOH 2004)
1. Shoo da Wop - (featuring Sir Charles Jones)
2. Sara Smile
3. Slide On
4. Red Silk Boxers
5. Mandingo
6. Fire Fire Love
7. Hate the Game
8. I Cry - (featuring Regina Belle)
9. I
10. Freak You Baby
11. Shoo da Wop
12. Outro
***1/2 R & B-flavored modern Southern Soul release from the former major label act scored a couple popular songs in the south. "Sho Do Wop" with Sir Charles Jones and "Slide On"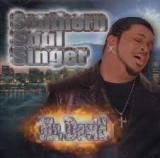 "Southern Soul Singer" (TMR 2005)
1 Pimpin' Ken (Intro)
2 Where U Want Me to Put It
3 Better When You Steal It
4 You Don't Appreciate
5 Jody's Creepin'
6 2 Step Like We Used To
7 I'll Satisfy
8 Trouble in My Life
9 Big Girl Loving
10 I Love the Music (Outro)
11 Shoo Da Wop
12 Hate the Game
13 Slide On
***
1/2
Well last time around Mr. David said "Jody Is Back" and now "Jody's Creepin" as he warns on the so-named track here on the aptly-titled "Southern Soul Singer". It's a steamy, R-Kelly-like slow jam expertly produced by Tony Mercedes. But don't worry "Jody's" giving you a chance to do your homework before he does it for you. Mr. David recorded under the name Pressha in 1997 with his single "Splackavelli" while signed to LaFace Records. He returned newly christened "Mr. David" in 2003 and scored a huge Southern Soul hit "Shoo-Doo-Wop" with Sir Charles Jones. He followed that up with "Slide On" and both those tracks appear again on this new album along with 10 fresh cuts. Already exploding on radio is "Better When You Steal It" and the sweet midtempo headbobber "Where You Want Me To Put It" should certainly follow. It appears two-steppin' is still going strong so Mr. David serves up the plaintively titled "2 Step Like We Used To". And so Cosmo says you're fat but, wait, Mr. David ain't down with that as he praises women with plentiful physiques on "Big Girl Lovin'". Producer Mercedes is responsible for the big, booming sound that wraps Mr. David's elastic tenor voice in velvet. It's quality contemporary Southern Soul in the league of Sir Charles Jones and Kenne' Wayne.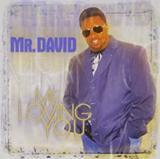 "Me Loving You" (Waldoxy2008)
1. Intro
2. Fatback and Collard Greens
3. Me Lovin' You
4. Yard Boy Blues
5. Interlude
6. Baby That's Me
7. Southern Soul Roll
8. Cheap Azz Bottle O' Wine
9. Slow Drag
10. Mind Her Business
11. Never Give Up
*** The team-up of producer Tony Mercedes and Mr David was a winning formula. Mercedes created a slick, commercial mainstream background for David's effortless tenor. It was a cut above most of the Southern Soul market sound. Now signed to Malaco's Waldoxy label Mr David doesn't benefit from Mercedes' hand but instead is treated to a fairly typical production (for the genre). Juan Fanning produces a set of all originals by David Jones (Mr. David). The first single, "Fatback And Collard Greens", is a snappy bumper, but I would've chose the melodic title ballad, which borrows a line from Marvin Gaye's "Let's Get It On" for the hook. "There's nothing wrong with me loving you". Niiice!
There's a couple others singles here ("Southern Soul Roll", "Cheap Azz Bottle Of Wine") and "Me Loving You" will please fans of Southern Soul but Mr. David is capable of, and has done, much better. That's not a knock for there's nothing wrong with being considered a cut above than your peers...except that you're graded on a curve.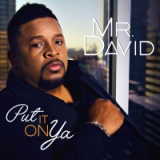 "Put It On Ya" (Waldoxy 2015)
1. Soul Skool
2. Make Love Last
3. Mr Right Now
4. Put It On Ya
5. Smash It
6. Turn Up
7. Delta Dream Girl
8. Shirt She Use To Sleep In
9. Will You Be My Valentine
10. One Kiss (Outro)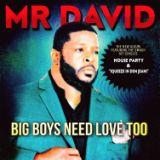 "Boys Need Love Too" (2020)
not officially released