Michael Burks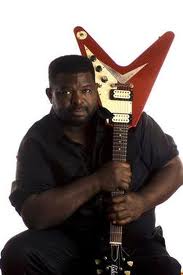 Born in Milwaukee in 1957, blues guitarist Michael Burks began learning his instrument at an early age inspired by the late Albert King as well as his musical family (his father played bass and often performed alongside harmonica legend Sonny Boy Williamson II, while his grandfather was a Delta-style bluesman from Camden, AR). By the age of five, he was playing along with his father, and picked up a thing or two from his parent's record collection -- his father would often give his young son incentive to learn songs by offering him a dollar for each tune he could successfully figure out from beginning to end (a year later he made his performance debut in front of an audience, when he joined a cousin's band on stage). In the early '70s, Burks' father moved his family to Arkansas, and opened up the Bradley Ferry Country Club , as Burks was hired as the leader of the house band, backing numerous blues and R&B greats that played the venue.

By the time the club closed in the mid-'80s, Burks briefly put his love of blues on the backburner, as he supported himself by taking a job as a mechanical technician for Lockheed Martin, although he still managed to play clubs and regional festivals. In 1999, Burks issued his very first album, "From the Inside Out", producing the entire record himself, which immediately racked up impressive reviews from several esteemed blues publications (Blues Access raved the debut was "the most impressive indie in recent memory," while Living Blues named it one of "the best debut discs of the year"). In 2001 Burks signed with Alligator Records and released "Make It Rain". Two more albums "I Smell Smoke" & "Iron Man") and a digital-only "best of" release followed before his death in May of 2012.

Album Discography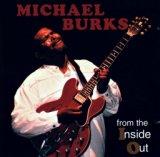 "From The Inside Out" (Vent 1999)
1. Find Me A New Love
2. From The Inside Out
3. Talk To Me Baby
4. Little Did I Know
5. Lyin', Sneakin' And Cheatin'
6. Play Hard For My Money
7. Lonely Heart
8. Nothin' Else To Do
9. Can You Feel It
10. Too Hard To Please
11. Jammin' At The Wheel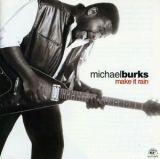 "Make It Rain" (Alligator 2001)

1. Hit the Ground Runnin'
2. Got a Way With Women
3. Beggin' Business
4. What Can a Man Do?
5. Mean Old Lady
6. Everybody's Got Their Hand Out
7. Thank God for Fools
8. Make It Rain
9. Heartless
10. Don't Let It Be a Dream
11. Pack It Up
12. Voodoo Spell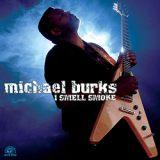 "I Smell Smoke" (Alligator 2003)
1. All Your Affection Is Gone
2. One More Chance
3. I Smell Smoke
4. Time I Came in Out of the Rain
5. Hard Love
6. Miss Mercy
7. Let the Doorknob Hit You
8. Lie to Me
9. Willing to Crawl
10. I Hope He's Worth My Pain
11. Good Man, Bad Thing
12. Snake Eggs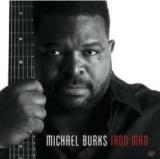 "Iron Man" (Alligator 2008)
1. Love Disease
2. Strange Feeling
3. Empty Promises
4. Salty Tears
5. No More Crying
6. Ashes in My Ashtray
7. Don't Waste My Time
8. Quiet Little Town
9. Hard Come, Easy Go
10. Icepick Through My Heart
11. Fire and Water
12. Changed Man
*** Third Alligator release (and fourth overall) continues the husky-voiced thick Blues onslaught from Albert King's-would be successor. I say "would be" because Albert's Blues leaned toward Soul rather than Rock. Needless to say I'm still waiting for Burks to cut a Stax-like record as "Iron Man" offers little special in comparison to his last couple collections (especially the terrific "Make It Rain"). Methinks it's time for a change.
Of course Burks unfurls nasty guitar licks throughout and rocks hard and this sells records; but the songs have become increasingly pedestrian. Lumbering midpaced jams like "Love Disease", "Salty Tears" & "Hard Come, Easy Go" are his bread and butter but soulful turns like "Don't Waste My Time" & raucous roadhouse moments like "Strange Feeling" & "Quiet Little Town" are the keepers here. On the latter Burks, who normally sings like he's got a mouth full of cotton (ala Albert), shouts in his upper register, breaking up the monotony.
But missing from "Iron Man" is one of those smoldering slow Blues killers like "Make It Rain" or "I Hope He's Worth My Pain". On the plus side the performances are often looser and less polished, such as on the basic 12-bar shuffle "Changed Man" (likely due to Burke's use of his touring band rather than studio session men). Nevertheless, after a three year wait this one's a letdown for me.

"The Best Of" (Alligator 2010)

Digital only release

1. Got A Way With Women
2. Good Man, Bad Thing
3. Empty Promises
4. One More Chance
5. Miss Mercy
6. Heartless
7. Icepick Through My Heart
8. Strange Feeling
9. Voodoo Spell
10. I Smell Smoke
11. Don't Let It Be A Dream
12. Changed Man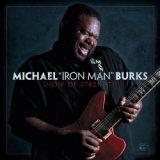 "Show Of Strength" (Alligator 2012)
1. Count on You
2. Baby Take a Chance on Me
3. Storm Warning
4. Can You Read Between the Lines?
5. Cross Eyed Woman
6. Little Juke Joint
7. 24 Hour Blues
8. Valley of Tears
9. Since I Been Loving You
10. I Want to Get You Back
11. What Does It Take to Please You?
12. Feel Like Going Home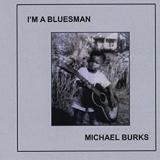 "I'm A Bluesman" (Iron Man 2016)
1) What Are You Doiní To Me
2) Home of the Blues
3) Love Disease
4) Sara Smile
5) Broken Wing Woman
6) I Didnít Take Your Woman
7) You Ainít Slick
8) Blues Will Never Die
9) My Little Girl
10) Game Two Can Play
11) Thatís What I Am
12) Raised Up In Arkansas