Lucy Peterson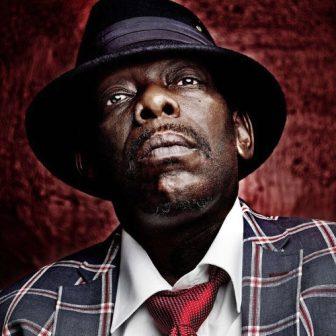 Lucky Peterson was born as Judge Kenneth Peterson; December 13, 1964 in Buffalo, New York. Peterson's father, bluesman James Peterson, owned a nightclub in Buffalo called The Governor's Inn. The club was a regular stop for fellow bluesmen such as Willie Dixon. Dixon saw a five-year-old Lucky Peterson performing at the club and Peterson "under his wing." In 9691 he recorded his first album, "Our Future: 5 Year Old Lucky Peterson". Viewed as a child prodigy, Peterson got to perform on "The Tonight Show", "The Ed Sullivan Show" and "What's My Line?" in 1971, singing "1-2-3-4", a cover version of "Please, Please, Please" by James Brown. The song reached #40 on the Billboard Hot R&B Songs chart.
In 1972 Lucky and father James recorded their first album together, "The Father, The Son, The Blues". It would be another dozen years before Peterson released a new album. In 1984 the now 19 year old issued "Ridin'" on Isabel Records (Evidence re-released in 1993 with a different cover). Alligator Records signed Lucky in the late 80s. The label released two LPs on him ("Lucky Strikes" in 1989 and "Triple Play" in 1990.)
In 1992 Lucky jointed Verve's subsidiary Gitanes Jazz Productions, resulting in five full albums ("I'm Ready", "Beyond Cool", "Lifetime", "Move" and "Lucky Peterson"). While on Verve, Peterson also collaborated with Mavis Staples on a tribute to gospel singer Mahalia Jackson, called "Spirituals & Gospel" on which Peterson played electronic organ behind Staples' singing.

He started label-hoping in 2001 with the release of "Double Dealin'" on Blue Thumb. During this period he began a long standing relationship with JSP Records commencing with his second collaborative LP with father James ("If You Can't Fix It"). As of 2017 Lucky has four solo albums, three more collaborative albums (with Bernard Allison, Larry McCray and Carl Weathersby on "Triple Fret", with Andy Aledort on "TÍte A TÍte", and with daughter Tamara on "Darling Forever") and one "best of" collection for JSP. In between this activity Lucky released two LPs for Dreyfuss Jazz ("Black Midnight Sun", "You Can Always Turn Around"), two for Blues Blvd (with Tommy McCoy on "Lay My Demons Down" and the live "I'm Back Again") and one for Jazzbook ("Son Of A Bluesman").
Album Discography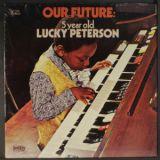 "Our Future: 5 Year Old Lucky Peterson" (Today 1969)
Our Future 3:05
Spanish Harlem 3:30
1-2-3-4 2:45
Harlem 3:23
A B C 2:38
Misty 3:17
Don't Turn Around 3:06
Good Old Candy 2:40
Give Me Something 2:30
Funky Alphabet 2:42
Love The One You're With 3:27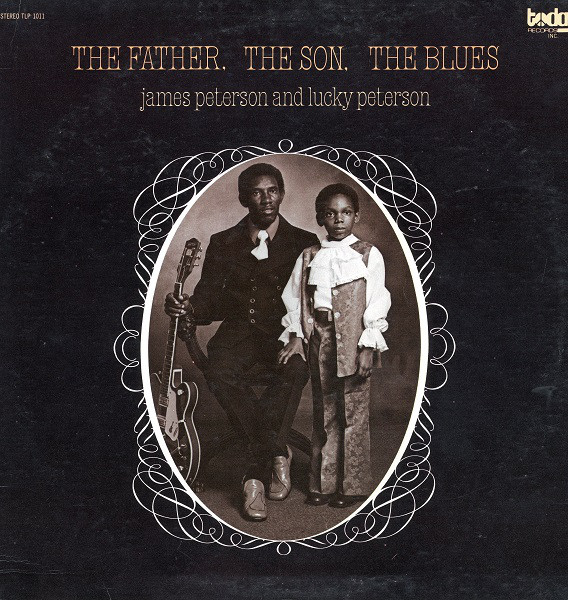 James Peterson Lucky Peterson "The Father, The Son, The Blues" (Today 1972)
A1 The Way A Tree Falls
A2 I Need You At Home
A3 What Would I Give
A4 Every Goodbye Ain't Gone
B1 Jacksonville
B2 Don't Put Off For Tomorrow
B3 Music Is The Thing
B4 Florene
B5 Daddy Come Home For Christmas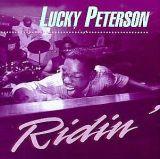 "Ridin'" (Isabel 1984/Evidence 1993)
1 Ridin 4:58
2 Don't Answer The Door 7:07
3 Further Up The Road 4:02
4 Kinda Easy Like 5:26
5 Baby, What You Want Me To Do 6:25
6 Green Onions 5:17
7 Little Red Rooster 5:47
8 You Don't Have To Go 4:08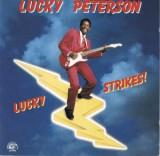 "Lucky Strikes!" (Alligator 1989)
A1 Over My Head
A2 Pounding Of My Heart
A3 Can't Get No Loving On The Telephone
A4 She Spread Her Wings (And Flew Away)
A5 Lucky Strikes
B1 Dead Cat On The Line
B2 Bad Feeling
B3 Heart Attack
B4 Earlene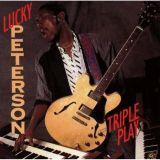 "Triple Play" (Alligaor 1990)
Let The Chips Fall Where They May
Your Lies
Six O'Clock Blues
Repo Man
I Found A Love
Jammin' In The Jungle
Locked Out Of Love
I'm Free
Don't Cloud Up On Me
Funky Ray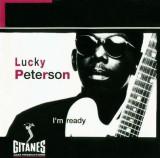 "I'm Ready" (Gitanes Jazz Prod/Verve 1992)
I'm Ready 4:33
It Ain't Right 3:55
You Shook Me 5:29
Junk Yard 6:19
Who's Been Talkin'? 5:00
I Lost Faith Last Night 5:23
Tribute To The King 7:54
On The Sea Of Love 3:57
Nothing But Smoke 8:13
Spankin' Leroy 5:05
Don't Cloud Up On Me 3:47
Precious Lord Take My Hand 2:46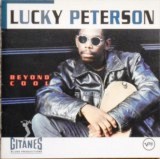 "Beyond Cool" (Gitanes Jazz Prod/Verve 1993)