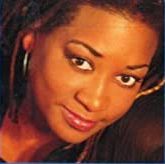 Lola
Lola Gulley aka "Lola" (just Lola) is a blues and R&B singer/keyboard player out of Atlanta, GA.

Lola grew up as a "military brat" in Oceanside, CA before her parents moved to Mobile, AL. It was there that she began sitting in with her father's funk band, playing trumpet and drums before switching to keyboards. Stevie Wonder, Donnie Hathaway, Jimmy Smith and Joe Sample were her key piano influences, along with her father's favorite, bluesman Amos Milburn. She worked her way through college playing in three different Mobile churches, absorbing a huge dose of gospel influence that you can hear every time she sings. Her other vocal inspirations include Aretha Franklin, Bonnie Raitt, B.B. King and Stevie Wonder.

Finishing college, Lola won a berth as a keyboard player with the late soul great Johnnie Taylor, touring across the country and learning first hand how to work a crowd into a frenzy.

In 1996, after winning a nationwide talent contest on a BET television contest, she was signed by Andre Harrell to a Motown recording contract, but the album remains unreleased since Harrell's departure from the company.

Since striking out on her own as a band leader, Lola has shared the stage with The Pointer Sisters, Bobby Womack, Bobby "Blue" Bland, Betty Wright and Chubby Checker. She was signed by William Bell's Wilbe imprint, which issued :Give Her What She Wants" to much acclaim. She was voted "Best New Artist" in the 2007 Blues Critic Awards for Southern Soul.

Lola is also a proud winner of a 2011 Jus Blues Music Award - Contemporary/Traditional Blues Artist Female Her sophomore CD with Wilbe Records "Cleanin' House" was released by Wilbe Records..
Album Discography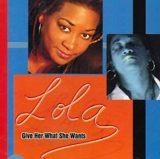 "Give Her What She Wants" (Wilbe 2007)
1. Back Door
2. I Can't See Myself
3. The Blues Chose Me
4. I've Got Feet
5. Look My Way
6. The Sweetest Thing
7. Don't Go Away
8. Wash Your Hands
9. Let's Call It A Night
10. Ties That Bind
11. Shake Hands
12. Two Fools In One House
***1/2 Ms. Lola Gulley is the newest find/signee by Stax Records legend William Bell's Wilbe Records. Truth is that Lola was already discovered when she won BET's talent contest back in 1996. She was then signed to Motown Records and recorded an album that has yet to be released due to staff changes at the company.
She has a potent voice reminiscent of Mavis Staples and Bell gives her a sturdy set of Rhythm & Blues and Southern Soul. The first track ("Back Door") is a hoot. Lola warns a gossiping woman talking trash about her that "If you're woman enough to ask me I'm just gonna tell you the truth 'cuz if you come snoopin' around my back door you're gonna find me and yours doin' the do!". So "If you come snoopin' around my back door you're gonna find what you're looking for!". Next is a midtempo headroller called "I Can't See Myself". This disc has a lot of variety that shows her influences from Mavis ("I've Got Feet"), Denise LaSalle ("The Blues Chose Me"), Anita Baker ("Wash You Hands"). Aretha Franklin ("The Sweetest Thing") and so on. The girl's good.
Bell duets with Lola on the slow jam "Shake Hands". Mention must be given to co-writer, co-producer' Reginald "Wizard" Jones. He and Bell continue to "Give Her What She Wants".