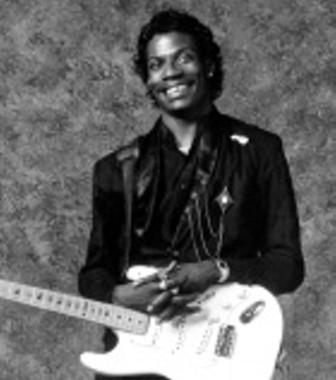 Little Jimmy King
Emmanuel Lynn Gales (December 4, 1964 – July 19, 2002), known professionally as Little Jimmy King, was born in Memphis, Tennessee. At the age of six, and along with his twin brother Daniel, Jimmy received an acoustic guitar. Naturally left-handed, he learned to play with the guitar upside down, and in his early teens graduated to an electric model. In the 1980s he switched to playing the blues and joined Albert King's backing band in 1988, and the twosome formed such a friendship that Albert referred to Little Jimmy as his "adopted" grandson. At the end of this period, the latter formally changed his name to King.[5]

After leaving Albert King's band, Little Jimmy King formed his own ensemble, called Little Jimmy King & the Memphis Soul Survivors, and released his self-titled debut album in 1991 on the Bullseye Blues label/

King's next album was "Something Inside of Me", which dropped in 1994. In 1995, King recorded with his brothers, Eric and Eugene Gales. The resultant album, "Left Hand Brand" was issued as The Gales Bros,
His Bullseye Blues LP, "Soldier for the Blues", from 1997 was produced by Willie Mitchell.
King died on July 19, 2002, in Memphis, after suffering a heart attack

Album Discography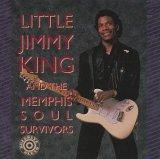 "Little Jimmy King And The Memphis Soul Survivors" (Bullseye Blues 1991)
1 King's Crosstown Shuffle 4:45
2 Same Lovin' 5:52
3 Born Again 3:17
4 Wild Woman 3:38
5 Every Night 3:58
6 Another Blues Stringer 3:33
7 Sex Machine 5:58
8 Lovin' Someone Else 5:35
9 Another Man's Cologne 3:51
10 Doin' My Own Thing 4:41
11 My Muscadine Wine 3:30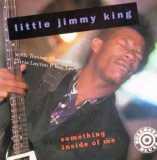 "Something Inside Of Me" (Bullseye Blues 1994)
1 Under Pressure 3:23
2 Can't You See What You're Doin' To Me 4:26
3 Something Inside Of Me 5:24
4 Win, Lose Or Draw 3:32
5 Blues Been Good To Me 4:38
6 Strange Brew 3:40
7 Baby, Baby 4:08
8 Shouldn't Have Left Me 3:24
9 Unlovable 4:55
10 Resolution #1 3:29
11 Upside Down & Backwards 5:34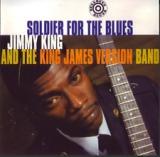 Jimmy King And The King James Version Band ‎"Soldier For The Blues" (Bullseye Blues 1997)

1 Living In The Danger Zone 3:25
2 Drawers 5:00
3 I'm Doing Fine 4:32
4 Life Is Hard 4:24
5 I Don't Need Nobody That Don't Need Me 4:53
6 We'll Be Together Again 3:41
7 Soldier For The Blues 4:25
8 You Ain't Bullet Proof 4:18
9 It Takes A Whole Lot Of Money 3:48
10 Don't Wanna Go Home 4:31
11 It Ain't The Same No Mo 3:51
12 I Got Sick One Day 5:09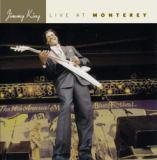 "Live At Monterey" (Bullseye Blues 2002)

1 Live Set: Introduction/The Ghetto 3:07
2 Somebody 4:43
3 Don't Burn Down The Bridges 2:55
4 Living In The Danger Zone 4:40
5 Drowning On Dry Land 11:28
6 Standing In The Rain 6:04
7 It Ain't The Same No Mo 4:51
Bonus Studio Tracks:
8 I Wonder Why 3:26
9 Everybody Wants To Go To Heaven 6:38
10 Wrapped Up In Love Again 4:19
11 Floodin' In California 3:38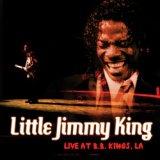 "Live At BB King's, LA" (King James 2008)
1. Intro-Here We Go Again
2. Can't You See What You Doing to Me?
3. Cross Cut Saw
4. Standing in the Rain
5. Somebody
6. Red House
7. Don't Burn Down the Bridge
8. Hand Me Downs
9. Hey Joe
10.Angel of Mercy