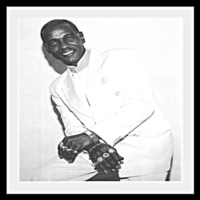 Leon McMullen
Leon McMullen was born 1958 in Aliceville, AL. He spent two years as Joe Tex's backup singer until Tex died in 1982. He has released two albums to date ("Just A Few Words" in 2005, and "Can I Take You Out Tonight" in 2008).
"Tonight" was ranked #6 in Blues Critic's "Best Of 2008" list for the "Top 20 Southern Soul, Rhythm & Blues Albums".
Album Discography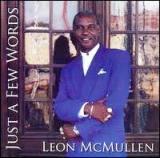 "Just A Few Words" (Main Street 2005)
1. Come on Home
2. Just a Few Words
3. Baby's Got a Broken Heart
4. (I've Really Got) Something to Be Proud Of
5. It's Over
6. Time to Let Go
7. Steal Away
8. Should Have Been Me
9. If Leaving Was Easy
10. Sending You a Kiss
*** I must say I certainly "dig my gig" just like Artie White sang because I come across terrific talent many have yet to discover. So now I have the chance to hip you to another good singer- very much in the O.V. Wright tradition of vintage Deep Soul. I was hooked at track 1, "Come On Home", when a melancholy sax glides on in and McMullen's aching voice follows. Right from his first words you know he's got that authentic throaty rasp often missing from today's whiney tenors, who do little more than vocal gymnastics and beg for booty. None of that nonsense here. "Baby's Got A Broken Heart" is the kind of galloping soul song that feels instantly familiar- as does the title track. A ballad you can feel once again featuring sweet horns and phrasing reminiscent of Memphis circa 1964. Like last year's Willie Walker & The Butanes disc, "Just A Few Words", is a loving tribute to the golden era of soul music. Cooke, Redding, Pickett, O.V., etc.. Soulful from the gut, tastefully arranged. Unfortunately the album stumbles midway with a couple sleepy melodies ("It's Over", "Something To Be Proud Of") and some strained singing, especially on Jimmy Hughes' "Steal Away" . The album could also use a Staxy backbone here and there. But it picks back up on the swingin' "Should Have Been Me" and a disparate take on Johnnie Taylor's "Sending You A Kiss" brings the disc home in fine fashion. Instead of Rich Cason's contemporary production brushes, this version's given a shaggin' 60's beach flavor. Sam Cooke would be proud. Producers Don Matthews and Greg Rowell play most of the instruments with horns and horn arrangements courtesy of Harvey Thompson Jr. and Jim Beck. I only wish the mix was better. The rhythm section is barely a whisper to the vocals and horns.