Lady Audrey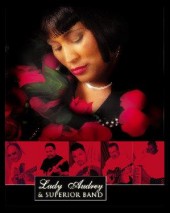 Audrey Haller was born in El Campo,Texas. She began singing at ana early age in church. Her family formed a singing group that consisted of Audrey and her brothers and sister that performed in area churches. When Audrey was 12 years old, the group began to travel al over Texas entertaining audiences with their unique sound of Gospel. Audrey moved from Glen Flora to El Campo,Texas and began to sing solo. She was singing anything from Gospel to the Blues in karaoke bars. While performing in the karaoke bars, she met C.J. and Paul Kearney, leaders of The Superior Band. In 2001, Audrey became the lead female vocalist for The Superior Band.
Continuing to learn the music business from C.J. Kearney and The Superior Band, she began opening shows for performers like B.B. King, Willie Clayton, Bobby Bland, and Betty Wright from the east to the west coast. Audery and The Superior Band have performed at many Blues Festivals from La Grange to Dallas to Houston, Texas where she got great reviews. She periodically returns close to her hometown to perform at The Fairgrounds to a packed house. In 2003, Audery recorded her first CD single, "Ready to Love You (Baby Come Back)" and "Whole Lotta Woman". The CD "No House, No Home Without My Woman" was released as The Superior Band.
Album Discography

The Superior Band "No House, No Home Without My Man" (Kon-Kord 2003)
1. Ready to Love You (Baby Come Back)
2. Whole Lotta Woman
3. Just Ain't No House No Home (Without My Man)
4. I've Never Been Touched (Like I've Been Touched by You)
5. I Wanted to Be Your Full-Time Lover
6. Movin' On
7. Let's Go Slow Dancin'
8. Po' Thang
9. No Mo Blues
10. Ready to Love You - (Remix)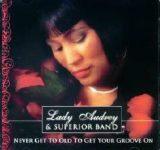 "Never Too Old To Get Your Groove On" (Studio Showtime 2007)
1. Work Me Til I Sweat
2. Never Get to Old to Get Your Groove On
3. You Can Have Him Back
4. Ride the Saddle
5. Prescription for My Love Addiction
6. You Don't Get No Honey
7. That Candy
8. Love Don't Come Easy Listen
9. The Storm Is Over Now
10. His Love, His Holy Spirit & Grace
11. Things Are Gonna Get Better
**** I felt the best song on a recent CD by Little Buck ("I'mma Bluesman") wasn't by Mr. Buck but by Lady Audrey who provided a percolating dancer called "Never Too Old To Get Your Groove On". It had hit written all over it and really deserved an album of it's own...and perhaps I'm a prophet for here it is! Surprisingly, it's not even the top cut on this superbly produced set of upbeat party Soul, slow jams and even a bonus Gospel triad.
Behind the scenes and largely responsible for the success of the record are writer/producers Rue Davis and Harrison Calloway who provide Audrey with quality songs, real drums, plentiful bottom and even some real horns (such as the sweet sax solo by "Ronnie" on "That Candy"). The commercial potential is naturally the three irresistible booty shakers- "Work Me 'Til I Sweat", the title cut and "Ride The Saddle", plus the requisite dysfunctional relationship slowie ("You Can Have Him Back")- but the highlight of the disc is the New Orleans tribute "The Storm Is Over". A gorgeous, earnest vocal by the Lady and a simple, sympathetic arrangement that manages to not be maudlin despite the tragedy of which it refers. Besides it's positive and uplifting. "The storm is over now...you can make it!". Sweet. Two more inspirational jams follow that balance out the record righteously.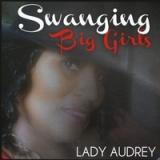 "Swanging Big Girls" (Across The Board 2012)
1. Big Girl Swang
2. I Hear You Knockin
3. Why Do You Ask Me?
4. I Got A Man That Loves Me
5. Never 2 Old 2 Get Ur Groove On
6. Tell Me What You're Thinking Baby
7. I Need A Simple Man
8. Can You Feel Me?
9. Single Mothers
10.Big Girls Swang feat. G'sta
11.Big Girls Swang feat Diezel Terrell