Kip Anderson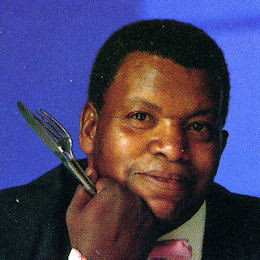 Kip Anderson was born January 24, 1941 in Anderson, South Carolina and as a youngin' he sang and played piano with his church gospel choir. At 13, Anderson was discovered by gospel legend Madame Edna Gallman Cooke, spending several summers playing in her touring group but like so many other soul singers he crossed over to secular music. His debut single popped up on a label by Charles Derrick in 1959, "I Wanna Be The One". When the single became a regional hit, it was licensed for national distribution on Vee Jay but flopped. He then recorded a single on Savoy, "Oh My Linda" followed by his third single, 1962's "I Will Cry" on Everlast. His next two singles, "Here I Am, Try Me," "That's Why the Cryin' Begins" were recorded in Chicago at the famed Chess Studios but released on Anderson and Derrick's newly-formed Tomorrow label; "That's Why the Cryin' Begins" was subsequently licensed to ABC-Paramount, where it inched up to the number 79 spot on the Billboard pop charts. After two more Tomorrow releases, "I'll Get Along" and "Time Waits for No One," Anderson migrated to Muscle Shoals and cut three excellent singles that inexplicably didn't chart: "Woman, How Do You Make Me Love You Like I Do," ,"Without a Woman" and the classic "A Knife and a Fork," a witty, bluesy masterpiece.
After his Checker contract expired, Anderson moved on to the Excello label, returning to the charts one last time with 1968's "You'll Lose a Good Thing." During this time he cut "I Went Off and Cried," perhaps his best-known single. However, by 1970 Anderson was battling heroin addiction, forcing Excello to cut him loose — although he continued working in radio, his performing career dried up, and in 1977 he was sentenced to 10 years in Columbia, South Carolina's Central Correctional Institution. While serving his time he and several other inmates were allowed to form a gospel group, later appearing at local churches and community events upon his release, Anderson returned to his recording career, cutting the gospel effort "I Coulda Been Sleeping" for the Lorma label in 1989. Later for Ichiban Records he delivered three solid soul/blues albums. Although nothing has appeared from the man since the mid-90s I'm still hoping for another comeback! (update: Kip Anderson has passed away in Anderson, SC in August 2007)
Album Discography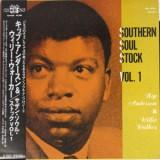 Kip Anderson & Willie Walker "Southern Soul Stock Vol. 1" (P-Vine 1985)
1.Kip Anderson - Without Woman
2.Kip Anderson - A Knife And A Fork
3.Kip Anderson - Take It Like A Woman
4.Kip Anderson - I Wanna Be The Only One
5,Kip Anderson - If That Don't Make You Cry
6.Kip Anderson - Here I Am
7.Kip Anderson - I Get Carried Away
8.Kip Anderson - Woman How Do You Make Me Love You
9.Kip Anderson - Tell Her I Love Her
10.Willie Walker - A Lucky Loser
11.Willie Walker - From Warm To Cool To Cold
12.Willie Walker - You Name It, I've Had It
13.Willie Walker - Nothing Can Separate Us
14.Willie Walker - You're Running Too Fast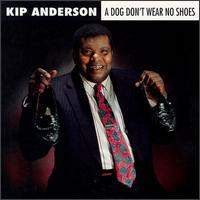 "A Dog Don't Wear No Shoes" (Ichiban 1992)
1. Lonely Man
2. Dog Don't Wear No Shoes, A
3. She Called Me Baby
4. 20 Room House
5. Your Sweetness Is My Weakness
6. I Need You
7. State of Shock
8. Wonderful
*** Three cheers for Atlanta's Ichiban Records who resurrected the careers (at least temporarily) of many old time soul & blues folk before folding in the late 90s. Although this disc wasn't a commercial windfall it's a charming deep soul & urban blues album full of Anderson's gutsy singing and charismatic wit. Anderson wrote the dynamite blues of the title cut letting loose a gritty vocal and witty lyrics. He also wrote the swinging R & B "Wonderful" that closes the album. The marvelous songwriting duo of Sam Mosley and Bob Johnson provide the groovin' soul/blues "Your Sweetness Is My Weakness" gliding organ blues "20 Room House" (later covered by Bobby "Blue" Bland for Malaco). The only disappointment is there's only 8 songs and 32 minutes of music, which was common practice at the time. The production hasn't aged well either.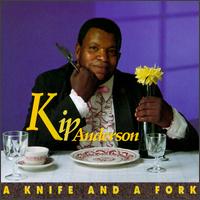 "A Knife And A Fork" (Ichiban 1994)
1. Private Tonight
2. Pretty Woman
3. Without a Woman
4. Sweet Inspiration
5. So Sad to Be Lonesome
6. Knife and a Fork, A
7. Lonely Avenue
8. Careless Things We Do, The
9. Blue Moon
10. Givin' My Love to the Other Man
**** Even better is Kip's followup to "A Dog Don't Wear No Shoes" featuring another mix of tasteful covers and a couple Anderson originals. First and foremost are the updates of two of his very best from his mid-60s period. The romping juke joint mover "A Knife And A Fork" (an Anderson orignal) which was covered by UK pub-rock band Rockpile (Dave Edmunds, Nick Lowe, etc) in 1980 and the Dan Penn co-write "Without A Woman", a deep affecting soul ballad with rich horns and an emotional vocal. Anderson co-wrote another brilliant deep soul song in "Private Tonight", which showcases his savvy phrasing and Ray Charles-esque soul shouting. One of the more interesting cuts is "Pretty Woman", a winding R & B dancer that actually features a short- and surprisingly good- rap by Kip! Other notables are his terrific covers of Ronnie Lovejoy's "Giving My Love To The Other Man", Doc Pomus' "Lonely Avenue", Sonny Boy Williamson's "So Sad To be Lonesome" and the Lorenzo Hart/Richard Rodgers standard "Blue Moon". Satisfying!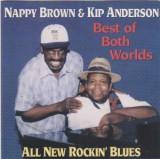 Nappy Brown & Kip Anderson "The Best Of Both Worlds" (Ripete 1996)
1. Rocket 88
2. Drinkin' Wine Spo-Dee-O-Dee
3. It Should've Been Me
4. Right Time, The (Night Time Is)
5. Down in the Bottom
6. Knife and Fork
7. Big Foot May
8. Don't Be Angry
9. When You're Ugly Like Me
10. Who Threw the Whiskey in the Well
11. Hit the Road Jack
12. You Never Had It So Good
*** Kip Anderson hooks up with1950s rockin' blues legend Nappy Brown for a vintage big band blues extravaganza. From the sax swinging "Rocket 88", to the stomping "When You're Ugly Like Me" to the hip "You Never Had It So Good" this disc never lets up! Proceed with caution if you have a heart condition. The neo-swing crowd would go wild for this disc if they ever knew about it. It's a real band, real horns and a real goodtime. It's a real band, real horns and a real goodtime!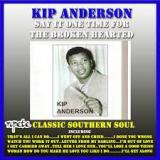 "Say It One Time For The Broken Hearted" (Ripete 2009)
1.You'll Lose a Good Thing [feat. Moses Dillard]
2.Letter From My Darling (feat. Moses Dillard)
3.That's All I Can Do (feat. Moses Dillard)
4.I Went Off and Cried (feat. Moses Dillard)
5.I'm Out of Love (feat. Moses Dillard)
6.Watch You Work It Out (feat. Moses Dillard)
7.Woman How Do You Make Me Love You Like I Do
8.Tell Her I Love Her
9.I Get Carried Away
10.Frozen Heart
11.Abide In Me
12.I Wanna Be the Only One
13.I Done You Wrong
14.Here I Am Try Me
15.I'll Get Along
16.The Home Fires Are Brighter
17.That's When the Crying Begins
18.I Feel Good