Kenne' Wayne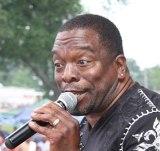 Kenne Wayne (Landry) was born September 3, 1966. He realized he wanted to sing at an early age. As a teenager, he began forming bands and entering talent shows in his hometown of Crowley, LA. In his late teens, he became a member of a popular local band that played around the state of Louisiana.
After years in the local 'chitlin' circuit, Kenne' decided that he wanted more out of music than just performing locally. In 1995, he signed with MTE Records and released his first album, "Old Fashion Love". Not only did this album introduce Kenne' as an artist, it also gave way to his talents as a producer and songwriter. He has co-produced and co-wrote each CD.
Album Discography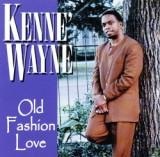 "Old Fashioned Love" (MTE 1996)
1. In and Out of Love
2. After the Party's Over
3. Got Me Going Down
4. Old Fashion Love
5. Doin' It for Love
6. After It's Over
7. Innocent Until Proven Guilty
8. Don't Stop the Love
9. My Girl
10. At This Moment
11. Poor Man, Rich Man
12. Tired of Reminiscing
13. Miss Goldee
14. No Finance, No Romance
15. Walkin' the Back Streets of Hell
***1/2 Generous (15 tracks!) debut from superb soul tenor. Strong showcase features southern party soul ("After The Party Is Over", "Old Fashioned Love", "In And Out Of Love"), soul ballads ("Innocent Until Proven Guilty", Billy Vera's "At This Moment") and blues "Walking The Back Streets Of Hell". Wayne wrote or co-wrote 12 of the 15 cuts and establishes himself as a singer to watch in the genre.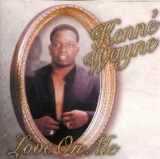 "Love On Me" (MTE 1997)
1. A & B Conversation
2. Love on Me
3. Nothing But Love
4. Good Days
5. Caught
6. Live as One
7. Players Card
8. Can't Get Enough
9. Freddie
10. Two Wrongs
11. Higher Ground
12. House Party
13. Caught (Hip-Hop Rap Version)
*** Followup platter of southern soul & R & B contains the hit "A & B Conversation", which featured two guest female vocalists ( Charlene Howard and Renetta Maze ). All three singers take turns in a song about a woman calling to speak to Kenne' and Kenne' pretending he don't know the woman so the conversation should be "A & B"- it has nothing to do with him, which would be "C". This album is a little heavier on the programmed funk ("Player's Card", "Caught"), but still has southern soul ("Nothing But Love", "Can't Get Enough")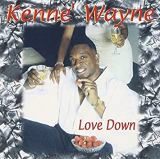 "Love Down" (MTE 1999)
1. Cheatin on a Good Womans Love
2. Sweet Thank
3. Let Your Love Shine
4. Lucky Man
5. Can I Hook You Up
6. Love to Luv Ya
7. Let's Get Married
8. Love Down
9. Anniversary Song, The (Some Things Never Change)
10. Shake Me
11. Can I Hook You Up
12. Let Your Love Shine - (Gospel version)

*** Third disc of mostly original southern soul, R & B and touch of blues from marvelous singer. If you liked the previous two you'll dig this one too.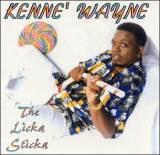 "The Licka Sticka" (MTE 2001)
1. Party Ain't Over, The
2. I Left My Woman
3. Mr. Charlie
4. Same Folks
5. Gonna Miss Me
6. Room 244
7. Operator
8. My Angel
9. Licka Sticka, The
10. Encore (A Tribute to Johnnie Taylor)
**** It all comes together on this disc: the voice, the songs, the production. Two big hits are found here. The party-shaking opener "The Party Ain't Over" is one of his best songs and must serve as the perfect encore to his shows. "The Licka Sticka" one ups the "Candy Licker" because with Wayne you get a "licka" and a "sticka", or "two for the price of one" as he sings. The song is also notable for it's hip James Brown nod ("baby come here quick let me show you how I lick and stick" sung ala "Licking Stick"). "Room 244" is another upbeat party soul jam of the highest order (no relation to the Little Milton song of the same name). A great slowie is "I Left My Woman", where Kenne may have left her for "Sue" but she left him for "another fool". "Gonna Miss Me" contains an aching vocal from Wayne- one of his best to date. Another highlight is the Johnnie Taylor tribute, "Encore", where Kenne's vocal phrasing is even remarkably like the legend himself. This disc is the definitive Kenne' Wayne so far.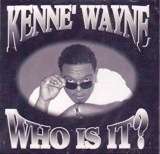 "Who Is It?" (G Street 2004)
1. Whatcha Gonna Do
2.Superwoman
3.Tonight's The Night
4.Can I Be Your Man
5.Who Is It
6.I Found Love
7.Got A Love Bone
8.Lovin' Kind
9.Puttin' Our Business In The Street
10.The Party Ain't Over Rmx

*** The "Licka Sticka" is back with another solid showcase for his supple voice. The amusing title track name drops Mel Waiters, Sir Charles Jones & more as the one who may be rocking his woman's world. The song was a big hit down South. "Superwoman" (no relation to Stevie Wonder) is a great mid-paced praise of a good woman. Another minor hit is the slow jam "Puttin' Our Business In The Streets". There's also a special cut with Kenne' singing along with a genuine acoustic guitar! (rare for these type of albums) on the gorgeous "I Found Love". With a little break this cut would have serious mainstream appeal on Adult Contemporary radio stations!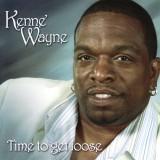 "Time To Get Loose" (Goodtime 2006)
1. Party on Da Weekend
2. If the Shoe Was on the Other Foot
3. Soul Blues
4. Crazy About Your Lovin'
5. Let's Dance
6. Runnin' Around
7. Time to Get Loose
8. Good Ole Blues
9. Get Down and Party
10. Superstar
***1/2 Wayne is back on a viable label (Goodtime Records) after going it alone on his obscure 2003 effort "Who Is It?". Although leaning closer to mainstream R & B at times ("If The Shoe Was On The Other Foot", "Runnin' Around", "Good Ole Blues"), "Time To Get Loose" delivers the Southern Soul or "Soul Blues" (as a song here states) that's made him a name along the Chitlin' Circuit. Upbeat dancers like "Party On The Weekend", stepper "Let's Dance", the aforementioned "Soul Blues", "Get Down And Party" and the title cut plus those emotive, romantic ballads as in "Superstar" and gorgeous "Crazy About Your Lovin'" deliver the goods
The usual odes to getting your groove on are pervasive but so is the recurring theme of dismissing the player's life and growing past it. Notable in a genre that often flaunts infidelity. "If The Shoe Is On The Other Foot" suggests empathy to a fool who's about to lose a good thing. "You got a goldmine waiting on you at home/But you're out here in the streets looking for a love bone. If the shoe was on the other foot would you like it?". On the midpaced headbobber "Runnin' Around" he says he "used to love runnin' the streets/Trying to get another girl between the sheets" but now he's through "runnin' around" and instead he's "settlin' down". Preach on Kenne'! But mostly this CD is about getting your party on and that you will. "Good friends, good music, what more do I need?" he sings on "Soul Blues", once again proving what the Blues is really all about (these days).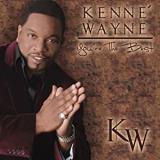 "You're The Best" (Goodtime 2008)
1. You're the Best
2. Games
3. I Can't Tell
4. Is There a Party In Here Now?
5. Georgia Pine
6. Get Cha Some
7. Bad Day
8. Amazing
9. One for the DJ
10. No Love In the Club
11. Welcome To the Party

***1/2 The "Licka Sticka" is back with a mainstream-leaning collection of slick Soul/R & B. Already the title track is climbing the Adult Urban Contemporary airplay charts, sounding like 80s era Lenny Williams. If Wayne wasn't already branded a "blues" singer we may not even be talking about it. Coincidently, Mr Williams himself has found a career resurgence in our genre as well. Track 2, "Games", has a Hip Hop beat and swagger that may turn off some "Blues" (as in Southern Soul/Party Blues) fans but may hook some of that coveted FM airplay. "I Can't Tell" is an R & B creeper with sexy female backups. All three of these written by the super talented Mr Sam (aka 'Mr Sam) and Ezra 'EZ Rock' Williams. The pair are credited with seven cuts while Ves Garrett provided four. Garrett wrote the bumps "Is There A Party In Here", "Get Cha Some" & "One For The DJ", as well as silky slow jam "No Love In The Club". Grade A material.
The hands down winner though is Fallie/EZ Rock's "Georgia Pine" where Wayne unleashes one of his best and most assured vocals to date. The cat can phrase in and out around an icy organ as good as anyone. A career best fo' sho. File this one in the Omar Cunningham/Willie Clayton/Sir Charles Jones/TK Soul category of "Southern Soul"- Contemporary R & B with a helping of "Southern Soul". (It's all Soul or is it all Blues?. Though truly different both a Lee 'Shot' Williams and a Kenne' Wayne can show up on the same playlist or format and it's all good).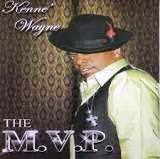 "The MVP" (G Street 2010)
01- Intro
02- Dance wit Me
03- Ride It Like a Cowboy
04- Love Is Still Good
05- Good Good Love
06- Wutang
07- Bop
08- Glad
09- Mr. Dil
10- Can I Make Sweet Love 2 U
11- Hold On
12- Sorry (feat. Sonja Williams)
13- Could You Be a Hater
14- Ride It Like a Cowboy (zydeco version) (feat. Leon Chavis)
15- Ride It Like a Cowboy (slide version) (feat. Leon Chavis & Ves G)