Karen Wolfe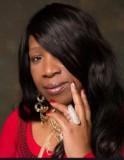 Karen Wolfe recorded her first album with a Gospel Quartet group called "The Harmonettes", the CD was titled "Stop By Here". The group later changed their name to "Direction". Karen joined the Blues arena by singing background behind the Queen of Soul, the Legendary Denise LaSalle.

After listening to "Karen" sing, with the Queen of Soul, B&J Records executives, Bill Coday and Anna Neal Chew (also Denise LaSalle's road manager) approached her about signing a record deal with their label.
Album Discography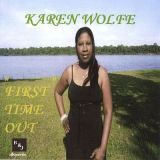 "First Time Out" (B & J 2006)
1. Backdoor Love Affair
2. I Ain't Gone Take It No More
3. It's Friday
4. Broken Hearts' Don't Last
5. Grown Ass Man
6. Unlovable Habits
7. Confusion
8. What Kind of Man Is This
9. Confusion (Remix)
10. Special Thanks
*** The Southern Soul Blues realm has no shortage of tough talking disciples of the Queen Of Soul Blues, Denise LaSalle, but some just do it better than others. This now includes Wolfe, who's blessed with a fantastic, meaty voice just like her mentor.
Female Blues singers, especially since Koko Taylor, have struck a pose of sexual liberation from cultural norms and "equal opportunity" for the sexes. She may want to get down with you but don't even think of walking all over her. That stance is best exhibited in the defiant, self-penned "Grown Ass Man". A buoyant shuffle bumper where Ms. Wolfe lets her man know he can pick up his own clothes 'cuz "I ain't your maid" and she's not in the business of raising a "grown ass man", a job normally reserved by a mother. "If you're gonna keep causing drama you can go on home to your mama!". You can be sure gals across the Chitlin' Circuit will be applauding. Wolfe also wrote the uplifting "Broken Hearts Don't Last" and the contemporary R & B jam "Confusion", which also appears as a remix.
Interestingly, two LaSalle covers seem to contradict that Homey-don't-play vibe of "Grown". "Unlovable Habits" has a lover comparing her tolerance of the man's less attractive "invisible" side to what a new woman might put up with, while "What Kind Of Man Is This" is told from the viewpoint of a co-dependent woman who loves her man despite his unlovable habits. "I know he's no good but I love him to the end of time....because living without this man is my greatest fear". Considering that LaSalle is the main purveyor of sassy Blues it's intriguing to hear her write from a foreign perspective. Whatever the case, these are two great songs and two great performances by Wolfe.
For a "First Time Out" this disc is a dynamite showcase that will shoot Wolfe to the upper echelon of female Soul Blues singers. The disc, produced by James Jackson, would easily garner a higher rating had a couple more tracks been added. As it is there's seven songs, 1 remix and 1 "Special Thanks" track, an admirable endeavor but better left to the liner notes. Highly recommended.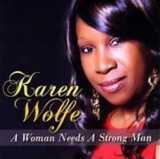 "A Woman Needs A Strong Man" (B & J 2009)
1. Man Enough
2. Blues Me Up
3. A Woman Needs a Strong Man
4. Sothern Soul Party Mood
5. One Good Man
6. I Don't Wanna Play This Game
7. You Make Me Feel Like I'm Wanted
8. It Ain't That Kind of Party
9. I Ain't Gone Take It No More
10. Broken Hearts Don't Last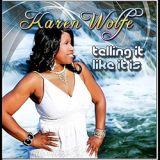 "Telling It Like It Is" (Coday 2012)
1. Popcorn Kind Of Love
2. You Ain't No Player
3. Super Lover
4. Stuttering
5. Grown Ass Man
6. A Hard Man Is Good To Find
7. I Got A Good Man
8. Don't Play with Me
9. Staying Power
10.All Night Ready Man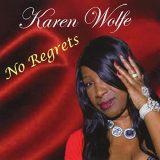 "No Regrets" (Coday 2015)
1 B.O.B.
2 Get Your Lie Straight
3 Ain't No Right Way to Do Wrong
4 Southern Soul Party Mood
5 Super Lover
6 You Gonna Want Me Back
7 All Night Ready Man
8 Don't Nothing Here Belong to You
9 Ain't Nobody Got Time for That
10 Get Your Lie Straight (Remix)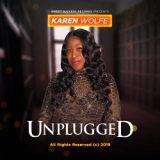 "Unplugged" (Sweet Success 2019)
Digital-only album
1 B.O.B. 3:45
2 That Chick Ain't Me 4:16
3 What You Gone Do 3:50
4 You Ain't Woman Enough 4:15
5 That Bitch Ain't Me [Explicit] 4:14
6 Shake a Little Something (feat. Denise Lasalle) 4:13
7 Girls Night Out 3:36