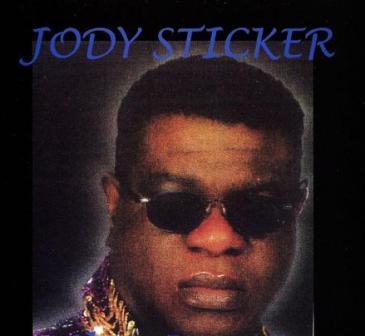 Jody Sticker
Gerry Roberts aka "Jody Sticker" had released at least three albums on his own ("Enough For Two", "Squeeze It, Bounce It, Hold It & Roll It", "Birthday Money, Birthday Love"), often repeating the same tracks and consisting of homemade packaging before his first legitimate disc arrived in 2003 called "Patient". In 2005 Mardi Gras released the full length "Five Minutes", which featured the hit titled cut. He followed up on his own with the CD "Slow Kiss It", before CDS Records picked up his latest album called "Mr Booty Do Right". Sticker scored his second major chitlin' circuit hit with "Booty Do Right". After one more CD on CDS ("Make It Move") Sticker returned to self-releasing his cds.
Album Discography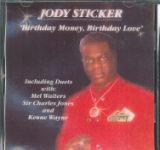 "Birthday Money, Birthday Love" (Silent M 200?)
1. I'm Writing Checks
2. Roll It Baby
3. Birthday Money
4. They Plottin' On Me
5. Don't Make No Noise
6. 1st Class Lady
7. Sacrifice For Love
8. It's Good On The Top
9. Never Let Your Woman Sleep With Problems
10. Love Bone
11. Roll It Baby Long Version
12. Makes Me Wanna Make Love
13. I'm Movin' In
14. Enough For Two
15. Love Bill
16. Making Love To Me
"Patient" (Silent M 2003)
1.Love Whuppin
2.Patient
3.Squeeze It And Hold It
4.Love Whoppin Remix
5.They Plottin' On me Again
6.Should Have Been One More Time
7.Too Much To Lose
8.First Class Lady
9.Part 2
10.For Your X Or X To Be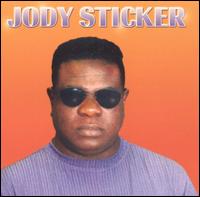 "Five Minutes" (Mardi Gras 2005)
1. Five Minutes
2. Hickory Log
3. You're Gonna Need Me
4. Lover's Reunion
5. Squeeze It An Hold It
6. Snapper
7. That's How I Wanna Do It
8. Patient
9. Love Whuppin'
10. She Lay It Down Too Good
11. Plottin' On Me
12. Love All Night
13. When You Wake Up
*** Laid back Southern Soul featuring the smash hit title track. Clarence Carter may have been a "Sixty Minute Man" but Jody Sticker only wants "five minutes". But then on the smooth "Hickory Log" he can last all night like a "slow burning log" he says over a simple keyboard arrangement. "You're Gonna Need Me" is up next with sweet synth strings and that rolling rhythm track Mardi Gras is known for. Following these three midtempo numbers, all good choices for a single, the disc serves up plenty of slow jams showing Sticker to be a competent singer in the Sir Charles Jones style. "Lover's Reunion" and "Patient" are two tender ballads that show that although he wants to sex you up he can be tender too. But nice guys finish last on "Plottin' On Me" where Jody smells a rat. Things get nasty again with the funky "Snapper", the best dancer here, with a phat bassline and a vocal that would make Larry Blackmon proud. I was expecting Jody Sticker to be a "one-hit wonder" but "5 Minutes" is a surprisingly varied collection proving "Jody Sticker" is more than a jokey moniker.
"Slow Kiss It" (Silent M 2007)
1. In or Out
2. Unexpected Guest
3. Slow Kiss It
4. Tailights
5. Play with It
6. Baller
7. Forbidden Love
8. Slow Kiss It
9. Jodys Symphony No. 9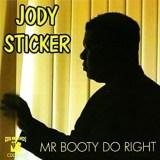 "Mr. Booty Do Right" (CDS 2009)
1. Booty Do Right
2. I Can't Show My Hand
3. Roll That Thang (with Sir Charles Jones)
4. Kitty Missing, Kitty Loose
5. Sugar Daddy, Love Daddy
6. Sex Release
7. I'm Movin' in (with Mel Waiters)
8. Mama's Love
9. Party Starter
10. Sacrifice for Love (with Sir Charles Jones)
11. Where I Come From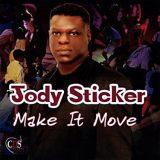 "Make It Move" (CDS 2010)
1. Make It Move
2. You Make My House A Home
3. Cheating Game
4. The Little Things
5. I Know How To Treat My Lady
6. Step On My Own Heart
7. Give That Money Up
8. Brother Buck Naked
9. Place Taker
10. Blues Southern Soul Haunted House

"I've Got The Motor For The Boat" (Silent M 2012)
1. Make That Tooty Talk
2. Do You Think About Me
3. In The Room With Fissy Mae
4. Them People Be Lying On Me
5. You Going To Candy Lickin' School
6. Make That Tooty Talk (Club Mix)
7. I'm Ready To Love Someone
8. Fly Away Marvin
9. I've Got The Motor For The Boat
10.Do You Think About Me (Remix)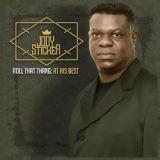 "Roll That Thang: At His Best" (CDS/Music Access 2015)
1. Roll That Thang (with Sir Charles Jones)
2. Booty Do Right
3. Make It Move
4. The Little Things
5. Step On My Own Heart
6. I Can't Show My Hand
7. I'm Movin' In (with Mel Waiters)
8. Cheating Game
9. Kitty Missing, Kitty Loose
10.You Make My House A Home
11.I Know How To Treat A Lady
12. Mama's Love
13. Scoop It (previously unreleased)
14. Mr Telephone Man (previously unreleased)
15. Bad Love Affair (previously unreleased)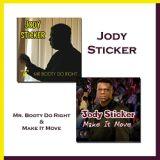 "2 On 1: Mr. Booty Do Right + Make It Move" (CDS 2018)
1. Booty Do Right
2. I Can't Show My Hand
3. Roll That Thang (with Sir Charles Jones)
4. Kitty Missing, Kitty Loose
5. Sugar Daddy, Love Daddy
6. Sex Release
7. I'm Movin' in (with Mel Waiters)
8. Mama's Love
9. Party Starter
10. Sacrifice for Love (with Sir Charles Jones)
11. Where I Come From
12. Make It Move
13 You Make My House A Home
14 Cheating Game
15 The Little Things
16 I Know How To Treat My Lady
17 Step On My Own Heart
18 Give That Money Up
19 Brother Buck Naked
20 Place Taker
21 Blues Southern Soul Haunted House
22 Scoop It (bonus track)