James Carr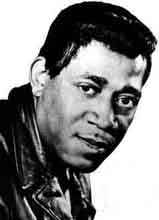 James Carr was born June 13, 1942, in Coahoma County, MS, near Clarksdale; his father, a minister, moved the family to Memphis when Carr was very young. Carr began singing in church at age nine, and performed with several area gospel groups in his teenage years, including the Harmony Echoes (though not, as legend had it, the Soul Stirrers). Both Carr and Echoes manager Roosevelt Jamison had been harboring ambitions for careers in secular music, and the two began looking for a solo deal for Carr in 1963. Stax turned him down, but in late 1964 he caught on with Goldwax, a Memphis label started by Quinton Claunch (who'd earlier co-founded Hi Records) that, in its early days, also featured O.V. Wright (with whom Carr had sung in the Redemption Harmonizers). Over the next couple of years, Carr cut several singles that ranged from Motown-ish pop to soul-blues, searching for the best stylistic match for his richly expressive baritone.

Carr finally hit in 1966 with the country-soul ballad "You Got My Mind Messed Up," a Top Ten R&B hit that earned him comparisons to Otis Redding. It kicked off the prime period of Carr's recording career, and among his next few singles was his clear-cut masterpiece "Dark End of the Street." Given a tortuously intense performance by Carr, "Dark End of the Street" was a bleak tale of adultery that marked the first songwriting collaboration between Dan Penn and Chips Moman; although the song was recorded by the likes of Aretha Franklin, Clarence Carter, Linda Ronstadt, and the Flying Burrito Brothers, Carr's original version still stands as definitive. Featuring other hit singles like the Redding-esque "Love Attack" and the exquisite "Pouring Water on a Drowning Man," Carr's 1966 debut LP "You Got My Mind Messed Up" is also considered a classic by many Southern soul collectors.

Despite Carr's first flush of success on the R&B charts over 1966-1967, things were not looking up. Carr signed on with Phil Walden, Otis Redding's manager, in 1966, but without Roosevelt Jamison around (he'd served as Carr's caretaker just as much as his manager), Carr found himself unable to deal with the stress of touring; he frequently wandered off alone and got lost. By 1968, his mental state had deteriorated greatly, making even recording sessions a challenge. He was able to complete a second LP, 1968's "A Man Needs a Woman", but in Muscle Shoals for his last Goldwax session in 1969, he simply sat at the microphone and stared into space, singing only one song (the Bee Gees' "To Love Somebody"). Not long afterward, Goldwax went bankrupt; wary of the singer's instability, Capitol rescinded an offer to buy out his contract, and although Carr signed with Atlantic, he released only one single in 1971.

In 1977, Carr released one single on the small River City label, which was run by Roosevelt Jamison. Two years later, he undertook a tour of Japan that started off well; however, at the Tokyo gig, Carr -- apparently having taken too many anti-depressants -- stood motionless at the microphone as though in a hypnotic trance. He returned to Memphis, where he lived with his sister (in between institutionalizations), and spent much of the '80s barely conscious of the world around him. With medication, his condition improved to the point where Jamison and Quinton Claunch cut an album with him in 1991 for a revived Goldwax. The record, "Take Me to the Limit", received mixed reviews, although its very existence was an achievement in itself. Carr was even able to return to the road, touring the blues circuits in America and Europe. In 1994, he released another album on Claunch's new Soultrax label, titled "Soul Survivor". Unfortunately, Carr was soon diagnosed with lung cancer, and spent several years battling the disease before finally succumbing on January 7, 2001.
Album Discography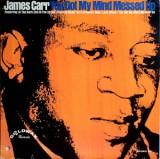 "You Got My Mind Messed Up" (Goldwax 1967)
1 Pouring Water on a Drowning Man
2 Love Attack
3 Come Back to Me Baby
4 Don't Want to Be Hurt Anymore
5 That's What I Want to Know
6 These Ain't Raindrops
7 The Dark End of the Street
8 I'm Going for Myself Now
9 Lovable Girl
10 Forgetting You
11 She's Better Than You
12 You've Got My Mind Messed Up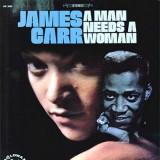 "A Man Needs A Woman" (Goldwax 1968)
1 A Man Needs a Woman
2 Stronger Than Love
3 More Love
4 You Didn't Know It But You Had Me
5 A Woman Is a Man's Best Friend
6 I'm a Fool for You
7 Life Turned Her That Way
8 Gonna Send You Back to Georgia
9 The Dark End of the Street
10 I Sowed Love and Reaped a Heartache
11 You've Got My Mind Messed Up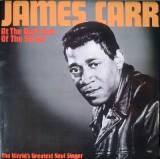 "At The Dark End Of The Street" (Upside 1987)
1. At The Dark End Of The Street
2. Pouring Water On A Drowning Man
3. Love Attack
4. You've Got My Mind Messed Up
5. To Love Somebody
6. These Ain't Raindrops
7. Life Turned Her That Way
8. A Man Needs A Woman
9. Freedom Train
10. Message to Young Lovers
11. A Fool For You
12. That's The Way Life Turned Out For Me
13. Forgetting You
14. Everybody Needs Somebody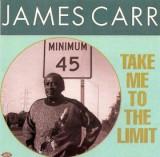 "Take Me To The Limit" (Goldwax 1991)
1. Take Me To The Limit
2. Sugar Shock
3. Love Attack
4. You Gotta Love Your Woman
5. High On Your Love
6. She's Already Gone
7. Our Garden Of Eden
8. I Can't Leave Your Love Alone
9. What's A Little Love Between Friends
10. Lack Of Attention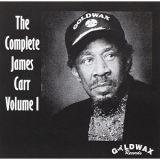 "The Complete James Carr Volume 1" (Goldwax 1993)
1. There Goes My Usta Be
2. These Arms of Mine
3. She's Better Than You
4. I Want To Know
5. Forgetting You
6. Adorable One
7. She's Got My Mind Messed Up
8. Lovable Girl
9. Let It Happen
10. A Woman Is A Man's Best Friend
11. Young Lovers
12. To Love Somebody
13. Pouring Water On A Drowning Man
14. Love Attack
15. These Ain't Raindrop
16. I'm A Fool For You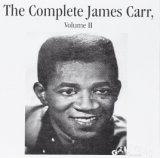 "The Complete James Carr Volume 2" (Goldwax 1993)
1. You Don't Want Me
2. The Dark End Of The Street
3. Hit And Run
4. I'm Going For Myself Now
5. The Word Is Out / What The World Needs Now
6. Bring Her Back
7. Sock It To Me / I've Got To Have You / U-Turn
8. Freedom Train
9. Coming Back To Me Baby
10. Stronger Than Love
11. More Love
12. You Didn't Know It But You Had Me
13. Gonna Send You Back To Georgia
14. Life Turned Her That Way
15. Let Me Be Right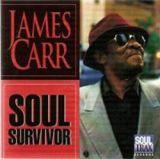 "Soul Survivor" (Soultrax 1994)
1. Soul Survivor
2. Man Worth Knowing, A
3. Put Love First
4. I Can't Leave Your Love Alone
5. Things a Woman Need
6. Day Dreamin'
7. All Because Of Her Love
8. I'm Into Something
9. Memphis After Midnight
10. That's How Strong a Woman's Love Is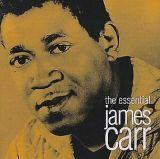 "The Essential" (Razor & Tie 1995)
1. You've Got My Mind Messed Up
2. I'm a Fool for You
3. You Didn't Know It But You Had Me
4. Dark End of the Street, The
5. Lovable Girl
6. Stronger Than Love
7. I Gotta Go - (bonus track)
8. Love Attack
9. You Don't Want Me - (bonus track)
10. Man Needs a Woman, A
11. Come Back to Me Baby
12. Forgetting You
13. Pouring Water on a Drowning Man
14. These Ain't Raindrops
15. Freedom Train
16. What Can I Call My Own? - (bonus track)
17. I'm Going for Myself Now
18. Gonna Send You Back to Georgia
19. Let It Happen
20. To Love Somebody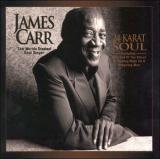 "24 Karat Soul" (Soultrax 2001)
1. It's Sweet on the Backstreet
2. Dark End of the Street, The
3. Pouring Water on a Drowning Man
4. I'm into Something
5. Soul Survivor
6. Take Me to the Limit
7. Gonna Marry My Mother-In-Law
8. She's Already Gone
9. Man Worth Knowing, A
10. Try My Love
11. All Because of Your Love
12. Things a Woman Needs
13. Hungry for Your Love
14. Love Attack
15. High on Your Love
16. Memphis After Midnight
17. I Can't Leave Your Love Alone
18. That's How Strong My Woman's Love Is
19. What's a Little Love Between Friends
20. That's When the Blues Began
"You Got My Mind Messed Up (Bonus Tracks)" (Kent UK 2003)
1. Pouring Water on a Drowning Man
2. Love Attack
3. Coming Back to Me Baby
4. I Dont Want to Be Hurt Anymore
5. Thats What I Want to Know
6. These Aint Raindrops
7. Dark End of the Street, The
8. Im Going For Myself
9. Loveable Girl
10. Forgetting You
11. Shes Better Than You
12. Youve Got My Mind Messed Up
13. These Arms of Mine - (bonus track)
14. You Don't Want Me - (bonus track, second version)
15. There Goes My Used to Be - (bonus track)
16. Lucky Loser, A - (bonus track)
17. Dixie Belle - (bonus track)
18. Search Your Heart - (bonus track)
19. Sock It to Me Baby - (bonus track)
20. My Adorable One - (bonus track)
21. Love Is a Beautiful Thing - (bonus track)
22. Life Turned Her That Way - (bonus track)
23. Losing Game, A - (bonus track)
24. What Can I Call My Own - (bonus track)
"A Man Needs A Woman (Bonus Tracks)" (Kent UK 2003)
1. Man Needs a Woman, A
2. Stronger Than Love
3. More Love
4. You Didn't Know It But You Had Me
5. Woman Is a Man's Best Friend, A
6. I'm a Fool for You
7. Life Turned Her That Way
8. Gonna Send You Back to Georgia
9. Dark End of the Street, The
10. I Sowed Love and Reaped a Heartache
11. You've Got My Mind Messed Up
12. Losing Game, A
13. Message to Young Lovers, A
14. Let It Happen
15. You Gotta Have Soul
16. You Hurt So Good
17. I Can't Turn You Loose
18. Let's Face Facts
19. Who's Been Warming My Oven
20. Please Your Woman
21. Your Love Made a U-Turn
22. Lifetime of a Man, The
23. Tell Me My Lying Eyes Are Wrong
24. Ring of Fire - (previously unreleased)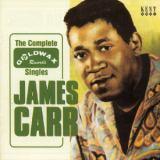 "The Complete Goldwax Singles" (Kent UK 2003)
1. Dark End of the Street, The
2. These Aint Raindrops
3. Man Needs a Woman, A
4. Life Turned Her That Way
5. Freedom Train
6. Pouring Water on a Drowning Man
7. Everybody Needs Somebody
8. Thats the Way Love Turned Out For Me
9. To Love Somebody
10. Youve Got My Mind Messed Up
11. Im a Fool For You
12. Losing Game, A
13. Stronger Than Love
14. Lovable Girl
15. Forgetting You
16. Love Attack
17. Shes Better Than You
18. Coming Back to Me Baby
19. Thats What I Want to Know
20. Talk Talk
21. I Can't Make It
22. Only Fools Run Away
23. You Dont Want Me
24. Lovers Competition
25. Row Row Your Boat
26. Gonna Send You Back to Georgia
27. Let It Happen
28. Message to Young Lovers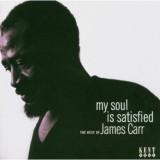 "My Soul Is Satisfied: The Rest Of" (Kent UK 2004)
1 Pouring Water on a Drowning Man [Version 2]
2 Love Attack [Version 2]
3 What the World Needs Now Is Love [Complete Version]
4 She's Better Than You [Version 2]
5 I Can't Help Myself (Sugar Pie, Honey Bunch)
6 A Woman Is a Man's Best Friend [Alt Mix]
7 A Losing Game [Alt Vocal #2]
8 Row, Row Your Boat [Alt Mix]
9 Hold On
10 I'll Put It to You
11 Let Me Be Right (I Don't Want to Be Wrong)
12 Bring Her Back
13 Hit and Run
14 A Woman's Got the Power
15 Hungry for Your Love
16 It's Sweet on the Backstreet
17 The Dark End of the Street [2000 Version]
18 I'm Gonna Marry My Mother-In-Law
19 That's When the Blues Began
20 Try My Love
21 Jordan River
22 He'll Be There AKA You've Got a Friend
23 My Soul Is Satisfied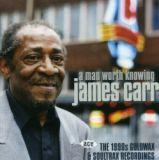 "A Man Worth Knowing: The 1990s Goldwax & Soutrax Recordings" (Ace 2006)
1. You're Pouring Water On A Drowning Man (2000 version)
2. Take Me To The Limit
3. Sugar Shock
4. Love Attack '90
5. You Gotta Love Your Woman
6. High On Your Love
7. She's Already Gone
8. Our Garden Of Eden
9. I Can't Leave Your Love Alone
10. What's A Little Love Between Friends
11. Lack Of Attention
12. Soul Survivor
13. Man Worth Knowing
14. Put Love First
15. Things A Woman Needs
16. Daydreamin'
17. All Because Of Your Love
18. I'm Into Something
19. Memphis After Midnight
20. That's How Strong A Woman's Love Is
21. Dark End Of The Street (undubbed version/bonus track)