Jackie Payne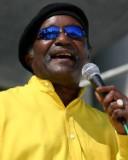 Born on Sept. 26 1945, Payne first sang professionally at age 13 with the Allen Swing Band out of Atlanta and then an R & B group called The Serenaders. In 1963 he headed to Port Arthur, Texas where he waxed his first side, "The Ballad Of JFK" as Little Jackie Payne. He served as a warm up act for Sam Cooke, Jerry Butler, Chuck Jackson, Albert Collins to name a few. He also sang with Collins' group. In 1965 Willard BBurton, aka "Piano Slim" took Payne to Huey Meanx of Jet Stream Records to cut 8 sides including the regional hit "Go Go Train".
After a stint in the army in 1968 Payne headed to California and worked with Pee Wee Crayton and gigged with his own bad for several years. During this time he also sang with the The Johnny Otis Show. Payne continued to play and pay his dues and finally got some more studio time. He contributed vocals to three songs on a Kenny "Blue" Ray disc called "In All My Life" and finally cut his first disc for JSP Records.
Album Discography
1965 - Go Go Train b/w I'll Be Home, Jetstream (produced by Huey P. Meaux) / 1990 - Good Loving Blues, The Johnny Otis Show, Ace Records / 1992 - Spirit of the Black Territory Bands, Johnny Otis and his Orchestra(1993 Grammy Award Nomination) / 1995 - Big Guitar, Anthony Paule, Blue Dot Records / 1997 - Johnny Otis R & B Dance Party, Vol. I, The Johnny Otis Show, J & T Records / 1997 - In All Of My Life, Kenny "Blue" Ray, JSP Records /
"Day In The Life (Of A Bluesman)" (JSP 1998)
1. Main Squeeze
2. You Wrote the Book
3. Take the Keys
4. Day in the Life (Of a Bluesman)
5. Talk to Me Baby
6. 25 Miles from Nowhere
7. I'm Still Cool
8. Hit the Ground Runnin'
9. Fallin' Rain
10. Stand Back Baby
11. Come to Me Baby
12. Goin' Out Ridin'
13. Both of You, The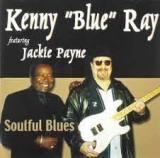 Kenny "Blue" Ray featuring Jackie Payne "Soulful Blues" (Tone King 2000)
1. Man Needs His Loving
2. Mean Old World
3. Road Block
4. Voodoo Chile
5. Lonesome
6. Hot 'N Cold
7. Who's Been Talkin'
8. Blue Monday
9. Stop Thinkin' Take
10. Home at Last
11. COD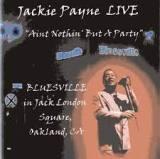 "Ain't Nothin' But A Party: Live At Bluesville" (Shades Of Blue 2001)
1. Flyin' High
2. Six Million Dollar Man
3. Hey Miss Bessie
4. Sittin' On Top Of The World / Come On In My Kitchen
5. Shaky Ground
6. I'll Drink Your Bathwater Baby
7. Down Home Blues Medley
a. Someone Else is Steppin' In
b. Ruinin' My Bad Reputation
c. Blues All Over Me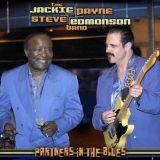 Jackie Payne Steve Edmonson Band "Partners In The Blues" (Burnside 2003)
1. I'm a Lonely Man
2. I'm Doin' My Own Thing
3. Close to You
4. That's How Strong My Love Is
5. I Don't Believe
6. Think Twice Before You Speak
7. Sweet Candyman
8. Tell It Like It Is
9. Devil's Hand, The
10. Monday Morning Comin' Down
11. Side Tracked
12. My Money Just Ain't Long Enough
13. Cryin' for My Baby
14. I Need Your Love So Bad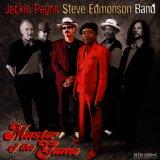 Jackie Payne Steve Edmonson Band "Master Of The Game" (Delta Groove Prod. 2006)
1. Mean Evil Woman
2. Master of the Game
3. Real Deal, The
4. Fool Named Me, A
5. Woman in Kansas City
6. Sweet Landlady
7. Black Cat Roun' My Do'
8. Wake Me Up in San Francisco
9. Nickel and a Nail, A
10. Just the One
11. Warm Rain Fallin'
12. Cabranito
13. I'll Take Care of You
***** Soul + Blues = "Soul Blues". Simple enough but it's not that simple. Ray Charles once said any music is "Soul" if you sing it with feeling. But too often journalists label any music with a black singer as "Soul". That's ludicrous for not everybody has "Soul". But I'll digress because Jackie Payne does have it...and in abundance. A Gospel-hewn, gritty voice that masters both Soul and Blues games. This new Delta Groove Productions release, "Master Of The Game", is the epitome of deep-in-yo-gut Southern Soul, Staxy Funk and raucous Blues.
Oh, and pardon me for neglecting to mention the co-star, master chord cutter Steve Edmonson. This guitarist and his band (Bill Singletary, Nick Otis, Carl Green and John Middleton) are a perfect match for Payne. Edmonson first worked with Jackie as producer on "Soulful Blues", a collaboration with Bay area guitarist Kenny "Blue" Ray. This lead to the first Payne-Edmonson outing, the mighty fine "Partners In The Blues". This new one is even better with ten dynamite originals and three choice covers. Picking a single must be migraine-inducing for these folks since so many cuts stand out. My picks would be "Sweet Landlady" and "A Fool Named Me". A concise, cheeky Downhome Blues, "Landlady" has Payne singing. "I got a sweet landlady I love to pay my rent on time/See she takes the rent on trade/I don't have to spend one dime!". A tart solo by Edmonson, sharp horn blasts by Green and Middleton (dubbed the "Sweet Meet Horns") and icy slick B-3 courtesy of John Thomas punctuate this gem. Meanwhile "Fool" is a pure Southern Soul propelled by Wurlitzer, a horn backdrop and an aching vocal by Payne. Inspired. Payne proves he's got that special (and elusive) something singers like Otis Redding and Bobby "Blue" Bland possess. Equally magnificent is "Warm Rain Fallin'", which captures the same mood as "Cruisin'". Great sax lead by Green. Blues pounders like "Mean Evil Woman", "The Real Deal", "Woman In Kansas City" could cause dance riots in local juke joints as will Funk/Blues numbers like "Black Cat Roun' My Do" and the title track.
Of the covers we have a quickened "A Nickel & A Nail", an appropriately moody "I'll Take Care Of You" and a sprite "Just The One (I've Been Looking For)" that is already gaining airplay in the South. This is turning out to be the best year for Soul Blues in recent memory now thanks in large measure to Jackie Payne & Steve Edmonson's "Master Of The Game". Buy it now I tells ya!
1. Overnight Sensation
2. Can I Hit It Again
3. Mother In Law Blues
4. Take A Chance On Me
5. I Got A Mind To Go To Chicago
6. Uptown Woman Downtown Man
7. Midnight Friend
8. Your Good Thing (Is About To Come To An End)
9. No Money, No Honey
10. Bag Full Of Doorknobs
11. Medley: She's Looking Good/I've Never Found A Girl
12. Bringin' Me Right Back
13. Feel Like Going Home