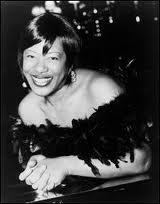 Francine Reed
In her youth, the Chicago-born, Phoenix-raised song stylist sang in church and in grammar school. She began singing professionally with her family when she was five and continued into her teens. She got married young and had four children, whom she ended up raising alone. She worked a variety of day jobs and kept her singing career an avocation until 1985, when some friends introduced her to Lyle Lovett. Lovett was interested in finding a female vocalist for his new band and found his singer in Reed. She toured with Lovett for ten years as a member of Lovett's Large Band, and did several TV performances with the Texas singer/songwriter. While her association with Lovett continues, she has embarked on the kind of solo career she always wanted when working the day jobs to support her family.

To date, Reed has recorded two albums for the Atlanta-based Ichiban label in 1995 and 1996. Her amphitheater performances with Lovett must have surely had an effect on sales of both of her records. Reed also got a few other nice breaks, including the chance to do some singing for TV commercials. Tom Cruise cranks her album up in a scene from the 1993 movie The Firm.

Reed's two albums for Ichiban include I Want You to Love Me (1995) and Can't Make It on My Own (1996). The former features a duet with bandleader Lovett, while the latter includes a duet with Delbert McClinton. On both albums, Reed continues the tradition already set down by great women soul-blues vocalists like Carla Thomas, Irma Thomas, and Etta James; she returned in 1999 with Shades of Blue on the Intersound label. In 2001 following the demise of Ichiban Records, which left her first two records out of print and unavailable, Reed and longtime collaborator Marvin Taylor re-recorded some of her best material live in the studio and released the results as I Got a Right!...To Some of My Best. The record business being as unpredictable as it is, Ichiban was resurrected in 2002 and released American Roots: Blues, a compilation of her first two records.
Album Discography

"I Want You To Love Me" (Ichiban 1995)
1. Why I Don't Know
2. Leavin' Town
3. One Monkey (Don't Stop No Show)
4. Gathering Up My Love
5. Trouble In Mind
6. Crack The Bone
7. I Want You To Love Me
8. What Is That Light?
9. Grady's Song
10. Evil Gal
11. For Your Precious Love
12. Wild Women

"I Can't Make It On My Own" (Ichiban 1996)
1. Love Without Mercy
2. You Bug Me
3. Foolin' With My Respect
4. Not By Man Alone
5. Why Does Everything Change
6. Stop Me Before I Love Again
7. Broken Hearts Row
8. River Rising
9. Wonderin'
10. Been There, Done That
11. Can't Make It On My Own
12. Let's Work Together
"Shades Of Blue" (Intersound 1999)
1. The Man That Got Away
2. I Gotta Right to Sing the Blues
3. When Love Was New
4. What Do I Do
5. Beyond My Wildest Dreams
6. I Have A Right To Know
7. I'm A Handful
8. Wrong Man For The Job
9. A Touch of Love
10. 455 Rocket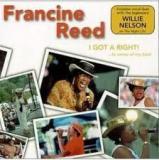 "I Got A Right! To Some Of My Best" (CMO Prod. 2001)
1. Been There, Done That
2. The Night Life (with Willie Nelson)
3. One Monkey (Don't Stop No Show)
4. Leaving Town
5. Crack The Bone
6. Trouble In Mind
7. I Want You To Love Me
8. Stop Me! Before I Love Again
9. Wild Women Don't Get The Blues
10. Let's Work Together
11. What Is That Light?
12. Please Send Me Someone To Love
13. Out Of The Clear Blue Sky

"American Roots: Blues" (Ichiban 2002)
1. Why I Don't Know
2. You Bug Me
3. Stop Me! Before I Love You Again
4. Been There, Done That!
5. Crack the Bone
6. What Is That Light?
7. Love Without Mercy
8. Why Does Everything Change?
9. Wonderin'
10. One Monkey (Don't Stop No Show)
11. Evil Gal
12. For Your Precious Love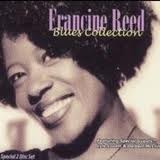 "Blues Collection" (D.M. 2006)
Disc: 1
1. Why I Don't Know
2. Leavin' Town
3. One Monkey (Don't Stop No Show)
4. Gathering Up My Love
5. Trouble in Mind
6. Crack the Bone
7. I Want You to Love Me
8. What Is That Light?
9. Grady's Song
10. Evil Gal
11. For Your Precious Love
12. Wild Women
Disc: 2
1. Love Without Mercy
2. You Bug Me
3. Foolin' with My Respect
4. Not by Man Alone
5. Why Does Everything Change
6. Stop Me! Before I Love Again
7. Broken Hearts Row
8. River Rising
9. Wonderin'
10. Been There, Done That
11. I Can't Make It on My Own
12. Let's Work Together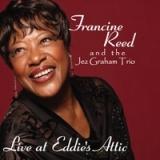 "Live At Eddie's Attic" (Fervor 2012)
1. Trouble in Mind (Live)
2. Too Close for Comfort (Live)
3. I'm a Handful (Live)
4. One Monkey Don't Stop No Show (Live)
5. Summertime / Fever (Live)
6. At Last (Live)
7. Evil Gal Blues (Live)
8. Just in Time (Live)
9. Georgia On My Mind (Live)
10. Love's in Need of Love Today (Live)
11. Surrender (Live)
12. Dream (Live)
13. Amazing Grace (Live)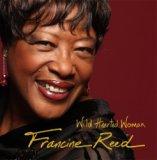 "Wild Hearted Woman" (Fervor 2015)
1 Wild Hearted Woman
2 The Less I Love You
3 It Won't Be Me
4 It's All About You
5 Goin' to the River
6 You've Got to Change
7 Sunday Morning Sunshine
8 Singin' the Good News
9 Girl's Gotta Do
10 Good Lovin' Woman