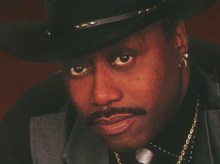 BUY CDS
Floyd Taylor
Son of Johnnie Taylor, Floyd Singletary (Taylor), was born in Chicago and sang with a band at Dusable High School in Chicago, where he graduated. His first shows were at the Regal Theater in Chicago but Floyd held day jobs working at Children's Memorial Hospital and Mercy Hospital while waiting for his chance to follow in his father's footsteps.
During Johnnie's "Disco Lady" days (the 70s) Floyd joined his father on several concert tours and also performed with other big names like Natalie Cole, Patti LaBelle, Aretha Franklin, Johnny "Guitar" Watson, Bobby Womack, & more. Floyd was even voted the 1998 Entertainer of the Year by the Chicago Blues Society. This helped propel Floyd closer to that coveted recording contract. In 2002 the appropriately-titled "Legacy" was released on Malaco Records. Two more albums followed before he released "All Of Me" on CDS Records. Following this he went the independent route, releasing "Shut 'Um Down" in 2013 on his own Artia Records. Taylor died the following year aged 60.
READ OUR INTERVIEW WITH FLOYD TAYLOR HERE
Album Discography

"Legacy" (Malaco 2002)
1. I'm Crazy 'Bout That Woman in Red
2. When We Touch
3. She Ain't Mine
4. Old School Style
5. I Love Being in Love With You
6. I'm in Love With the Girl Next Door
7. Fantasy Lady
8. Caught Between Two Hearts
9. Back-Up Lovin'
10. Part-Time Lover
11. When You Finally Realize
***1/2 Being that Johnnie Taylor was the "King of Southern Soul/Blues" Floyd was a natural born prince of the genre. One's first reaction may be: "Here's another wannabe trying to capitalize on nepotism". That's is until you listen to the very first track "I'm Crazy About That Lady In Red". If you hadn't ever heard JT you'd impressed by Floyd's smoky, soulful chops. The song in question is also a prime cut of upbeat Southern Soul music written by Harrison Calloway and Rue Davis . Or perhaps you read the liner notes by Wolf Stephenson: "Johnnie Taylor fans will not doubt the well from which this voice is drawn. Floyd Taylor does not deny he sounds like his father when he sings. He sounds like him when he talks, laughs, sings, shouts, whispers and cries. Never think for even a moment that this is an affection. It is real, inherited; an in-the genes legitimate gift" and you were understandably skeptical before listening. Well, no hyperbole here, it's like Johnnie was still with us. Interestingly, Davis, a fabulous singer that himself sounds like Johnnie (and ZZ Hill), also contributed another winner, "I'm In Love With The Girl Next Door". Rich Cason, who scored big time with papa's "Good Love", provides the son with some strong material like "Old School Style" and "Part Time Lover". This is a delicious modern soul album period.

"No Doubt" (Malaco 2005)
1. We're Goin' Out on the Town
2. Baby, I've Changed
3. Go Upstairs
4. Slipped, Tripped, Stumbled and Fell
5. Hit It Right
6. My Bad
7. We're Goin' Steppin'
8. I've Got to Love Somebody's Baby
9. Unfinished Business
10. I Can't Stand to Be Away from You
11. Here's a Flower (For the Lonely Woman)
12. Step into My Heart
***1/2
In showbiz there's just as many advantages as disadvantages in having a famous parent. Johnnie Taylor was one of the greatest soul blues singers and you can't expect anyone to fill those shoes. For Floyd Taylor you might benefit from the nepotism but suffer from unfair comparisons to such a legend. Well the good (even great) news for Floyd and us all is he's got the voice. In fact if Malaco had surreptitiously released this disc under the name Johnnie Taylor few if any would have figured out the ruse. Sonny boy has the same aching, slightly smoky chops. This is album number two for Floyd and it's already a huge hit in the south. "Baby I've Changed" is currently the number one single on southern soul charts. The smooth number contains slick phrasing and a clean production (as Malaco is known for) that would have been tailor-made for Johnny (pun intended). "We're Going Out On The Town" is one of too few uptempo horn-backed southern soul jams as most of the album contains slower mainstream-minded cuts like bedroom jams "Go Upstairs" & "Unfinished Business" . Though the singing is great a little more variety would have been nice. "Slipped, Tripped Stumbled In Fell" and "Here's A Flower" are gorgeous vocals that Johnny himself would be proud to claim. Yes, JT fans should pick this up now!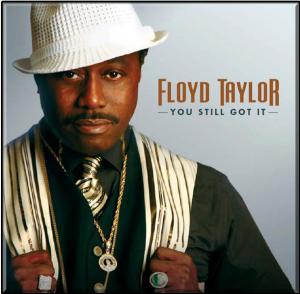 "You Still Got It" (Malaco 2007)
1. You've Still Got It
2. If I Could Do It Over
3. (You're Gonna) Get Us Killed
4. What If He Knew
5. Southern Soul Party
6. I Miss My Daddy
7. No One Should Be Lonely
8. I Forgot to Remember
9. Woman
10. I'm Hooked on These Blues
11. If You Catch Me Sleepin
12. Sweet Love
*** Floyd Taylor is one of the kings of Southern Soul, a title held without dispute by his late father (Yup, Johnnie Taylor) for years prior to his death. Floyd's also one of few celebrity offspring to live up to the expectations. In fact, Malaco could've released this new LP, not to mention the previous two Floyd discs, under the name "Johnnie Taylor" and I believe nobody would've been hip to the ruse. That's not to say Floyd is as good as his famous father (time will tell though!) but he's kept JT alive for most of us. Perhaps one day critics like myself will write about Floyd with nary a mention of "pops" but for the time being Malaco Records makes no bones about having Floyd make Johnnie Taylor music. There's no frontin' on a song called "I Miss My Daddy" where Floyd waxes sentimental about his father. The song is one of five written and produced by the late great Rich Cason, who incidentally was JT's producer as well. Cason's mega-hit, an uncharacteristic (for JT) slick Pop/R & B ditty with a Jeep feel called "Good Love" had changed the way JT made albums for the remainder of his career. We still got the horn-drenched Soul & Downhome Blues but each album would contain a few mainstream R & B/Hip-Hop flavored concessions ala "Good Love".
That formula has continued with Floyd and daggummit it's still working. In 2005 Floyd dominated Southern soul airwaves with Cason's "Baby I've Changed" to the point our readers voted it Southern Soul Song Of The Year (2005 Blues Critic Awards). It's late in 2007 and Cason, prior to his passing, has delivered an even better song called "You Still Got It". Perhaps the most truly romantic song of the decade. "Nineteen to twenty-two ain't got a damn on you. You still got it babe" Floyd croons to the wife of his youth who he's grown older with. An absolute genius track and yet a bittersweet swansong to Rich Cason's memorable career. (Cason was voted Record Producer Of The Year in 2005)
Now with that said the fact remains the rest of the disc (also titled "You Still Got It") pales in comparison. The other creeping, R & B jams "If I Could Do It Over", "(You're Gonna) Get Us Killed" & "What If He Knew" are filler. Both "Woman" and "Sweet Love" are mediocre Urban AC floaters that would fit snugly on a mid-80s Luther Vandross album. Even the seemingly surefire dancer "Southern Soul Party" suffers from brittle production and that programmed bass. In comparison George Jackson's "No One Should Be Lonely" & "I'm Hooked On These Blues" hit their target while the aforementioned "I Miss My Daddy" and the other slow jam, "If You Catch Me Sleepin", (an Earl Powell and FT co-write) are simply gorgeous. Floyd can phrase like all the greats and one day soon he's going to make a great CD. This one's just pretty good (and that's okay for now).

"All Of Me" (CDS 2010)
1. Everyone Celebrate
2. I Like The Way
3. Baby I Love You
4. I'm 'Bout It 'Bout It
5. All Of You, All Of Me
6. Cut To The Chase
7. Don't Go
8. That's My Lady
9. Wanna Make Love
10. Someone To Love You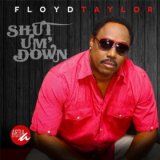 "Shut Um' Down" (Artia 2013)
1 What About My Love (4:52)
2 Shut Um' Down (3:09)
3 Girl If You're Dancing (3:03)
4 One Thing About (3:41)
5 It's On Me w/ Mel Waiters(3:58)
6 Misunderstanding (3:30)
7 Can't Get Enough (4:16)
8 I Know You Do (3:47)
9 Couldn't You (3:52)
10 Get Back to Loving (3:26)
11 Turning Up (3:16)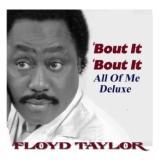 "'Bout It 'Bout It: All Of Me Deluxe" (CDS 2014)
1 I'm Bout It Bout (No Doubt Remix)
2 Everyone Celebrate
3 All Of You All Of Me
4 I Like The Way (Remix)
5 Baby I Love You
6 (Time Out) Cut To The Chase
7 Don't Go
8 That's My Lady
9 I'm Bout It Bout It (Original)
10 Wanna Make Love
11 Someone To Love You
12 I Like The Way (Original)
13 Everyone Celebrate (Extended)
14 Don't Go (Alternate Mix)
15 Something About You
16.I'm Bout It Bout It (No Doubt Extended Mix)
17.I'm Bout It Bout It (Remix with Simeo)