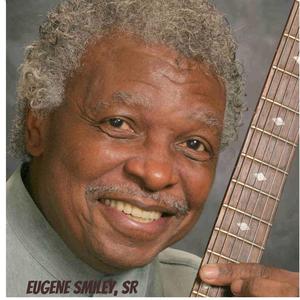 Eugene Smiley Sr.

Eugene Smiley Sr. was born in New Orleans, LA, and raised by grandparents in the small town of Brookhaven, MS, and by even more relatives in Kansas City, MO. "In our family, music was an everyday part of our family values. At an early age I was involved in music and loved it!" Smiley has said. Smiley's father was a gospel singer. He sang with a group called The Pilgrim Travelers.

Smiley was playing the piano when he was very young, playing for the youth church choir and later inn high school he playedpiano for most of the R&B vocalists that were performing in talent shows and contests. He graduated from Alexander High School in May 0f 1960.

In 1963 he met James and Tutty Gatson from a local band The Derby's. They were played local clubs and also played behind the artists that came to perform in Kansas City; groups like The Impressions, The Falcons, and artists like Johnny Taylor, Sam & Dave, Sam Cooke, and others. "They're the ones that really opened the doors for me. Tutty taught me guitar and gave me my first gig" says Smiley.
In 1967 The Chi-lites, a very popular vocal group from Chicago, came to Kansas City to perform at the Town Hall Ballroom. The Promoter, Willie Cyrus, added Smiley and his group The Delmonties to perform also. After the performance, They hooked up with the Chi-lites and met and got acquainted with Eugene Record, lead vocalist, writer, arranger for Brunswick Records. "He invited me with my group to come to Chicago and audition at Brunswick Records". The Delmonites were signed to Brunswick sub-label Dakar Records. After they recorded their first 45 they became known as The Visitors. They released "Until You Came Along" with b-side "I'm In Danger". A few more singles were cut but after the contract expired in 1973, Smiley decided to be a sideman as a guitar player and vocalist. He played with Al Green, Bobby Womack, The Stylistics, The Chi-lites, Albert King, Little Milton, ZZ Hill, Rufus Thomas, others,

In 1976 Smiley met Keith Montgomery and together they established the K City Record Company. After cutting various singles Smiley drifted out of the business. "Disco and programmed music was taking over. During this period, I faded out of the music scene performing as an artist and worked with Louis Gray Productions as promoter assistance for a while. I remained inactive until 1987'.

In 1992 Smiley, Mayfield Towns and Johnny Copowy formed The BWB Show Band. BWB was short for black and white musicians playing together. After getting off to a great start, in 1994 Towns died from cancer and was replaced by Shaun Cassidy and the band hit the road for several years.

"I had to slow down in 1999 because of health problems" said Smiley. He then resurrected K City Records and recorded his first album, "Straight From The Soul", released in 1999. He returned in 2007 with "Legends", which was ranked #7 on Blues Critic's "Best Of 2007" list for the "Top 10 Retro-Soul/Soul Blues Albums". Health problems forced Smiley to keep a low profile for the next ten years (he released a Jazzy instrumental album "Heritage" in 2010) but he came back in 2018 with the new album, "Blues With A Touch Of Jazz".

Album Discography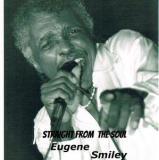 "Straight From The Soul" (K City 1999)
Party All Night
Last Time
Crossroads
Gonna Get Next To You
Tears
What's Come Over Me
Jam
Never Break Your Heart
Confessing
Family Tree

"Legends" (K City 2007)
1 I'm the Only Man
2 Straighten Up Woman
3 The Dream
4 Love Lifted Me Up
5 Time to Get Out of Here
6 You're Gonna Miss Me
7 Love Sensation
8 Holding On
9 Voodoo Woman
**** Eugene Smiley Sr's career stretches back to 1968 as a member of Dakar recording artists The Visitors, who had a minor hit with "Until You Came Along". After the group disbanded Smiley began an on and off again stint as a road musician for three decades before starting his own label KCity Records. "Legends" is the kind of Soul/Blues record critics such as myself love to discover. All original songs and real instruments, which in itself is a selling point. Memphis movers like "I'm The Only Man", "You're Gonna Miss Me" & "Holdin On" plus Downhome Bluesers "Straighten Up, Woman" & "Voodoo Woman". Horns, Bluesy guitar and organ Soul music never gets old. The stunner her is the dramatic Deep Soul ballad "The Dream". It's a heartbreaking lament all lovers have when they come to grips with their own mortality. Smiley Sr has a dream his lover passes away and now each night he's afraid to close his eyes and wonders what he can do to keep it from happening. Brilliant and supremely Soulful.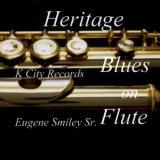 "Heritage" (K City 2010)
1 Billy's Blues
2 Southwinds
3 How Long
4 8th Day
5 Sleep Talkin
6 Lost Tribe
7 Wave Your Hand
8 Freedom
9 Cripple Monkey
10 Midnight Run
11 Well Done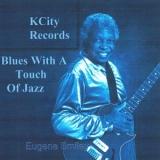 "Blues With A Touch Of Jazz" (K City 2018)
1 That's A Real Good Sign
2 People Are Talking
3 Traveling Man
4 Blues This Morning
5 Ooh Baby
6 Think About Love
7 Somebody Help Me
8 Please Come Back Home
9 Someone To Love
10 Sleep Talking
*** Upon receipt of his promo package I was already familiar with Eugene Smiley Sr from back when I was hot and heavy writing album reviews for this website (before taking a long walk thru the wilderness with CDS Records). I reviewed his album "Legends" (as well as several discs from his label KCity Records) back in January 2007 and it ranked #4 of our Best Of 2007 list for Retro-Soul/Soul-Blues albums. I had almost forgotten about it until the pleasant surprise of new music materializing in our PO Box. The enclosed letter read: "It's been ten years since I've sent you any of my music." Smiley apparently had been busy helping up and coming Kansas City artists reach for their dreams during this time before suffering a "health setback" that sidelined him from 2014 until recently. Now recovered he's back to recording and despite my high expectations "Blues With A Touch Of Jazz" doesn't disappoint. Just as on "Legends" Smiley serves us with ten newborn beauties of horn-backed Soul Blues goodness. I'll admit any album I receive with the word "Jazz" in the title makes me nervous. The only Jazz I appreciate is the esoteric Ornette Coleman-type and I've yet to hear anyone dare attempt mixing Soul Blues with that. In actuality there's only a "Touch Of Jazz" as the title promises, almost entirely on the nifty instrumental closer "Sleep Walking".
The album briefly loses it's footing at the starting gate with "A Real Good Sign". It's a fine song as such but Smiley's vocals are mixed too low and given too much reverb. A remix would remedy that and, fortunately, things quickly get better. Track 2 is one of many cuts that's prime fodder for the Southern Soul Blues market courtesy of that ubiquitous cheating theme. It's a midtempo floater in which Smiley heard it through the grapevine that "People Are Talking" about his gal cheating on him. Perhaps things are looking up for him on the Sam Cooke-kissed "Ooh Baby", a shaggadelic Beach number where Smiley may have just found a new woman to replace the cheater. Maybe this happened when he was searching for "Someone To Love", which is also the first cut we added to our Southern Soul Radio station. Elsewhere Smiley gets to squeeze out some guitar licks on the bumping "Traveling Man" and slow blues "Blues This Morning". Just like "Legends" ten (11 actually) years earlier this is a fine assemblage of Blues styles with that teeny "touch" of Jazz. The production isn't as consistent as one would hope and a few songs suffer from muddy mixes but it is still on par sonically with most of the independently produced Southern Soul/Blues currently making the rounds.
Eugene Smiley Sr. once was part of an R&B group that recorded for the famed Brunswick record label subsidiary Dakar (Tyrone Davis, Major Lance). Originally called the Delmontes, they changed their name to The Visitors and enjoyed some local Chicago area hits in 1968 with "I'm In Danger" and "Changes". The group was short lived so Smiley moved to Kansas City in 1976 where he put together a group called Essence Of Love but by 1979 he retreated from the music business until 1992 when he formed another group, BWB and formed his label KCity Records on which we have "Blues With A Touch Of Jazz"